Buy Bitcoin in the United States
By: Eliot Prince | Last updated: 11/4/23
If you're wondering how to buy Bitcoin in the United States, you've landed in the right place. This guide covers everything you need to know about Bitcoin's status in the US, from its legality and popularity to Bitcoin ATMs and the best exchanges.
Buy Bitcoin in the USA Summary
The United States is home to some of the largest Bitcoin exchanges, offering you plenty of options to buy and trade cryptocurrency. Although not considered an official currency, Bitcoin is legal in the US and continues to grow into the mainstream. To buy Bitcoin in the US, follow these steps:
Register for a Coinbase account
Deposit funds into your Coinbase wallet
Choose Bitcoin from the "Buy and Sell" tab
Enter the amount of Bitcoin you'd like to purchase and click "Buy BTC"
In addition to Coinbase, here are more exchanges for buying Bitcoin in the United States:
That's how to buy Bitcoin in the US in a nutshell. For a more detailed review, keep on reading. Here's what I'll cover:
---
1. Is Bitcoin Legal in the US?
Bitcoin gets a mixed reception in the US, with regulation tightening on cryptocurrency companies. Whilst it is legal and subject to the same taxes as any other currency, many companies (and users) have complained about confusing regulations.
This situation led to many operations removing their American services, at least for the time being, reducing options for users.
That being said, it is still home to some of the biggest corporations in the Bitcoin industry, including user-friendly, easy options like Coinbase and Gemini.
---
2. How popular is Bitcoin in the US?
The Google Trends graph below displays interest in Bitcoin in the United States. The linked graph is live data, updated directly from Google. Using the search term 'bitcoin,' the graph represents the search interest of users through Google. A mark of 100 indicates peak popularity, while a score of 50 means half as popular.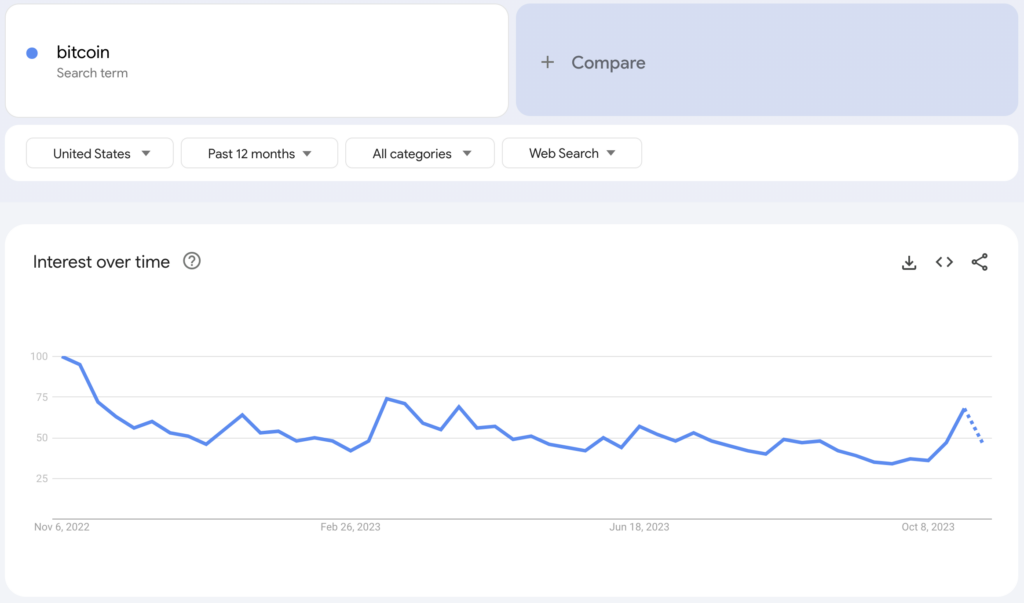 ---
3. Main United States Bitcoin communities
There is an abundance of English-speaking communities for Americans to stay updated about Bitcoin. Various forums and social groups provide support, information, and discussion on a number of Bitcoin and cryptocurrency subjects. This includes gaining first-hand advice and reviews on Bitcoin exchanges and wallets. Here are some of the most popular online communities in the US:
There is also a huge number of cryptocurrency Meetup groups throughout the United States.
Note: These support groups are meant for informational purposes only. There exist many scams, phony "support staff," and fake tokens in most cryptocurrency-related groups. Never give anyone your seed phrase or private wallet keys.
---
4. US-based Bitcoin exchanges
US customers enjoy a strong selection of Bitcoin exchanges. This includes large, well-regulated options with high industry reputations.
Coinbase
Coinbase has been in operation since 2012 and is often considered the place to go for first-time Bitcoin buyers. As a US-based operation, US customers have extensive functionality for dealing with USD purchases.
Users can deposit funds via ACH bank transfer, wire, debit and credit card, plus PayPal. These options are also available for withdrawals as well. The platform is user-friendly for the 'non-techy' amongst us. Bitcoin is supported, along with a selection of other altcoins, including XRP, Litecoin, Ethereum, Dogecoin, and more.
Coinbase also has its own wallet for iOS, Android, and via a Chrome extension. The Coinbase wallet is a self-custody wallet where users interact directly with the blockchain and are in control of their own private keys and digital assets. Coinbase is one of the biggest Bitcoin companies in the industry and, therefore, is fully regulated, complying with KYC and AML laws.
The only criticism is its lax customer support, which has trouble dealing with the requests of a huge customer base. You can read my full Coinbase review here.
Gemini
Gemini was launched in 2015 by the Winklevoss twins, the brothers who sued Mark Zuckerberg for the creation of Facebook. They've built one of the most trusted Bitcoin exchanges, and it's even based out of the highly regulated state of New York.
In a unique move, Gemini built the exchange to comply with regulations and remains fully compliant. The company now works with regulators to develop new legislation.
Gemini's trading platform is a little more complicated than Coinbase, with an order book trading style. With this style of trading book and a little practice, you can save a decent chunk for a little extra effort. You can read my full Gemini review here.
Kraken
Kraken is another stalwart of the US Bitcoin industry. Founded in San Francisco, it provides an advanced trading platform for Bitcoin and a huge selection of cryptocurrencies.
The trading exchange does lack the same easy accessibility for first-time buyers like the aforementioned Coinbase and Gemini. Deposits can be made via ACH bank transfer, FedWire, and debit card.
Kraken operates across most of the US, with the exception of Washington State and New York, where tighter licensing exists. You can read our full Kraken review here.
---
5. International exchanges available in the US
International exchanges offer added options to US customers, with many supporting US Dollar deposits across a variety of methods. Here is a top selection available to you:
Coinmama
Coinmama may be based in Israel, but it's available in a huge number of countries, including the US. It was launched in 2013, and it offers convenience: you can buy Bitcoin with a debit or credit card.
The downside is that the fees are on the high side, with about a 10% fee total whether using your debit card or ACH transfer. You can read my full review of Coinmama here.
CEX.IO
CEX.IO is available in most countries around the world. Founded in 2013 with its headquarters in London, this cryptocurrency exchange allows users to buy and sell Bitcoin, as well as a selection of altcoins.
Both credit cards and bank transfers are accepted payment methods, as well as Google Pay, PayPal, and Apple Pay. CEX.IO offers both a trading platform and a brokerage service, entailing different fees. You can read my full CEX.IO review here.
Paxful
Paxful is a P2P marketplace that allows buyers and sellers to meet online and trade Bitcoin directly with each other. Founded in 2015, they now have offices in multiple cities around the world.
Paxful offers more than 400 ways to buy and sell cryptocurrency, including bank transfers, Visa, MasterCard, and PayPal. If you're buying Bitcoin on Paxful, you won't have to pay any fee to the site itself, but the price of Bitcoin is traded at a premium because of this. Sellers do have to pay a fee, however, ranging from 1% to 5%, depending on the chosen method. You can read my full Paxful Review here.
Changelly
Changelly is an instant crypto-only exchange, which, depending on how much you intend to buy and your payment method, may require you to submit identity verification. Users can buy, sell, or exchange directly through Changelly, and the company also offers an app for iOS and Android. There are over 500 coins available on Changelly. You can read my full Changelly review here.
---
6. How many Bitcoin ATMs are there in the US?
As of 2023, there are over 27,000 Bitcoin ATMs in the US, according to CoinATMRadar. California is a particular hotspot with over 3,000 Bitcoin ATMs.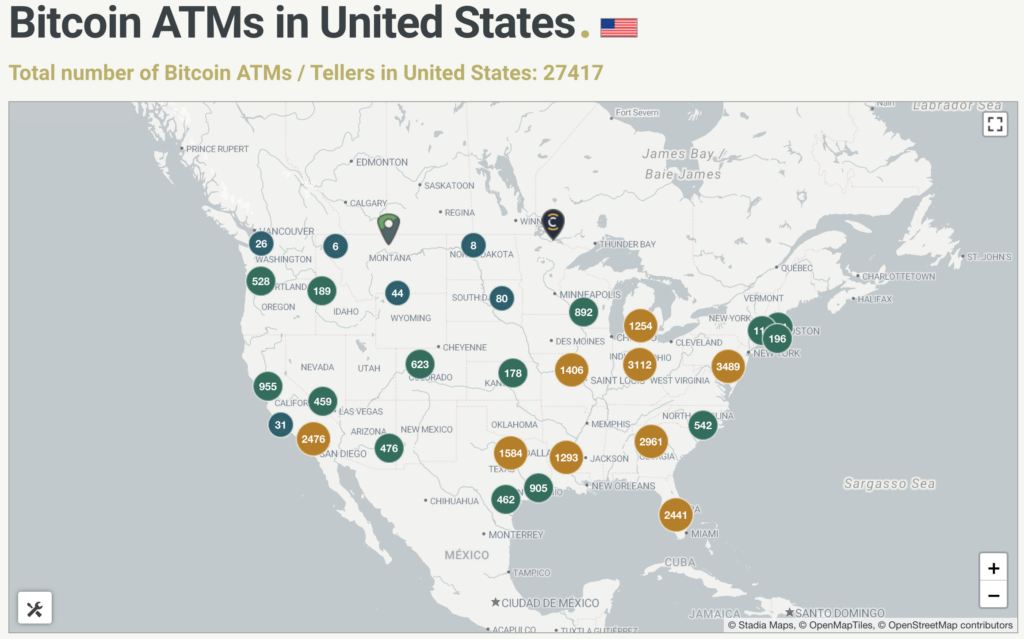 ---
7. Invest in Bitcoin IRA
Bitcoin and cryptocurrency IRAs, in general, are an extremely powerful investment tool that lets you save a lot of taxes from your cryptocurrency trading and investment operations. A Bitcoin IRA is a tax-free investment account that allows you to invest money in order to trade in Bitcoin or other cryptocurrencies.
The account is aimed at building wealth toward your retirement, and the money in it cannot be withdrawn before retirement age without incurring a penalty. There are two main types of Bitcoin IRAs – a traditional IRA and a Roth IRA. You can read more about what is a Bitcoin IRA in our beginner's guide here.
---
8. Conclusion
On the whole, Bitcoin has a positive reputation in the United States, although it's not without issues. The general public and business sectors appear to be excited by the prospects of new technology.
However, there is still great resistance from banks and governments who are slowly building legislation. This is illustrated by, among other things, the Facebook Libra project running into problems with the government.
Unfortunately, confusing regulation has led to many companies withdrawing their stateside service. There is still a decent choice of platforms to trade Bitcoin, but this has certainly been reduced since crypto came onto the scene years ago.
Happily, some US-based companies are working with regulators to build a brighter future, with Gemini and Coinbase leading the way.
Know of any change in Bitcoin's legal status in the US? Do you have experience with the exchanges I've mentioned above? If yes, let me know in the comment section below.