Coinbase Review and Comparison
By: Steven Hay | Last updated: 5/29/23
I've been a Coinbase user since 2013 and a lot can be said about the company, both good and bad. In this review, I'll try to give you the full rundown so you can evaluate for yourself if Coinbase is trustworthy or not.
Disclaimer: We may be compensated for purchases made through links on this page.
Don't Like to Read? Watch Our 2 Minute Coinbase Review
---
Coinbase Review Summary
Coinbase is one of the biggest cryptocurrency companies around, supporting over 100 countries, with more than 89 million customers around the world.
Coinbase has a wide array of services, but their main service allows users to buy and sell crypto using a bank account, or debit card and lately even PayPal. The rates you'll get on Coinbase are fair in general, however the customer support is terrible.
That's Coinbase in a nutshell. If you want to get familiar with Coinbase in depth, keep on reading. Here's what I'll cover in this review:
---
1. Coinbase Overview
Founded in 2012 by Brian Armstrong and Fred Ehrsam as part of Ycombinator, Coinbase is one of the oldest exchanges around. Coinbase has started out only as a Bitcoin brokerage service (selling Bitcoins directly to customers), but additional services were added along the way.
Coinbase is fully regulated and licensed. The company has raised over $540m from leading investors such as Andreessen Horowitz, Rabbit Capital and Intercontinental Exchange (the owners of the New York Stock Exchange). Coinbase became the first publicly-traded cryptocurrency exchange in the US in April 2021, through its initial public offering (IPO).
---
2. Coinbase Services
Coinbase brokerage service
The main service Coinbase offers is a brokerage service for buying and selling cryptocurrencies. New cryptocurrency users often find themselves buying their first Bitcoin through Coinbase thanks to the company's reputation, marketing and beginner-friendly user interface.
On the downside, one of the main complaints users have towards Coinbase is the lack of control users have over their own funds. When you open a Coinbase account, you don't have direct access to your coins and you don't get any private key or a seed phrase. For this you will need to download the standalone Coinbase Wallet app, or transfer the coins to another non-custodial wallet.
Coinbase stores your coins for you. It's the equivalent of putting your cash in the bank – you don't own it, the bank does.
Coinbase Pro
Formerly known as GDAX, Coinbase Pro is a cryptocurrency trading platform. As opposed to the traditional Coinbase brokerage service, which simplifies buying cryptocurrencies at a premium, Coinbase Pro is aimed at more experienced users.
Coinbase Pro allows users to trade several cryptocurrencies including BTC, ETH, LTC, BCH and ZRX. Fees are considerably lower than the brokerage service and there are advanced trading options as well.
Coinbase Staking
One of Coinbase's other features is an easy-to-use staking service, which enables users to earn staking rewards on selected Proof-of-Stake cryptocurrencies. Although users may have the option of staking these independently, Coinbase streamlines the process and removes any need for technical expertise or specialized hardware.
Coinbase Wallet
In 2018 Coinbase launched their independent mobile wallet for iOS and Android. The wallet stores the private keys on the user's device, so only they have access to the funds. This brings Coinbase full circle, since it started out as a wallet, transitioned to an exchange only (claiming that they are not a wallet) and now they are offering wallet services again.
Coinbase Commerce
Coinbase supplies online merchants with the ability to accept cryptocurrencies on their website via a dedicated plugin. The plugin is supported by some of the biggest CMS (content management systems) around such as Shopify, Magento and WooCommerce.
Additional projects
Aside from the above, Coinbase supplies additional services such as:
---
3. Coinbase Currencies and Payment Methods
Coinbase supports the following coins:
Bitcoin

(BTC)

Ethereum

(ETH)

USD Coin (USDC)

Solana (SOL)

Cardano (ADA)

Avalanche (AVAX)

Dogecoin

(DOGE)

Polkadot (DOT)

TerraUSD (UST)

Shiba Inu (SHIB)

Polygon (MATIC)

Crypto.com Coin (CRO)

Dai (DAI)

Litecoin

(LTC)

Cosmos (ATOM)

Chainlink (LINK)

Uniswap (UNI)

Bitcoin Cash

(BCH)

Ethereum Classic (ETC)

Algorand (ALGO)

Stellar Lumens (XLM)

Decentraland (MANA)

Filecoin (FIL)

Internet Computer (ICP)

ApeCoin (APE)
Payment methods vary slightly depending on your country of residence, but for US customers Coinbase accepts the following payment methods:
Bank Account ACH (SEPA in the EU)

Wire transfer (only for adding cash or withdrawals)

Debit cards (only for buying tokens or withdrawals)

Cryptocurrency deposit and withdrawal

PayPal (for buying tokens, adding cash or withdrawals)

Apple Pay & Google Pay (only for buying tokens)
---
4. Fees
Coinbase has become a little more vague about their fee structure since 2022, when they removed specific fee amounts from their pricing and fees page.
Although the actual costs may be similar to historical Coinbase fees, you will not know the exact amount charged until the order creation process. This amount varies according to your payment method, the size of the order and market conditions.
As a rough guide, Coinbase's old fee schedule included a 1.49% fee for most transactions and 3.99% for bank card purchases.
As for Coinbase Pro (for actively trading cryptocurrencies), trading fees begin at 0.60% and decrease according to your trading volume, as well as whether you make a "maker" order or a "taker" order.
Fiat deposits and withdrawals via ACH are free, while USD wire deposits and withdrawals have fees of $10 and $25, respectively. SEPA deposits and withdrawals are almost free at €0.15 each. Swift deposits of GPB are free, but £1 for withdrawals
Coinbase Pro fees can be seen in more detail here.
---
5. Buying Limits
Once your Coinbase account is set up you will be able to buy a small amount of Bitcoins until you raise your limit. In order to raise your limits you will need to do the following:
Provide and verify your phone number

Provide and verify your personal information

Provide and verify your photo id
If you are a fully verified US resident you can reach the highest limit which is currently $25K a day. Limits may also be set depending on the payment method you choose to buy the cryptocurrencies. For example, ACH transfer has higher limits than credit card purchases on Coinbase.
---
6. Supported Countries
Coinbase offers its services in 100+ countries around the globe:
North America
Aruba, Bahamas, Barbados, Bermuda, Canada, Costa Rica, Curaçao, Dominican Republic, El Salvador, Guatemala, Honduras, Jamaica, Mexico, Nicaragua, Panama, Trinidad & Tobago, United States, British Virgin Islands.
South America
Argentina, Brazil, Chile, Colombia, Ecuador, Paraguay, Peru, Uruguay.
Europe
Andorra, Belgium, Bulgaria, Croatia, Cyprus, Czech Republic, Denmark, Estonia, Finland, France, Germany, Gibraltar, Greece, Guernsey, Hungary, Iceland, Ireland, Isle of Man, Italy, Jersey, Latvia, Liechtenstein, Lithuania, Luxembourg, Malta, Monaco, Montenegro, Norway. Poland, Portugal, Romania, San Marino, Serbia, Slovakia, Slovenia, Spain, Sweden, Switzerland, United Kingdom.
Asia
Armenia, Bahrain, Brunei Darussalam, Hong Kong, India, Indonesia, Japan, Jordan, Kazakhstan, Kuwait, Kyrgyzstan, Macao, Maldives, Mongolia, Nepal, Oman, Philippines, Singapore, Taiwan, Turkey, Uzbekistan.
Oceania
New Zealand.
Africa
Angola, Benin, Botswana, Cameroon, Ghana, Kenya, Mauritius, Namibia, Rwanda, South Africa, Tunisia, Uganda, Zambia.
---
7. Coinbase Customer Support and Public Opinion
Coinbase has a very extensive support page. Most standard requests will probably find an answer there. If you are submitting a support ticket via email, you can expect a response within 48-72 hours (from personal experience).
Coinbase also operates a phone support line, although from reader feedback we have received, it seems it's hard to get someone to solve your problem there.
As for the quality of the support, the overall sentiment is negative. Most of the time the support team won't dig deep into your issue on their first response, and it is quite common to receive "canned responses" that don't really address the problem.
Many people in the community complain that Coinbase isn't really very support oriented and that many times issues aren't explained to the customer.
Furthermore, BBB rates Coinbase "F" with a failure to respond to hundreds of complaints.
To sum it up, there has been a lot of controversy over Coinbase within the Bitcoin community. If you're new to Coinbase, this is perhaps the one thing you need to take into account before making your decision to buy cryptocurrency through Coinbase.
Closed or frozen accounts
The most commonly held grudge against Coinbase appears to be sudden freezing of user accounts or outright closures – often occurring without warning or reason. This may be a somewhat expected outcome from tight compliance with traditional banking laws, however can be a massive pain in butt when combined with slow and unhelpful customer support.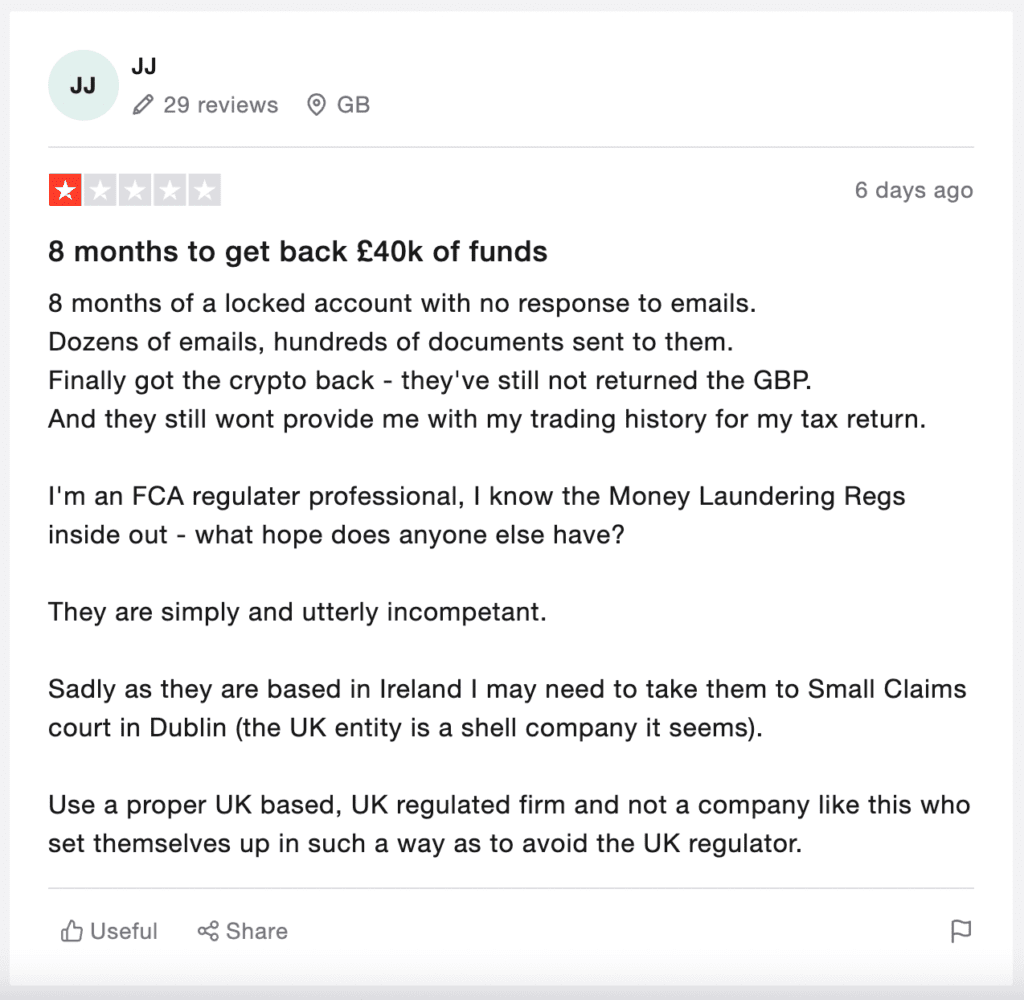 Coinbase was first to receive US regulatory approval. As a result, Coinbase has AML (Anti-Money Laundering) and KYC (Know Your Customer) practices much like any regular bank.
Expect Coinbase to track how you spend "their" coins and to summarily shut your account for the following activities:
Transactions related to adult services.

Bitcoin gambling, including skill-based gaming.

Sale or purchase of contraband through darknet markets.

Resale of coins

on other exchanges, particularly those without AML / KYC.

Other arbitrary reasons which rub their algorithm the wrong way.
As you can see, you can get your Coinbase account shut down rather easily. While you will almost certainly get your money back, it will likely prove to be an inconvenient, frustrating, and potentially costly experience.
Additional criticism
Aside from the above, Coinbase has been the focus of additional criticism including:
Affiliate reward abuse – Coinbase offers a referral program however hasn't always paid its partners according to what is stated (based on my personal experience).
Taking a stand in Bitcoin debates – There are many "internal debates" within the Bitcoin community that Coinbase voiced its opinion on. Usually, it's expected from a service to remain neutral in these debates and follow the natural market movements.
Patenting blockchain –Coinbase has a history of filing patents for cryptocurrency-related "innovations" including "Bitcoin exchange", "hot wallet for holding Bitcoin" and "tips button".
Such patents are obviously not Coinbase innovations and obviously clash with the open-source nature and the philosophy of Bitcoin. Coinbase expects people to trust them, and to refrain from using any such patents to block competition.
Frankly, no company, agency or entity can or should be trusted with legal authority over any aspect of the Bitcoin ecosystem. Bitcoin was designed to obviate the need for such trusted parties.
---
8. Coinbase vs. Other Exchanges
In the following section, I will compare Coinbase and its trading platform (i.e. Coinbase Pro) to other trading platforms around.
Coinbase vs. Coinbase Pro
If you're new to crypto then it will probably be easier for you to use Coinbase (i.e. the brokerage service) than Coinbase Pro (formerly GDAX). As the name suggests, Coinbase Pro is for more experienced users that know how to handle advanced trading methods.
However, if you are an experienced trader, Coinbase Pro offers a much cheaper solution with a max 0.6% fee, which is one-fifth of what you would pay for the brokerage service (and in some cases even less). This fee goes down as your trading volume increases, with the lowest tier being just 0.05%.
Coinbase vs. Gemini
Gemini is a crypto exchange founded by the Winklevoss brothers. Gemini's fee structure is even more complex than Coinbase, and overall fees are higher. The starting point for Gemini is 0.35% whereas Coinbase Pro charges up to 0.6%.
Having said that, you should always check the market exchange rate on both exchanges since there can be some differences.
While most of the time they are more or less the same, in some cases price differences can occur and then the overall price you pay may be cheaper on Gemini (since the lower price compensates for the higher fee). Click here to read our complete Gemini review.
Coinbase vs. Binance
Binance is mostly a crypto-to-crypto exchange, however there are some fiat-to-crypto options available. This is especially true for Binance.US, which supports deposits and withdrawals via ACH, domestic wire transfers and debit card transfers. ACH and wire deposits are free, while debit card deposits are charged a 4.5% fee.
When looking strictly at crypto to crypto exchanges, Binance beats the competition with an extremely low fee of 0.1% as opposed to Coinbase Pro fees that reach as high as 0.6%. Binance also offers a wider variety of cryptocurrencies to trade. Click here to read our Binance review.
Coinbase vs. Robinhood
US investors can also use the Robinhood trading app to invest in cryptocurrencies. However, unlike Coinbase or Coinbase Pro, they will not have direct access to their coins.
This means that users cannot withdraw Bitcoin or other cryptocurrencies from the app. This solution is only useful if you're looking to trade (but not hold) cryptocurrencies.
Robinhood is available in 48 US states and claims to have 0% trading fees, however you will want to be wary of hidden costs via the market spread. In addition to trading cryptocurrencies, Robinhood also allows you to trade traditional stocks.
---
10. Frequently Asked Questions
Is Coinbase FDIC Insured?
According to Coinbase's support page, all digital currency that Coinbase holds online is insured. Coinbase holds minimal customer funds online, while the rest is held in cold storage.

Note that the insurance policy covers any losses resulting from a breach of Coinbase's physical security, cybersecurity, or employee theft. This insurance policy does not cover any losses resulting from the compromise of your individual Coinbase account.

Digital currency is not legal tender, is not backed by the government, and digital currency accounts and value balances on Coinbase are not subject to Federal Deposit Insurance Corporation or Securities Investor Protection Corporation protections.

For US customers, Coinbase stores all customer fiat currency (government-issued currency) in, custodial bank accounts, or in U.S. Treasuries. If you are a United States resident, your Coinbase USD Wallet is covered by FDIC insurance, up to a maximum of $250,000.
How do I Get My Money Out of Coinbase?
If you want to withdraw money from Coinbase, you can do so with the following options:

– To your bank account (via ACH, instant cash-out or wire transfer)
– To your debit card
– To your PayPal account
– To your cryptocurrency wallet (if you're withdrawing cryptocurrencies).
How Long Does it Take to Withdraw from Coinbase?
Withdrawals from Coinbase are usually instant, however it may take up to 3 days for your bank to process the transfer. Cryptocurrency withdrawals should arrive within the hour (depending on how long it takes the next block to be confirmed).

Coinbase may delay digital currency transactions sent from your Coinbase account if they suspect that you did not authorize the transaction. In this case, you can either:

– Wait 72 hours and the transaction will go through automatically
– Accelerate the withdrawal by verifying your identity again
Is it Safe to Buy on Coinbase?
In general, Coinbase is considered a very safe place to buy cryptocurrencies.
Can I Keep my Bitcoin on Coinbase?
Yes, you can keep your Bitcoins on Coinbase, however, I wouldn't recommend it. It's always best to keep your Bitcoin in a non-custodial wallet (i.e. a wallet where only you hold the private keys). Keeping your Bitcoins on Coinbase is like keeping your money in a bank. It's very secure, but you don't have control over it – the bank does.
---
10. Conclusion – Is Coinbase safe to use?
Coinbase is simple and easy to use. The company has invested a lot of time and money into making their user experience smooth and painless. However, you are not in control of your coins and your transactions are being tracked.
I think Coinbase is currently focused on growth and less on satisfying its existing customer base which can be seen by the number of negative reviews they receive and that's a shame. However, if you don't encounter any issues then their prices are fairly competitive.
My personal opinion is this – if possible, use Coinbase to buy cryptocurrencies, the service is solid. However, once you buy your coins get them the hell out of there to a wallet that you completely control, like a hardware wallet.