Gemini Review and Comparison
By: Alex Miguel | Last updated: 1/25/23
Gemini is a cryptocurrency exchange most famous for being founded and owned by Cameron and Tyler Winklevoss, the twin Olympians who sued Mark Zuckerberg over Facebook. In this post, I'll review the Gemini exchange, along with its services, fees and more.
Don't like to read? Watch Our Video Guide Instead
---
Gemini Review Summary
Gemini is a New York-based cryptocurrency exchange that is recognized for its safety and being compliant with US laws and regulations. It's known for having a rigorous coin listing process, as well as providing insurance on user deposits.
That's Gemini in a nutshell. If you want a more detailed review keep on reading, here's what I'll cover:
---
1. Gemini Overview
The Gemini bitcoin exchange was devised by a famous pair of twins, Cameron and Tyler Winklevoss.
The twin brothers brought Gemini to the world in 2015, and they used a very different approach to building a cryptocurrency company. Based in New York, they took a route that most others were desperately trying to avoid: regulation.
Before launching the exchange, it became a fully compliant and fully registered enterprise, and it held the highest levels of both capital reserves and compliance to banking standards.
The 'Winklevii' continue to strive to build a world-class exchange of digital assets. Their underlying philosophy in the unruly cryptocurrency world is to always ask for permission, rather than beg for forgiveness.
It is clear that the company has designed itself to stay completely above-board every step of the way. Many now see it as one of the most—if not the most—legitimate trading platforms in the world.
---
2. Gemini Services
Overall, the Gemini platform is very nicely designed to enhance user confidence. I found it very simple to use.
Cryptocurrency Trading
Gemini's default exchange interface streamlines the trading process, making it much easier for beginners to navigate and operate. This includes simple line charts (no candlesticks!), and strictly market buys and sells. There's also a handy "How often?" drop-down box, which can be used to schedule recurring purchases of a cryptocurrency.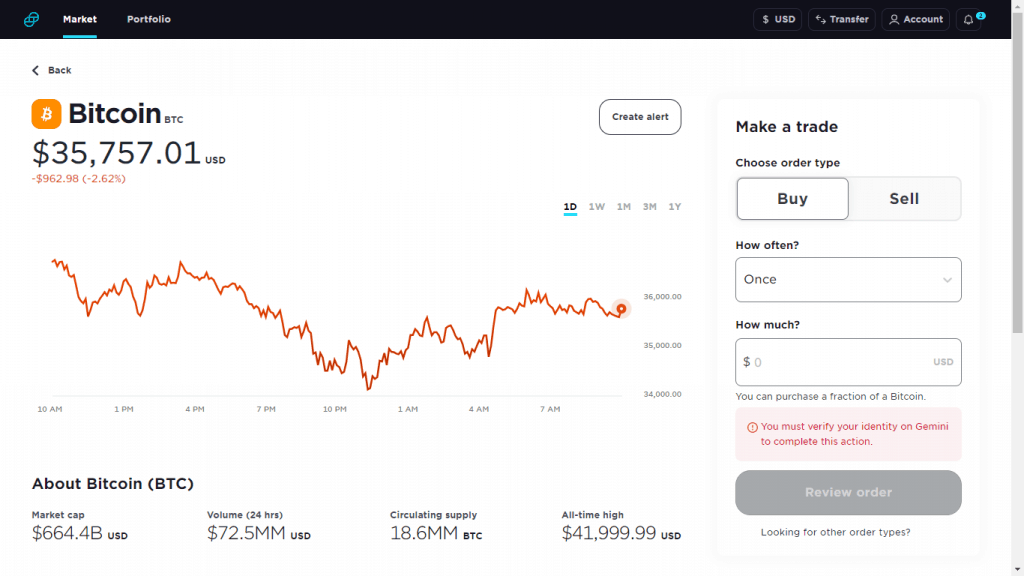 Security-wise, it provides the functions you would expect, including two-factor authentication, which is a must in any financial account.
Advanced Exchange
For more advanced traders, Gemini also has a more feature-packed exchange service called ActiveTrader™. This is closer to what you see on other exchanges, showcasing a complete suite of trading tools including candlestick charts, limit orders (and other order types), order books and depth charts.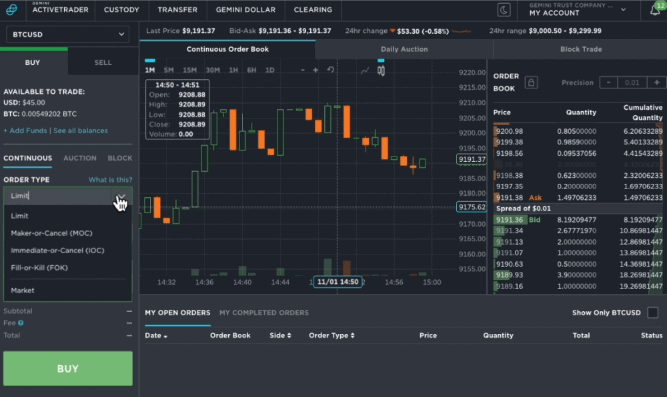 The interface is also a dark theme by default, which is easier on the eyes and caters to users trading around the clock.
Wallet
Your Gemini account also doubles as an insured hot-wallet, which means your funds are easily accessible but also safe. The wallet supports all of the platform's listed assets, with capital in reserve as a New York trust company.
Custody Service
For those who want to safely store large amounts of crypto for the long-term, Gemini also provides a cryptocurrency custody service called Gemini Custody™, allowing individuals and institutions to safely store their assets.
Gemini Custody™ accounts are regulated as a New York State trust company, insured for up to $200 million, and provide same-day withdrawals for trading on Gemini's exchange.
OTC Desk
Gemini Clearing™ is an over-the-counter (OTC) desk for cryptocurrency trading, which allows parties to settle trades off the exchange. Gemini brokers the exchange, making off-exchange deals less risky and more competitively priced.
Gemini Pay™
Gemini Pay™ is a service that allows users to spend their crypto in over 30,000 retail stores in the US. Users can pay for their goods and services using any one of several major cryptocurrencies in their Gemini account, using the Gemini mobile app.
Gemini Credit Card
Gemini is on the verge of releasing its own credit card in 2022, which will be available across all 50 US states. The card will allow users to earn up to 3% rewards on each purchase in the form of cryptocurrencies, and will charge no exchange fees for crypto rewards. Users can currently sign up to join the Gemini Credit Card waitlist.
Mobile App
Gemini also offers all of their core services through a mobile app, which is available on both iOS and Android. Users can buy, sell and store their crypto on the go, as well as set price alerts for their crypto assets.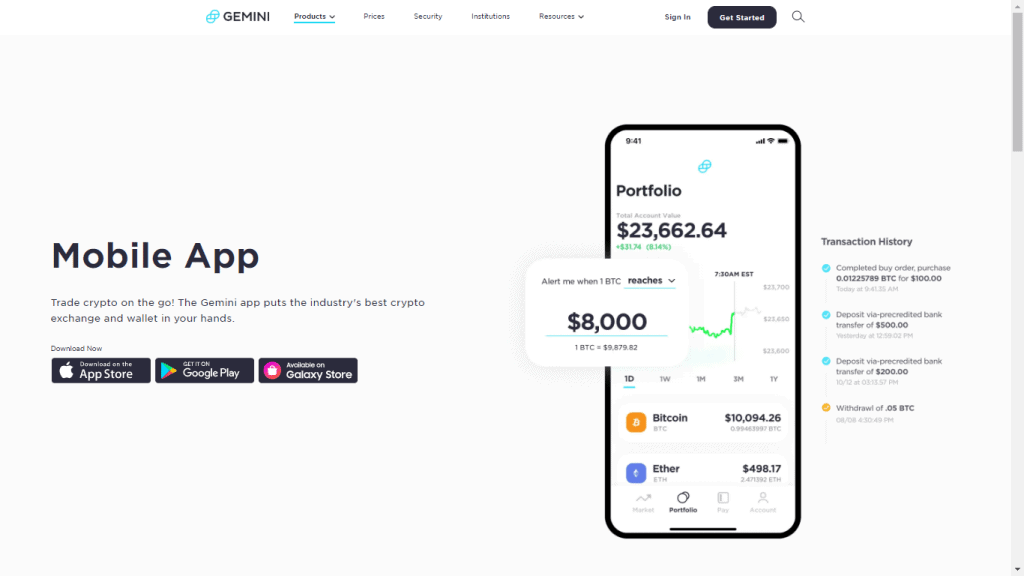 Gemini Dollar
Finally, Gemini have their very own stablecoin – the Gemini Dollar (GUSD). Gemini Dollars are pegged 1:1 to the US dollar, with reserves being regularly verified by an independent accounting firm.
Gemini claims that GUSD sees a high turnover and redemption rate compared to other stablecoins, proving that they are highly liquid and reliably redeemable.
---
3. Currencies and Payment Methods
Although they did not list many cryptocurrencies to begin with, Gemini now has a selection of more than 45 coins and tokens that can be traded on the exchange. These Include:
Bitcoin (BTC)
Ether (ETH)
Bitcoin Cash (BCH)
Litecoin (LTC)
Filecoin (FIL)
Chainlink (LINK)
Zcash (ZEC)
Basic Attention Token (BAT)
Dai (DAI)
Orchid (OXT)
Maker (MKR)
Decentraland (MANA)
0x (ZRX)
Kyber Network (KNC)
Storj (STORJ)
PAX Gold (PAXG)
Compound (COMP)
Amp (AMP)
Aave (AAVE)
Balancer (BAL)
You can view a list of all cryptocurrencies currently supported by Gemini here.
Gemini also supports multiple fiat currencies including USD, AUD, CAD, EUR, GBP, SGD and HKD.
A big bonus for Gemini is the ability to trade real dollars. Some major exchanges, such as Binance, don't have direct BTC-to-USD trading, so you have to use Tether's 'USDT' (or other supported stablecoins) instead. With Gemini, you can deposit and withdraw real dollars, without any hiccups – as long as you abide by their verification processes.
Payment methods
You can make deposits into Gemini in any of the supported cryptocurrencies. You may also deposit fiat currency via domestic or international wire transfer, or via ACH bank transfer if you're based in the United States. Lastly, the exchange also allows you to make instant crypto purchases using a debit card.
Fiat currency withdrawals can be made using wire transfers or ACH , however you can't withdraw to a debit card. As expected, you can also freely withdraw your cryptocurrency balances directly to your own wallet.
---
4. Gemini Fees
Trading Fees
Gemini's trading fees vary depending on which fiat currency you use, however all fees on trades between $0 and $200 will cost from $1 to about $3. For trades larger than $200 worth of crypto, you'll be charged 1.49% of the order value.
All transactions also incur a "convenience fee" of 0.50%, which altogether works out to be quite expensive compared to other exchanges. Fees may be slightly different for orders executed on the mobile app and other services.
Fees are slightly better on their advanced exchange service, ActiveTrader, which has taker fees starting at 0.35% and maker fees as low as 0.25%.
Full details on fees can be found in the Gemini FAQ section.
Deposit and Withdrawal Fees
Wire transfers including ACH payments are free when depositing and withdrawing from Gemini, while debit card transfers are subject to a flat rate of 3.49% of the total purchase amount.
It should be noted that while Gemini doesn't charge fees on wire transfers themselves, your bank may still charge you for the transaction.
Cryptocurrency withdrawals are free for all coins and tokens for up to 10 withdrawals per calendar month. Above this limit, users will be charged a fee to cover transaction costs on the asset's specific blockchain, which varies from asset to asset. For a complete look at the most current Gemini fee schedule, click here.
---
5. Supported Countries
Gemini is available in the following countries:
Argentina, Australia, Austria, Belgium, Brazil, British Virgin Islands, Bulgaria, Canada, Cayman Islands, Chile, Croatia, Cyprus, Czech Republic, Denmark, Egypt, Estonia, Finland, Greece, Guernsey, Hong Kong, Hungary, Iceland, India, Ireland, Israel, Italy, Jersey, Latvia, Liechtenstein, Lithuania, Luxembourg, Malta, Myanmar, Netherlands, New Zealand, Nigeria, Norway, Peru, Philippines, Poland, Portugal, Romania, Singapore, Slovakia, Slovenia, South Africa, South Korea, Spain, Sweden, Switzerland, Taiwan, Turkey, United Kingdom, United States, Vietnam
All US states are supported.
---
6. Customer Support and Reviews
Gemini's first line of customer support is their in-depth FAQ section and their email support service. Although there is no live chat support, their email support service is known to receive very prompt replies – often within hours.
If email support doesn't cut it for you, Gemini offers a customer support phone number, Twitter support, and even a physical address for mail-ins.
Aside from the missing live chat support, Gemini's overall customer service has the most lines of communication I've seen from a cryptocurrency exchange platform.
Whether or not these are effective for resolving significant issues, however, is another question.  Unfortunately for Gemini, the exchange currently has a "poor" average rating on Trustpilot, with what appears to be a lot of unhappy customers.
For most of these reviews, the main issues stem from slow customer support, difficult identity verification processes, and accounts being frozen upon being funded: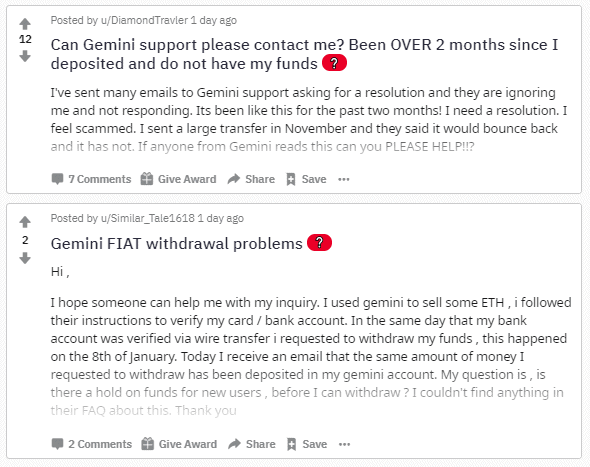 Most of this seems to be due to very strict know-your-customer (KYC) processes, and perhaps an inability to handle high customer support traffic. It also appears that users frequently run into issues because Gemini allows users to deposit funds before being fully verified, but will not allow withdrawals until KYC is complete.
---
7. Frequently Asked Questions
Are the fees high on Gemini Exchange?
Yes, trading fees are relatively very high on Gemini compared to other popular cryptocurrency exchanges. This includes a 0.50% convenience fee on all trades, which is charged on top of regular trading fees.
Deposit and withdrawal fees, however, are cheap on Gemini. These are virtually free across the board, unless you make more than 10 withdrawals per month.
Which fiat currencies are accepted on Gemini Exchange?
Several fiat currencies are accepted on Gemini Exchange. These include USD, AUD, CAD, EUR, GBP, SGD, and HKD.
Has Gemini Exchange ever been hacked?
No, Gemini has never been hacked since it was founded in 2015. It is one of the few major cryptocurrency exchanges that has never been successfully attacked.
---
8. Conclusion – Is Gemini Legit?
Gemini is a solid exchange with a reputation for being safe, secure and compliant with regulations. Online reviews, on the other hand, highlight some of the problems with being "too secure", with many users complaining about difficult verification processes and frozen funds.
Fees are not Gemini's strongest point, as they run one of the most expensive trading fee schedules in the industry.
Last thing to consider: Before depositing funds with Gemini, I would recommend that you ensure that you are comfortable handing over a large amount of personal information (including social security number and passport details), as well as confirming that you are fully eligible for opening an account with them.
Looking past the issues, Gemini is a secure and insured exchange. Whether or not that's worth the extra hassle and fees, well, that depends whether you prefer your security over your anonymity.