How to buy Cardano (ADA) – A Beginner's Guide
By: Ofir Beigel | Last updated: 11/9/23
Cardano is an open-source, decentralized cryptocurrency that was founded in 2015, but only became available for trading in September 2017. In this post I'll explain a bit about what Cardano is, its currency (ADA) and how to buy it online.
Don't like to read? Watch Our Video Guide Instead
---
How to Buy Cardano Summary
Here's how to buy Cardano (ADA):
Get a Cardano wallet (Ledger Nano X, Exodus)
Locate your ADA address
Withdraw the ADA to your wallet
If Coinmama doesn't work out for you, here are a few additional buying options:
That's how to buy Cardano in a nutshell. If you want a deeper explanation of Cardano and the buying process, keep on reading. Here's what I'll cover:
---
1. What is Cardano
Cardano is a cryptocurrency and smart contract platform that aims to solve the issues faced by the current smart contract leader – Ethereum.
Cardano has a foundation layer that, similar to Bitcoin, is used for settling payments. On top of that, there is a control layer which runs smart contracts. It's as if you rolled Bitcoin and Ethereum into one network.
Cardano aims to create a cryptocurrency and smart contract platform that is sustainable, scalable and interoperable (i.e. to allow the exchange of assets between different blockchains, similar to atomic swaps).
The platform uses ADA as its currency in order to run smart contracts, similar to how Ether is used to run contracts on Ethereum. The ADA supply is limited to 45 billion coins.
Cardano was created by the company IOHK (Inputs, Outputs, Hong Kong) together with the Cardano Foundation and with Charles Hoskinson as its CEO. Charles was also one of the Ethereum co-founders. 
Cardano works on a Proof-of-Stake model, which means that instead of mining, you must stake your Cardano in order to participate in the consensus process of the network. The process of staking your Cardano will allow you to generate income from it, however you'll need to stake a large amount to make it worthwhile.
Cardano and ADA have made their way to the top of the cryptocurrency charts while trying to win the battle for the go-to smart contracts platform alongside Ethereum, Solana, Polkadot and many others. The first official use case for Cardano was announced in December 2017, with the potential for Greek student diplomas to be stored and verified on the Cardano blockchain.
---
2. Buying Cardano in 3 Steps
Step 1 – Choose a Cardano wallet
When Cardano was still in its early stages there weren't many options for storing ADA. However, the project has come a long way and today most hardware and software wallets allow you to store ADA.
Cardano Hardware Wallets
If you're looking for a secure solution to store your ADA, you can use a hardware wallet. Hardware wallets keep your private keys offline on the hardware device itself. This makes hardware wallets much more resistant to hacking than software wallets, which are connected to the Internet.
For storing ADA, you can use a Ledger hardware wallet in conjunction with AdaLite. Both Ledger models support this, but the Nano X also has mobile support. You can read my Ledger Nano X review here.
Alternatively, you can use the TREZOR Model T in conjunction with AdaLite. You can read my full review of the TREZOR  T here.
Cardano Software Wallets
The easiest way to store ADA alongside other cryptocurrencies would be to use a free software wallet such as Exodus, which is pretty intuitive and supports both desktop and mobile devices.
Another great option is Atomic Wallet, a software wallet available for desktop and mobile that allows you to store ADA and over 300 additional cryptocurrencies. The wallet allows you to exchange your assets via non-custodial Atomic Swaps, with a decentralized order book. Atomic Wallet also lets you stake ADA to earn interest on your coins.
Finally, Daedalus is the official, open-source Cardano desktop wallet. Daedalus can be downloaded via its official website. The idea behind the wallet is that it will grow with the community, becoming a universal wallet, blockchain application platform and app store.
Daedalus wallet is available for Windows, Mac and Linux.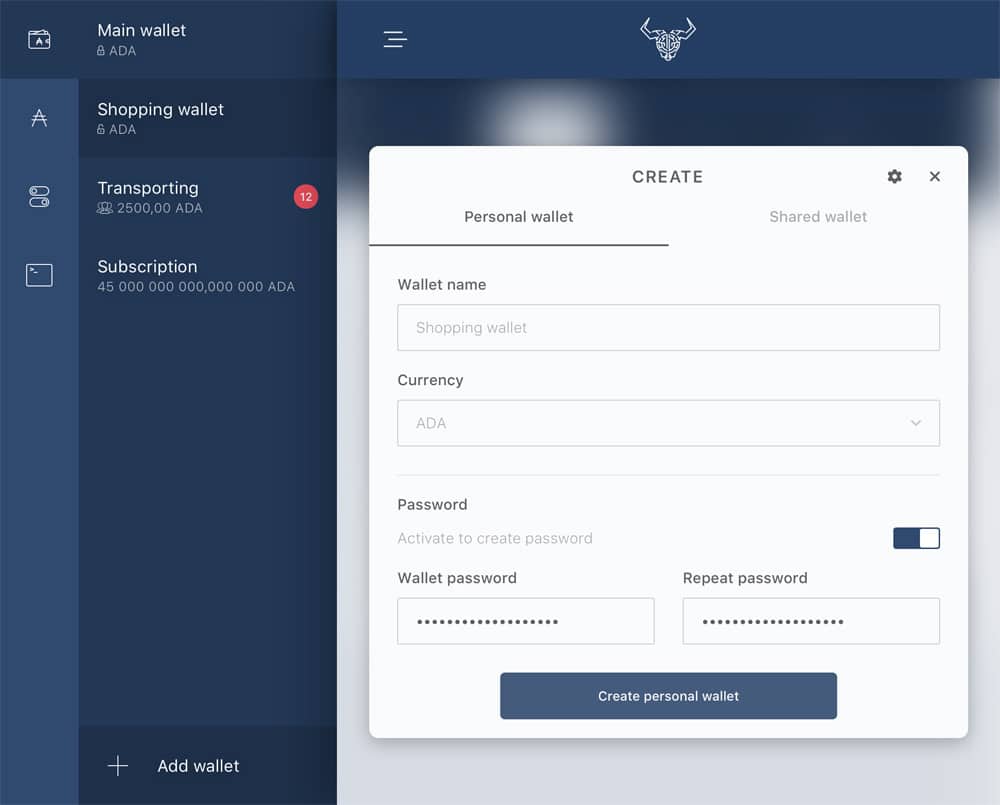 Locate Your Cardano Address
Once you have your Cardano wallet, make sure to locate your ADA address. It's a very long string of letters and characters that starts with a "D". Here's an example:
DdzFFzCqrht6uv8fraMCgBXgTYypPmNZvJeJupPraMUgbYJWJ2CVoqNQ4KfGne2ebpZgjaC7PP1vxgyRwLZ3WsywNDxZVPjHgMmLRQ3W
Step 2 – Buy ADA on an exchange
As Cardano matures, more and more exchanges will allow you to buy and trade ADA, including established market leaders:
Buy Cardano Through CEX
CEX.io is a cryptocurrency exchange that has both an "instant buy" option for beginners and an advanced trading platform for more seasoned traders.
The exchange allows you to buy Cardano with a credit card, debit card, SEPA transfer, ACH and wire transfer. If you want to save on fees, it's better to use the trading platform and not the instant buy option. You can read my complete CEX review here.
Buying Cardano through Coinbase
Coinbase allows you to instantly buy Cardano with your debit card, bank account, Apple/Google Pay and PayPal. The exchange is available for users from over 100 countries globally and claims relatively low fees (especially when using ACH transfers within the US).
Coinbase has been around since 2012 and has a solid reputation, with the only exception being the quality of its support; It seems like the company has a lot of room for improvement there, with the only live support being subject to lengthy phone waiting times and an offline response time that's somewhere between 'slow' and 'no response at all'.
Still, Coinbase is one of the cheapest and fastest options for buying ADA – as long as its services are available in your country.
Buy Cardano Through Coinmama
Coinmama is one of the oldest crypto exchanges around. Coinmama acts as a broker, meaning they instantly send you your coins instead of holding them in a dedicated account like other sites may do.
Coinmama allows you to buy Cardano with a credit card, debit card, SEPA/Swift transfer, Apple/Google Pay or Skrill. Verification is relatively quick and the fees are pretty low compared to the competition. You can read my complete Coinmama review here.
Buy Cardano Through Binance
Binance is a cryptocurrency exchange founded in 2017, that has become the biggest crypto exchange in the world. On Binance, you can find and trade over 500 cryptocurrencies, including ADA, that can be bought with a variety of cryptos or fiat currency.
Binance lets you buy coins from its exchange with credit or debit card, SEPA transfer or bank transfer. You can read my complete Binance review here.
Here's how to buy Cardano on Binance using Bitcoin:
Sign up to

Binance

Go to "Deposit" -> "Crypto" and select BTC to locate your Bitcoin address

Deposit Bitcoin to your Binance Bitcoin address

Wait for the coins to show up in your account

Go to "Exchange" -> "Basic"

Search for the ADA/BTC pair

Go to "Market" and type in the amount of ADA you want to buy

Click "Buy ADA"
Here's how to buy Cardano on Binance using your bank card:
Sign up to Binance

Go to "Trade" -> "Buy Crypto"

Search for ADA

Type in the amount of ADA you want to buy

Enter your card details

Click "Buy ADA"
Buy Cardano Through Uphold
Uphold is an all-in-one platform that lets users trade cryptocurrencies including Cardano, as well as commodities, equities and fiat currencies. Although it doesn't have the greatest range of additional cryptocurrency features, Uphold is perfect for those who wish to trade all kinds of assets on a single platform.
Uphold users can fund their account instantly using a debit/credit card, wire transfer or alternatively link a bank account for easy transfers. Note that there are hidden spreads for Uphold trading, so make sure you understand how much you are going to pay before you make a trade.
You can read our complete Uphold review here.
Buy Cardano Through eToro
eToro is probably the easiest way to go if you're into Cardano only for speculative reasons. (Note: CFD trading is not available to US users.) eToro, one of the leading companies in the cryptocurrency space, gives users the option to buy and sell many different coins with low fees and with a variety of payment options.
The main thing to keep in mind when dealing with eToro is that it's a bit complicated to withdraw the coins themselves to your own wallet. However, with eToro, you can easily withdraw fiat currency (i.e., USD, EUR). Therefore, if you're using eToro, you might as well skip Step 1 of getting a wallet.
You can read my complete eToro review here.

eToro disclaimer: This ad promotes virtual cryptocurrency investing within the EU (by eToro Europe Ltd. and eToro UK Ltd.) & USA (by eToro USA LLC); which is highly volatile, unregulated in most EU countries, no EU protections & not supervised by the EU regulatory framework. Investments are subject to market risk, including the loss of principal.
76% of retail investor accounts lose money when trading CFDs with this provider. You should consider whether you can afford to take the high risk of losing your money.
CFDs are not available to US customers.
Don't invest unless you're prepared to lose all the money you invest. This is a high-risk investment and you should not expect to be protected if something goes wrong.
Take 2 mins to learn more
Buy Cardano Through Bittrex
Bittrex is a US cryptocurrency exchange with a huge number of cryptocurrencies listed. On Bittrex you can buy ADA by trading it for BTC, USDT or USD. Bittrex accepts credit/debit cards, SEPA transfer and wire transfers only, with no support for Apple/Google Pay or PayPal. You can read my complete Bittrex review here.
Buy Cardano with Cash
There are very few crypto/Bitcoin ATMs where you can buy Cardano ADA with cash. Therefore you may be better off buying Bitcoin with cash then exchanging it for Cardano on one of the cryptocurrency exchanges listed above.
How to Buy Cardano with PayPal
You can buy Cardano with PayPal on Coinbase. It's expected that there will be more options for buying with PayPal in the future as cryptocurrencies continue to grow in popularity.
Alternatively, you can go to LocalBitcoins, which allows you to buy Bitcoin via PayPal. All you need to do is transfer your Bitcoin to an exchange such as Binance and exchange it for ADA.
Step 3 – Withdraw the ADA to your own wallet
Once you've finished buying ADA, make sure to move the coins to your own non-custodial wallet (i.e. a wallet that gives you access to your private key). Leaving your coins on an exchange exposes you to the risk of fraud or theft (which has happened numerous times in the past).
Once the coins hit your wallet, you've successfully completed the process of buying Cardano.
---
3. Conclusion
Cardano is a cryptocurrency that continues to grow in popularity. While the project has come a long way since its early stages, there is still a lot of room for growth and ADA should become easier to buy, sell, and store as cryptocurrency enjoys more widespread adoption.
It's hard to say if Cardano will continue to stay near the top of the cryptocurrency list in the future, with such fierce competition from Ethereum, Solana, Polkadot and others.
Have you used any of the above wallets or exchanges? What do you think of Cardano as a project? Let me know in the comments below!