How to buy Cardano (ADA) – A Beginner's Guide
Last updated: 2/11/19
Cardano is an open-source, decentralized cryptocurrency that has made its way into the top ten market cap cryptocurrencies seemingly out of nowhere. It's a project that began in 2015 and only became available for trading in October 2017. In this post I'll explain a bit about what Cardano is, its currency (ADA) and how to buy it online.
Post summary
Here's how to buy Cardano (ADA):
Get a Cardano wallet (Daedalus)
Locate your ADA address
Withdraw the ADA to your wallet
That's it! If you want a deeper explanation of Cardano and the buying process keep on reading. Here's what I'll cover:
---
1. What is Cardano
Cardano is a cryptocurrency and smart contract platform that aims to solve the issues confronted by the current smart leader – Ethereum. Cardano has a foundation layer that, similar to Bitcoin, is used for settling payments. On top of that there is a control layer which runs smart contracts. It's as if you rolled Bitcoin and Ethereum into one network.
Cardano aims to create a cryptocurrency and smart contract platform that is sustainable, scalable and interoperable (i.e. to allow the exchange of assets between different blockchains, similar to atomic swaps).
The platform uses ADA as its currency in order to run smart contracts, similar to how Ether is used to run contracts on Ethereum. The ADA circulation is limited to 45 Billion coins.
Cardano was created by the company IOHK (Inputs, Outputs, Hong Kong) and Charles Hoskinson, its CEO, which has been one of the pioneers of Ethereum as well. Cardano and ADA have made their way to the top of the cryptocurrency charts while trying to win the battle for the best smart contracts platform alongside EOS, IOTA, NEO and more.
The first official use case of Cardano was announced in December 2017 with the potential for Greek student diplomas to be stored and verified on the Cardano blockchain.
---
2. Buying Cardano in 3 Steps
Step 1: Choose a Cardano wallet
Cardano is a young project that's still very much under development. For this reason, there are very few wallet options available for storing ADA, the Cardano currency.
Daedalus – The official Cardano desktop wallet, Daedalus can be downloaded via its official website. It's an open-source cryptocurrency wallet for ADA. The idea behind the wallet is that it will grow with the community, becoming a universal wallet, blockchain application platform, and app store. Daedalus wallet is available for Windows and Mac.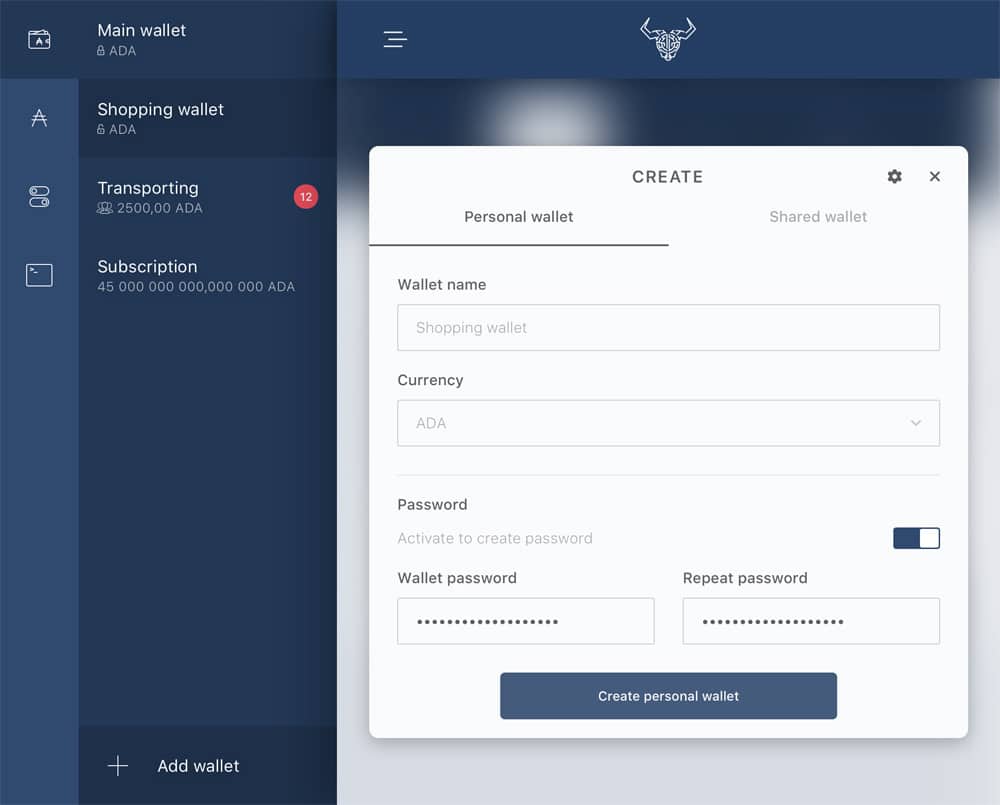 If you're looking for a more secure solution you can use the TREZOR Model T in conjunction with AdaLite to control your ADA. You can read my full review of the TREZOR  T here.
There is currently no other reputable wallets available for Cardano ADA other than the Deadalus wallet. Do not attempt to download or use any web, mobile or desktop wallet that claims to support it—it's highly likely to be a scam.
Once you have your Cardano wallet make sure to locate your ADA address. It's a very long string of letters and characters that starts with a "D". Here's an example:
DdzFFzCqrht6uv8fraMCgBXgTYypPmNZvJeJupPraMUgbYJWJ2CVoqNQ4KfGne2ebpZgjaC7PP1vxgyRwLZ3WsywNDxZVPjHgMmLRQ3W
---
Step 2: Buy Cardano on an exchange
Since Cardano only became available for exchange in October 2017, there aren't many places you can buy it yet. Thankfully, you do have the option of the following established cryptocurrency exchanges:
eToro – If you're into Cardano only for speculative reasons (buying low and selling high for a profit) eToro is probably the easiest way to go. eToro, one of the leading companies in the cryptocurrency space, gives users the option to buy and sell many different coins at low fees and with a variety of payment options (PayPal, credit card, etc.).
The main thing to keep in mind when dealing with eToro is that you won't be able to withdraw the coins themselves to your own wallet. With eToro you can only withdraw fiat currency (i.e. USD, EUR). Therefor, if you're using eToro you can skip Step 1 of getting a wallet.
Be advised – cryptocurrencies can widely fluctuate in prices and are not appropriate for all investors. Trading cryptocurrencies is not supervised by any EU regulatory framework. Keep in mind that your capital is at risk.
Coinmama is one of the oldest crypto exchanges around. Coinmama acts as a change, meaning they instantly send you your coins instead of holding them in a dedicated account like other sites may do. Coinmama allows you to buy Cardano with a credit card, debit card or SEPA transfer. Verification is relatively quick and the fees are pretty low compared to the competition.
Binance – This Shanghai-based cryptocurrency exchange has become one of the most popular crypto exchanges around. On Binance, you can find dozens of cryptocurrencies, including ADA, that can be bought with BTC or ETH. Recently Binance added the option to buy coins from its exchange with credit or debit card, making it a very attractive option.
Bittrex is a US cryptocurrency exchange with a huge number of cryptocurrencies listed. On Bittrex you can buy ADA by trading it for BTC or USDT.
Buy Cardano with cash
There isn't currently a way in which you can buy Cardano ADA with cash. What you can do is buy Bitcoin with cash then exchange it for Cardano on one of the cryptocurrency exchanges listed above (or through Changelly).
How to Buy Cardano with PayPal
As with cash and credit card, it's not yet possible to buy ADA with PayPal. The only possible option is through eToro but then you won't be able to withdraw the coins. It's expected that there will be more options in the future, as cryptocurrencies continue to grow in popularity.
If you need direct access to the coins, you can go to LocalBitcoins which allows you to buy Bitcoin via PayPal. Then, all you need to do is transfer your Bitcoin to Binance and exchange it for ADA.
---
Step 3: Withdraw the ADA to your own wallet
Usually we advise people to withdraw coins from exchanges as soon as they buy them, so they will be in total control of their coins. However, there aren't many Cardano wallets available at the moment, and the Daedalus wallet is only available for desktop. If you can install Daedalus, then it's probably better to move your coins over to that wallet. If you can't, then you'll have to leave them on the exchange. Make sure to secure your account properly (strong unique password, 2FA).
---
3. Conclusion
Cardano is a cryptocurrency that continues to grow in popularity. While it's still at an early stage, the project shows some promise and should become easier to buy, sell, and store as cryptocurrency enjoy more widespread adoption.
It's hard to say if Cardano will continue to stay in the top of the cryptocurrency list in the future, with such fierce competition from Ethereum, IOTA, EOS and others.
Have you used any of the above wallets or exchanges? What do you think of Cardano as a project? Let me know in the comments below!
Bitcoin Video Crash Course
Dummy-proof explainer videos enjoyed by over 100,000 students. One email a day for 7 days, short and educational, guaranteed.
We hate spam as much as you do. You can unsubscribe with one click.