Binance Review and Comparison
Last updated: 5/8/19
Binanace is the leading crypto to crypto exchange around with over 100 coins supported for deposit and withdrawal. In this review I'll cover the main things you need to know before signing up.
Binance review summary
Binance is a crypto only trading platform that offers one of the most competitive rates around. If you're looking to trade crypto to crypto only this is probably the easiest and cheapest way to go. The exchange accepts users from around the world and has received favorable reviews from the crypto community.
If you want a detailed review of Binance keep on reading, here's what I'll cover:
---
1. Binance overview
Binance is a Hong Kong–based cryptocurrency exchange launched by developer Changpeng Zhao in July 2017. Zhao's company Beijie Technology created the exchange after a successful ICO that raised $15 million. Investors who invested in the ICO got Binance Coin (BNB) in return which can be used to trade cryptocurrencies and pay for fee on Binance.
BNB's initial value was around $0.1, and as Binance got more and more popular the coin appreciated in price.
Beijie Technology and its founder maintain an impressive track record within the industry. Zhao's CV includes high-profile positions, such as technical director at Blockchain.info, and his company now provides trading systems for over 30 other platforms.
Following struggles with the Chinese government's views on cryptocurrencies, Binance now runs its servers from more lenient states, providing it with the freedom to run a competitive exchange service:
"In response to China's decisions, we are moving our IP's from Hong Kong to an offshore location. So we are registered in multiple locations and we have people in multiple locations. That way we will never be affected by one regulatory body," explained Zhao.
The trading exchange has been experiencing astounding success since its summer launch, and it now sits around the top ten in terms of 24-hour trading volumes on Coinmarketcap.
On May 7, 2019, Binance experienced a major hack which resulted in 7000 Bitcoins stolen from the exchange.
---
2. Binance services
Binance provides a single service – a trading platform between different cryptocurrencies. Users can choose between the "basic" and "advanced" interfaces.
The basic interface allows a quick view of market and trading pairs, making it easier to switch pairs; The advanced view give users access to advanced charting tool. For people who are new to trading there won't be any difference between the two views – both would seem too complex.
---
3. Supported currencies and payment methods
Binance offers a crypto-to-crypto exchange, meaning that it doesn't facilitate any fiat currencies. This allows the platform to work freely, steering clear of any red tape or regulation (for now).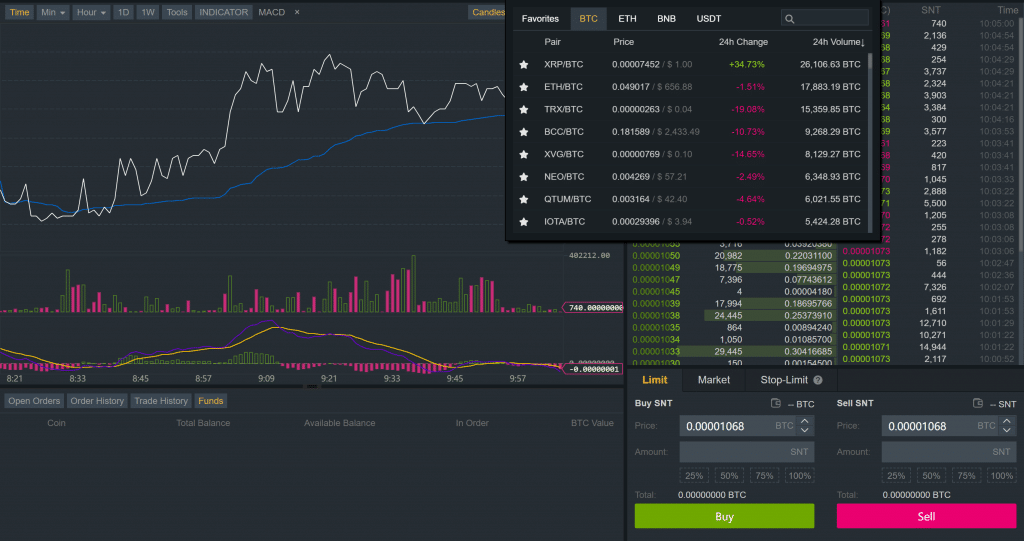 There's an impressive cryptocurrency selection on offer in conjunction with the Bitcoin, Ether, BNB, and Tether trading pairs. All in all, the number of coins available is nearly 100, and all major altcoins, including Litecoin, Ripple, and Bitcoin Cash, are in the listing. Adding to this is a neat roster of up-and-coming altcoins.
---
4. Binance fees
In a competitive space, the fee structure of Binance is cutting edge. Its team members have sharpened their knives and are slicing the opposition apart.
A flat rate of 0.1% is very enticing for any trader who doesn't need immediate fiat liquidation. Incredibly, it undercuts most other large exchanges, some of which charge upward of 0.2%. That's a pretty sizeable difference if you're working with large orders.
BNB, the native Binance token, provides an additional 25% discount on this trade fee when working with the coin.
Deposits are free, as you'd expect (it's generally the sending wallet that pays blockchain fees with cryptocurrencies). Withdrawal fees do apply, although they generally correlate with the blockchain transaction fees. The withdrawal fee seems to be updated on a regular basis to try and offer a fair price.
---
5. Binance limits
Binance has a very simple limit structure. There are only withdrawal limits. Non verified accounts can withdraw up to 2 BTC every 24 hours. Verified accounts can withdraw 100 BTC every 24 hours.
Verification requires filling out a basic KYC form and providing proof of identity among other documents.
---
6. Binance supported countries
Binance does not mention which countries are supported by its exchange which makes it basically available worldwide. There is also no mention about exceptions for US citizens which caused Binance to come up on the US Department of Financial Services radar for potential violation of New York's virtual currency regulations.
---
7. Customer support and reviews
Binance does an adequate job in terms of its customer support. Most inquiries need to be made via the site's email contact form, and after that, it's simply a matter of waiting. As with most major trading exchanges, you may have to wait awhile for a response simply due to the sheer growth in demand.
There is a Wechat customer service QR code to tap into, that may help via a quick live chat, but some of the responses are automated (and in Chinese).
On testing the Wechat, I originally received an automatic reply pointing me to support page links. Five minutes later, another notification revealed what seemed to be an actual person on the other end. My Chinese wasn't good enough to decipher the messages without Google Translate, but it all seems legitimate.
Happily, the website is completely multilingual, so most people should get along fine in one language or another. English, French, Spanish, German, Korean, Japanese, and Chinese are all options on the exchange. This is another real advantage for Binance as it seeks to compete as a global cryptocurrency exchange.
There's a lot to love about Binance, and many traders continue to be upbeat about the service. Low fees, a responsive exchange, and developers with a proven track record leave most people beaming. Binance has generally been considered a comprehensive success in its short life so far.
One major problem does appear to be a thorn in the site's side: Many reviews complain about a faulty 2FA/SMS confirmation. The temperamental nature of this setup for Binance means that a few customers struggle to withdraw funds. In fact, it's such a problem that scam allegations have been pointed at the service.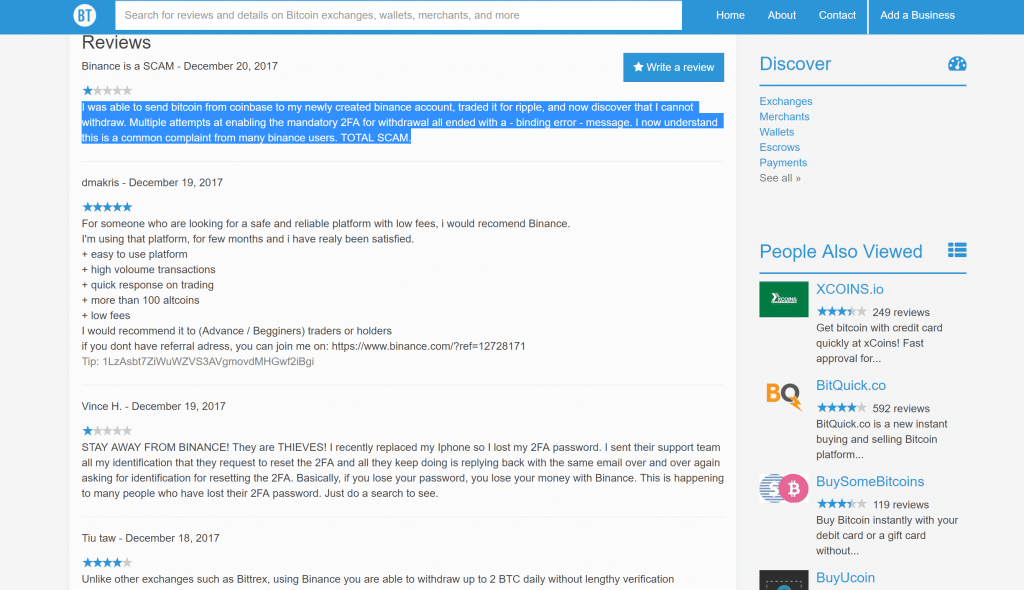 To be honest, dodgier prospects exist across the industry, and I see this as more of a technical issue than a scam. It's probable that this hiccup will be ironed out in 2018, after which I expect Binance to drive to an even higher market cap.
A unique allegation that came up against Binanace is that it lists coins (more specifically shitcoins) in exchange for money. This claim was denied by the company.
---
8. Binanace compared to other exchanges
Since Binance provides only trading services I will compare its fee schedule to other reputable exchanges.
Binance vs Coinbase (pro)
Coinbase Pro is Coinbase's trading platform. It is one of the leading exchanges around in terms of reputation and adoption.
Aside from the limited availability of the platform worldwide (supports only 33 countries), the platform charges a 0.3% trading fee which is 3 times of what Binance charges. On the up side, Coinbase allows users to deposit and withdraw fiat as opposed to Binance. You can read our full Coinbase review here.
Binance vs Bittrex
Bittrex is a US cryptocurrency exchange that has grown in popularity among crypto traders since launching its operations in December 2014. Its steady growth has made it one of the most preferred altcoin exchanges on the market. You can read our full Bittrex review here.
Bittrex charges a flat 0.25% fee on all trades. This is 2.5 times more than what Binance charges. The exchange supplies a wide variety of altcoins (over 250) which is more than what Binanace currently provides.
Binance vs Bitfinex
Bitfinex is the world's biggest Bitcoin exchange by volume. The exchange offers advanced trading options such as Bitcoin margin trading and is not suitable for newbies. Bitfinex supports over 100 cryptocurrencies and tokens which is pretty similar to Binance. You can read our Bitfinex review here.
Bitfinex works on a maker taker fee schedule which means that your fee depends on whether you're placing a new order on the exchange or filling an existing one. Makers, people who add new orders to the exchange, have a 0.1% fee at max (similar to Binance). Takers, people who remove orders from the exchange, have a 0.2% fee at max (twice than Binance). Fees are reduced once you start trading in higher volumes.
Binance vs Kraken
Kraken, headquartered in San Francisco, California, is one of the oldest cryptocurrency exchanges around. It operates across the United States (with the exception of New York due to the BitLicense) and Canada, as well as in the European Union and Japan. The platform supports 16 different cryptos (As opposed to Binance's 100+). You can read our Kraken review here.
Like Bitfinex, Kraken also works on a maker taker fee schedule. Makers have a max fee of 0.16% and takers have a max fee of 0.26%. In both cases Binance wins with lower fees.
---
9. Conclusion: Is Binance safe to use?
When we pull everything together and look at Binance objectively, the pros far outweigh the cons. This is more that can be said for some other competitors. The exchange's low fees combined with the team's proven knowledge of how to build a trading platform is enough to make it a major player.
It's no wonder that success followed the service during its opening months. Add to this the ability to offer a truly worldwide service away from the grip of the Chinese government, and there's not much to stop Beiji Technology.
No fiat support is always a little frustrating, but it's understandable in most circumstances. Having said that, Binanace is already on the path for adding EUR and GBP trading pairs.
Have you had any experience with Binanace? I'd love to hear it in the comment section below.
Bitcoin Video Crash Course
Dummy-proof explainer videos enjoyed by over 100,000 students. One email a day for 7 days, short and educational, guaranteed.
We hate spam as much as you do. You can unsubscribe with one click.