Buying Bitcoin with PayPal (Beginner's Guide)
By: Ofir Beigel | Last updated: 7/11/21
Until recently, there were limited options to buy Bitcoin with PayPal, mainly due to chargeback issues (here's a short video illustrating this). However, recently PayPal has become more favorable of Bitcoin. In this post I will cover several credible places to buy bitcoins with PayPal in 2021.
How do I Buy Bitcoin with PayPal Summary
Even though PayPal enables users to purchase Bitcoin directly through their platform, the functionality is still quite limited, with future plans underway to enable withdrawals to third-party wallets. In the meantime, there are several services that accept PayPal as a payment method for buying Bitcoin.
For users who wish to hold or use their coins, the best way to buy Bitcoin with PayPal is via Coinbase. Another option is via LocalBitcoins, though this method requires you to find a seller you can trust.
The quickest way to buy Bitcoins with PayPal is via the PayPal platform itself or with eToro, however this method is more recommended for users who mainly wish to speculate on price and aren't looking for access to the actual coins.
*eToro users: 75% of retail CFD accounts lose money. Your capital is at risk. US users – CFDs are not available for US users. US users can only trade (long) real assets without leverage.
If you want a more detailed explanation about each method keep on reading. Here's what I'll cover:
---
1. Buy Bitcoin with PayPal through Coinbase
Pros: Well-trusted platform, high limits
Cons: Cannot purchase from PayPal balance directly
Coinbase, one of the world's most trusted cryptocurrency exchanges, began accepting PayPal as a means of payment in 2021. Unfortunately, as of writing, Coinbase doesn't allow users to buy directly using their PayPal balance, but rather through a debit card or bank account that is linked to their PayPal account. This is somewhat restrictive. On the bright side, the maximum daily limits are nice and high at $25,000 per day.
Fees for using PayPal to make a debit card purchase on Coinbase are 4% of each trade, while bank deposits via PayPal cost 2.5%.
Coinbase users may also withdraw fiat from Coinbase to their PayPal account. You can read my full Coinbase review here.
Visit Coinbase
Read review
---
2. Buy Bitcoin with PayPal through eToro
Pros: Relatively low fees, a variety of payment methods accepted
Cons: Not available worldwide, withdrawing profits in crypto is complicated
The easiest way to buy Bitcoin with PayPal would be through eToro but only for a limited purpose. While the platform will allow you to buy bitcoins with PayPal, withdrawing them to your wallet will take an extensive amount of time and steps.
In other words, eToro is better suited to speculate on Bitcoin's price rather than for buying the actual coin for using it. If you're just looking to profit from price swings and don't require the actual bitcoins, this is probably the easiest and cheapest way to go. If, however, you need the actual bitcoins to buy stuff or send them to another person, keep reading.
Keep in mind that if you use eToro to make money of speculation, you don't actually need a Bitcoin wallet. You can read my full eToro review here.
IMPORTANT!  Cryptocurrencies can widely fluctuate in price and are not appropriate for all investors. Cryptocurrency trading is not supervised by any EU regulatory framework, your capital is at risk.
Visit eToro
Read review
75% of retail investor accounts lose money when trading CFDs with this provider. You should consider whether you can afford to take the high risk of losing your money.
---
3. Buy Bitcoin with PayPal through LocalBitcoins
Pros: A wide variety of sellers from around the world
Cons: High fees, chance of getting scammed
LocalBitcoins, unlike eToro, is a marketplace where buyers and sellers connect directly. When you use LocalBitcoins, you're dealing with an actual person, which means that the seller's credibility is another thing to watch out for.
As for fees, sellers will usually charge a premium since they're taking a big risk of buyer chargebacks. The upside is that you will usually get your bitcoins faster. You can read my full LocalBitcoins review here.
Visit LocalBitcoins
Read review
How to Use LocalBitcoins
Step 1 – Enter your search parameters
The first step will be to go to LocalBitcoins and enter how many bitcoins you want to buy and from which country. Since LocalBitcoins was originally made for people to meet face to face, there's no "worldwide" search, which is a shame. You have to go through each country, one at a time.


Step 2 – Choose your seller
On the next screen, you'll see a list of available sellers, you can now browse them one by one.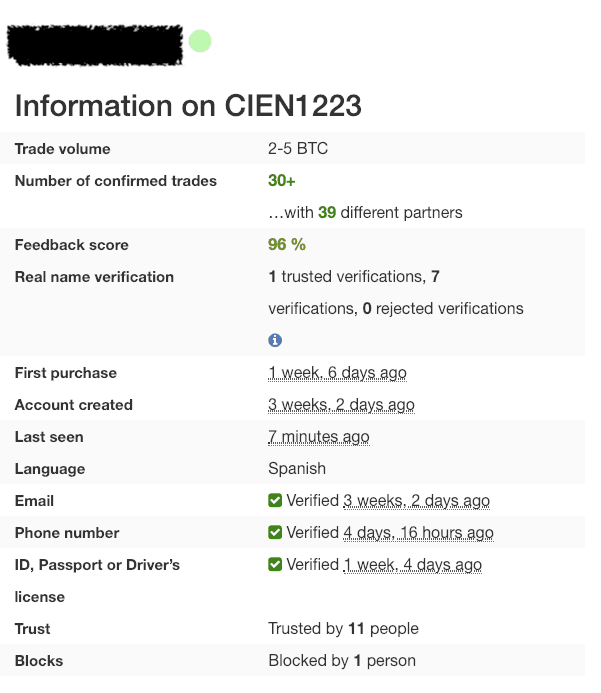 Some of the things I'd check before trusting a seller are:
Feedback score
How many confirmed trades does this seller have?
How old is the account?
How many people trust this seller?
How many people blocked this seller?
In the end there's no real measurement to help you evaluate how reliable a seller is. You will need to use common sense after reviewing his complete details.
Step 3 – Complete the trade
Once you've found your seller, you'll be taken to the trade screen. There you'll be able to see information about the user's trade limits, location and payment window (How much time you have for sending funds and marking the payment done after you initiate a trade).

It's also super important to read the terms of trade for the specific seller located on the right side. Here's an example: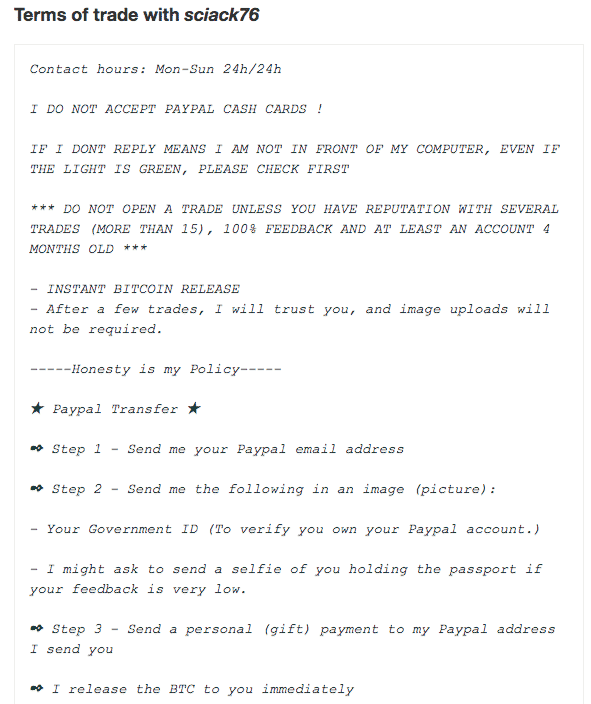 Some sellers will require that you have an initial reputation in order to buy from them to avoid scams or fraud. This means that you might have to conduct some small transactions to build your reputation.
Once you went over all of the information and made sure it suits you, just enter how many bitcoins you want to buy and click "Send trade request."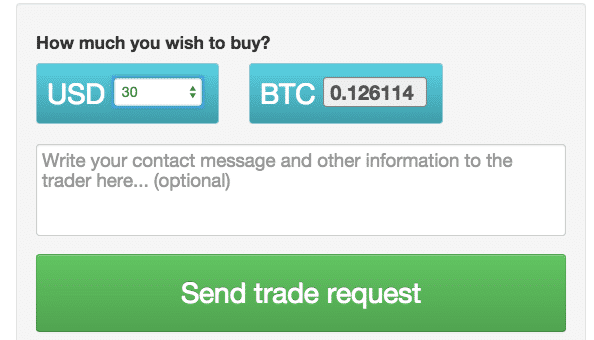 It's crucial to conduct all communications within LocalBitcoins and preferably use their escrow services (which are triggered automatically for all online sales). While this method is relatively fast it may take some time to gain enough reputation and find a seller.
---
4. Buy Bitcoin with PayPal through xCoins
Pros: Proven method that's been around for a relatively long time
Cons: Unclear business model and high fees
xCoins.io (not to be confused with xCoins.com) describes itself as a Bitcoin lending service. Instead of selling you Bitcoins they are loaning you Bitcoins (to an extent). Whether this is actually a loan or a sale is somewhat ambiguous and can be left for interpretation. Here's how it works:
You (the buyer), come to the site and say you want to "loan" some Bitcoins. After a short ID verification process you will be requested to deposit the USD equivalent of how much you want to borrow + credit card / Paypal processing fees + a fixed amount that acts as the interest rate on the loan.
Visit xCoins 
Review coming soon
How to Use xCoins
Sign up to the site
Choose the amount you want to buy
Agree to the loan agreement (see image below)
Verify your identity
Make payment
Since this platform matches lenders with buyers, the fees are relatively high. You can read my full xCoins review here.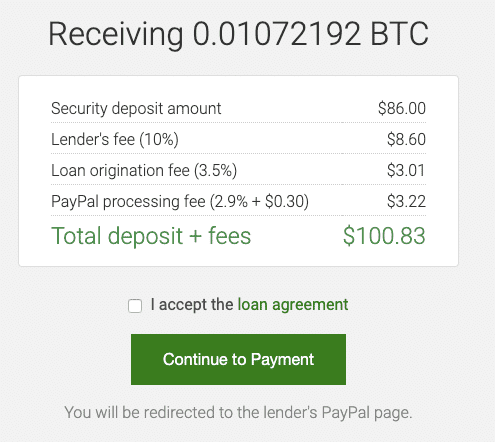 ---
5. Buy Bitcoin with PayPal through Paxful
Pros: Wide variety of sellers from around the world
Cons: High exchange rate, the chance of getting scammed
Paxful is a very similar platform to LocalBitcoins. It's a peer-to-peer marketplace that allows you to buy Bitcoin with almost anything (e.g., Skype credits, Amazon gift cards). The process of buying bitcoins at Paxful is pretty simple:
Visit paxful 
Read review
How to Use Paxful
Create an account.
Choose a payment method for buying and the desired amount.
Choose your seller. You can either choose manually or let Paxful decide who is the best seller for you.
Once the trade initiates, you will be sent to an online chat with the seller, where you can finalize the deal. The seller's bitcoins will be sent into escrow, and once you mark that you've sent your payment, they will be released into your account. Keep in mind that if you don't finalize the deal within a certain timeframe (usually 30 minutes), the deal will be automatically canceled.
---
6. Buy Bitcoin directly through PayPal
Pros: Low risk, high maximum limits
Cons: Can't withdraw coins to external wallet, Only US is currently supported
In October 2020, PayPal rolled out direct purchases of Bitcoin (and three other cryptocurrencies) within the PayPal digital wallet, through a partnership with Paxos.
This allows users to hold Bitcoins purchased through the service, as well as use them to pay PayPal-supported merchants. At the time of writing, users can't send those coins to other accounts or withdraw them. However, this may change soon as PayPal plans to enable withdrawals to third-party wallets at some point in the future.
It's also worth mentioning that this option is currently only available for US users, with more countries due to be added over time.
Maximum limits are $20,000 per month and $50,000 per year, while fees vary between 1.5% and 2.3%, depending on the size of the purchase.
How to Buy Bitcoin Directly on PayPal
Sign up for an account, if you don't already use PayPal
Click on "Buy and Sell" under the "Your crypto" section (available only to supported locations)
Click on "Bitcoin" and "Buy"
Enter the amount of Bitcoin you want to buy
Select your payment method and click "Next"
Check the conversion rate and transaction fee
That's it! Click 'Buy now' to confirm the purchase and the coins should be available in your PayPal digital wallet.
---
7. Frequently Asked Questions
Can I Buy Bitcoin with Paypal on Coinbase?
Yes. Though it requires a debit card or a bank transfer, Coinbase allows you to buy Bitcoin, as well as sell and withdraw the balance to your Paypal account.
Can I buy any other crypto with PayPal?
You can also use LocalMonero or LocalCryptos to buy Monero or Ethereum with PayPal however the same rules and downsides apply – you'll probably pay high fees and it will be hard to find credible sellers.
I found an additional method not listed here, is it legit?
From time to time, I see many new sites that allow you to use PayPal for Bitcoin purchases. Personally, I'm very skeptical of such sites and advise you to treat them with caution. Reputation goes a long way when it comes to cryptocurrencies, and the methods I've described above have all been tried and tested by me.
Moreover, the companies that are described in this post have been around for at least three years and have proven they are here to stay. Having said that, feel free to list what you've found in the comment section below and we'll give you our opinion of it.
---
8. Conclusion – Can I Use Paypal to Buy Bitcoin?
There are several ways you can buy Bitcoin with PayPal. For now, Coinbase and LocalBitcoins are good options for people looking to use their coins. eToro is another solid option, though more suitable for users who are looking to speculate on price rather then actually withdrawing their coins.
Have you had any experience with buying Bitcoins with PayPal? If so, I'd love to hear about it in the comment section below.