Buying Bitcoin with PayPal (Beginner's Guide)
By: Ofir Beigel | Last updated: 12/4/23
Until recently, there were limited options to buy Bitcoin with PayPal, mainly due to chargeback issues (here's a short video illustrating this). However, recently, PayPal has become more favorable to Bitcoin. In this post, I will cover several credible places to buy bitcoins with PayPal in 2024.
Buying Bitcoin with PayPal Summary
While buying Bitcoin directly through PayPal is possible, better alternatives exist for those who wish to use PayPal as a payment method only. The best alternative for buying Bitcoin with PayPal is via CEX.IO or Ledger Live if you're in the US or Kraken if you're in the UK or Europe.
Finally, you can use PayPal via LocalCoinSwap, although this method requires you to find an individual seller you can trust.
If you want a more detailed explanation about each method, keep on reading. Here's what I'll cover:
---
1. Buy Bitcoin directly through PayPal
Pros: Low risk, very high maximum limits
Cons: Only the US is currently supported for crypto withdrawals
In October 2020, PayPal rolled out direct purchases of Bitcoin (and three other cryptocurrencies) within the PayPal digital wallet through a partnership with Paxos.
This allows users to hold and sell Bitcoin purchased through the service, as well as use them to pay PayPal-supported merchants. As of June 2022, PayPal also allows users to withdraw their coins into third-party wallets for personal storage or wider use throughout the ecosystem. It's worth mentioning that this option is currently only available for US users, with more countries due to be added over time.
Maximum purchase limits are $100,000 per week with no annual limit, while weekly withdrawal limits max out at $10,000. Fees vary from between 0.49 USD to 1.80%, depending on the size of your transaction.
How to Buy Bitcoin Directly on PayPal
Sign up for an account if you don't already use PayPal
Click on "Finances" on the top left, then "Crypto" (available only to supported locations)
Click on "Bitcoin" and "Buy"
Enter the amount of Bitcoin you want to buy
Select your payment method and click "Next"
Check the conversion rate and transaction fee
That's it! Click 'Buy now' to confirm the purchase, and the coins should be available in your PayPal digital wallet.
---
Pros: Established & regulated exchange, great reputation
Cons: Lower daily limits than other options, not available worldwide
CEX.IO is a well-established exchange that has been around since 2013. It's known to be highly reliable and well-regulated but is also equally well-known for relatively high fees.
On the plus side, CEX.IO offers Bitcoin purchases via PayPal at competitive pricing. This can be done via CEX.IO's "Buy" option within the wallet app or on the exchange using the "Instant Buy" feature.
PayPal purchases on CEX.IO are limited to a minimum of $20 and a maximum of $1,000 per day. Fees include a lowered 1.49% service charge for GBP deposits made by UK residents, or 2.99% to 3.99%, plus a variable service fee for other countries, depending on the country.
The U.S. dollar is the default currency in the Instant Buy service. If you are from the U.K. or EEA, you need to change the currency to GBP and EUR, respectively
Click here to read a full review of CEX.IO and its services.
How to Buy Bitcoin with PayPal through CEX.IO
Navigate to the CEX.IO Instant Buy service.
Select BTC in the "Buy" dropdown menu, then select the fiat currency you wish to purchase it with.
Enter the amount of Bitcoin that you wish to buy, or select one of the pre-calculated suggestions.
Click "Buy" and select PayPal as your payment method and click "Log in with PayPal" to link your PayPal account.
Select PayPal as your payment method once more, then click "Buy with PayPal."
Complete the purchase within the PayPal account window.
All done! When the transaction is completed, you'll be able to see the updated Bitcoin balance in your CEX.IO account.
Visit CEX.IO 
Read review
---
3. Buy Bitcoin with PayPal through Coinbase
Pros: Well-trusted platform, high limits
Cons: Cannot purchase from PayPal balance directly, US customers only
Coinbase, one of the world's most trusted cryptocurrency exchanges, began accepting PayPal as a means of payment in 2022. Unfortunately, as of writing, Coinbase doesn't allow users to buy directly using their PayPal balance but rather through a debit card or bank account that is linked to their PayPal account. This is somewhat restrictive. On the bright side, the maximum daily limits are nice and high at $25,000 per day.
Fees for using PayPal to make a debit card purchase on Coinbase are 4% of each trade, while bank deposits via PayPal cost 2.5%.
Coinbase users may also withdraw fiat from Coinbase to their PayPal account. You can read my full Coinbase review here.
Visit Coinbase
Read review
---
4. Buy Bitcoin with PayPal through Kraken
Pros: Available worldwide, good reputation
Cons: Service availability varies by country
Kraken, founded in 2011, is a veteran US-based cryptocurrency exchange known for its robust security measures and recent expansion across Europe. The exchange offers an advanced trading platform (Kraken Pro) with features like staking, spot trading, margin and futures trading, and OTC options.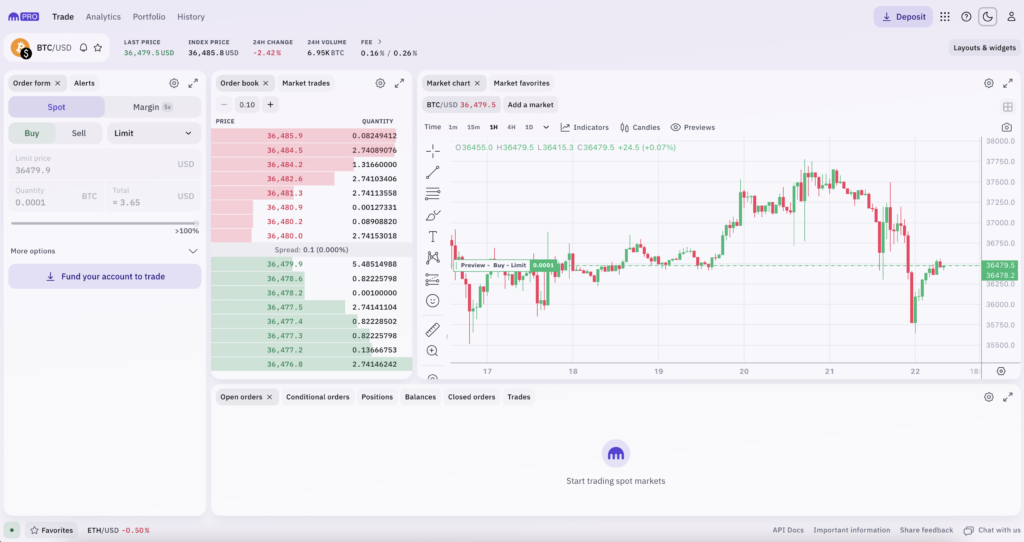 With PayPal, users can securely deposit funds to their Kraken account. There is a €1,000 daily rolling limit on PayPal deposits and a minimum transfer of €1. PayPal does charge a deposit fee that Kraken displays in the UI before account connection and deposit initiation. These fees are 2.40% for the UK and 3.39% for the EU.
Note that funds deposited through PayPal will not be eligible to be withdrawn for seven days.
PayPal is only available to clients who reside in the United Kingdom and the European Union (excluding Hungary and Croatia).
You can read my full Kraken review here.
Visit Kraken
Read review
How to Buy Bitcoin with PayPal through Kraken
Open the Kraken app and tap the Action button at the bottom of the navigation bar.
Select "Deposit," then search and select either GBP or EUR
You will be redirected to PayPal to connect your account to Kraken
On your PayPal account, click "Save and Continue" to connect your account to Kraken
On the Deposit screen, select "PayPal" and enter the amount you wish to deposit
Review the deposit information and swipe to deposit
---
5. Buy Bitcoin with PayPal through Ledger Live
Pros: Great company reputation, smooth platform
Cons: PayPal purchases are available only to users in the United States; a Ledger hardware wallet is needed to access Ledger Live
Ledger is one of the original and most respected hardware wallet companies around. The Ledger Live app allows users to quickly and easily manage their crypto assets. With Ledger Live, users can buy, sell, swap, and stake cryptocurrency.
Ledger and PayPal teamed up to offer crypto purchases through PayPal directly inside Ledger Live. You will need to have a PayPal account to use this feature; otherwise, you will be prompted to create one.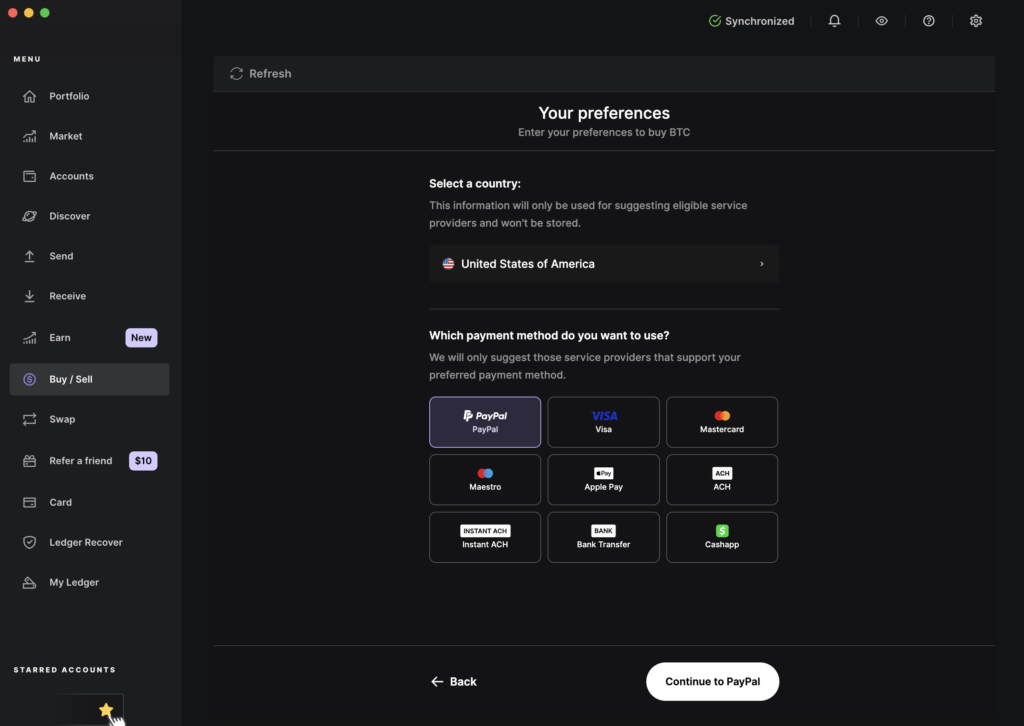 In addition to buying Bitcoin (BTC), users can also purchase Ethereum (ETH), Bitcoin Cash (BCH), and Litecoin (LTC).
Note: PayPal purchases through Ledger Live are only available to users based in the United States. In order to access Ledger Live, you will need a Ledger hardware wallet.
How to Buy Bitcoin with PayPal through Ledger Live
Open the Ledger Live app and go to "Buy/Sell" on the left sidebar. Then select "Buy"
Choose "USD" as your currency, and enter the amount you want to buy. Press "Confirm amount"
On the next screen, select the "PayPal" button from the list of providers. Then click "Continue to PayPal"
You will be redirected to PayPal, where you'll need to log into your account (or create one if you haven't already) and review and confirm the transaction.
Choose your payment method, then click "Buy and Send Now." Your assets will then be sent to your Ledger Live account.
---
6. Buy Bitcoin with PayPal through LocalCoinSwap
Pros: A wide variety of sellers from around the world
Cons: Poor exchange rates, additional risk of dealing directly with individuals
LocalCoinSwap is a marketplace where buyers and sellers connect directly. When you use LocalCoinSwap, you're dealing with an actual person, which means that the seller's credibility is another thing to watch out for.
As for fees, sellers will usually charge a premium since they're taking a big risk of buyer chargebacks. The upside is that you will usually get your bitcoins faster. You can read my full LocalCoinSwap review here.
Visit LocalCoinSwap
Read review
How to Use LocalCoinSwap
Step 1 – Enter your search parameters
The first step will be to go to LocalCoinSwap and click "Buy Crypto" or "Sell Crypto" on the top. Then select what coin you wish to trade, what payment method, and finally, the location of the deal. Although LocalCoinSwap was originally made for people to meet face-to-face, there's a "worldwide" search, which is cool. Alternatively, you can go through each country, one at a time, to see relevant sellers.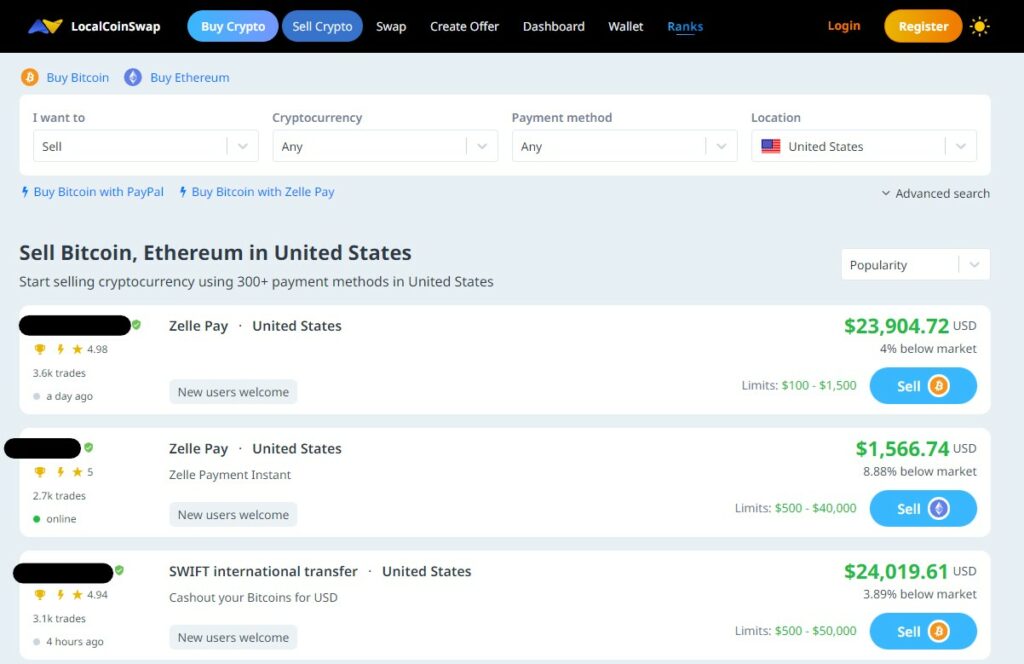 Step 2 – Choose your seller
After you've entered your preferred parameters, you'll see a list of available sellers. You can now browse them one by one. Clicking on each seller will open a detailed view, including important info.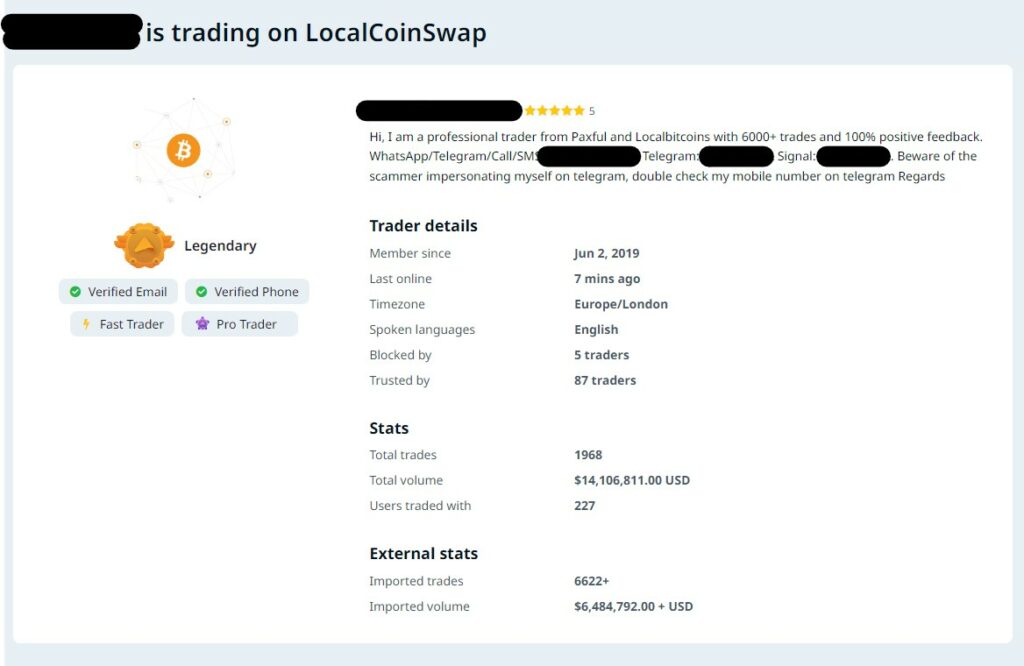 Some of the things I'd check before trusting a seller are:
Feedback score
How many confirmed trades does this seller have?
How old is the account?
How many people trust this seller?
How many people blocked this seller?
In the end, there's no real measurement to help you evaluate how reliable a seller is. You will need to use common sense after reviewing their complete details.
Step 3 – Complete the trade
Once you've found your seller, you can click on the 'buy' button. There, you'll be able to see information about the user's trade limits, location, and payment window (how much time you have to send funds and mark the payment as done after you initiate a trade).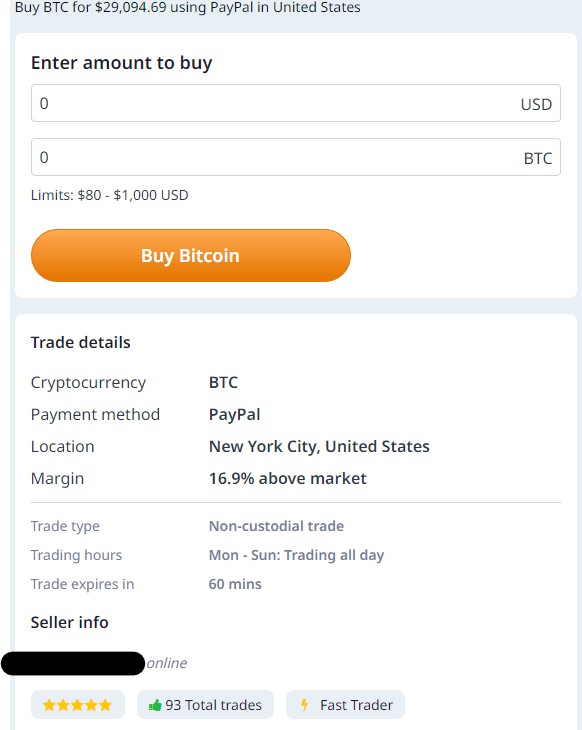 It's also super important to read the trade terms and conditions for the specific seller located on the right side. Here's an example: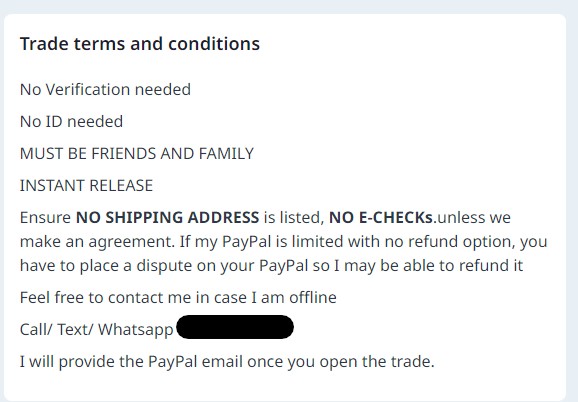 Some sellers will require that you have an initial reputation in order to buy from them to avoid scams or fraud. This means that you might have to conduct some small transactions to build your reputation.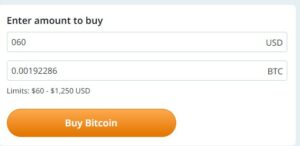 Once you have gone over all of the information and made sure it suits you, just enter how many bitcoins you want to buy and click "Buy Bitcoin."
It's crucial to conduct all communications within LocalCoinSwap and preferably use their escrow services (which are triggered automatically for all online sales). While this method is relatively fast, it may take some time to gain enough reputation and find a seller.
---
7. Buy Bitcoin with PayPal through Bitstamp
Pros: Very well-established, highly trustworthy
Cons: Cannot withdraw back to PayPal (yet), lower limits than other platforms
Bitstamp is one of the oldest and most respected cryptocurrency exchanges today, being in operation since 2011.
The platform supports PayPal for Bitcoin purchases if you're a resident in the US or EU and pay with EUR, USD, and GBP.
There's a limit of up to $2,500 daily and a cap of $20,000 per month. Fees on PayPal purchases are 4% of the total purchase amount, which is high (but not uncommon) for the payment method.
It should be noted that as of writing, users cannot withdraw money directly back to their PayPal account upon selling their Bitcoin – they will have to opt for an alternative fiat withdrawal method.
Click here to read a full review of Bitstamp and its services.
How to Buy Bitcoin with PayPal through Bitstamp
Select Bitcoin from the assets page, then click Buy with PayPal. Alternatively, you can click "Direct Crypto Purchase" on the Deposit page.
Enter the fiat amount you wish to spend, then click on "Buy with PayPal."
You'll be directed to the PayPal login screen, where you can link your PayPal account with Bitstamp.
Ensure that the name associated with your PayPal account is the same as the one you've used to register your Bitstamp account.
Confirm the transaction. Your accounts will be successfully connected, and the purchase can be completed.
Visit Bitstamp
Read review
---
8. Buy Bitcoin with PayPal through Paxful
Pros: Wide variety of sellers from around the world
Cons: Poor exchange rates, additional risk of dealing with individual sellers
Paxful is a very similar platform to LocalCoinSwap. It's a peer-to-peer marketplace that allows you to buy Bitcoin with almost anything (e.g., Skype Credits, Amazon Gift Cards). The process of buying bitcoins at Paxful is pretty simple.
Visit Paxful 
Read review
How to Use Paxful
Create an account.
Verify your identity.
Choose a payment method for buying and the desired amount.
Choose your seller. You can either choose manually or let Paxful decide who is the best seller for you.
Once the trade initiates, you will be sent to an online chat with the seller, where you can finalize the deal. The seller's bitcoins will be sent into escrow, and once you mark that you've sent your payment, they will be released into your account. Keep in mind that if you don't finalize the deal within a certain timeframe (usually 30 minutes), the deal will be automatically canceled.
You can read my full Paxful review here.
---
9. Frequently Asked Questions
Can I buy Bitcoin with PayPal on Coinbase?
Yes. Though it requires a debit card or a bank transfer, Coinbase allows you to buy Bitcoin, as well as sell and withdraw the balance to your PayPal account.
Can I buy crypto anywhere else with PayPal?
You can also use LocalMonero or Bybit to buy Monero or Ethereum with PayPal. However, the same rules and downsides apply – you'll probably pay high fees, and it may be hard to find credible sellers.
I found an additional method not listed here, is it legit?
From time to time, I see many new sites that allow you to use PayPal for Bitcoin purchases. Personally, I'm very skeptical of such sites and advise you to treat them with caution. Reputation goes a long way when it comes to cryptocurrencies, and the methods I've described above have all been tried and tested by me.

Moreover, the companies that are described in this post have been around for at least three years and have proven they are here to stay. Having said that, feel free to list what you've found in the comment section below, and we'll give you our opinion of it.
---
10. Conclusion – Can I Use PayPal to Buy Bitcoin?
There are several ways you can buy Bitcoin with PayPal, the easiest being through the actual PayPal platform. Some other alternatives also allow you to purchase coins using PayPal as a payment method, such as CEX.IO, Kraken, Ledger Live, and LocalCoinSwap.
Have you had any experience with buying Bitcoin with PayPal? If so, I'd love to hear about it in the comment section below.