LocalCoinSwap Review and Comparison Guide
By: Alex Miguel | Last updated: 2/16/23
LocalCoinSwap is a P2P cryptocurrency platform that enables users to buy and sell Bitcoin, Ethereum and other cryptos from other individuals locally, all around the globe. In this review, I'll cover LocalCoinSwap's services, fees, and availability.
LocalCoinSwap Review Summary
LocalCoinSwap is a peer-to-peer crypto exchange which shares its profits with users, via its native LCS token. Although not as popular as some of its more-established competitors like Paxful and LocalBitcoins, LocalCoinSwap does not enforce user verification and supports a wide range of payment methods.
That's LocalCoinSwap in a nutshell. For a more detailed review, continue reading below. Here's what I'll cover:
---
1. LocalCoinSwap Overview
LocalCoinSwap was launched in 2018 by Daniel Worsley and Nathan Worsley, in an effort to create an exchange which decentralizes 100% of its profits. It does so by sharing these profits with holders of its native LCS Cryptoshares token.
The platform operates out of Hong Kong and has grown to provide support for more than 190 local currencies, along with over 300 different payment methods.
---
2. LocalCoinSwap Services
P2P Crypto Trading
The core service that LocalCoinSwap provides is its peer-to-peer (P2P) crypto trading platform. Users from anywhere in the world can search locally for buyers and sellers to transact with on an individual basis – as opposed to a centralized exchange with aggregated orders.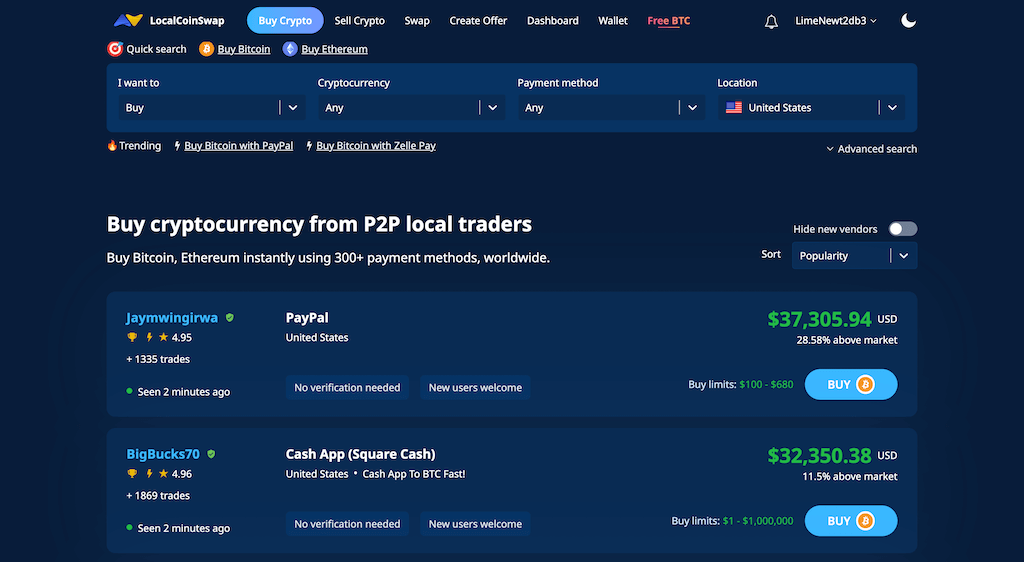 Users can simply search for the asset they wish to purchase or sell, along with their preferred location and payment method. Existing price offers are listed in the search results along with the individual sellers username, number of trades and feedback rating. 
User feedback ratings and trade history are crucially important on P2P platforms since you are dealing with another individual on a one-on-one basis – it is up to you to ensure that you select a reliable counter-party to trade with, to ensure the safety of the trade.
Crypto-to-Crypto Swaps
In addition to P2P trading, LocalCoinSwap also provides a crypto-to-crypto "swap" service, which allows users to easily exchange their crypto assets for other crypto assets. These swaps occur straight out of (and into) your LocalCoinSwap wallet, in a non-custodial manner.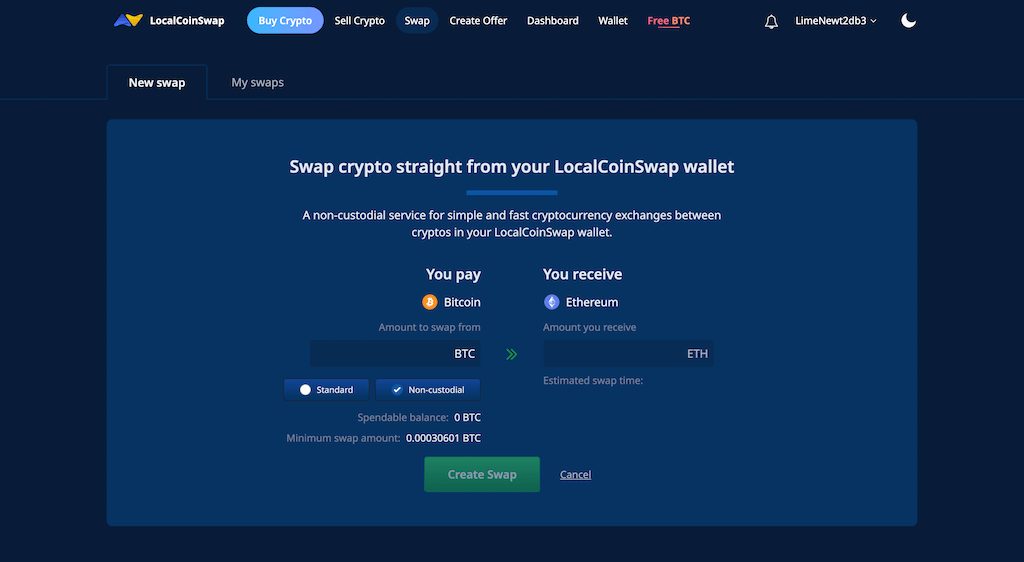 The service is routed through ChangeNOW, a well-established non-custodial crypto-to-crypto exchange platform.
LCS Token
The LocalCoinSwap platform has its own native token, LCS Cryptoshares (LCS), which entitles holders to a portion of revenue from the platform. The token also comes with voting rights for deciding part of the future direction of the exchange, as well as airdrops of ICOs listed on the LCS platform.
Cryptoshares are an ERC20 token on the Ethereum network, with a total supply of 72,732,420 LCS. LCS tokens are also periodically bought back and burned using revenue from the platform. This makes LCS a deflationary asset.
---
3. Currencies and Payment Methods
LCS allows users to trade, purchase and sell 15 different cryptocurrencies, including:
Bitcoin

(BTC)

Ether

(ETH)

Tether

(USDT)

USD Coin (USDC)

Dai (DAI)

BNB (BNB)

Binance USD (BUSD)

Dash (DASH)

Celo (CELO)

Celo USD (cUSD)

Polkadot (DOT)

Kusama (KSM)

LCS Cryptoshares (LCS)

Nexo (NEXO)
Supported fiat currencies and payment methods depend strictly upon what the seller is willing to accept. This could include almost any local fiat currency, with over 300 different payment methods available. This includes everything from cash in person, to bank wires, SEPA, SWIFT, digital payment apps, or even gift cards.
A full list of supported fiat currencies is available in the LocalCoinSwap support section.
---
4. Fees
Users who post trade offers are charged a 1% fee for every completed trade. This does not include the spreads applied by individual users on their listings, which will likely comprise most of the trading costs. These spreads vary depending on the payment method, size of the trade and the perceived risk by the trader.
Additionally, there may be transaction fees associated with the asset you are trading, when finalizing the trade.
Although there are transaction fees associated with deposits and withdrawals of cryptocurrencies into LCS accounts, these cover blockchain transaction costs only. LCS does not take any fees themselves.
---
5. LocalCoinSwap Limits
Buy and sell limits appear to be decided on a case-by-case basis by individual traders via their offers. Upon inspection of existing listings, these can range anywhere from tens of dollars to as much as a million.
Minimum crypto withdrawals do apply, however these are set to ensure that transaction fees can be covered.
---
6. Supported Countries
LocalCoinSwap allows users from practically any country worldwide, however places the burden on the user to abide by the legal obligations in their area of residence.
---
7. Customer Support and Reviews
Most LocalCoinSwap feedback should typically be directed at the individual buyers and sellers on the platform, due to its peer-to-peer nature – the majority of your experience with the platform is determined by who you voluntarily choose to transact with. On the other hand, the rest of the platform and its support are also important to evaluate.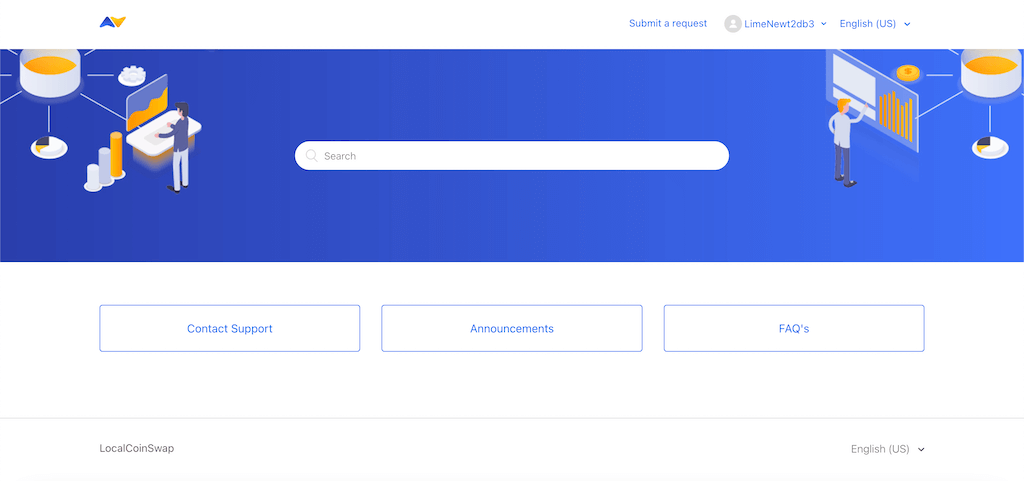 The platform has a useful FAQ section that addresses an impressive range of possible queries. If you can't find an answer to your questions there, you can also submit a ticket for one-on-one support as a logged-in user (responded to via private message).
Reviews for LocalCoinSwap on Trustpilot are exceedingly good, with a majority of user reviews being positive. The platform appears to be very good at controlling the integrity of the buyers and sellers on their platform, with a low tolerance for scammers. Users also appreciate not being required by the platform to verify their identity, which is a painful barrier for many centralized exchanges.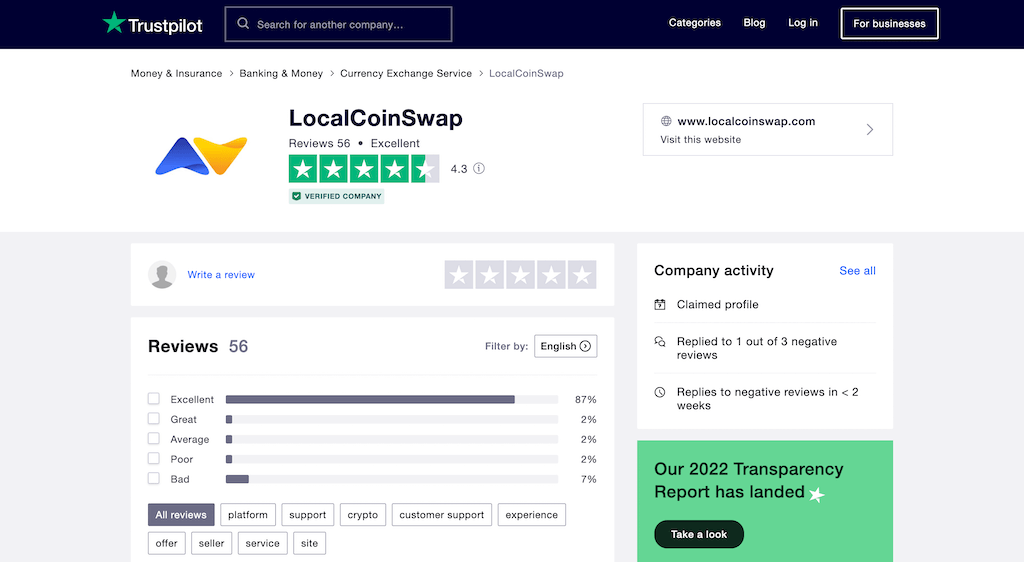 The premium that buyers and sellers tend to apply to their prices is one other complaint from some users, however this is quite typical on peer-to-peer platforms as users must price-in some risk.
---
8. Conclusion
LocalCoinSwap is a useful P2P crypto trading platform, which isn't yet quite as popular as competitors such as Paxful or LocalBitcoins. However, its simple user interface and lack of know-your-customer (KYC) enforcement may result in the exchange gaining a greater market share. It also shares profits with the community via the LCS token – something that none of its competitors do.