ChangeNOW Review – A Beginner's Guide
Last updated: 9/9/19
ChangeNOW is a crypto to crypto exchange that allows for fast, anonymous transactions. This post covers the company, its services and what existing customers think about it.
ChangeNOW Review Summary
ChangeNOW is a fast, user-friendly crypto to crypto exchange. The company offers a simple and affordable solution for swapping between cryptocurrencies via their website and app. For larger traders and credit card purchases its probably best to use a different exchange as fees can add up.
Overall it seems that the company is doing a great job in maintaining its reputation and supporting its customers.
That's ChangeNOW in a nutshell. For a more detailed review keep on reading, here's what I'll cover:
---
1. Company Overview
Registered as ChangeNOW International Ltd in Seychelles, the platform has been running since 2017 providing seamless swaps between digital assets.
ChangeNOW also operates offices in Amsterdam, Netherlands, and aims to compete with instant exchanges like Changelly and ShapeShift.
---
2. ChangeNOW Services
The ChangeNOW exchange is available through its web platform, app and a selection of 3rd party wallets.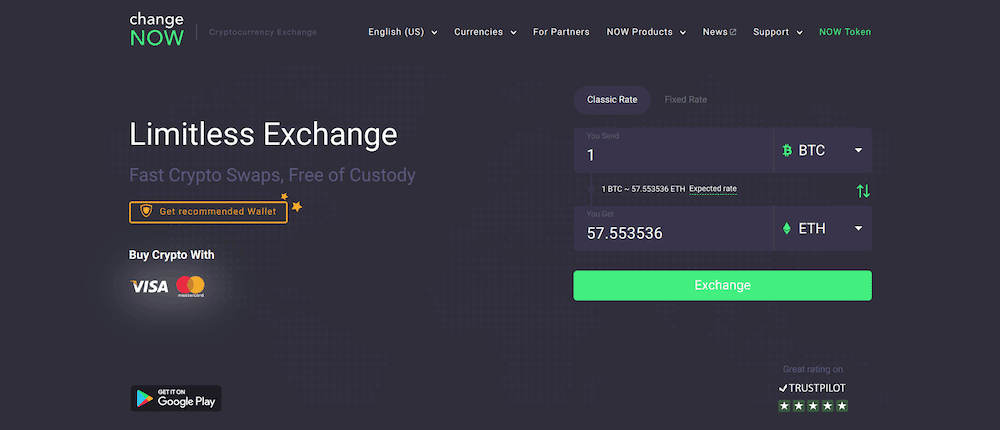 Its service does not require any account sign-ups making the vast majority of transactions anonymous. Users are sometimes needed to verify their identity and source of funds, usually for larger transactions.
The web platform is simple and easy to navigate even for a first time cryptocurrency trader. The homepage gives immediate direct access to the exchange feature and all users need to trade is a cryptocurrency wallet supporting multiple assets.
Trades are speedy with the vast majority completing in 2 minutes and certainly in at least 10 minutes.
The mobile app runs in a similar way to the web-platform, if not even slicker. Users dropped right into the trade page of the app with no pesky sign-ups or tutorials. You hardly need any help it's so simple.
ChangeNOW claims to be a non-custodial service which does not appear strictly true. Customers are required to deposit funds to a ChangeNOW wallet address to make the swap. Funds don't sit there for long though.
A forward-thinking product feature is built-in functionality to wallets like Exodus. Exodus users have the ChangeNOW facility built directly into their wallet allowing simple coin swaps without having to transact outside their own wallet.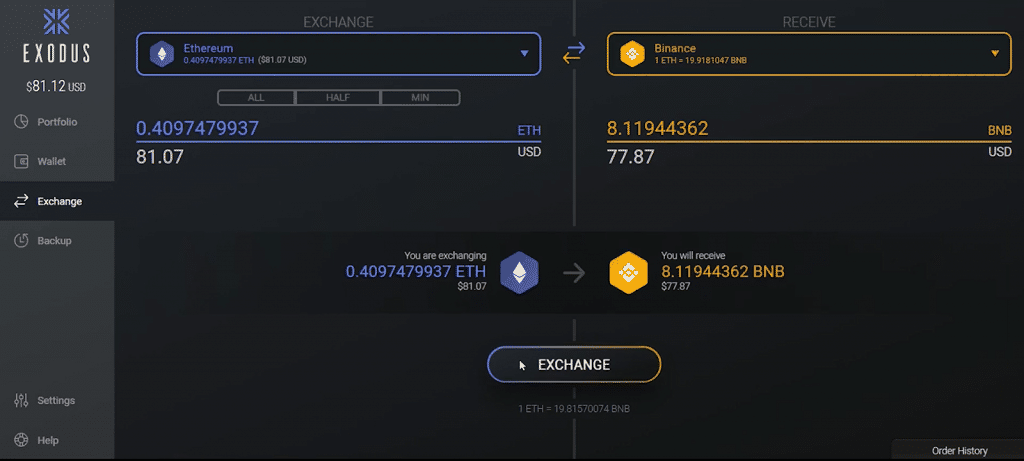 ChangeNOW also aims to give you the best industry exchange rates selecting the leading price from major exchanges like Binance, Bitfinex and Bittrex. Be aware though, a spread is applied on top of this rate so you may find better prices by using these exchanges directly.
---
3. Currencies and Payment Methods
ChangeNOW supports over 170 cryptocurrencies, more than rivals like Changelly.
Add to this an astonishing 30,000 trading pairs and you've got some amazing power. Removing the need to run through multiple trading pairs to get your desired coin or token.
Of course, this includes all the major coins – Bitcoin, Litecoin, Bitcoin Cash, Ethereum, XRP and Monero.
Visa and MasterCard purchases are available, facilitated by Simplex. Beware though, they cost an eye-watering 7% or more. Probably worth avoiding and buying your crypto with a platform like Coinbase.
---
4. Fees
All fees are built into the exchange rate you are offered. What you see is what you get, including blockchain fees. No hidden deposit or withdraw fees which is pleasing.
ChangeNOW does make money from a spread on the exchange rate though. It's hard to see how much, but I took a look at their rates compared to market rates. At the time of writing:
1 Bitcoin on ChangeNOW returns 57.32 Ethereum
1 Bitcoin at normal market rates returns 58.59 Ethereum
Just over 2% more costly on ChangeNOW. Not extortionate but costly for large trades, a $224 difference on 1 Bitcoin. You might be better off going direct to exchanges like Binance for large trades with 0.1% flat fee. For quick convenient trades, it is certainly acceptable.
---
5. Buying Limits
ChangeNOW is a limitless trading exchange. You can swap cryptos until your heart is content. No single trade, daily or weekly limits which is an edge over the competition.
---
6. Supported Countries
There are no country restrictions for using ChangeNOW exchange. All really need is a smartphone and a cryptocurrency wallet to get started. You could swap coins and tokens from Canary Wharf or the top of a South American mountain top – All you need is an internet connection.
The platform is available in every major language too, making it a fully global anonymous trading exchange.
---
7. Customer Support and Online Reviews
ChangeNOW's customer support is impressive. An area of the cryptocurrency industry that often disappoints.
The website is simple and easy to use. The team is building informational resources on all coin listings to help educate customers.
Phone numbers are freely on offer to get direct access with any queries, plus they answered my email request in under 5 minutes and Facebook message in 1 hour!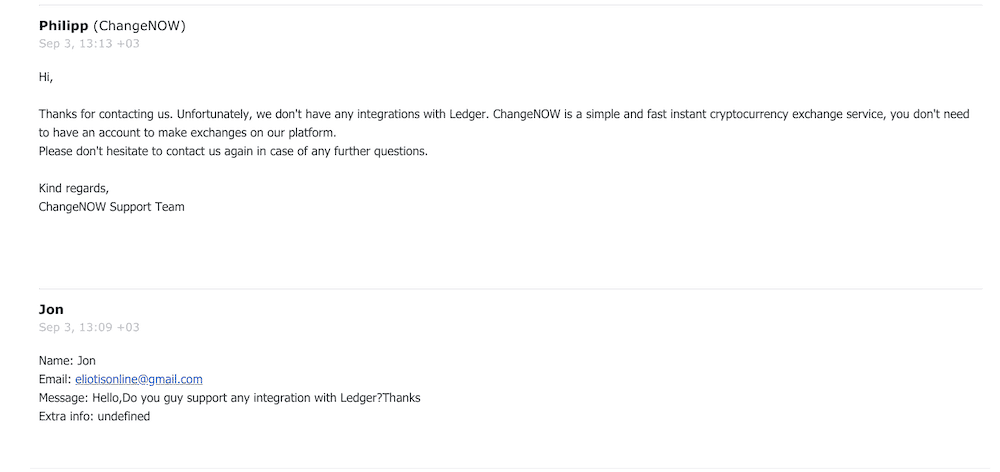 Its social media streams are live and full of helpful content from a well-maintained blog.
The general public appears happy with the service too as TrustPilot records an 8.5+ rating. Reviews are legitimate, from established accounts. Even users who encounter problems rate the service favourably. Perhaps thanks to a support team who are responsive and helpful to issues.
Forums talk positively of the service which is refreshing to read as places like Reddit can be filled with angry customers.
A scam allegation does exist against ChangeNOW, but on further research, it doesn't appear valid. Although alarming, a user who was having issues receiving his funds from a large trade used faked identity docs to verify his transaction and source of funds.
---
8. Conclusion
ChangeNOW offers a limitless, fast, simple crypto to crypto trading exchange combining a huge range of assets. The platform is convenient and not overpriced. Trades are fast, reliable and anonymous which is perfect for people looking to switch coins and tokens quickly.
Keep in mind that if you are looking to make larger trades it may be wise to spend a little extra time on cheaper, more complex platforms.
The company has a bright future as it continues to integrate with 3rd party wallets, adopt a native token and create merchant payment systems.
Have you used ChangeNOW? I'd love to hear what you thought about it in the comment section below.