11 Ways to Buy Bitcoin with a Credit Card
By: Ofir Beigel | Last updated: 1/5/21
These days it's getting much easier to purchase Bitcoin with a credit card. The problem of chargebacks has been mitigated through anti-fraud companies, and more and more exchanges allow credit cards as a valid payment option. In this post I'll review the most popular methods for buying Bitcoin with a credit card.
Buying Bitcoins with a Credit Card Summary
The easiest way to buy Bitcoins with a credit card would probably be CEX.io. Here are the steps:
Visit CEX.io and create an account
Choose the amount you want to buy.
Complete your KYC
Enter your Bitcoin address.
Enter your credit card details.
The coins will be sent to your wallet.
*eToro users: 75% of retail CFD accounts lose money. Your capital is at risk
If you want to read in depth about additional exchanges that accept credit cards keep on reading. Here's what I'll cover:
---
1. Buy Bitcoin with a credit card through CEX.IO
Pros: Veteran company, high buying limits
Cons: Support can be slow, Higher exchange rates than competition
Established in 2013, CEX.IO is a cryptocurrency exchange trusted by over 2 million users. CEX.io works in the United States, Europe, as well as in some countries in South America and Asia. The site supplies a complete trading platform as well as a brokerage service.
Visit Cex.io 
Read review
How to Use CEX.io
1. Open a CEX.IO account.
2. Click on Finance and Deposit next to the requested currency.
3. You'll then have the option to either wire transfer the money or use your credit card to buy Bitcoins instantly.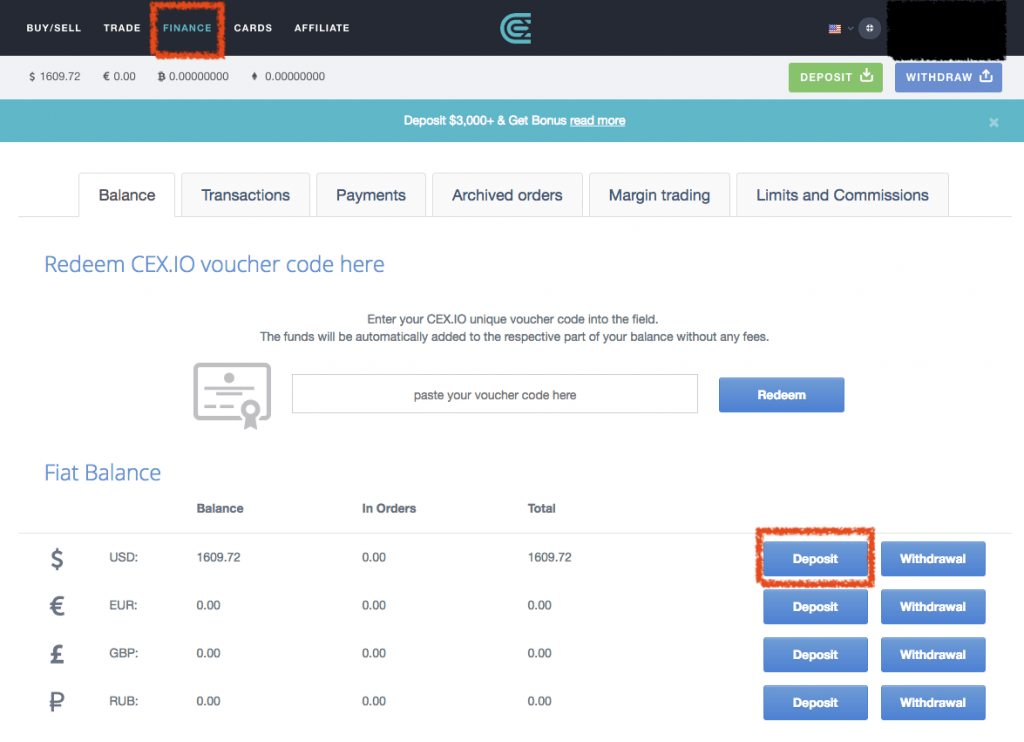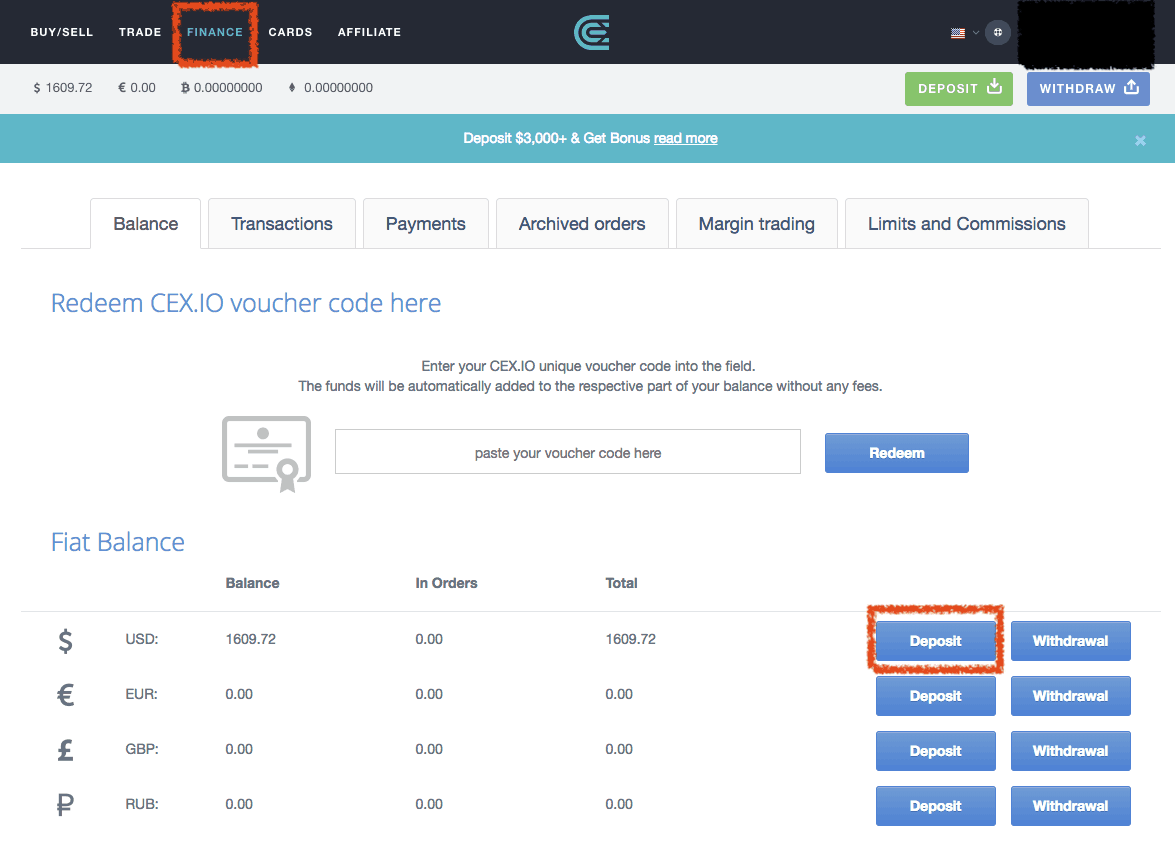 CEX.IO also offers instant withdrawals of USD, EUR, GBP, and RUB to payment cards, meaning you can deposit and withdraw funds in and from your payment cards once they're linked to your CEX.IO profile.
Withdrawal requests are processed automatically right after their placement, and they do not require you to log in to any third-party services. In most cases, withdrawals are processed instantly, enabling you to gain convenient access to the funds on your Visa or Mastercard right away.
---
2. Buy Bitcoin with a credit card through eToro
Pros: Low fees, user friendly
Cons: Hard to withdraw actual coins
eToro supplies different cryptocurrency services such as a wallet, trading platform, CFD services and also a regulated exchange. You can speculate on Bitcoin's price through eToro using your credit card with relatively low fees. While it's possible to withdraw the actual coins, the platform is more suited for price speculation.
Visit eToro
Read review
75% of retail investor accounts lose money when trading CFDs with this provider. You should consider whether you can afford to take the high risk of losing your money. CFDs are not offered to US users. Cryptoassets are highly volatile unregulated investment products. No EU investor protection.
---
3. Buy Bitcoin with a Credit Card through Coinmama
Pros: Good support, respectable company, fast service
Cons: Limited states in the United States
Coinmama specializes in Bitcoin purchases through a credit card since 2013. They take a premium fee for their services, and you can buy up to $1 million worth of Bitcoin with a fully verified Coinmama account. They provide fast and reliable service with receiving Bitcoins instantly after your purchase confirmation. Support is pretty responsive.
Visit Coinmama
Read review
How to Use Coinmama
1. Get a Bitcoin wallet, as Coinmama doesn't hold the Bitcoins for you.
2. From Coinmama's homepage, choose how many Bitcoins you'd like to buy. Enter the price either in BTC, USD, EUR or in other currencies. Alternatively, you can choose one of the offered packages.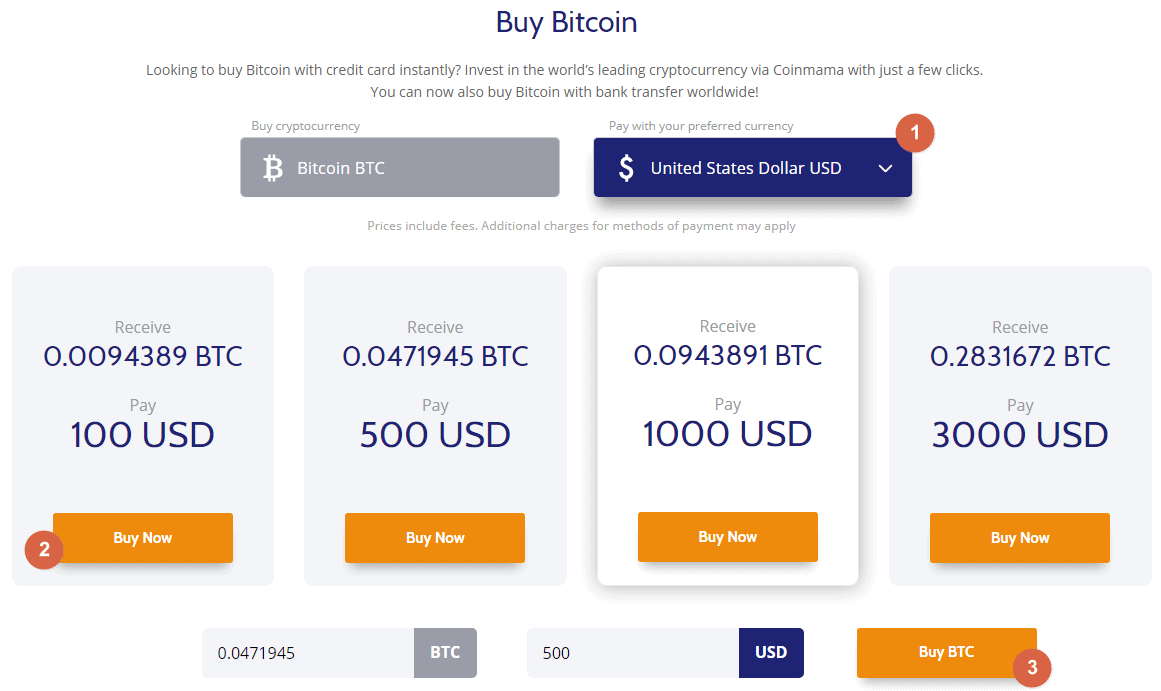 3. Click Buy BTC, and you will be taken to the sign-up page.
4. After you fill out your initial details, you'll need to go through an additional verification by submitting a photo ID. Verification is usually pretty quick (it took me 1.5 hours to get verified). 
5. Verified users can buy bitcoins pretty easily with your credit card through the friendly interface. I suggest you use Visa or Mastercard since it's the fastest option. With level 3 verification you can buy $7,500/day and up to $40,000/month.
6. Next you'll need to enter your own Bitcoin address.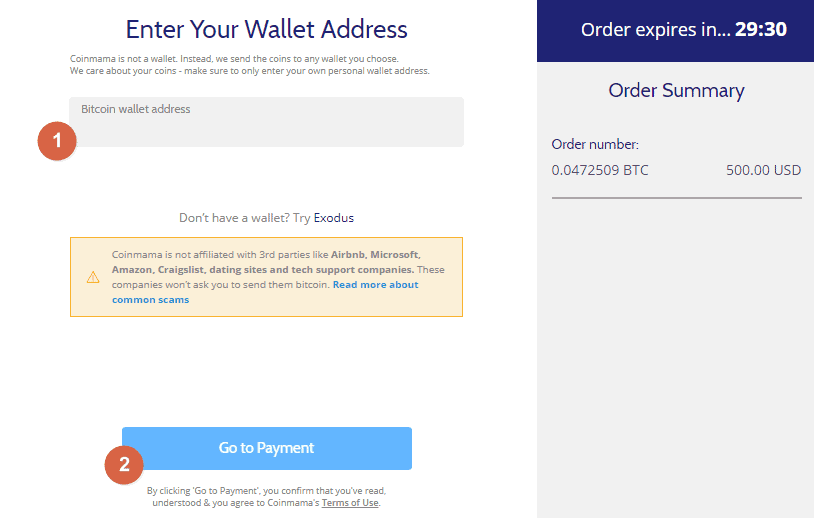 7. Finally, enter your payment details and place your order.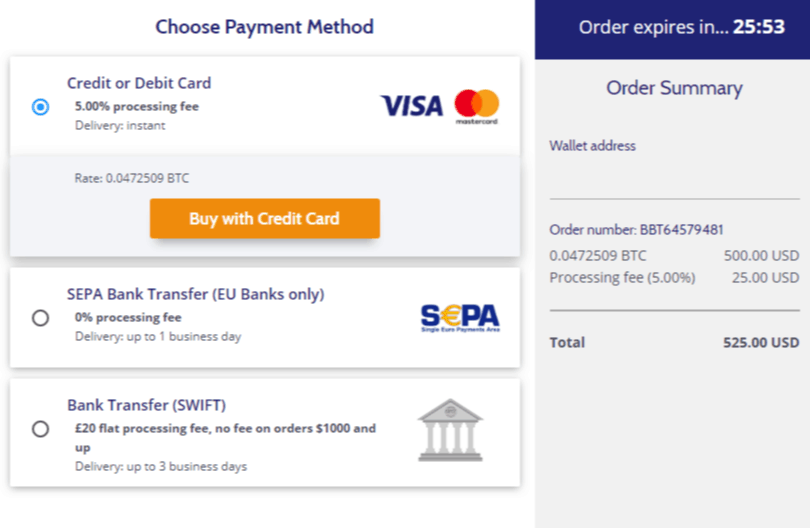 ---
4. Buy Bitcoin with a credit card through Bitpanda
Pros: Multiple payment options, relatively low fees
Cons: Not available worldwide
Bitpanda is an Austrian startup company that was founded in October 2014. The company allows you to buy Bitcoins and a variety of other cryptocurrencies with a credit card as well as with wire transfers, Neteller, Skrill, SEPA, and more. The company supplies its services to European countries a handful of other countries only at a relatively low fee.
Visit Bitpanda 
Read review
How to Use Bitpanda
---
5. Buy Bitcoin with a credit card through Coinbase
Pros: User-friendly interface, relatively low fees, established reputation
Cons: Not available worldwide, horrible support
Coinbase is the largest Bitcoin broker worldwide. It has over 30 million customers around the world. Coinbase charges a 3.99% convenience fee on all credit card transactions and is open to 100+ countries around the world. When buying more than $100 worth of Bitcoins, you will receive an additional $10 Bitcoin bonus.
Visit Coinbase
Read review
How to Use Coinbase
1. Create a Coinbase account.
2. Go to Settings, then Payment Methods, and then click Add Payment Method.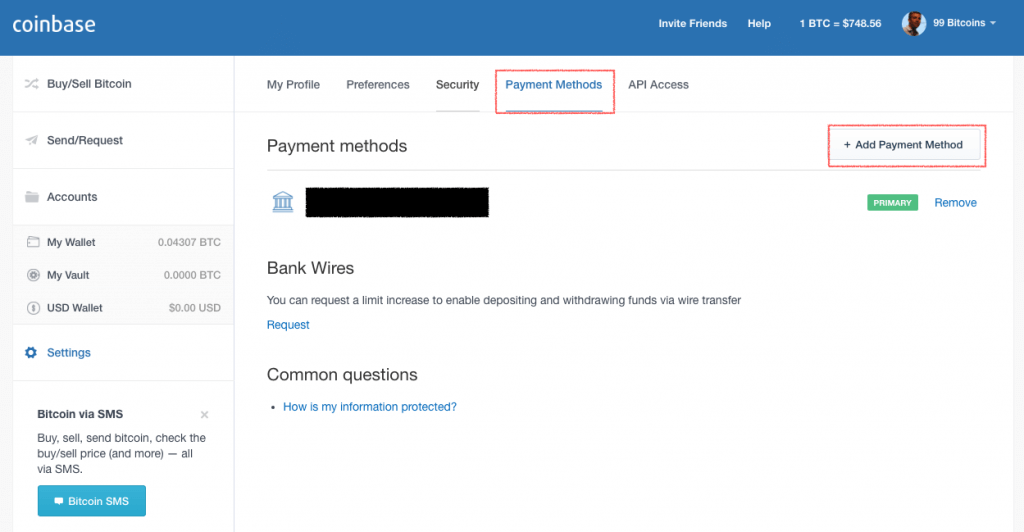 3. Click Credit/Debit Card.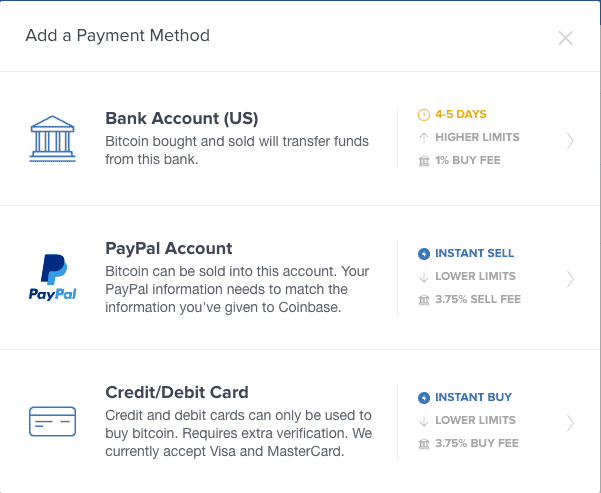 4. Enter your card's information.
5. Once the card is confirmed, you can go to Buy/Sell and buy your Bitcoins.
6. The Bitcoins will be sent to your Coinbase wallet.
Credit card purchases of Bitcoin are charged an additional 3.99% processing fee. In order to connect your card, you'll need to verify your identity by uploading a government-issued ID.
---
6. Buy Bitcoin with a credit card through Binance
Pros: Good reputation, available worldwide
Cons: Slow verification process, slow support
Binance is a crypto only exchange. However, you can buy Bitcoins with a credit card on Binance thanks to a partnership they have with Simplex. Even though it is considered a relatively young exchange, Binance has surpassed most veteran exchanges in its popularity and trading volumes.
Visit Binance
Read review
---
7. Buy Bitcoin with a credit card through LocalBitcoins
Pros: Wide variety of sellers, easy-to-use interface
Cons: Sellers will usually take higher fees for credit card purchases, possibility of scam
LocalBitcoins is a peer-to-peer marketplace for buying and selling Bitcoins. You can think of it as eBay for Bitcoin. The site offers a wide variety of sellers that accept various payment methods, including credit cards. The main issue when using LocalBitcoins is that you have to filter sellers wisely so that you won't get scammed. One thing to keep in mind is that if you're new to LocalBitcoins, not a lot of sellers will want to do business with you since they're likely afraid of scammers as well.
Visit LocalBitcoins
Read review
How to Use LocalBitcoins
1. Sign up to LocalBitcoins.
2. Search for a seller who accepts credit cards (unfortunately, there's no "worldwide" search, so you'll need to sift through different countries to find all sellers).


3. Verify that the seller has enough of a reputation, and read the terms of the trade.
4. Enter the amount you'd like to buy, and click Send trade request.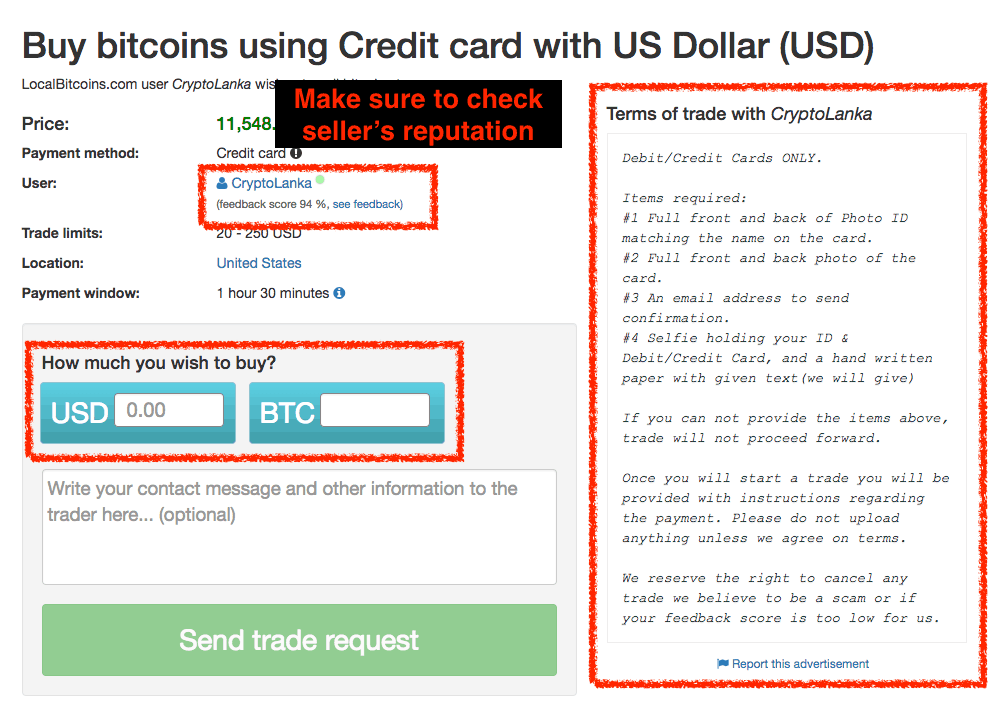 5. Follow any additional requests as required by the seller.
---
8. Buy Bitcoins with a credit card through Bitstamp
Pros: Great reputation, multiple payment options, accepts customers worldwide
Cons: Average fees, verification process can take a long time, not very user friendly
Established in 2011, Bitstamp is one of the oldest and most reputable Bitcoin exchanges out there. The exchange is fully licensed by the Luxembourg ministry of finance. Bitstamp accepts credit card purchases via Simplex. Its service is open to over 80 countries globally including Europe and USA plus a selection of Asian and South American states.
Visit Bitstamp
Read review
How to Use Bitstamp
1. Click on Deposit.
2. Choose Credit Card as your payment option.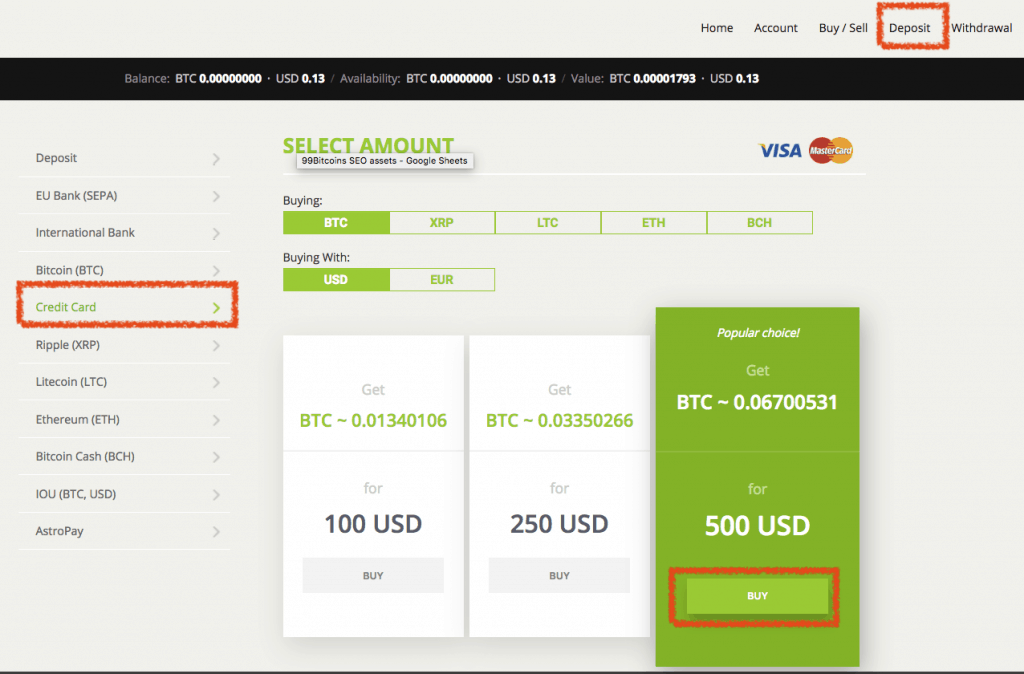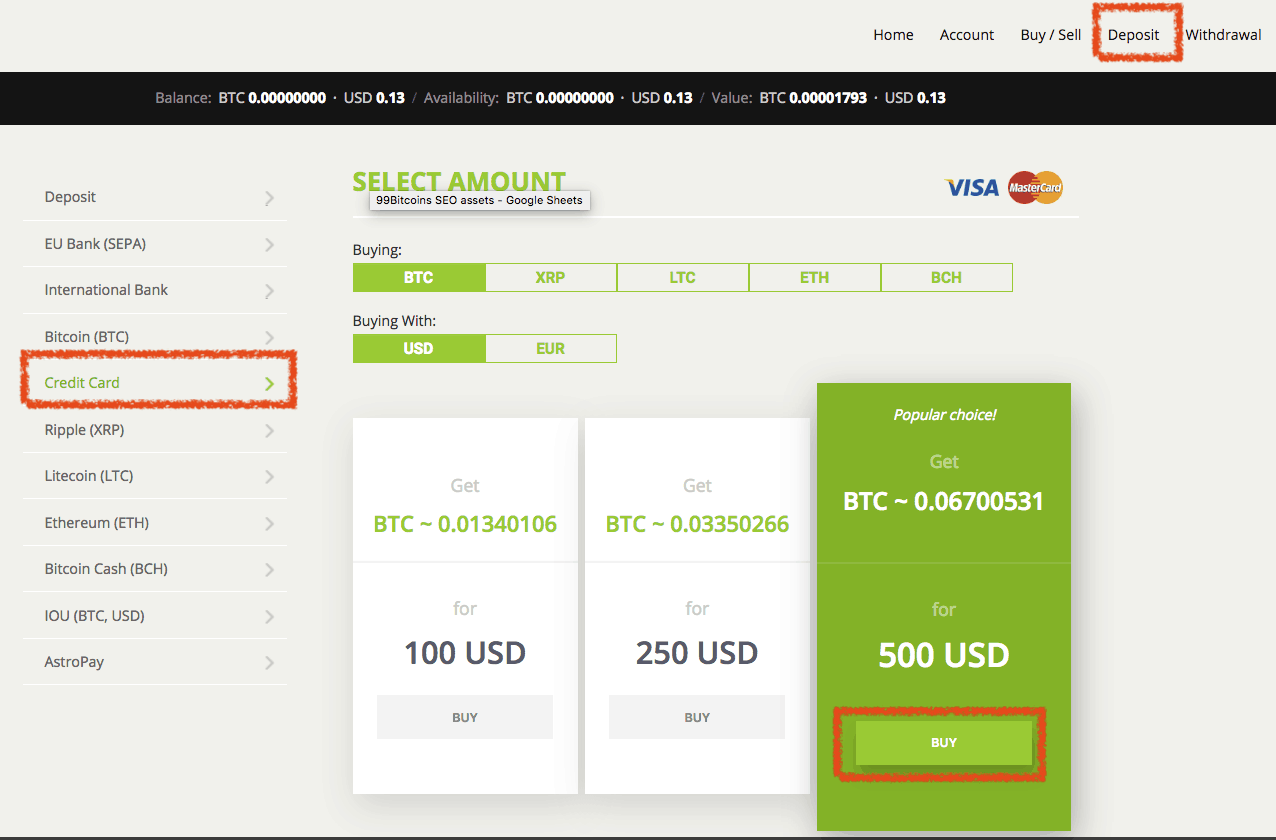 3. Deposit the required amount.
4. After the deposit is cleared, click on Buy/Sell.
5. Choose Buy BTC.
6. Enter the amount you want to buy and click on Buy BTC.
To finish your order, you'll need to use a 3D Secure credit card. Also, some banks may consider your credit card deposit as a cash advance. If that's the case, your bank or credit card provider may charge extra fees.
---
9. Buy Bitcoin with a credit card through Coinhouse
Pros: Reputable company, high buying limits
Cons: Limited countries available, high exchange rates
Coinhouse is the "House of Bitcoin" in Paris. You can buy Bitcoins by Visa, MasterCard, with cash, or with a Neosurf prepaid card, which is available in most European countries.
Visit Coinhouse
.
Read review
---
10. Buy Bitcoin with a credit card through IndaCoin
Pros: Good support, available worldwide
Cons: High fees
Indacoin is a UK-based exchange that allows users worldwide to buy Bitcoins with a credit card. The minimum amount is $50, and the limit for the first week is $500. After 14 days, your limit increases to $2,000 and after one month there are no buying limits at all.
In order to use your credit card, you'll need to verify your phone number and your five-digit code which is on your credit card statement. The process is fairly simple, but I haven't tried the exchange out myself, so I can't vouch for it.
Even though the site states that it doesn't charge any fees, its exchange rate is pretty high due to credit card processing.
Visit Indacoin
Review coming soon
---
11. Buy Bitcoin with a credit card through CoinCorner
Pros: Easy to use for beginners, supporting mobile app
Cons: High administration fees on deposits, not available worldwide
CoinCorner is a Bitcoin broker established in 2014, located in the Isle of Man. The exchange services several countries around the world. You can buy up to €1000 of Bitcoin without any verification for very competitive fees. CoinCorner also has a supporting mobile app that allows you to send and receive Bitcoins from your account using your mobile phone.
Visit CoinCorner
Review coming soon
---
12. Buy Bitcoin with a credit card through Xcoins
Pros: Very quick turnaround for purchases, 24/7 support
Cons: No explicitly-stated fee, accepts USD and EUR only for fiat
Xcoins is a Malta-based cryptocurrency exchange platform which has been around since 2016.
Users of the service can purchase BTC as well as LTC, ETH, XRP and BCH using USD or EUR via Visa or Mastercard.
Xcoins takes the speed of its service very seriously; The exchange actually promises to send your coins within 15 minutes of payment approval, or your next transaction will be free of fees. This makes Xcoin a good choice if you want to put your hands on some bitcoin quickly.
The minimum purchase amount is 50 USD or 50 EUR, with no maximum limit stated on their site.
Visit Xcoins 
Review coming soon
---
12. Frequently Asked Questions
Does a Bitcoin ATM accept Credit Cards?
Bitcoin ATMs accept only cash as payment for Bitcoin (due to chargeback issues). You will not be able to pay with your credit card at a Bitcoin ATM.
How can I buy Bitcoins with Visa?
All of the exchanges listed on this page accept Visa cards as a form of payment.
How can I buy Bitcoins with Discover Card?
Most exchanges accept Visa and Mastercard credit cards. However, some online reviews claim that exchanges like CEX.io accept Discover card as well.
---
13. Conclusion: How do I know which exchange to use?
It can be kind of hard to decide which exchange is the best platform for buying your Bitcoins since there are so many of them. I suggest trying out each exchange with a small amount of money and moving on to larger funds only after you're comfortable with the process.
Once you take the first step you'll start to notice what you actually value in an exchange and adjust your choices accordingly. If you have any more questions or comments about the methods I just described, leave me a comment below.