Bitstamp Review and Comparison
By: Ofir Beigel | Last updated: 1/22/23
Bitstamp is one of the oldest and most respected cryptocurrency exchange platforms. It's been in operation since 2011. In this post, I'll review the exchange, compare it to other leading exchanges and describe my personal experience with it as well.
Bitstamp Review Summary
Bitstamp is a veteran cryptocurrency exchange that was founded in 2011 and has been leading the space ever since. The exchange puts an emphasis on quality over quantity, supplying trading options for a limited amount of cryptocurrencies yet maintaining a positive user experience overall.
If you're located inside the EU and are looking to trade Bitcoin, Ethereum, Ripple, Litecoin or Bitcoin Cash, this is probably one of the best choices around.
That's Bitstamp in a nutshell. If you want a more detailed review keep on reading, here's what I'll cover:
---
1. Bitstamp Overview
Bitstamp was founded in 2011 by Nejc Kodrič and Damijan Merlak in Slovenia. It was one of the first exchanges originally created to trade Bitcoin as a competitor to the then-popular Mt.Gox.
Later on, the exchange moved to the UK (2013) and then Luxembourg (2016). In late 2018 Bitstamp was acquired by NXMH, a Belgium-based company. Today, it has offices in the UK, Luxembourg, the Netherlands, USA, Singapore, and Slovenia.
The exchange has historically been highly compliant with regulators. This includes being regulated by the Luxembourg Financial Regulator (CSSF) since 2016, acquiring the first Payment Institution license in the EU, and also an NYDFS BitLicense in 2019.
Bitstamp is best suited for intermediate and experienced cryptocurrency users who need to trade Bitcoin, altcoins, and fiat currencies. Bitstamp looks to offer users a low-fee way to exchange digital currencies in large amounts.
The platform suffered hacks and stopped trading at times during 2014 and 2015, the latter of which saw 19,000 Bitcoins stolen.
---
2. Bitstamp Services
Instant Purchases
First off, Bitstamp enables users to easily onboard into crypto via instant purchases using a debit or credit card, or alternatively ACH for making instant deposits (and using the trading platform to buy crypto with the deposited funds). This enables verified users to rapidly acquire their first cryptocurrency assets.
Bitstamp also claims that 95% of user funds are held in cold storage (offline) and are protected by the insurance coverage of their custodians, BitGo and Paragon.
Trading platform
Bitstamp has a simplistic trading interface for beginners, as well as a more advanced trading interface for advanced users called "Tradeview".
The beginner-friendly platform removes is a minimalist design, displaying only a short-term line chart for pricing, as well as a buy/sell box.
On the other hand, Tradeview provides users with all of the necessary bells and whistles to cater to advanced traders. This includes real-time charts, order books, depth charts and four different order types: Market, limit, stop and instant orders. Users can also set up price alerts for all of their favorite assets.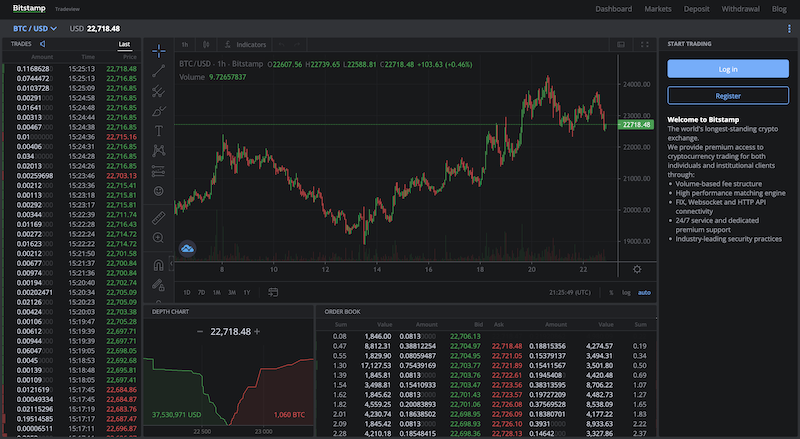 Although the number of assets available to trade is smaller than many other major platforms, this appears to be because Bitstamp chooses quality over quantity – it is more particular over which assets it chooses to list.
Bitstamp Earn
Bitstamp Earn is the platform's staking service, which makes it easier for proof-of-stake (PoS) asset holders to participate in their networks and earn a return. Instead of needing to set up staking themselves, Bitstamp Earn users can stake their coins at the click of a button, with no need for technical expertise or software/hardware requirements.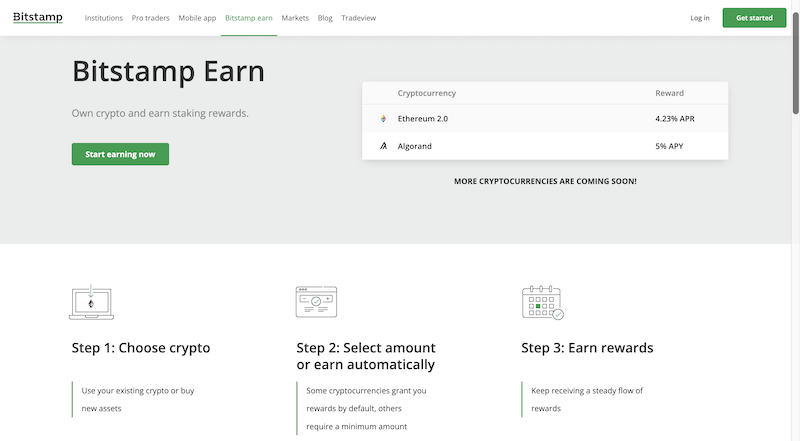 Currently, there are only a couple of assets available under this feature, however Bitstamp plans to expand the service in the near future.
Over-the-Counter Services
A lesser-recognized feature of the Bitstamp platform is their over-the-counter (OTC) desk, which enables users to trade large amounts of crypto ($500,000 equivalent or more) more directly with a counter party, instead of affecting orderbook liquidity. Users can request an OTC quote for large orders at any time.
Mobile App
Bitstamp also has a mobile trading app, with all the functionality you would find on the desktop version. This is available for both iOS and Android devices.
---
3. Currencies and Payment Methods
Bitstamp works with Euros and US dollars for fiat currency options.
If you have a European bank account, you'll find the service particularly useful because you can deposit money via SEPA and it will arrive relatively quick. Alternatively, you can use a regular wire transfer, or instantly deposit US dollars using ACH. The minimum trade size is just 10 EUR/USD, making the platform easily accessible to any level of user.
You can also buy Bitcoins with a credit card through Bitstamp. However, this method will include 5% fee, not including possible additional fees from your CC issuer.
At the time of writing, Bitstamp offers trading for 75 different crypto assets, including (but not limited to):
Bitcoin (BTC)
Ethereum (ETH)
Litecoin (LTC)
Ripple (XRP)
Cardano (ADA)
Dai (DAI)
Polygon (MATIC)
Avalanche (AVAX)
Shiba Inu (SHIB)
Uniswap (UNI)
Algorand (ALGO)
Chainlink (LINK)
Apecoin (APE)
Bitcoin Cash (BCH)

Stellar Lumens (XLM)

Paxos Standard (PAX)

Decentraland (MANA)
The Sandbox (SAND)
You can, of course, deposit any of the cryptocurrencies mentioned above to the exchange as well. As part of being a gateway to the Ripple network, Bitstamp also accepts BTCUSD IOUs (for a complete explanation of what IOUs are, watch our "What is Ripple" video).
If neither of the above options works out for you, Bitstamp also accepts AstroPay payments.
---
4. Bitstamp Fees
Deposits, withdrawals, and trading fees with Bitstamp are generally pretty cheap compared to most exchanges. The deposit fee for international wire transfer is just 0.05%, which is pretty low. Withdrawals using international wire are charged 0.1%. SEPA and ACH deposits are free, while ACH withdrawals are also free. SEPA withdrawals cost 3 EUR.
Trading fees vary, depending on your 'buy and sell' amounts. The highest trading fee is 0.5% for monthly volumes under $10,000, but fees can fall to as low as 0.10% if you're lucky enough to be trading more than $10,000,000 in 30-day volume.
Be wary of using your credit card, though, depositing via card for will cost you dearly. All credit and debit card deposits carry a whopping 5% fee.
Staking fees for ETH2 and ALGO are 15% of total rewards earned via the platform's staking nodes.
Deposits and withdrawals in Bitcoin, Litecoin, and Ethereum are free of charge. You can find a full list of fees here.
---
5. Supported Countries
Bitstamp supports the 27 EU countries and the following countries:
Switzerland, Norway, Monaco, Montenegro, Serbia, Turkey, Andorra, Moldova, Gibraltar, Iceland, Greenland, Liechtenstein, Isle of Man, Faroe Islands, Åland Islands, San Marino, Hong Kong, China, Singapore, Taiwan, South Korea, Australia, New Zealand, Japan, Argentina, Brazil, Israel, South Africa, Chile, Kuwait, Cayman Islands, Qatar, Saudi Arabia, India, Lebanon, Puerto Rico, Peru, Madagascar, Mozambique, Dominican Republic, Curaçao, Dominica, Jordan, the Bahamas, Bahrain, French Polynesia, Ecuador, Trinidad and Tobago, Barbados, Réunion, Jamaica, Paraguay, Brunei, New Caledonia, Guadeloupe, Martinique and Sint Maarten.
Bitstamp operates in the US as well under the subsidiary Bitstamp USA.
---
6. Customer Support and Reviews
Bitstamp claims to answer 99% of all email enquiries within 24 hours, as well as answer 80% of phone calls within 30 seconds. There's also a decent FAQ page, which actually provides in-depth information that should answer most major questions.
Most negative reviews on the platform to date appear to be customers unhappy with "inactivity fees", which Bitstamp has now scrapped. Other negative reviews complain about the rigorous know-your-customer (KYC) processes of the exchange, as well as some account suspensions related to verification processes. This is somewhat typical of more compliant exchanges, which draw a hard line on following KYC rules.
Aside from this, Bitstamp reviews generally commend the platform for quick and helpful customer support, as well as an overall pleasant trading experience.
Personally, I've been a customer of Bitstamp for several years and have usually received a timely response whenever I had an issue.
---
7. Bitstamp vs. Kraken
Kraken and Bitstamp are considered to be two pioneering exchanges due to their early entrance to the market. Both exchanges aren't very user friendly in their interface and are suited for more experienced traders.
The exchanges are relatively similar when it comes to fees, however, Kraken supports a wider range of cryptocurrencies. While Kraken focuses more on features and functionality (e.g. futures and margin trading), Bitstamp tends to be more customer-focused.
Overall, if you're looking for advanced trading features, I'd go with Kraken, but if you're looking for a stable platform with better customer support I'd choose Bitstamp. You can read my complete Kraken review here.
---
8. Frequently Asked Questions
How Long do Bitstamp Withdrawals Take?
Fiat withdrawals can take between 2-5 business days. SEPA and ACH transfers are much quicker than Swift.
Is Bitstamp a Wallet or an Exchange?
Bitstamp is a cryptocurrency exchange that supplies users with web wallets for their accounts. It's not recommended to keep funds on any exchange (not just Bitstamp). You should always move cryptocurrencies to your own non-custodial wallet (i.e. a wallet you control the private keys to).
How do I Deposit USD to Bitstamp?
Login to Bitstamp.
Go to 'Deposit'
Choose 'International Bank'
Enter the deposit information (currency, amount, etc.)
Click Deposit.
Make a wire transfer to the bank details shown on the screen. Make sure to include the reference number in the wire information.
Optional – Write "Investment" as the reason for transfer (suggested by Bitstamp)
---
9. Conclusion – Is Bitstamp Legit?
Bitstamp provides a solid exchange for cryptocurrency users looking for a reliable way to trade, or even just buy their first crypto coins. It's been around long enough to establish a good reputation and knows how to offer a decent service – especially for large trade amounts.
It's a convenient platform for those looking to work within the EU and you can feel safe in the knowledge that it will keep large amounts of funds secure. It also has excellent customer support, with a bunch of great reviews and quick turnaround times for one-on-one help. The only real downsides are a slight lack of variety in cryptocurrencies compared to industry giants, as well as somewhat high trading fees for small users.
Have you had any experience with Bitstamp? I'd love to hear about it in the comments section below.