Kraken Cryptocurrency Exchange Review 
By: Ofir Beigel | Last updated: 2/15/23
Kraken is a US-based exchange and one of the oldest Bitcoin exchanges around, having been founded in 2011. In the following post, I will review the exchange, its different services and customer opinions about it.
Kraken Review Summary
Kraken is a veteran US-based cryptocurrency exchange that provides an advanced trading platform, complete with margin trading and OTC options.
Previously scorned for the platform's instability, Kraken has since revamped its service with a focus on security and customer support. Kraken also offers some very competitive trading fees.
That's Kraken in a nutshell. For a more detailed review keep on reading, here's what I'll cover:
---
1. Kraken Overview
Founded by Jesse Powell in 2011, Kraken is known for its low transaction fees, a wide range of features, and overall security. Following the bankruptcy of former bitcoin exchange Mt. Gox, the Kraken platform assisted in processing claims.
Kraken operates across the United States (with the exception of Washington state and New York due to the BitLicense) and Canada, as well as in the European Union and Japan.
The exchange itself was launched in 2013 and has since raised over $130M, with the latest round closing in December 2021. Kraken boasts about its high liquidity, industry-leading security measures and 24/7 live customer support.
Kraken holds full reserves of their customer funds. Kraken employs an independent, cryptographically-verified audit in order to prove to third parties and the exchange's customers that funds are properly held.
Kraken shut down its San Francisco headquarters in April 2022 citing local crime levels, however it continues to operate as a US-based entity.
---
2. Kraken Services
Kraken offers its customers an advanced trading platform that provides spot trading, as well as margin and futures trading for more experienced users. Kraken offers three different trading platforms – Kraken, Kraken Pro and Kraken Futures.
Kraken
The main Kraken platform is easy to use and is perfect for beginners. It allows you to quickly and easily buy cryptocurrency using a linked bank account, and just as easily exchange between different cryptocurrencies.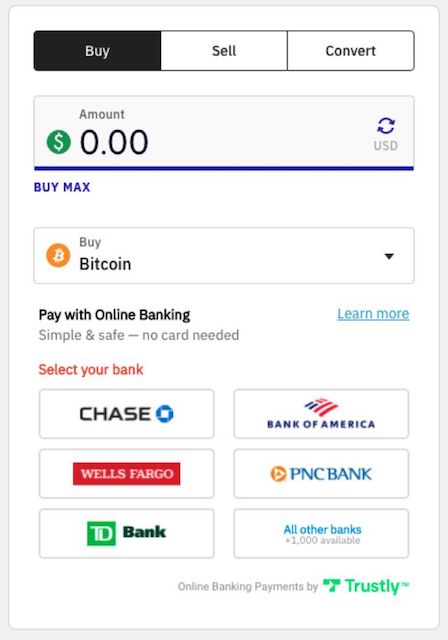 Kraken Pro
Kraken Pro is a trading platform aimed at more experienced users, with more detailed charts and tools. This includes the ability to use technical indicators and compare up to four markets at once. Multiple order types are also available, including stop-loss orders, take profit orders, immediate or cancel (IOC) orders, reduce-only and more.
In addition, Kraken Pro enables users to customize the entire user interface to arrange their own trading setup, as well as track their entire portfolio in one place. Users can toggle easily between spot trading, margin trading and staking features for easy asset management.
The Kraken Pro platform is also available as a mobile app for those who wish to trade on-the-go.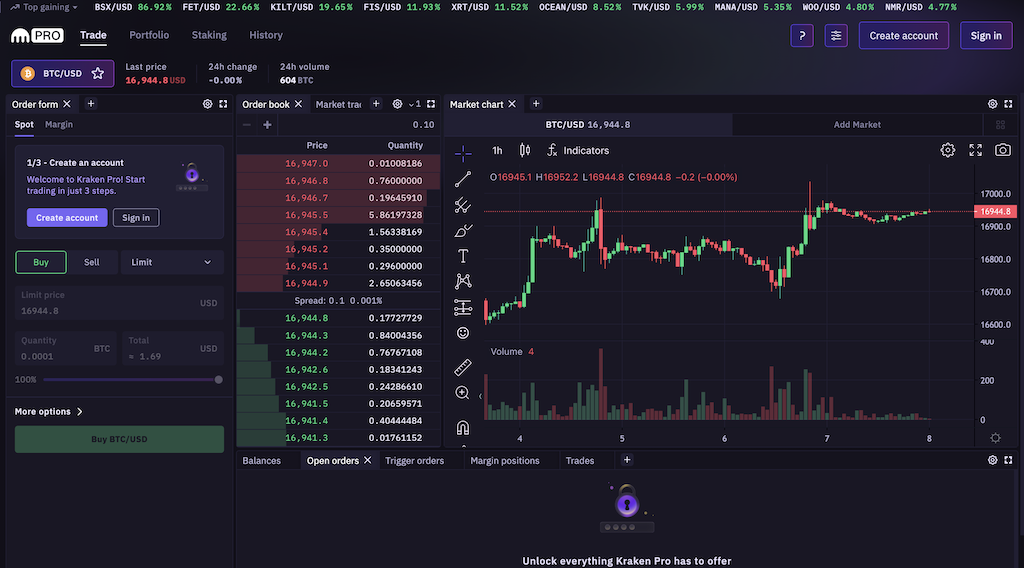 Anyone with a Kraken account can use Kraken Pro, so you don't need to sign up separately if you already have a Kraken account. 
Kraken Futures
Kraken Futures is a derivatives platform by Kraken, which allows users to speculate on cryptocurrencies, without actually purchasing or selling them. These contracts provide the ability for more complex trading strategies, including long or short positions with up to 50x leverage.
Futures positions on Kraken are "multi-collateral", meaning you can collateralize your positions with cash, cryptocurrencies or stablecoins.
Kraken OTC Desk
For high-volume trades (over $100K) Kraken offers over-the-counter (OTC) services with a 1-on -1 service. Additionally, frequent high volume traders can receive a dedicated account manager to take care of their trading needs.
Kraken Staking
As mentioned earlier, Kraken also provides a staking service that allows non-US users to earn a return on assets that would be otherwise held and unused by its users. It is easy to get started with staking and after just a few clicks, you can earn up to 21% annually on your crypto. Rewards are automatically paid out twice a week and unlike other staking services, with Kraken you can instantly unstake your crypto whenever you like – without having to pay a penalty.
---
3. Currencies and Payment Methods
Kraken accepts the following fiat currencies:
Euros (EUR)
US dollars (USD)
Canadian dollars (CAD)

Australian dollars (AUD)

British pound (GBP)

Swiss franc (CHF)

Japanese yen (JPY)
Deposits and withdrawals can be made via SEPA, SWIFT, wire and domestic transfers. In almost all cases, deposits and withdrawals can be expected to take 1–5 business days.
In my experience, the average deposit takes as little as 24 hours. It's free to deposit most of the accepted cryptocurrencies, but there's a small address setup fee in a few cases.
With regard to fiat deposits, SEPA deposits are free, making Kraken particularly convenient if you're in the European Union and your location is on the list of SEPA countries.
A bank wire transfer from within the United States costs between $5 and $25, whereas it usually costs under $10 equivalent from outside of the United States.
In terms of cryptocurrencies, Kraken currently supports more than 150 different coins, including all the major cryptos:
Algorand (ALGO)

Bitcoin (BTC)

Bitcoin Cash (BCH)

Cardano (ADA)

Chainlink (LINK)

Cosmos (ATOM)

Curve (CRV)

Dai (DAI)

Dash (DASH)

Dogecoin (DOGE)

EOS (EOS)

Ethereum (ETH)

Ethereum Classic (ETC)

Litecoin (LTC)

Monero (XMR)

Nano (NANO)

PAX Gold (PAXG)

Polkadot (DOT)

Qtum (QTUM)

Ripple (XRP)

Stellar Lumens (XLM)

Tether (USDT)

Tezos (XTZ)

Tron (TRX)

USD Coin (USDC)

Zcash (ZEC)
For a full list of Kraken's supported cryptos and currency pairs, click here.
---
4. Kraken Fees
The fees on Kraken depend on the platform you use and also on the type of transaction you are making.
When using the main Kraken platform for instant purchases, there is a fee of 1.5% for most cryptocurrencies and 0.9% fee for stablecoins, when bought using USD or another stablecoin. There are additional fees on top depending on how you choose to fund the purchase. Card and digital wallet purchases are charged 3.75% plus $/€0.25 whereas online banking/ACH purchases are charged 0.5%.
Fees on Kraken Pro are a lot lower and more competitive with other platforms. Trading fees start at 0.26% and decrease according to your 30 day trading volume, as well as whether you submit a "maker" or "taker" order. Makers, who add limit orders to the exchange, pay a lower fee than takers, who fulfill existing orders. Fees can get as low as 0.00% for the highest volume users.
The complete Kraken fee schedule can be viewed here.
---
5. Supported Countries
Kraken is available worldwide, except for the following countries:
Afghanistan

Congo

Cuba

Iran

Iraq

Libya

North Korea

Syria

Tajikistan
Kraken accepts US traders on its platform, except for residents of Washington state (WA) and New York (NY).
---
6. Customer support and reviews
Kraken's website features an extensive support guide, which covers everything from verifying your account to trading. In most cases, you'll find what you're looking for there.
However, in the event that you do need support, you can always submit a support ticket or talk with a live rep via the site's built-in chat, as well as 24/7 phone support.
The general consensus online is that Kraken's main strengths lie in its low fees, advanced features, and strong security. While Kraken certainly has its advantages, it has its share of criticism, receiving a "poor" grade on TrustPilot.
Overall it seems that since the site was revamped some time ago, the level of support and platform stability has improved significantly.
---
7. Kraken vs. Coinbase
I found many similarities when comparing Kraken to another major US-based exchange, Coinbase.
Both exchanges offer multiple features, with separate sections for beginners and experienced users. They both also have a pretty similar fee structure and available services (OTC, margin trading, account management). However, Kraken offers the additional feature of derivatives trading and Coinbase supports a smaller variety of cryptocurrencies.
Another key difference would probably be in terms of support – where Kraken seems to be putting a lot more emphasis than Coinbase. Overall, if your desired coin is listed on both, it seems that there isn't much of a difference between these two exchanges.
You can read my complete Coinbase review here.
---
8. Conclusion – Is Kraken Legit?
It's fair to say that Kraken is an option well worth considering, thanks to its excellent security features and low transaction fees. Kraken is ideal for both crypto newbies as well as seasoned traders, thanks to its separate platforms being tailored towards different audiences.
This veteran Bitcoin exchange has gained a considerable reputation over the years, and doesn't seem to be going anywhere anytime soon.
Have you used Kraken yourself? I'd love to hear about your experience in the comment section below.