3 Ways to Buy Bitcoin with Apple Pay
By: Alex Miguel | Last updated: 5/2/21
Popular Bitcoin exchanges are starting to open up to the increasingly-popular Apple Pay payment method. In this post, I'll be reviewing some of the best options users currently have for buying Bitcoin with Apple Pay.
Buy Bitcoin with Apple Pay Summary
The easiest way to buy Bitcoin with Apple Pay would probably be Coinmama. Here are the steps:
Get your own Bitcoin wallet.
Visit Coinmama, select the amount of Bitcoin you wish to buy and

click "Buy Now".

Complete the KYC process.

Paste your Bitcoin wallet address.

Select Apple Pay as your purchase method.

Complete the purchase.
That's it! If you want to read in depth about additional exchanges that accept credit cards keep on reading. Here's what I'll cover:
---
1. Buy Bitcoin with Apple Pay through Coinmama
Pros: Well-respected company, great customer support, available worldwide
Cons: Some US states not supported, high fees
Coinmama is a cryptocurrency exchange that has been around since 2013 and is available in 188 countries. Coinmama is well-known for enabling users to buy Bitcoins using a credit card and now also accepts Apple Pay. The platform is easy to use and sends coins immediately following payment.
Although fees are relatively high, they are still competitive when using Apple Pay as a payment method when considering other factors such as market premiums.
Visit Coinmama
Read review
How to Use Coinmama
Get your own Bitcoin wallet – (you can read our complete Bitcoin wallet guide here)

Click "Buy"

Fill out your details and confirm your identity with a photo ID. This should take Coinmama only a couple of hours to verify .

Paste your Bitcoin address into the form.

Select Apple Pay as your purchase method.

Complete the purchase.
---
2. Buy Bitcoin with Apple Pay through Paxful
Pros: No buying fees
Cons: Seller premiums are high, purchase limits are low
Paxful is a peer-to-peer (p2p) cryptocurrency exchange that was founded in 2015. Paxful connects buyers and sellers of Bitcoin and other cryptocurrencies through a variety of payment methods, including Apple Pay. Paxful doesn't charge fees for cryptocurrency purchases, however there can sometimes be a substantial premium charged by the seller over the current market price. 
It's also worth noting that as with all p2p services, it is important to evaluate the individual seller's credibility – not just the credibility of the platform itself. 
Visit Paxful
Read review
How to Use Paxful
Create an account and verify your details.

Select Apple Pay as your payment option.

Enter the amount that you wish to purchase.

Follow the instructions for payment, then click "Mark as paid".

The seller will release the Bitcoins to your Paxful wallet.
---
3. Buy Bitcoin with Apple Pay through Exodus Wallet
Pros: Easy to use, purchases can be made in-app
Cons: Maximum purchase limit is low, not available to many countries
Exodus is an extremely user-friendly wallet which is perfect for beginners. It's been around since 2015 and supports Apple Pay purchases on the latest version of their iOS app, with a limit of $250. Buying Bitcoin with fiat currency on Exodus is only available to around 40 countries around the world. 
Visit Exodus
Read review
How to Use Exodus
Download and install the Exodus app.

Tap on "Buy Bitcoin".

Select the amount of Bitcoin that you wish to buy.

Double check the amount of Bitcoin you have selected and then tap "Pay".

Confirm the purchase via Apple Pay.

The Bitcoin should appear shortly in your Exodus wallet.
---
4. Buy Bitcoin with Apple Pay through BitPay
Pros: Well-established company, also supports shopping with crypto
Cons: Custodial wallet, low maximum purchase limits for US customers
BitPay is one of the largest cryptocurrency payment processors in the world. Based in Atlanta, USA, it is well known for helping merchants accept crypto payments and convert them to fiat currency at the point of sale.
The company provides a mobile app which allows users to buy, exchange and shop with crypto. Like some of the other wallets, BitPay facilitates Bitcoin purchases via Apple Pay, in a partnership with Simplex and Wyre. Maximum purchase amounts are the standard Simplex limits, which include $500 for US users and $1000 for other countries. Around 45 countries are supported for Apple Pay purchases via BitPay.
Visit BitPay
Review coming up!
How to Use Apple Pay with BitPay
1. Download and install the BitPay app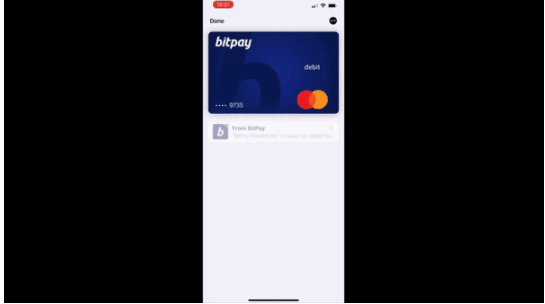 2. Open the app and set up a wallet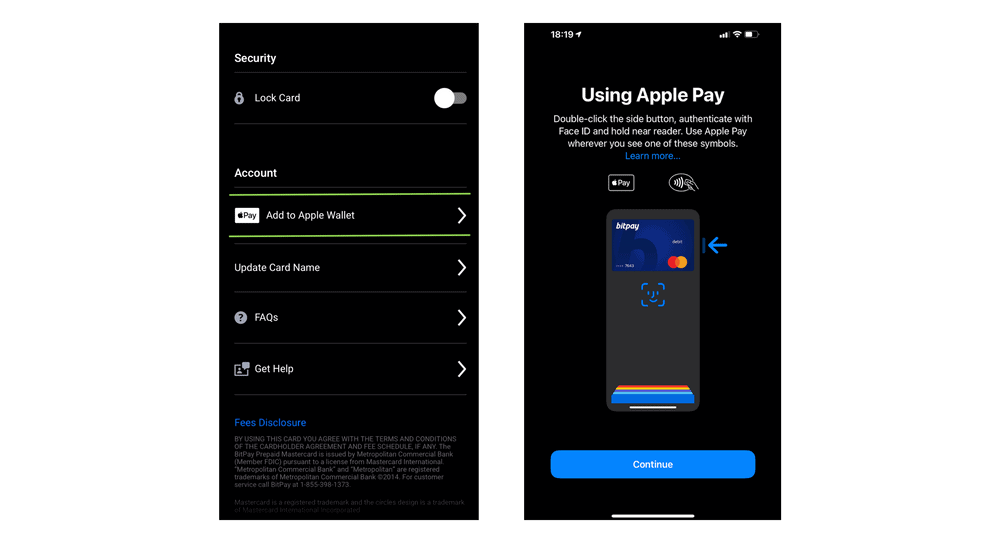 3. Tap the "Buy Crypto" tab
4. Enter the amount that you wish to spend on Bitcoin
5. Confirm your payment method and country
6. Confirm the purchase using Apple Pay.
---
5. Conclusion: How do I choose which exchange to use?
Since there still aren't too many options for buying Bitcoins with Apple Pay, it's quite easy to pick an exchange to use. If you're in the United States and want to buy large amounts of Bitcoins quickly and securely, Coinmama is your best option. Exodus is the best option for US users looking to buy smaller amounts and easier transactions. If you're anywhere else in the world Paxful works great.
Have you used Apple Pay to buy Bitcoins? Let me know how your experience went in the comment section below.