Exodus Wallet Review – A Beginner's Guide
By: Ofir Beigel | Last updated: 12/8/22
Exodus is a multi-currency wallet that I usually recommend as an entry wallet for beginners. In this post I'll review the different wallet features and why I think it's one of the best wallets around.
Exodus Review Summary
Exodus is an easy to use multi-currency software wallet that is available for desktop and mobile. The wallet excels in its simple design and superb online support. The main downside of Exodus is its lack of custom network fees for Ethereum and other altcoins, and the fact that it is not completely open source.
That's the Exodus wallet in a nutshell. For a more detailed review keep on reading, here's what I'll cover:
Don't like to read? Watch this video overview instead
---
1. Exodus Overview
Exodus Movement INC. was founded in 2015 by JP Richardson and Daniel Castagnoli and is headquartered in Nebraska. The company hasn't reported any outside funding throughout the years and is currently actively seeking to expand.
---
2. Exodus wallet review
My acquaintance with Exodus started out by accident, when one of our subscribers told me he didn't like my choice for the best Bitcoin wallet I recommended at that time, and that he used Exodus instead. That subscriber got my attention, so I decided to take a look into Exodus as well.
Exodus is a multicurrency wallet for desktop, and as of recently, for mobile as well (iOS and Android). The wallet creators put an emphasis on design and user interface, making it in my opinion, the most appealing and easy to use wallet around.
Even if you're just starting out with Bitcoin or cryptocurrencies you would still be able to use this wallet effortlessly. Exodus is the kind of product you "fall in love with" the first time you use it, and that's quite rare in the cryptocurrency world.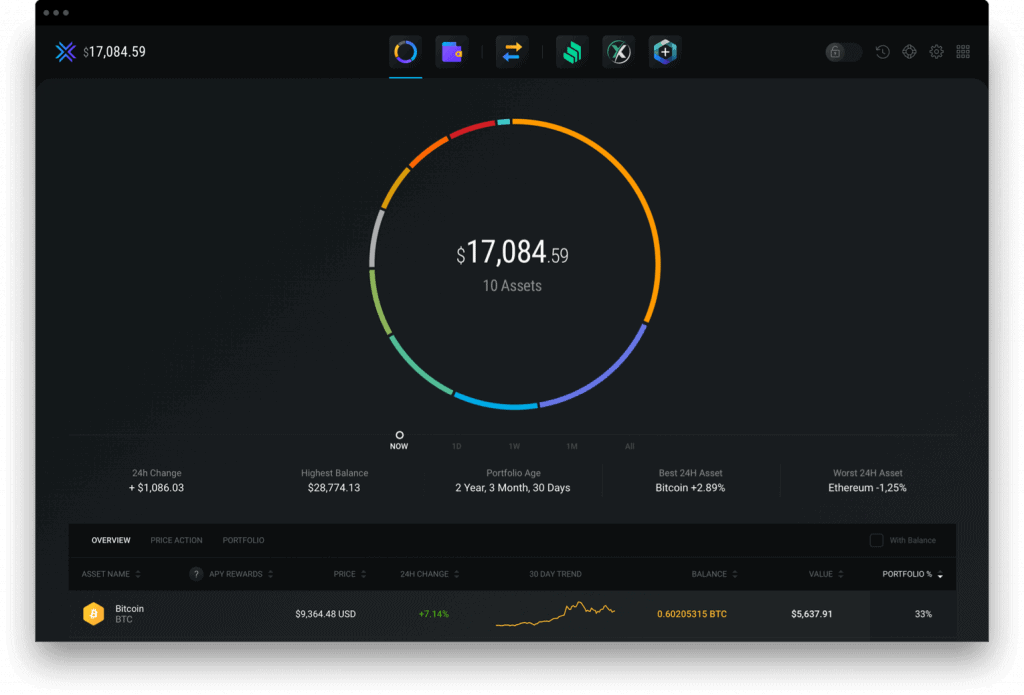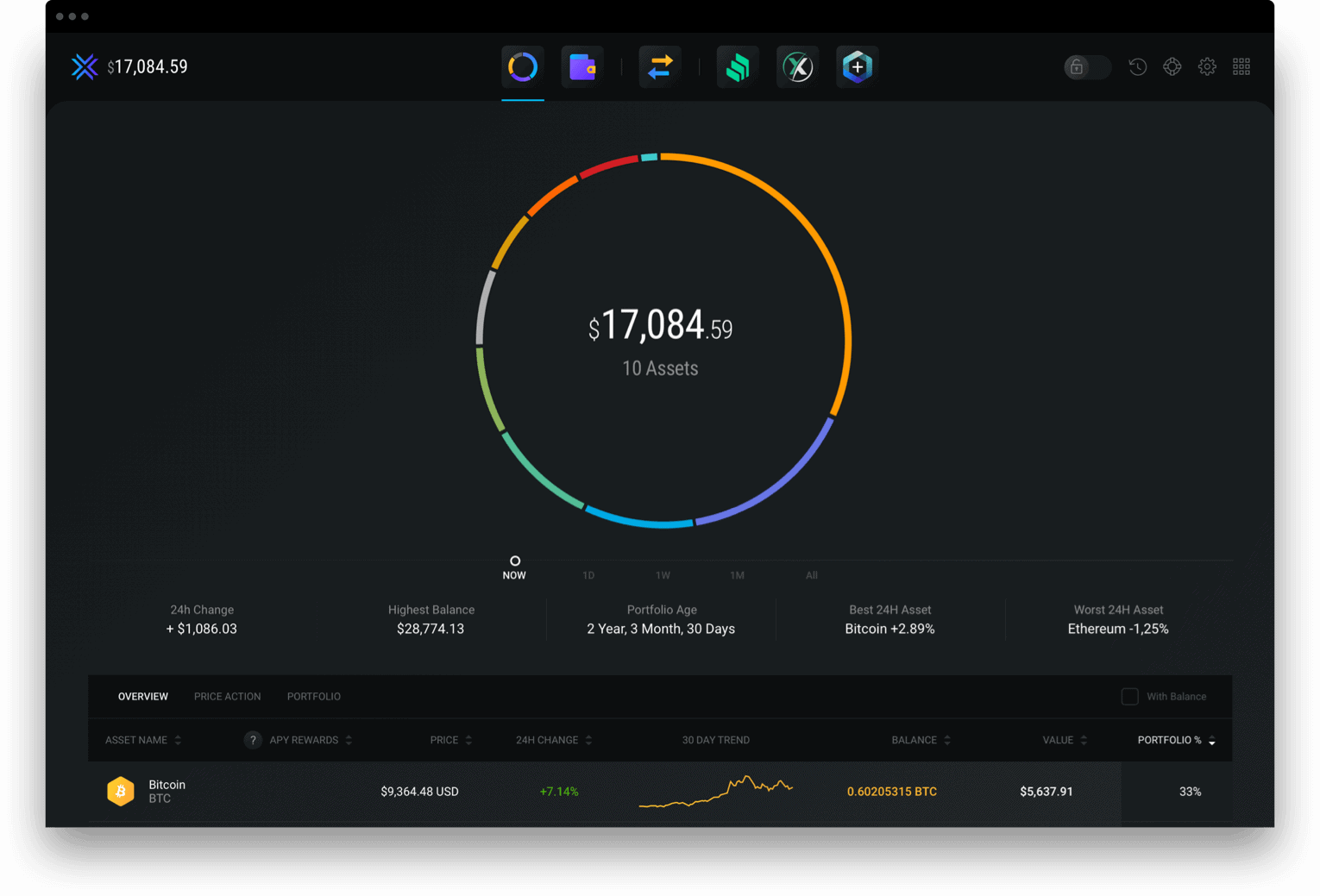 Exodus navigation is pretty simple and easy to understand, the mobile app has only 3 categories:
Portfolio – See an overview of all of the cryptoassets you're holding (as seen in the picture above). Also shows price graphs for different assets.
Wallet – Send or receive specific coins.
Exchange – Exodus has a built in exchange that allows you to trade between cryptocurrencies without ever leaving the wallet.
The desktop app includes all of the above, plus these additional tabs:
Backup – Allows you to restore your wallet password or your wallet's seed phrase.
Settings – Security and design tweaks to your Exodus wallet.
Help – Watch videos, FAQ, join a Slack chat or email support.
App Explorer –  The app explorer has a featured app section that makes it easy to find and use crypto apps within the Exodus wallet. These apps can be used for earning interest on your coins, betting and more.
When you use Exodus, the private keys to your cryptocurrencies are stored on your device (desktop or mobile). Additionally, Exodus is a lite wallet so you won't need to download the whole Blockchain to your device, making the initial setup pretty quick.
Exodus is currently compatible with Mac, Windows, Linux, iOS, and Android. You can also pair your desktop and mobile wallets together so you'll have control over your funds from both devices.
The wallet is also compatible with TREZOR hardware wallets, allowing you to use the sleek Exodus interface with the robust security of a hardware wallet.
Here's how it works:
The one feature I think Exodus is missing is custom network fee handling for Ethereum and altcoins. At the moment, Exodus only allows custom fees for Bitcoin. For all other coins, it automatically sets the best price to deliver your transactions as fast as possible. This may turn out to be costly when the network is crowded, especially on busy networks like Ethereum.
---
3. Supported Coins
Exodus supports more than 115 cryptoassets in total (coins and token). The most notable coins supported by the wallet are:
EOS
Dash
Ethereum Classic
Stellar
Ontology
Tezos
Tron
---
4. Customer Support and Reviews
I think what got my attention the most with Exodus is the genuine interest founders have in their users' opinions. JP and Daniel (the founders) are showing that they're here to stay.
You can see it in the simple to understand support videos they've uploaded, the multiple communication channels they supply on their site and the direct messaging platform to the founders via Slack.
Support can be reached also directly from within the wallet (not just from the site). Here are all of the support options:
Checking out online reviews I found out that Exodus receives an "Average" rating on Trustpilot. This includes very polarized reviews either applauding the wallet for being easy and enjoyable to use, or complaining about one of two issues:
High transaction fees – this is a real issue in times of high network usage on the relevant blockchain, since by default Exodus will set a faster (and therefore more expensive) transaction fee. The good news are that Exodus now supports custom fees for Bitcoin, however, not for other blockchains such as Ethereum are still
Wallet hacks – it is not certain how many of these reviews are legitimate and how many are not, however it is true that Exodus trades some security for user-friendliness. While these reviews about hacks should be taken with a grain of salt, as best practice you should never store large amounts of cryptocurrency in a software wallet, especially long-term.
As an Exodus user, I can say that I never had a major issue with the wallet, and whenever I did have a request or question I always got a prompt reply.
---
5. Frequently Asked Question
Is Exodus Secure?
Exodus should be as secure as any software wallet can get. The two main security features the wallet offers are
Password protection for your wallet.
Automatic wallet lock after a selected period of time.
Exodus also states it's important to verify you're downloading the wallet only from a trusted source (i.e. their website). You can verify your Exodus download is authentic using this process.
Additionally, Exodus does not require any registration and the company does not have any access to your private key or information.
One thing to keep in mind is that Although Exodus is built on many open source components, there are components of Exodus that are not open source.
How Does Exodus Make Money?
When exchanging assets through the Exodus wallet, Exodus gets a small commission from the trade. You can read a detailed explanation of Exodus's business model here.
---
6. Conclusion
I review a lot of Bitcoin wallets and rarely do I stumble upon a wallet that is truly outstanding as Exodus. For my personal needs, this wallet is almost perfect – "almost" and not "perfect" due to the lack of fee management for altcoins. The new addition of custom fees management for Bitcoin is a step in the right direction.
There's no doubt that if you're new to Bitcoin or cryptocurrency in general, Exodus will allow you an easy entrance.
Have you had any experience with Exodus? I'd love to hear about it in the comment section below.