Hardware Wallets Compared and Reviewed
By: Ofir Beigel | Last updated: 11/12/19
The most secure way you can store your Bitcoins and other cryptocurrencies is on a hardware wallet. A small physical devices that hold your private keys offline. In this post I'll cover the best hardware wallets around while giving you a general overview of hardware wallets as well.
Hardware Wallets Review Summary
Hardware wallets use a form of 2 factor authentication (also known as 2FA). This mean that in order to access your funds you'll need to prove your identity through something you have (the physical wallet) and something you know (the PIN code for the wallet). If you're serious about Bitcoin and cryptocurrency security in general, you need to get a hardware wallet, I personally have 3 different ones.
The 3 Best Hardware Wallets on the Market are:
Ledger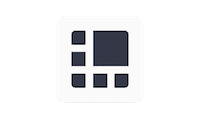 Trezor

Keepkey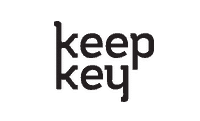 For a full review of each of the wallets keep reading this post. Here's what we'll go over:
---
1. What is a Cryptocurrency Hardware Wallet?
One of the most important aspect of securing your cryptocurrency is to make sure your private key (aka seed phrase) is kept hidden and out of reach. That's why it's recommended to never keep it on a computer or any device that can be affected by malware or connected to the Internet.
Hardware wallets are physical devices (similar to a flash drive) that keep your private keys on the device itself. They are built to protect your private key even if the device they are connected to is compromised by malware. You can even use them with a public computer you don't trust.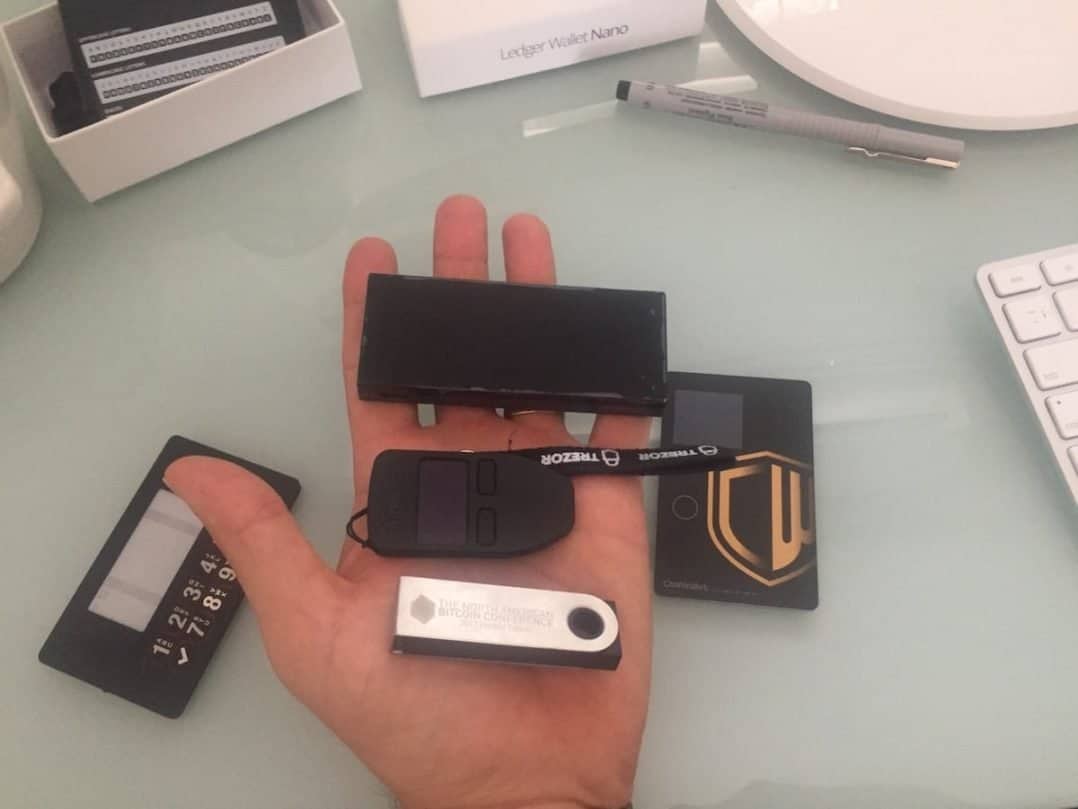 5 different hardware wallets: BitLox, KeepKey, TREZOR One, Ledger Nano S, CoolWallet
When you want to send cryptocurrency from the wallet to someone else, you connect the device to a computer, enter your PIN code, and send the funds. When done, disconnect the hardware wallet and store it in a safe place.
Your private key never "leaves" the hardware wallet as all of the transaction signing process is done on the hardware wallet itself and not on the computer. In short, hardware wallets offer the optimal mix between security and ease of use.
Still Confused about Cryptocurrency Wallets? Watch our Video Guide
---
2. Ledger Hardware Wallets
Pros: Great company reputation, 1000+ crypto assets supported , mobile compatibility (Nano X only)
Cons: Bluetooth user interface a bit confusing (Nano X only)
The company (LedgerWallet) has been around long enough to gain a respectful reputation and in all honesty it's hard to find anything bad to say about their products.
Access a ledger wallet is done through Ledger Live – a free desktop application that allows you to control all of your ledger devices, send and receive cryptocurrencies and check your balance whenever you want.
Ledger Nano X
The Ledger Nano X is Ledger's flagship when it comes to hardware wallets. The device has an impressive capability to manage 100 crypto assets simultaneously. It's like using the Ledger Nano S (see below) on steroids.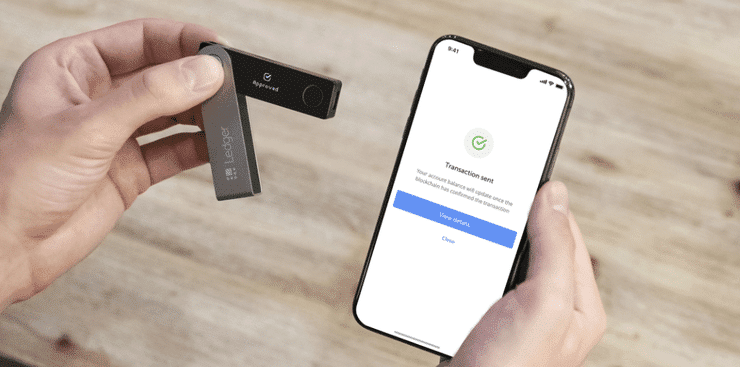 The main downside from my own experience is that the Bluetooth user experience wasn't as smooth as I expected it to be. This may be remedied by Ledger in the future through updates, but for now it's a thorn in the Nano X's side.
Visit Ledger
Read review
Ledger Nano S
I've reviewed the Ledger Nano S and was absolutely impressed. The Nano S has a sleek design, intuitive user interface and a wide support of altcoins (including Ethereum, Litecoin, Dogecoin, Zcash, Dash, Ripple and most ERC-20 tokens). The Nano S sells for $59 making it an extremely affordable hardware wallet.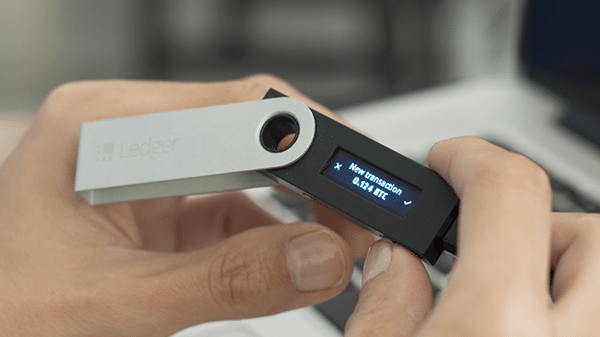 Today I use the Ledger Nano S as one of my personal wallets.
Visit Ledger
Read review
---
3.TREZOR Hardware Wallets
Pros: A market veteran, great company reputation, over 1000 crypto assets supported.
Cons: Frequently resets when upgrading, XRP not supported (TREZOR One)
TREZOR (meaning "vault" in Czech) was the first company to come up with the idea of a hardware wallet. The main advantage TREZOR has over its competition is the company reputation. One of the company's founders is Marek "Slush" Palatinus, who also created the first mining pool for Bitcoin (founded in 2010).
On the downside, there is one annoying thing about TREZOR wallets – When you upgrade the wallets firmware it frequently deletes the whole wallet. If you're just starting out with crypto this can definitely freak you out. As long as you have your backup phrase around you can just restore the wallet, but this is definitely something to be aware of.
The TREZOR T is basically a TREZOR One wallet that has a large touch screen. Both wallets offer the same features, but the touch screen does make a difference. I'll explain.
When you restore your hardware wallet or even set it up for the first time, you are often requested to enter your seed phrase. If you do not have a suitable interface on your hardware wallet (i.e. a touch screen), you will need to type in your seed phrase on your computer.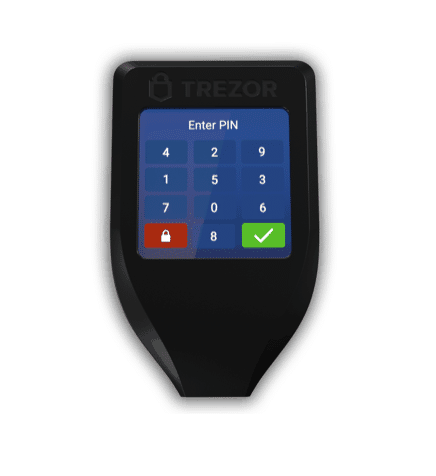 If your computer is infected with malware this makes your seed phrase vulnerable to key logging or other forms of hacking. Having said that, even if someone managed to get the words to your seed phrase the still won't know what order to put them in since that is not displayed on your computer (it's displayed on the hardware wallet).
The Trezor T eliminates this threat completely since all interaction is done on the hardware wallet's touch screen so you don't need to be afraid of malware (these devices are malware free by design). The TREZOR Model T also supports some coins that the TREZOR One does not (e.g. XRP, ADA and XMR).
The TREZOR T model costs 149 Euros ($170) when VAT is excluded. There is also a premium Titanium version manufactured by Gray called the Corazon (you can read about it in detail in the complete Model T review).
Visit TREZOR
Read review
TREZOR One
Aside from using the Ledger Nano S I also use a TREZOR One for storing cryptocurrencies. The "TREZOR one" (formerly known just as "TREZOR") is the oldest hardware wallet on the market and probably the most reputable one as well.
The Trezor One has a nice, simple design, a very easy to understand user interface and it supports a wide array of cryptocurrencies including Bitcoin, Bitcoin Cash, Bitcoin Gold, Zcash, Dash, Ethereum, Ethereum classic, Litecoin and NEM. The only coin which is missing and has gain massive public attention is Ripple (XRP).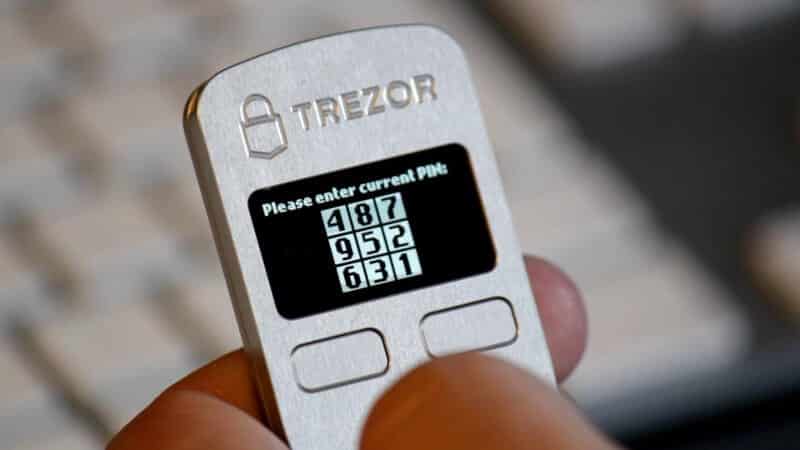 The price on the TREZOR one is currently $80 making it affordable, but not the cheapest hardware wallet on the market. This is a great hardware wallet in my opinion that is very easy to set up and use.
Visit TREZOR
Read review
---
4. KeepKey Hardware Wallets
Pros: Beautifully designed, in-wallet exchange via Shapeshift
Cons: Not enough coins supported
Coming in 3rd place we have Keepkey, a Bitcoin hardware wallet with a beautiful though somewhat large design. Keepkey has similar features to the TREZOR one and the Ledger Nano S, however for several reasons I find it a bit less attractive than the previous two.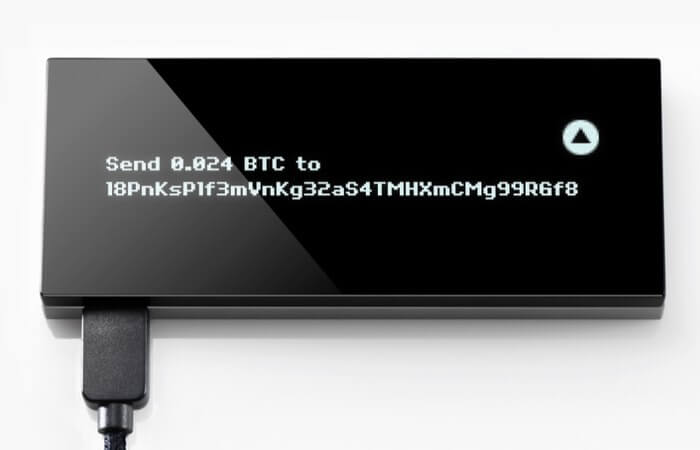 For starters, the wallet is too big for carrying in your pocket conveniently.  The size of the Keepkey wallet is almost twice that of the TREZOR one or Ledger Nano S.
Additional things that make me hesitate regarding buying the product are:
Finally, the company KeepKey was acquired by the exchange Shapeshift and therefor incorporates an in-wallet exchange that allows you to trade one crypto for another without using an external exchange.
Keepkey currently sells for $80.
Visit KeepKey
Read review
---
5. Archos Hardware Wallets
Pros: Extremely affordable, easy setup
Cons: Basic coin support, new player in the field of cryptocurrency
Archos  is a French multinational electronics company that was established in 1988 by Henri Crohas. Archos manufactures tablets, smartphones, portable media players and portable data storage devices. It recently got into the field of hardware wallets and has introduced the Safe-T mini hardware wallet.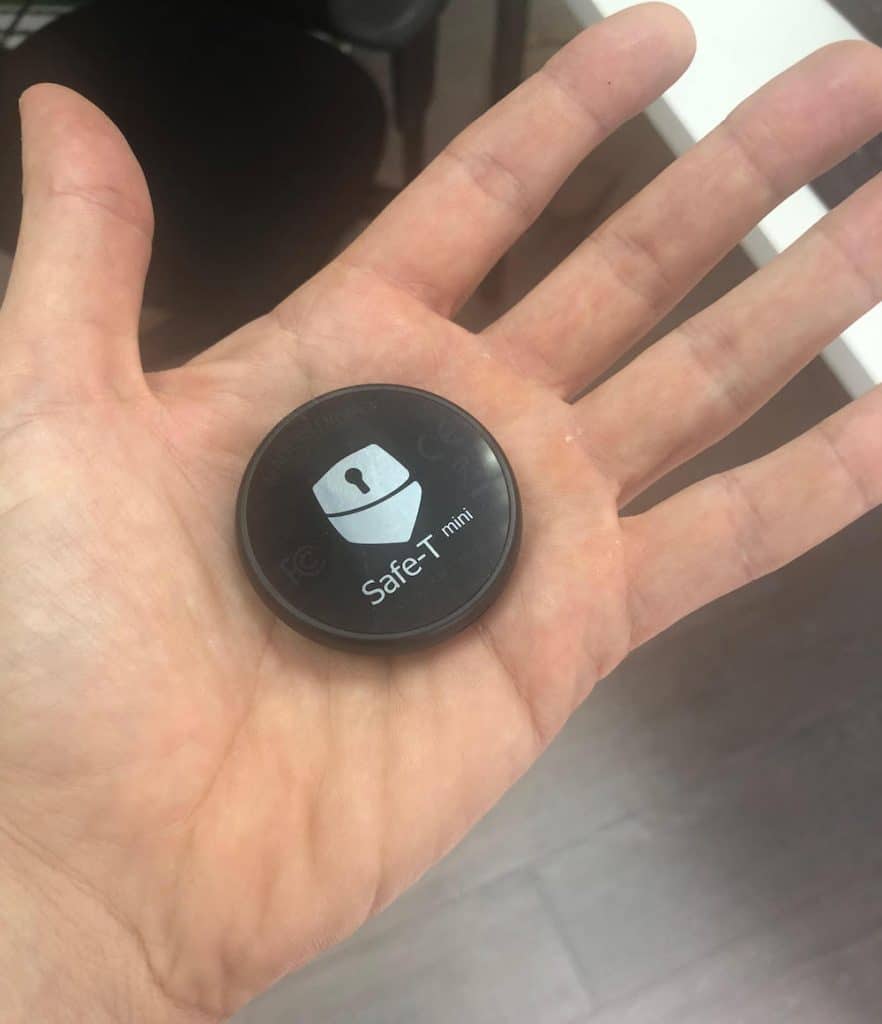 This is a very basic version of a hardware wallet. It acts as a basic 2FA device that also holds your private key but that's about it. The Safe-T mini's interface is extremely limited and in order to send / receive coins you will need to use additional software. For example, to send / receive Bitcoin you will need to use Electrum.
Priced at around $55, the Safe-T mini acts as an affordable alternative to the more expensive hardware wallets. However, taking into account that the company is relatively new to the cryptocurrency space, I suggest putting an additional $5 and going with the battle tested Ledger Nano S.
Visit Archos
To be reviewed
---
6. Additional Hardware Wallets on the Market
Throughout the past 3 years I've also explored some additional hardware wallets that didn't make the top of the list so I'd like to mention them here.
Bitfi is a hardware wallet that is owned by John Mcafee, a controversial figure in the cryptocurrency space. The wallet originally claimed to be "unhackable", however after it was torn a apart by security researchers and several security flaws where exposed it removed that claim.
CoolWallet is a "credit card like" hardware wallet that you can carry around in your pocket. My review of Coolwallet was positive, however the wallet hasn't gained enough market share in order for me to consider it a stable product.
BitLox is another hardware wallet I reviewed, however it was in early stages and I couldn't get it to work properly. I haven't taken another look at the product since then (this was back in the beginning of 2016) and the product may have become more user friendly.
Ellipal is a hardware wallet that aims to be completely isolated from the outside world. It has no wired or wireless connectivity and it communicates through QR codes via a camera on the rear end. It costs $149 and is relatively new to the market (i.e. not battle tested). You can read my full Ellipal review here.
---
7. Frequently Asked Questions
Which is Better – TREZOR or Ledger?
Both Ledger and TREZOR wallets have proved to be a safe and easy to use solution for storing your Bitcoins. When Ledger started out they didn't seem to have a good enough product as TREZOR did. However today, the line between the companies has pretty much evaporated and they are equally good in my opinion.
However, to be on the safe side I generally use more than one hardware wallet and I try to make sure to use models from both companies.
What is the Best Ledger Wallet?
The Ledger Nano S is the best value for money wallet in my opinion. Thought the Nano X will give you more features, I don't think it's worth the extra cost.
How do I Access my TREZOR Wallets?
In order to access your TREZOR wallet you'll need to connect it to your computer and go to http://wallet.trezor.io. This web interface will allow you to access your funds one the wallet is connected to the computer.
---
8. Conclusion – Serious about Crypto? Get a Hardware Wallet
It doesn't get any simpler than this headline. Yes, hardware wallets cost money and no one likes spending money on things they can get for free. But the amount of security you get by using a hardware wallet is much more valuable than the $50-$100 you'll pay for purchasing the actual device.
In my opinion any of the top 4 wallets are a good choice but my personal favorites are the TREZOR One and the Ledger Nano S. Also, make sure to always buy the wallet directly from the company or from an authorized resellers. There have been many cases of fraud reported by people who bought hardware wallets on eBay and sometimes Amazon.
Have you used a hardware wallet? Do you have any comments or additional questions? Let me know in the comment section below.
Bitcoin Video Crash Course
Dummy-proof explainer videos enjoyed by over 100,000 students. One email a day for 7 days, short and educational, guaranteed.
We hate spam as much as you do. You can unsubscribe with one click.