CoolWallet S Hardware Wallet Review
By: Ofir Beigel | Last updated: 12/4/22
CoolWallet is a mobile hardware wallet that is designed to look and feel like a credit card, fitting inside your wallet. How does it stack up? Keep reading for a full hands-on review of the CoolWallet S.
CoolWallet S Review Summary
CoolWallet S is a hardware wallet focused on combining security and portability. The wallet offers a unique credit card-style design and is controlled solely from a mobile app via a Bluetooth connection. It is clean and simple to use with a growing selection of supported cryptocurrencies, plus an inbuilt exchange.
That's the CoolWallet S in a nutshell. For a more detailed review keep on reading, here's what I'll cover:
---
Don't Like to Read? Watch this Short CoolWallet S Overview
---
1. Company Overview
The CoolWallet S is made by CoolBitx, a Taiwanese company established in 2014. Founded by Michael Ou, CoolBitx aims to create the world's best mobile wallet for digital assets.
The company was born just a week before the infamous Mt. Gox $450 million hack after which Michael Ou knew that creating secure cryptocurrency wallets was a priority.
Following a successful Indiegogo crowdfunding campaign, the original CoolWallet was born. The CoolWallet S followed in 2019, a mobile hardware wallet storing a wider coin selection with increased energy and cost-efficiency.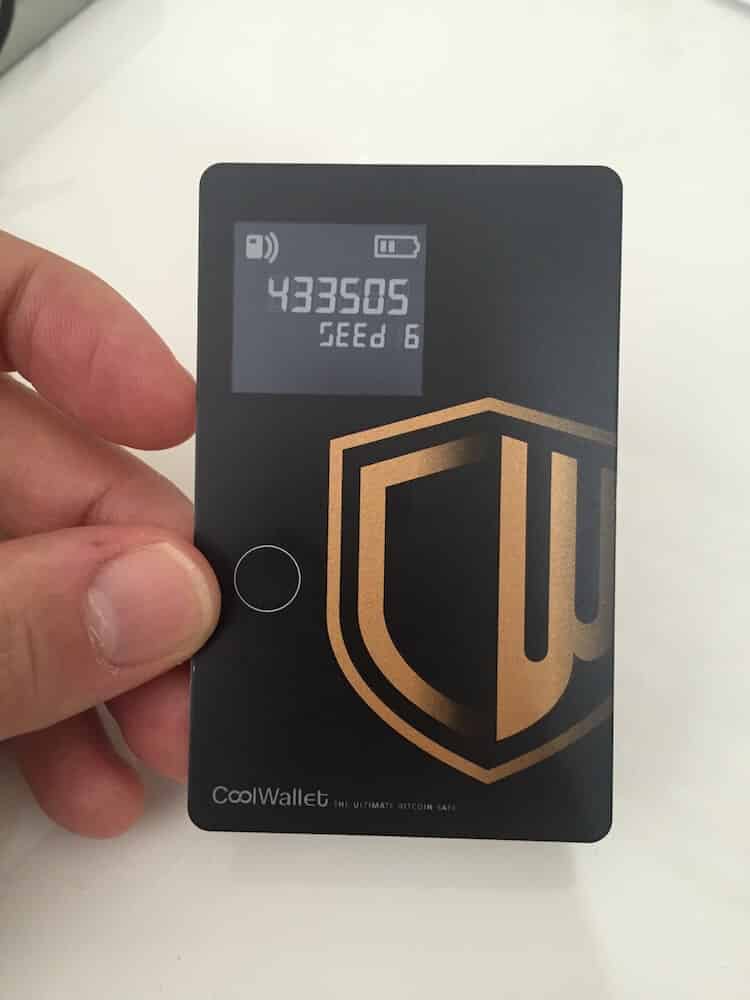 The original CoolWallet
CoolWallet's credit card style design has caught the eye of many in the industry and praised for its portability. The wallet is also waterproof, tamper-proof and bendable.
---
2. My Personal CoolWallet S Review
The CoolWallet S hardware wallet is impressive from the start. It really is the size of a credit card with a neat inbuilt screen and button. The screen is an important feature, since it means that no sensitive information will be shown on your mobile which may be compromised.
The card wallet feels solid yet lightweight, it is almost hard to believe you can store and send cryptocurrency from within – and it's also waterproof. It took a few solid clicks to get the button working (a continuous issue I've been having since I've reviewed the initial model) but after that, it goes nicely.
I did think the tiny basic screen would be frustrating but it is easy to read, plus most control is done through the mobile app (available for iOS and Android). On the card, you simply use the button to scroll through wallets/currencies and confirm transactions.
Wallet values and battery symbols are easy to read so you know quickly when you're running out of battery… And money.
Charging is easy, simply slide the card into the provided USB dock and it can hold a charge for up to three months.
Wallet Setup
Getting started with the wallet is quick and painless, you can have it done in under 5 minutes. Connection is made via Bluetooth which pairs almost instantly.
The CoolWallet has an AES256 (Advanced Encryption Standard) encrypted Bluetooth connection to communicate only with the authorized device. The tamper-proof CC EAL5+ chipset also provides full control over your crypto assets.
The CoolWallet S only transmits non-essential transaction information. Even in the highly unlikely case that the Bluetooth encryption is cracked, neither the private key (protected by a secure element as you will know) or any important information will ever be exposed.
A seed phrase for backups is set using your phone, or directly on the card for added security. It's really easy to scroll through using the screen on the wallet itself.
To check the seed phrase is correct, you then need to add up all the numbers and input the total outcome. This could expose your phrase a little if you require a calculator (which you probably would).
It actually took me three times to get this calculation right. The numbers are very complicated (e.g. 61346, 52488, 40718, etc.) and when you add up 16 numbers, you tend to make some mistakes, I guess.
CoolWallet uses numbers to ensure that non-native English speakers don't make any spelling mistakes, for example, writing to instead of too, or fire instead of file. One could argue this is worth the hassle overall.
Most calculators are on internet-connected devices like phones or laptops so be a little careful.  Once the seed phrase is confirmed, you are up and running.
CoolWallet S Mobile App
The wallet is controlled using the app so its functionality is a really important feature. There are three main tabs to look at within the platform – Wallet, Receive and Trade (or "Send" on iOS).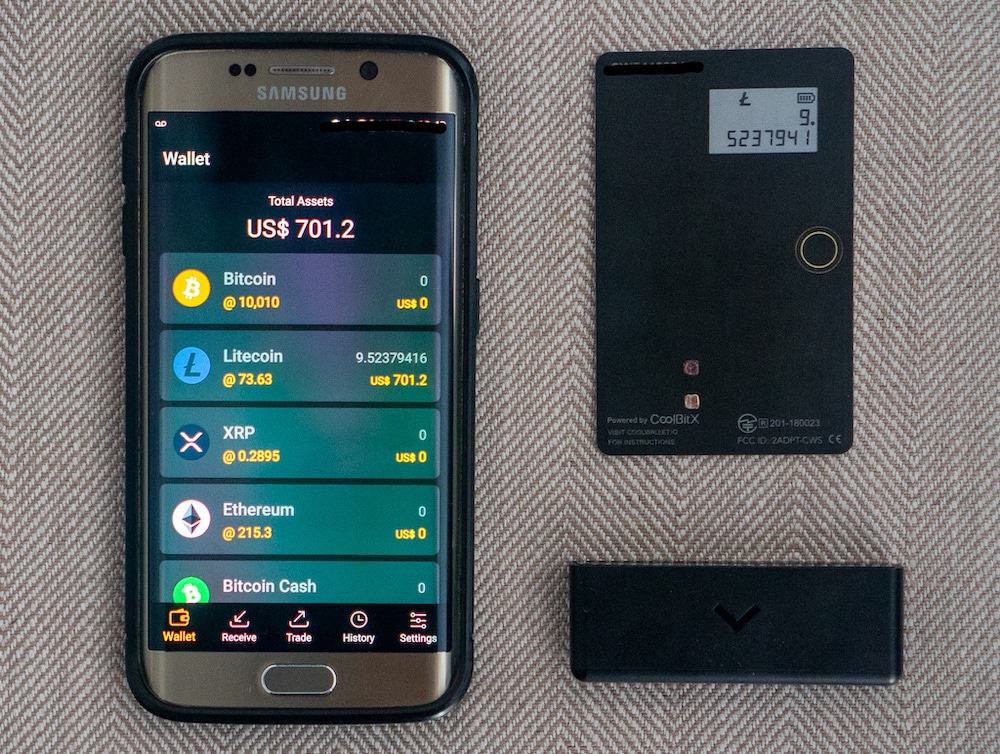 Wallet Tab
This first tab shows your various wallets, balances and total asset value in your chosen fiat currency.
From this dashboard, you quickly see public addresses attached to each cryptocurrency. Its tactile nature is enjoyable, allowing you to reorder your favourite currencies in seconds. A nice addition is the live market coin value of each cryptocurrency wallet.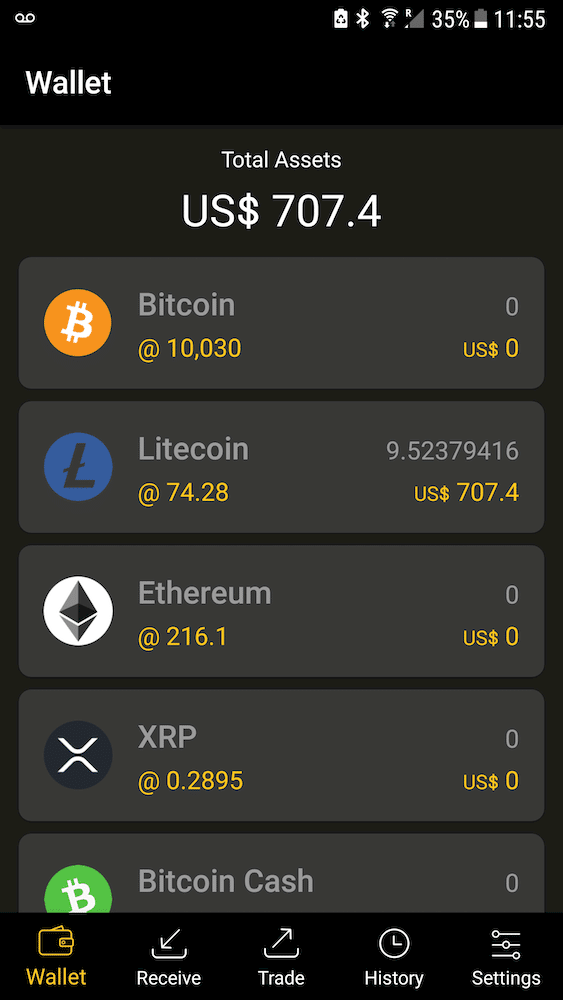 Receive Tab
The receive tab contains an important feature along with all the usual wallet functions.
Asset selection, QR codes, public address, link sharing and the ability to hold multiple keys fill this tab to make depositing cryptocurrencies a breeze.
It took me a while to realize the importance of the little refresh button at the top right. This is used to refresh balances directly on the card wallet, which is important as they don't update automatically.
A lack of automation for this frustrated me at first, but upon further research, it ensures the cold wallet is not constantly connected to the internet without permission.
Trade/Send Tab
There is a lot going on inside the Trade tab (or the Send tab on iOS) – the ability to send, exchange and connect to a DEX (decentralized exchange).
The send function is simple to use. Select the currency, recipient, amount and fee/speed – all the standard features to cryptocurrency wallets.
The exchange feature is a really exciting addition, allowing you to swap your cryptocurrencies inside your wallet. It uses a Changelly API so the fees might be a little high, but the convenience is awesome.
I was excited to use this as I needed to make a quick trade. Initially, it didn't work and repeatedly crashed upon value inputs. After restarting the app it ran smoothly. It was effortless to select my trade, confirm with a fingerprint on my phone and then confirm it on the card wallet. Quick, easy and secure.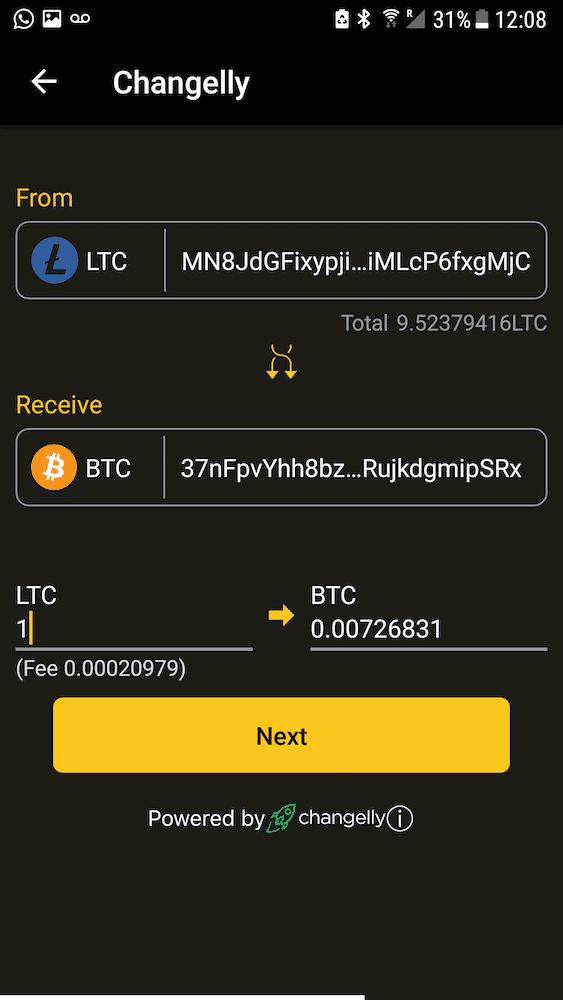 WalletConnect is a feature that looks to really future proof the CoolWallet S. WalletConnect is designed to connect to a DEX like BinanceDEX. Using BinanceDEX the wallet connected instantly via a QR code scan allowing me to trade on my PC from the security of the hardware wallet.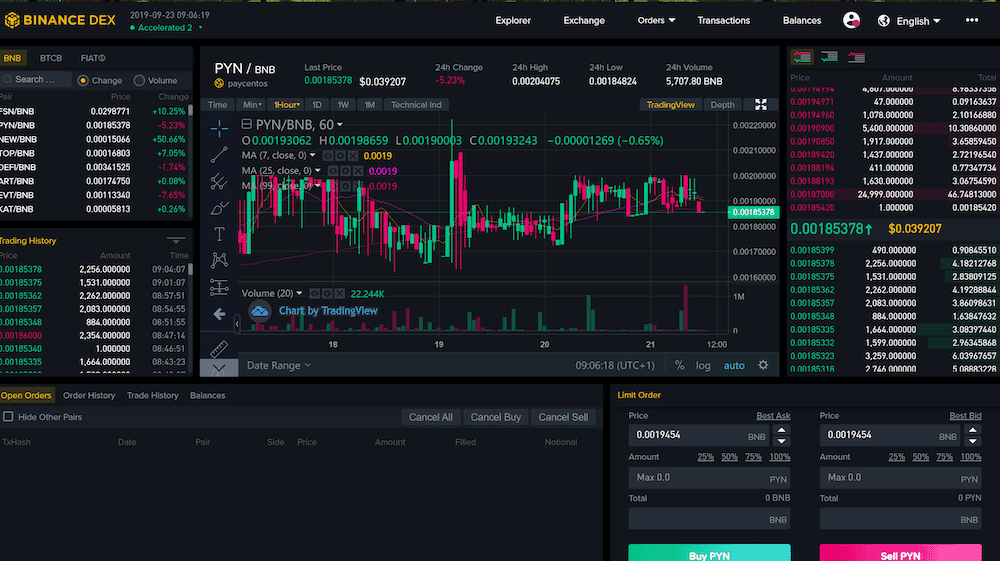 ---
3. Supported Coins
CoolWallet S supports these cryptocurrencies:
Horizen
Icon
Stellar

WETH

KAG

KAU

JOY

ZEPR

Cortex

USD Coin

FMF

ATUM

BitDegree

Gemini Dollar

True USD

XYO

Dai

Metal

0x

Mithril

CoinWallet

IronCoin

WENI

ZMTK

All ERC20 Tokens
---
4. Price Tag
The CoolWallet S costs $99 for one device and $159 for two. Compared to the competition this is a medium range price tag. For example, you could get the excellent Nano S for only $60 or the TREZOR One also for about $60. Both of these wallets are more established and support a wider variety of coins.
---
5. Customer Support and Reviews
The CoolBitx customer support team appears very responsive to issues. In my problems getting the inbuilt exchange to work, I sent a support ticket to try and identify the fault. Fortunately, the issue ironed itself out but I received a helpful response from the company within two hours.
Their social media presence is responsive to queries, plus feeds are filled with helpful information from a well-maintained blog.
The CoolWallet S App maintains a 4.6-star rating after almost 500 reviews and 10k downloads. This is a strong sign of a well-designed platform and the team quickly addresses any issues.
Chat around the web is generally positive for the wallet, with users loving the portability and security.
---
6. Conclusion
The CoolWallet S offers a strong choice of user-friendly features to store, receive, send and trade cryptocurrency all from within the hardware wallet and app. Transaction status and history present clear, concise information along with custom fiat portfolio balance and live market data.
Initially the CoolWallet software is open-source and can be viewed on Github.
Overall, the CoolWallet S is well designed with a clean user interface and portability in mind. While I enjoyed the wallet, I can't say it surpasses the established competition of TREZOR and Ledger in its design or user experience. Additionally, it's a bit lacking on its coin support compared to other alternatives.
Have you used the CoolWallet S yourself? Let me know your thoughts in the comment section below.