Changelly Review and Comparison
By: Ofir Beigel | Last updated: 1/19/23
Changelly is a fast and relatively anonymous cryptocurrency exchange service that allows you to trade almost any cryptocurrency out there. In this post I'll review the company and its services.
Changelly Review Summary
Changelly does what it says on the tin: Users can quickly and simply trade between cryptocurrencies to suit their needs. A 0.5% cryptocurrency trade fee is not extortionate – it's actually quite cheap for such a convenient product.
However the company can be a bit more transparent about their business. The main thing to remember is to not use Changelly for fiat trades because the exchange rates are ridiculously high.
That's Changelly in a nutshell. If you want a more detailed review of Changelly keep on reading, here's what I'll cover:
---
1. Company Overview
Changelly allows you to trade cryptocurrency instantly and without registering at any exchange or verifying your identity.
In operation since 2015 and headquartered in Malta, Changelly was originally associated with the Minergate team, which I reviewed as well. However, today these are two different companies (according to a source inside Changelly).
Changelly uses an automatic trading robot that integrates with some of the largest trading platforms, including Poloniex, Binance and Bittrex. It operates by making bids and asks on respective exchanges to suggest the best available rates on trading pairs. This is similar to the service offered by Shapeshift.
---
2. Changelly Services
Changelly offers an instant, simple and relatively anonymous crypto to crypto exchange service. The service can be accessed via the company's website, its mobile app (Android only) or through various 3rd party wallets.
The most popular wallets that integrate Changelly are  TREZOR, Ledger, Exodus, Jaxx, Coinomi and Edge.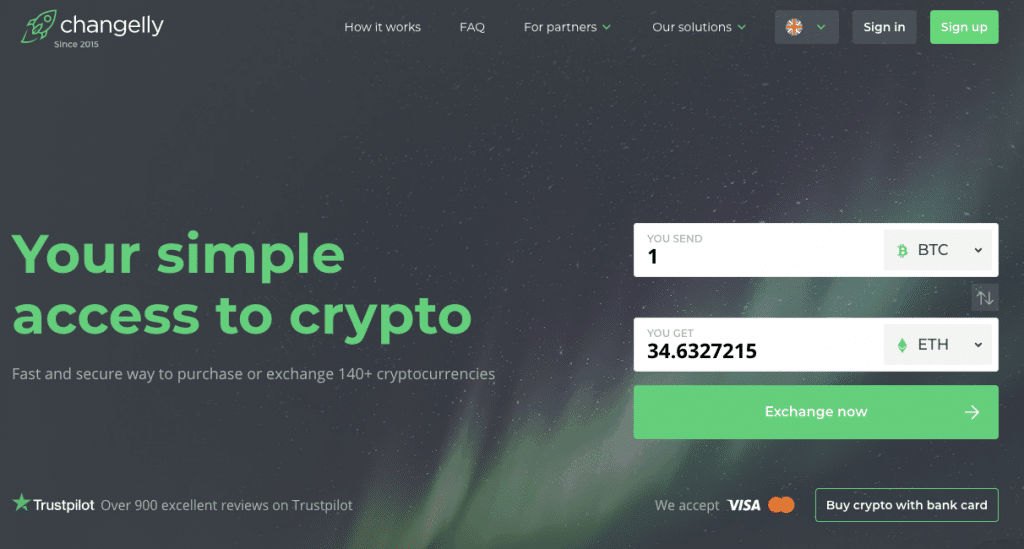 Changelly also offers its API and a customizable payment widget for websites. Using the widget, users can exchange crypto from within the site without needing to go to Changelly's website.
The company's website also allows you to buy Bitcoin with a credit card via an integration with Simplex.
While Changelly boasts about its simple and relatively anonymous buying process, it states that it may require a full verification process if a certain trade or user seems suspicious.
3. Changelly Mobile App
Changelly offers a mobile app which is available on both iOS and Android.
The app is extremely intuitive and user-friendly, allowing users to quickly swap between cryptocurrencies on the go. This includes options for floating and fixed exchange rates, as you would on the Changelly website.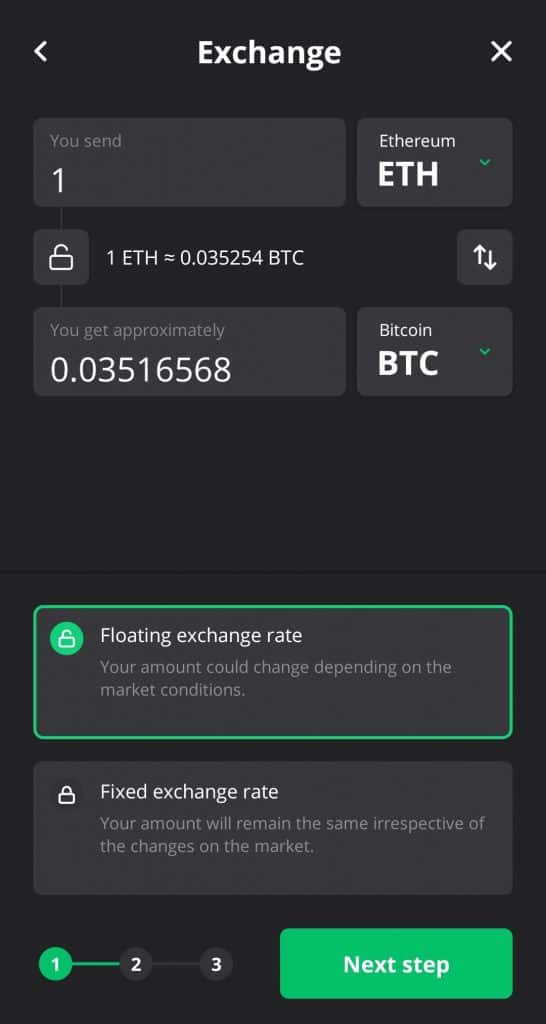 It also has an option to purchase crypto using fiat currency via Changelly partner Simplex, using a credit or debit card.
To complete the experience, Changelly have also added a crypto price-tracking screen, which lets users see prices and charts for their favorite cryptocurrencies.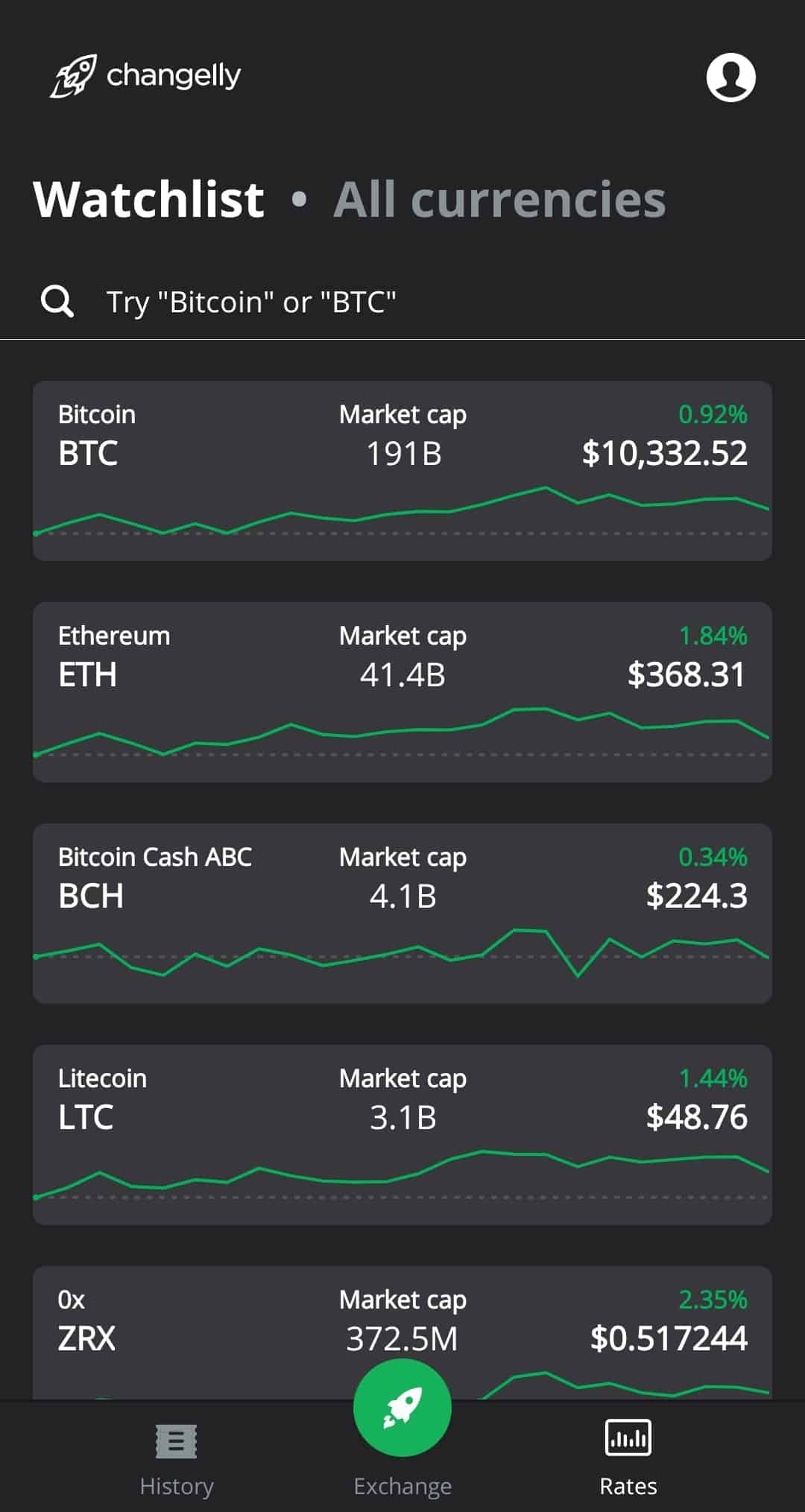 Overall, the Changelly app is one of the most simple and intuitive apps I've seen in crypto, which makes it suitable for anyone –  including beginners.
How to Use Changelly?
Verify the transaction fees.
Enter your receiving address.
Confirm and pay in your chosen currency.
That's it—after about 30 minutes, you should receive the requested coins in your wallet. Here's how the process looks on the site:
---
4. Currencies and Payment Methods
Changelly offers access to over 140 different cryptocurrencies. The wide range of cryptocurrency creates an opportunity to exchange any two currencies directly with minimal fuss.
Traditional cryptocurrency trading platforms generally have a limited selection of trading pairs, meaning that sometimes users have to make multiple transactions to receive their desired cryptocurrency.
With Changelly, you can make up your own trading pairs with any of the cryptocurrency available on the platform, in one transaction. You only need to select the trading pair and the software will take care of the trades.
For example, you can easily trade Doge for Steem in one transaction.  Click here to see all of the supported currencies.
Recently, Changelly has added fiat currency support, with the inclusion of credit and debit card purchases. While this is a welcome addition for new users, it's important to pay attention to the fees with this feature.
---
5. Changelly Fees
Changelly boasts about its static-rate fees as a major benefit of its service. With Changelly, all trades guarantee a 0.5% fee, which is fairly competitive, when all is said and done.
However, cheaper rates can be found when working directly on trading platforms like Bitstamp or Kraken.
Still, If you're making multiple trades to move altcoins, then Changelly may actually become a cheaper option, particularly with smaller amounts.
When it comes to trades using fiat currency, there's a massive caveat to mention here. Trades from fiat currency (i.e., dollars, euros, etc.) claim to hold the 0.5% static fee, but in reality, this doesn't appear to be true. The rates vary with this method and you're more likely to be trading at higher rate due to the unfair exchange rate.
In their defence, Changelly does warn you about the high fees and the team claim this is out of their control. The reason for that is that to process these transactions, Changelly needs a third-party payment service (currently Indacoin and Simplex), which massively varies the rate.
Direct Buying Fees
When you're looking to buy cryptocurrencies with a credit card on Changelly, you'll notice fees are considerably higher. It's important to understand why.
All bank card transactions on Changelly are provided by Simplex and Indacoin. For BTC, BCH, LTC, XRP and ETH Changelly supports direct payments, which are provided by Simplex, so you can buy these cryptos without double conversion.
However, when buying an other coin listed on Changelly, the transaction will be operated by Indacoin. In this case, the fiat amount will be converted twice: from fiat to BTC and from BTC to your requested cryptocurrency.
---
6. Buying Limits
When trading crypto to crypto there is no limit on the transaction amount. However fiat transaction have buying limits:
USA, Canada and Australia – $50 limit for the first transaction. The next purchase could be made in 4 days (100$ limit) and $500 after 7 days of the first buy. No more than 3 payments within the first week. No limits in one month at all.
CIS region (Russia/Ukraine/Belarus/Kazakhstan/Armenia/Georgia) – $200 limit for the first transaction. The next limit increase could be done in 24 hours. The total limit for the first week is $2000 and for the first month is $10000.
EU and other countries – $100 limit for the first transaction, the next purchase could be made in 4 days with 200$ limit and $500 after 7 days of the first buy. No more than 6 payments within the first week. No limits in one month at all.
If you're looking to buy Bitcoin with a credit card via Changelly you'll have the following limits:
First transaction: from $50 to $10,000
Daily limit: up to $20,000
Monthly limit: up to $50,000
---
7. Supported Countries
According to Changelly's Terms of Service you will not be able to use the exchange if you live in any of the following countries:
Cuba, Iran, North Korea, Crimea, Sudan, Syria, United States of America (including all USA territories like Puerto Rico, American Samoa, Guam, Northern Mariana Island, and the US Virgin Islands (St. Croix, St. John and St. Thomas), Bangladesh and Bolivia, as well as any other country subject to United Nations Security Council Sanctions List and its equivalent.
---
8. Customer Support and Customer Reviews
There is no doubt that the whole industry is struggling to provide reliable customer service. For the most part, Changelly seems to be doing a respectable job with a relatively high satisfaction score on TrustPilot.
Team members often reply to queries within hours, and there are many reports of problems being fixed in under 24 hours.
The website is particularly clean and easy to understand, so users have a minimal learning curve to start trading.
An in-depth FAQ also helps you educate yourself about the site and service. Support is provided through a chatbox on the website.
However, aside from the  respected amount of positive reviews, there are many one-star reviews about expensive trades and missing funds. As mentioned above, Changelly claims to have 0.5% fees, but in reality, it can get a lot more expensive for USD and Euro transactions.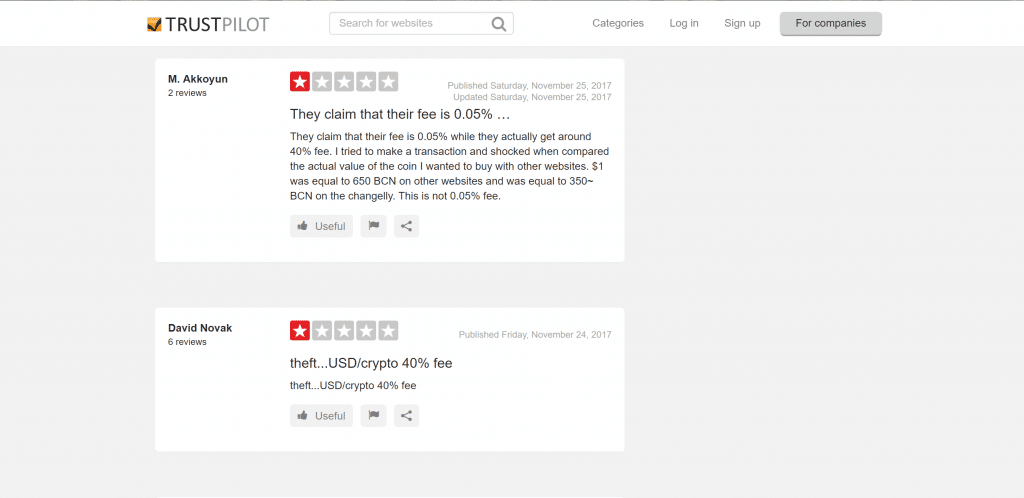 Changelly seems to be responding to each and every review with a request for a follow up. You can also read the comment section in this post for additional reviews of the platform.
---
9. Changelly vs. Shapeshift
Changelly's ultimate competition is Shapeshift, a similar service headed by Erik Vorohees in 2014 that has gained a lot of respect from the Bitcoin community.
From a user perspective, there isn't a lot of difference between the two services, with Changelly being the cheaper one.
From a reputation perspective, Shapeshift is much more open about its business and the people who run the company. I've compared both companies in the past, if you're looking for a more detailed perspective.
---
10. Frequently Asked Questions
Does Changelly Accept Debit Cards?
Yes, Changelly accepts debit cards for cryptocurrency purchases. You may pay with a 3D-secure card from any country and in any currency. Debit cards are much more recommended to use than credit cards, since the latter can get declined by the issuing bank.
How Long Does Changelly Take to Exchange Between Cryptocurrencies?
Changelly transactions usually take between 5-30 minutes. Transactions over 1 BTC have a longer processing time, and can take longer depending on their size.
---
11. Conclusion – Is Changelly Legit?
Changelly does what it says on the tin: Users can quickly and simply trade  cryptocurrencies to suit their needs. A 0.5% cryptocurrency trade fee is not extortionate – it's actually quite cheap for such a convenient product.
The main thing to remember is to not use changelly for fiat trades because the exchange rates are ridiculously high.
The company itself is not as transparent as it could be. Its owners are not forthcoming in revealing their identities, which is always a little worrying – who will be held responsible if it all goes wrong?
That being said, Changelly doesn't hold your coins in an account, as it sends funds into large exchanges before depositing straight to your chosen wallet.
On a personal note, I've been using Changelly for almost a year now, and haven't experienced any major issues. Whenever I ran into a technical issue, the Changelly team was quick to respond. If you're looking for a clean and simple solution to trade altcoin, then Changelly is a decent choice.
Have you had any experience with Changelly? Let me know in the comment section below.