Ledger Nano X Review and Comparison
By: Ofir Beigel | Last updated: 11/30/23
The Ledger Nano X is the second hardware wallet introduced by Ledger. In this post, I will share my personal experience with the device and my thoughts about whether it's indeed the best wallet around.
Don't Like to Read? Watch Our Video Review Instead
---
Ledger Nano X Review Summary
The Ledger Nano X is one step ahead of other hardware wallets on the market today. The increased capacity for coins, combined with its Bluetooth connectivity, makes it a powerhouse for managing crypto assets. Having said that, the user experience still requires some work.
That's the Nano X in a nutshell. If you want a detailed review of my experience with the Nano X, keep on reading. Here's what I'll cover:
---
1. Hardware Wallets Overview
A hardware wallet is a small device that stores the private key for your cryptocurrency. The interesting thing about it is that it never exposes your private key outside of the device, meaning it is always kept offline (also known as cold storage). So even when you want to send money from it, it will sign the transaction on the device itself and not on any computer it's connected to.
For this reason, it is possible to connect your hardware wallet to any compromised computer without the risk of exposing your private key. This makes hardware wallets a very popular choice for storing cryptocurrencies as opposed to software wallets that are constantly connected to the internet (also known as hot wallets).
If you're new to cryptocurrency wallets, I suggest watching this video to get a complete overview of the topic:
---
2. Ledger and the Nano X
Ledger is one of the two biggest hardware wallet companies around today (the other one being SatoshiLabs, which is part of the wallet manufacturer TREZOR).
The company was founded in 2014 and is a leader in security and infrastructure solutions for cryptocurrencies and blockchain applications.
Ledger has a team of over 700 professionals. They specialize in developing a variety of products and services to safeguard cryptocurrency assets, including the Nano S Plus, the Ledger Nano X, and their latest, the Ledger Stax.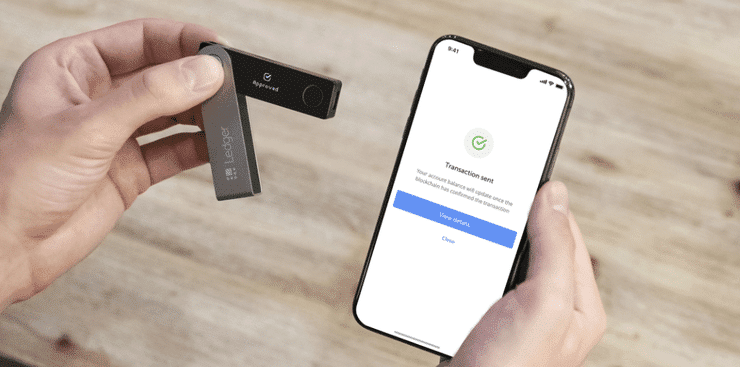 The Nano X's main difference from previous models is its Bluetooth connectivity, which allows it to be controlled via a mobile phone and not just from a desktop computer.
---
3. My Ledger Nano X Experience
I'm a really big fan of the Nano S (the previous Ledger model), and that's why I was anxiously awaiting the Nano X's arrival. The mobile support was probably the final feature missing in order to make it a truly perfect hardware wallet.
What's in the box?
The Nano X comes beautifully packaged with the device itself, a USB-C cable, a set of instructions, recovery seed cards, a keychain, and Ledger stickers. The previous bulgy buttons that were on top of the device are now seamlessly integrated into it in a way that's even a bit hard to notice. All in all, a beautiful design.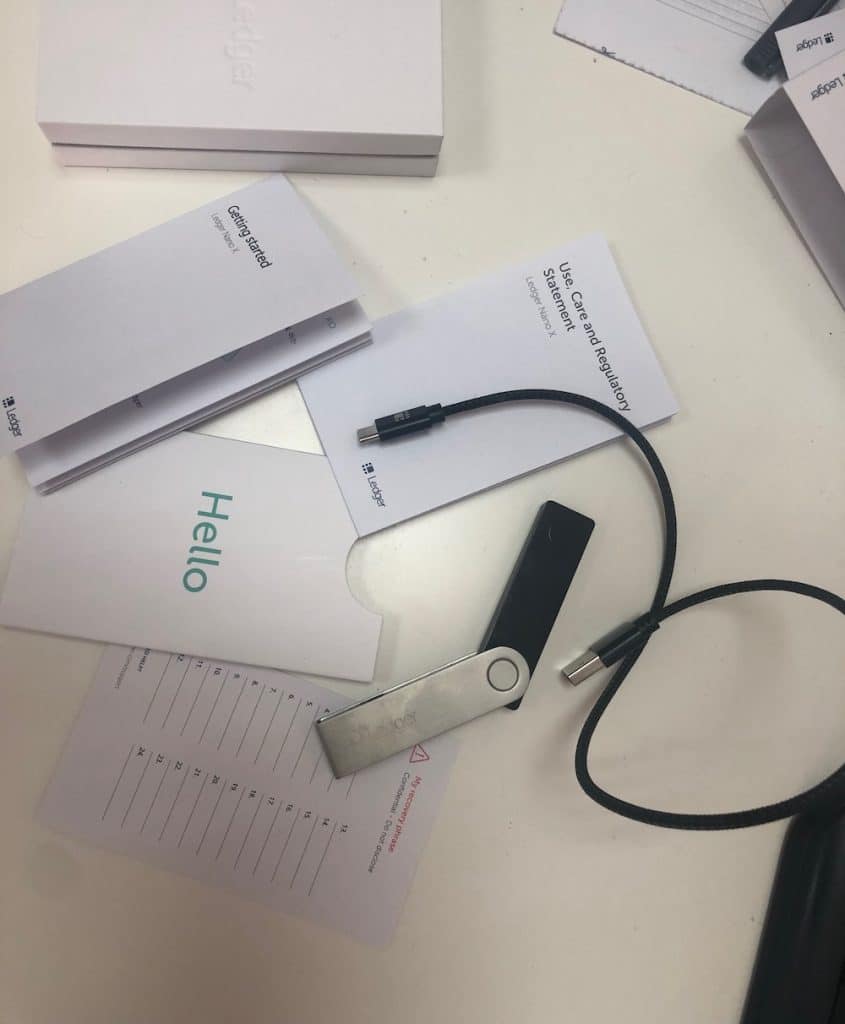 Setting up the Nano X
There are various stages you'll need to go through in order to set up your Nano X.
Step 1 – Setting a PIN code
When you first power up the device, it will ask you to choose a 4-8 digit PIN code. You can toggle between numbers using the buttons, while "enter" is achieved by pressing both buttons simultaneously.
Step 2 – Writing down your seed phrase
The seed phrase is like the password to your wallet. It's something that should be kept safe and hidden at all times.
When initializing the device, you will receive 24 words, which you should write down on a piece of paper and store away. In case the device gets lost, broken, or stolen, you can recover your funds using your seed phrase on a new device. View this Ledger support article for how to restore your wallet using your 24-word recovery phrase.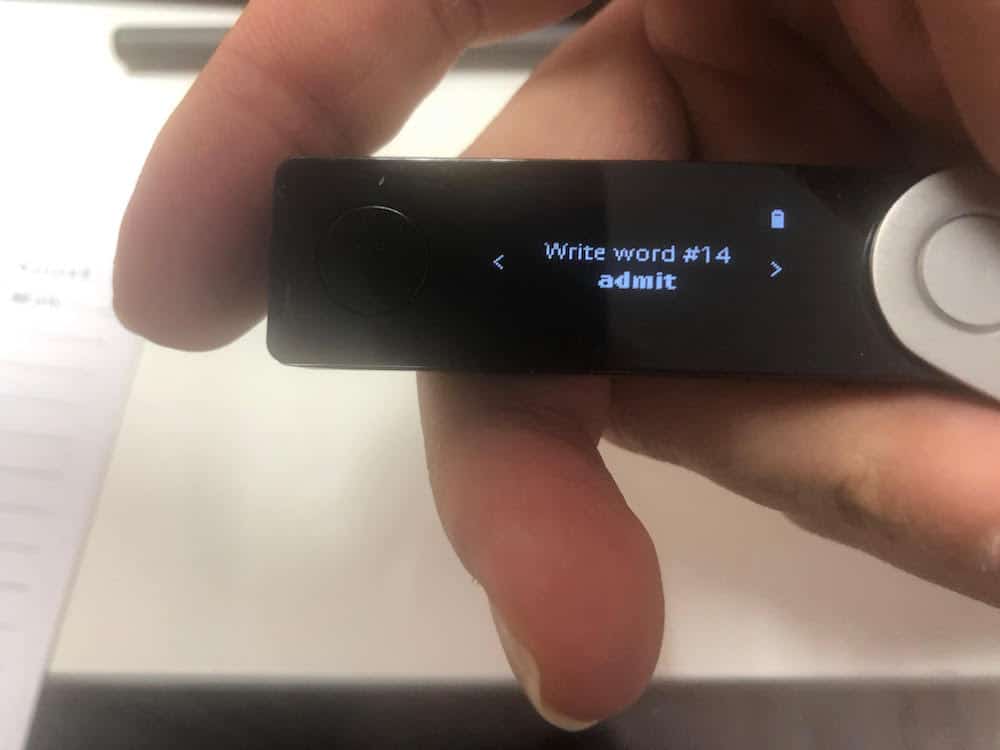 Because the seed phrase is so important, you will be asked to confirm it entirely after writing it down. Unlike the TREZOR setup process, with Ledger, you can't skip this part.
While I understand why Ledger insists on this, I find it a bit cumbersome and would prefer to have the option to skip this part and get back to it later.
Step 3 – Pairing the Nano X with your mobile device
Now comes the interesting part: connecting the Nano X with your mobile device.
Previous Ledger versions were only controlled via the desktop software known as Ledger Live. The Nano X can also be controlled via the Ledger Live mobile app.
Pairing the device should be fairly simple and straightforward, but unfortunately, that's not what I experienced. I found it a bit buggy, and it took me two tries to get it to work.
The process becomes even more cumbersome when you start controlling the device from the app. Almost every time you execute an action on the app, you need to wait for the Bluetooth connection and approve the action on the device itself.
More often than not, the device doesn't show the "approve" option, and you just need to wait a few seconds for the action to be auto-approved.
Step 4 – Installing apps
Once the device is paired and ready, you can install different apps on it depending on the coins you want to use.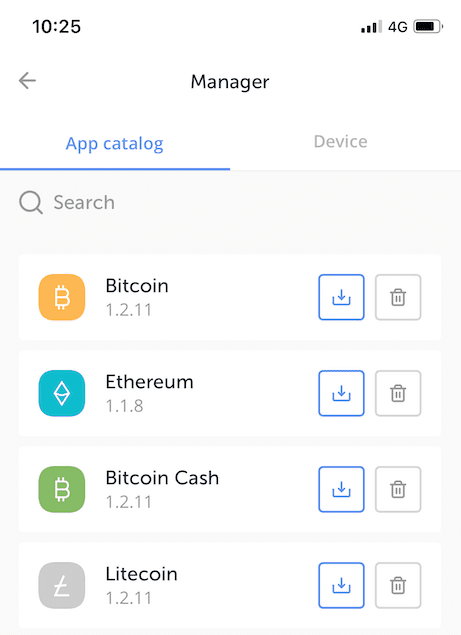 Step 5 – Adding accounts
This was, by far, the most confusing step for me. After installing the Bitcoin app, I was sure I was ready to go. Apparently, you have to also add a Bitcoin account on the device, and that is not conveyed through the user interface.
Of course, you can find a complete onboarding process on Ledger's site, but as a veteran Bitcoiner, I expected it to be more intuitive.
After 5 minutes of going back and forth, I finally discovered this missing step, and from there, it was relatively easy to get a handle on how to control the device.
Mixed feelings
After setting up the Nano X and using it for a while, I have to say I have mixed feelings about the device. On the one hand, this is definitely an upgrade from previous models and other hardware wallets.
But on the other, the interface isn't as intuitive as I'd like it to be, and the Bluetooth connection seems to be getting in the way of every action.
Perhaps these are a result of technical limitations that I'm not aware of, but in the end, if this product is aimed at the general audience, it requires a bit more polishing.
---
4. Ledger Nano X Supported Coins
The Ledger Nano X supports over 5,500 coins and tokens. The main coins can be sent/received via the Ledger Live software interface. Here's a list of the top supported coins:
In order to interact with Ethereum and Polygon-based NFTs, you will need to download and install the Ledger Live software on your desktop or mobile device.
Before purchasing a specific wallet device, make sure the coins you are interested in are compatible with that device. Visit Ledger's website for the most up-to-date list of coins supported on all of Ledger's hardware wallets.
---
5. How Much Does The Nano X Cost?
The Nano X costs $149 (VAT excluded), which is nearly twice the cost of the Nano S Plus ($79 VAT excluded). Basically, you're paying additional for Bluetooth support.
In my opinion, while this is a very big price leap, it's still worth the added functionality. The fact you can control your hardware wallet from your mobile phone is a huge plus.
---
6. Ledger Nano X vs. Nano S Plus and TREZOR
When comparing the Nano X to the competition, I believe it comes out with the upper hand. In the end, it has Bluetooth connectivity and can be accessed from a mobile phone on both iOS and Android, which the Nano S Plus lacks. TREZOR wallets can also be accessed from mobile phones, but only Androids, as they do not yet have an iOS app for the Trezor Suite.
Compared to the Trezor Model T ($219 VAT excluded), it only lacks a touchscreen, which, in my opinion, isn't that much of an advantage anyhow.
While TREZOR's newest wallet, the Trezor Safe 3, is great and has a Secure Element chip like Ledger wallets, it also lacks Bluetooth functionality.
---
7. Frequently Asked Questions
What is Ledger Live?
Ledger Live is the software that allows you to control your Ledger Nano X hardware wallet. It can be downloaded to your desktop or your mobile phone via an app.
How Do I Transfer Bitcoin to My Ledger Wallet?
Finish the setup for the Nano X
Connect your Ledger and choose the Bitcoin App
Open Ledger Live
Choose your Bitcoin account
Click on "receive" – you will see your Bitcoin address
You can send Bitcoin to this address at any time; you don't need the Ledger wallet to be connected to your computer.
Does Ledger Support Cardano (ADA)?
Yes. The Nano X, Nano S Plus, and Ledger Stax all support Cardano (ADA).
---
8. Conclusion – Is the Ledger Nano X Worth it?
There's no doubt that Ledger made a big effort by taking their second hardware wallet model to the next level. The combination of the sleek device with the feature-rich Ledger Live software creates a powerhouse for managing crypto assets.
Having said that, not everything is completely polished on the Nano X. The UX for setting up the device requires a bit more thought, in my opinion, and the Bluetooth connectivity experience is far from smooth.
All in all, I'd definitely use this device despite its downsides. Although not perfect, it still wins the battle against all other competition.
Have you tried the Ledger Nano X? Let me know what you think in the comment section below.