Ledger Nano S Review and Comparison
Last updated: 11/8/18
Some time ago I attended the North American Bitcoin Conference in Miami. Ledger, one of the leading hardware wallets manufacturers were selling their merchandise at the event, and so I decided to finally do my Ledger Nano S review which I have postponed for too long.
Ledger Nano S Review Summary
The Ledger Nano S is a popular cryptocurrency hardware wallet that supports a wide variety of coins. While a bit more expensive than its main competitor, the TREZOR One, the Ledger Nano S gives its users high security for their coins, via an easy to use interface.
If you want a detailed review of the different wallet aspects keep on reading. Here's what I'll cover:
---
1. Hardware wallets overview
Hardware wallets are probably the most robust form of security you can have for your Bitcoins or any other cryptocurrency. They allow you to send and receive Bitcoins on any computer, even one that is compromised with malware, with the assurance that your transaction will still go through as intended. For more information about Bitcoin wallets watch this video.
The way hardware wallets achieve maximum security is by storing your private key and signing your Bitcoin transactions offline so someone trying to "hack" your wallet remotely won't be able to do so.
Most hardware wallets also use a second screen/device to verify actions on your wallet such as signing transaction. This way, if hackers gain control over your computer, they still can't do any harm since they require access to the physical device connected to your computer as well.
---
2. Ledger Overview
Founded in 2014, Ledger is a leader in security and infrastructure solutions for cryptocurrencies and blockchain applications. Headquartered in Paris, Vierzon and San Francisco, Ledger has a team of over 130 professionals.
They specialize in developing a variety of products and services to safeguard cryptocurrency assets for individuals and companies. Among their products – the Ledger hardware wallets line, already sold in 165 countries. The company has raised over $85m in 4 rounds of investments.
---
3. My Ledger Nano S Experience
The Ledger Nano S is small and compact. It also has a metal casing which makes it more durable compared to other hardware wallets. It fits pretty easily into your pocket or hand as can be seen below.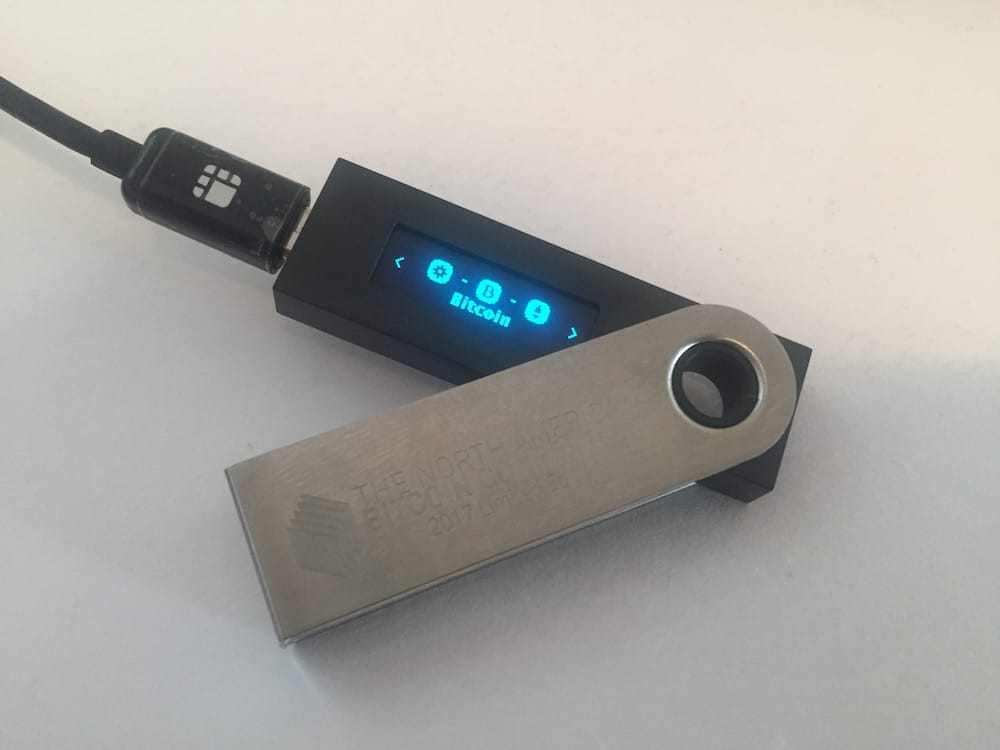 The Ledger Nano S
The way the Ledger Nano S works is pretty similar to any hardware wallet. When you first plug it into your compare and set it up you will choose a PIN to protect the device from unwanted access. Later, you will receive a 24-word seed that will be used to create your private keys.
This seed should be written down in a safe place and NOT on your computer, as whoever knows this seed has control over your Bitcoins. A good suggestion would be to write this seed down using a Cryptosteel device.
The Ledger Nano S has two buttons that allow you to control it. The initial setup of the device is pretty simple and takes about 3 minutes. Most of the time is spent on writing down your seed.
This seed creation is one of the places where the second screen comes into play.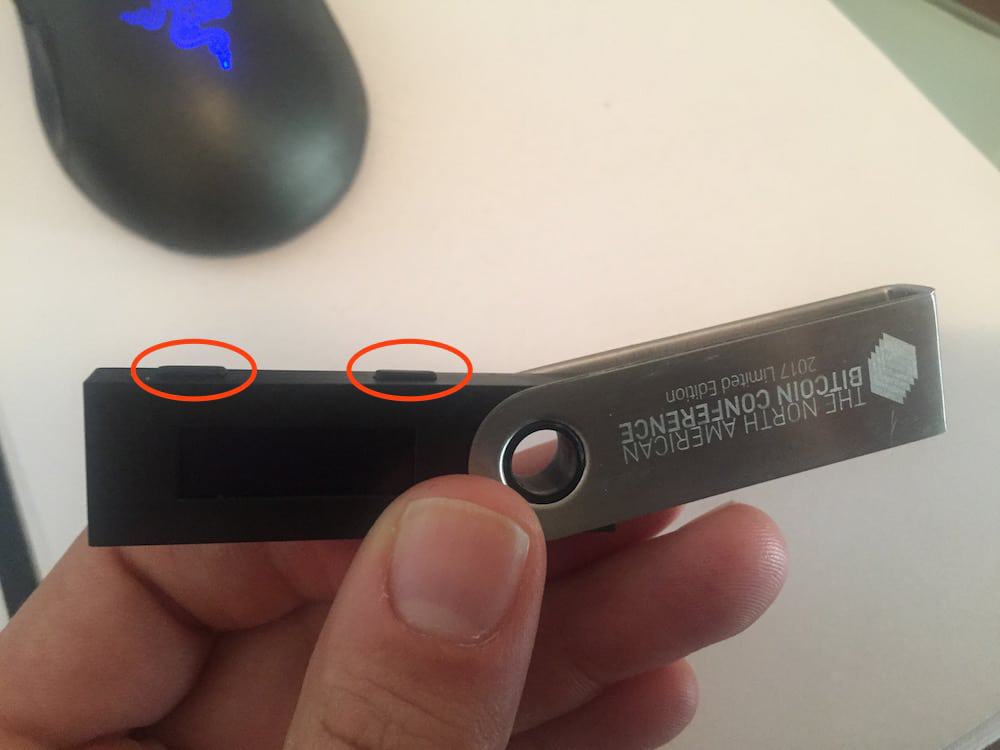 The Ledger Nano S buttons and screen
If your computer is compromised, a hacker will be able to see the seed if it's displayed on your screen. This is exactly why the seed words are shown on the small device screen that is tamper proof, so you know that only you can see your seed.
Once the device is set up, all that's left is to install Ledger Live. A desktop app that allows you to interface with the device (i.e. send and receive Bitcoins). The Ledger Live interface is super intuitive and doesn't require any manual to get the hang of it.
The Ledger Nano S can also be used to secure existing software wallets such as MyCellium, Electrum, MyEtherWallet and more.
Here's a complete review of how the device works done by BTC Sessions on YouTube:
---
4. Supported Coins
The Ledger Nano S supports over 700 coins and tokens. The main coins can be sent / received via the Ledger Live software interface. Here's a list of the top supported coins:
Bitcoin (BTC)
Bitcoin Cash (BCH)
Bitcoin Gold (BTG)
Ethereum (ETH)
Ethereum Classic (ETC)
Ripple (XRP)
Litecoin (LTC)
Dogecoin (DOGE)
Zcash (ZEX)
Dash (DASH)
Less "popular" coins and mainly ERC-20 tokens (i.e. coins used in ICOs) need alternative software connected to the Ledger to send and receive them (e.g MyEtherWallet, MyCryptoWallet).
---
5. Ledger Nano S Price tag
The Ledger Nano S sells for $99 (VAT excluded). This makes the Nano S a bit less affordable compared to other hardware wallets like the TREZOR One and the Archos Safe-T. However, the additional native coin support (mainly XRP) might be worth a few extra bucks.
---
6. Ledger Vs. TREZOR
Ledger Nano S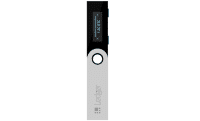 Trezor One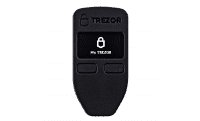 Trezor T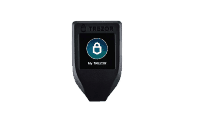 The main competitor to the Ledger Nano S is the TREZOR One. The items are almost identical in what they offer so in this section I'll try to see who wins this close race.
Design
Both items are small and fit into your pocket, however the Ledger Nano S is a bit smaller and feels a little more durable due to its metal casing. So while this is not a main issue I'd still say the Ledger Nano S wins this category.
Coin Support
Both devices support around 700 coins and tokens however TREZOR's interface doesn't support many directly (meaning you'll need to use a 3rd party wallet). TREZOR One also doesn't support XRP at all. Bottom line, I think the Ledger Nano S wins this category as well.
Usability
Both wallets have very easy to use interfaces and don't' require any technical know how. Also, since both have a screen on the device itself they are pretty much identical in the security sense – it's a tie.
Company reputation
Both Ledger and TREZOR have been on the market since 2014. Both use open source code for their apps, and both have demonstrated excellent customer support and stability in the past few years. From a community standpoint, while both companies are considered very reputable,  TREZOR is the more mature and respected one.
Price
While the Ledger Nano S is priced at $99, the TREZOR One is priced at $80 which makes it a bit more affordable. So TREZOR wins this round.
Overall – Who's the winner?
Both companies created great products. The Ledger Nano S seems to have the upper hand in design, usability and coin support while TREZOR's reputation has more impact in the community and a lower price tag.
Personally, I use and love both. If I'd have to pick a winner I'd go with the Ledger Nano S because of the additional coin support and Ledger Live interface.
---
7. Conclusion – Is the Ledger Nano S worth it?
The Ledger Nano S is a great product with an affordable price tag. I love the fact that it supports almost every major coin out there and that it's easy and intuitive to use through the Ledger Live interface.
If you're looking to keep your coins safe, you definitely need a hardware wallet and the Ledger Nano S is one of the best out there.
Have you used the Ledger Nano S? If so, I'd love to hear your thoughts about it in the comment section below.
Bitcoin Video Crash Course
Dummy-proof explainer videos enjoyed by over 100,000 students. One email a day for 7 days, short and educational, guaranteed.
We hate spam as much as you do. You can unsubscribe with one click.