A few years ago I was approached by a polish guy named Wojtek who said he was looking to create the most durable cold wallet possible. He was a metal artist and he thought about using this skill in order to create some form of wallet that couldn't be destroyed.
The idea would be to keep your private keys or mnemonic phrase inside some sort of metal casing that will be resistant to any catastrophe that may occur – a flood, a fire, an earthquake, you name it. In order to raise the funds for this project he started a crowdfunding campaign on Indiegogo, and a few months later he was fully funded, Cryptosteel was on its way to becoming a reality.
I have to admit that Cryptosteel's vision seemed very compelling, and the video created for the product illustrated it extremely well:
However, as with many crowdfunding campaigns this project too has seen many obstacles. The product had some unforeseen delays. From manufacturing issues, to postal issues it seemed that a lot of things were preventing Cryptosteel from becoming a reality. However throughout all of these Wojtek kept close contact with his initial investors and made sure that they were up to date. And indeed one year later I've received my own Cryptosteel in the mail.
I'm going to start out with the "normal" review and then move on to the fun part – trying to destroy the Cryptosteel 🙂
The product itself is pretty self explanatory, you get a metal plate and a set of numbers and letters to create either your private key or mnemonic seed (to be used with TREZOR).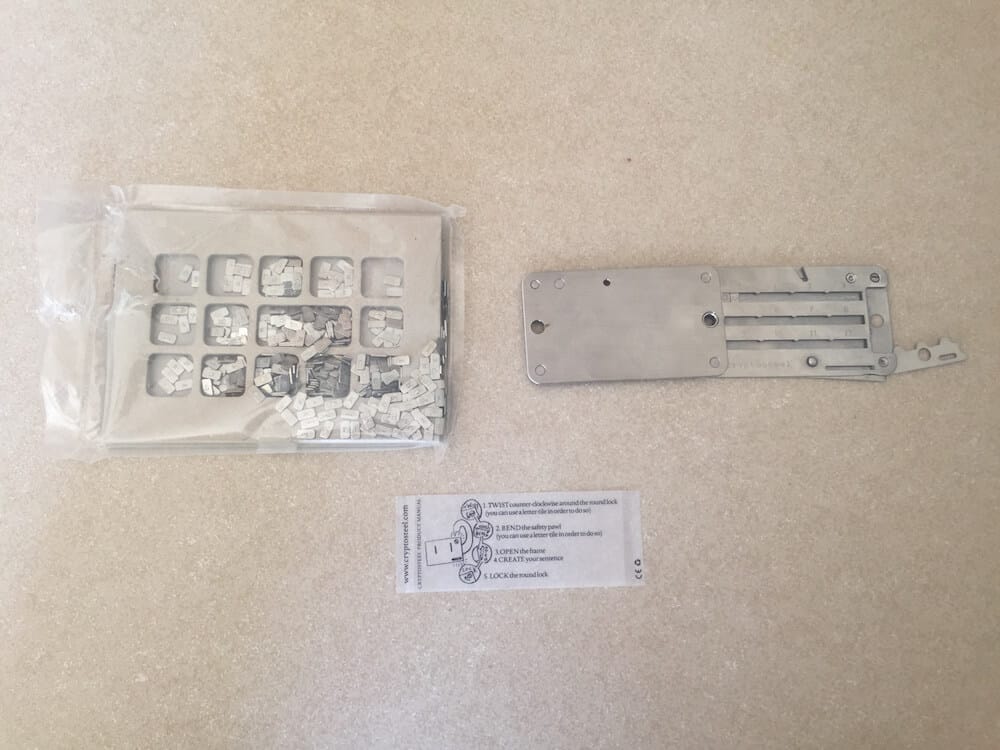 I must admit it took me a few minutes to understand how to actually open the metal plate in order to enter the letter and numbers, but it's nothing that 5 minutes and a few hits with a screwdriver wouldn't solve.
The annoying part is definitely inserting the letters into the Cryptosteel. It took me about 40 seconds for each letter and it didn't go smoothly to say the least. However, considering that this is (hopefully) a one time process it's something I can live with.
Also, I've gotten enough letters and numbers to create even 2 mnemonic seeds or private keys, so way to go redundancy!
And now for the fun part….
Since there's not much more to say about the product I thought why not have a little fun with it and see if it's actually indestructible. So I went out and conducted a few tests…
Overall I'd say the Cryptosteel wallet is one pretty solid cold wallet. However it may be a bit of an overkill. If however, you're storing large amounts of Bitcoins this is a good additional insurance measure to take at a reasonable price ($49).
At the moment you can only get Cryptosteel through the Indiegogo campaign or as a complementary product when you buy a TREZOR. If you already own a TREZOR this is actually a great product to have for additional protection of your mnemonic seed.
If you own a Cryptosteel and tried to destroy it as well or have some other comments about the product I'd love to hear them in the comment section below.
Click here to view the Cryptosteel for yourself
---
May 2018 Update:
Recently I've been contacted by a company called Billfodl that is sort of a Cryptosteel competitor. Their product looked basically the same so I asked what are the actual differences (if any) from Cryptosteel. Here's what they had to say:
"Yes, our product is similar to Cryptosteel. We are licensing their design (through the CC 3.0 licence), however there are some noticeable differences/improvements that I would like to bring to you attention.
All of our pieces are laser cut – This gives the product a more tight feel because the pieces fit together in a more exact way. This might not sound like a big difference, but when loading tiles, having all the pieces exactly the correct size is important. This makes them easier to load and makes the gate lock more securely. If you hold the two together and get to play with them, you can feel the difference.
Laser engraved tiles – Sometimes the stamped tiles are slightly crushed causing their shape to be warped, making them difficult to load. Our laser engraved tiles come out exactly the right size every time and are not warped by the engraving process as compared to stamping. Additionally, the laser engraved tiles are easier to read. We have done our own demo tests and they come out of the fire clear and readable.
A Billfodl handles all seed/SK types – Compare Cryptosteel ANYKEY at $149 vs our $79. Additionally, we found it hard to determine which Cryptosteel was needed for a given task. Having only one SKU in this regards helps newbies to the space who might not have the required background knowledge to know their "Recovery Phrase", as Ledger calls it, is also called a "Mnemonic Seed"
Better packaging prevents tiles from getting mixed up in transit – We solved the problem detailed by this reviewer:"Honestly, the card was pretty useless as my tiles were all jumbled up by the time I received it."
I have experienced this many times personally with the Cryptosteel product. We also changed the confusing tile arrangement. Why have "A" and "E" in the same hole next to "I" and "S"? We put ours in alphabetical order. All these seemingly small changes add up to a much smoother User Experience. We hope you'll agree.
Better steel – We use 316 stainless which holds up much better to corrosion than 304 stainless which Cryptosteel uses. It's used in industrial marine applications and is more expensive, but we feel the performance gains are worth the added cost.
125% money back guarantee – Speaks for itself.
Free shipping in the US, $12 shipping to almost everywhere else – Cheaper than Cryptosteel's lowest shipping rate to Europe and equal to its rate in the UK. Additionally, because we found efficiencies in fulfillment, we can offer free shipping everywhere (technically 219 out of 241 countries/zones) on orders of 2 or more Billfodls.
We take Lightning Network payments and credit cards – We are proud to be on the leading edge of the crypto movement by being the 4th e-commerce store to accept Lightning Network payments. Any lost payments will still have their items still fulfilled, on us.
---
Now while Billfodl does make some good arguments I haven't tested their product personally so I can't really back any of their claims. However, I thought to bring this to your attention if you're looking for an alternative solution for Cryptosteel. You can learn more about Billfodl here.