BitBox02 Hardware Wallet Review
By: Alex Miguel | Last updated: 8/16/21
The BitBox02 is the newest hardware wallet from Swiss company, Shift Crypto. In this post, I'll go over my personal experience with the BitBox02 and how it compares to the more famous hardware wallets.
---
BitBox02 Review Summary
The BitBox02 is a nifty alternative to better-known hardware wallets such as the TREZOR and Ledger Nano X. Its one-piece design, multi asset support and user-friendliness make it a very viable contender in the market. 
That's the BitBox02 in a nutshell. If you'd like a more detailed review of my experience with the BitBox02, continue reading below. Here's what I'll cover:
---
1. Shift Crypto Overview
The BitBox02 is made by the Swiss company, Shift Crypto AG. It is the next generation of the BitBox01 hardware wallet, which was created by Douglas Bakkum and Jonas Schnelli in 2015.
Shift Crypto is best-known for its BitBox hardware wallets and the accompanying Android app, as well as its durable backup wallet, the "Steelwallet".
---
2. What's In The Box?
The core BitBox02 product comes with a BitBox02 hardware wallet, a backup Micro SD card, USB-C to USB adapter, and a small USB-C extension cable – all packed into a cleverly-designed box. Also included are some free BitBox stickers, some free string attachments and a "Getting started" manual.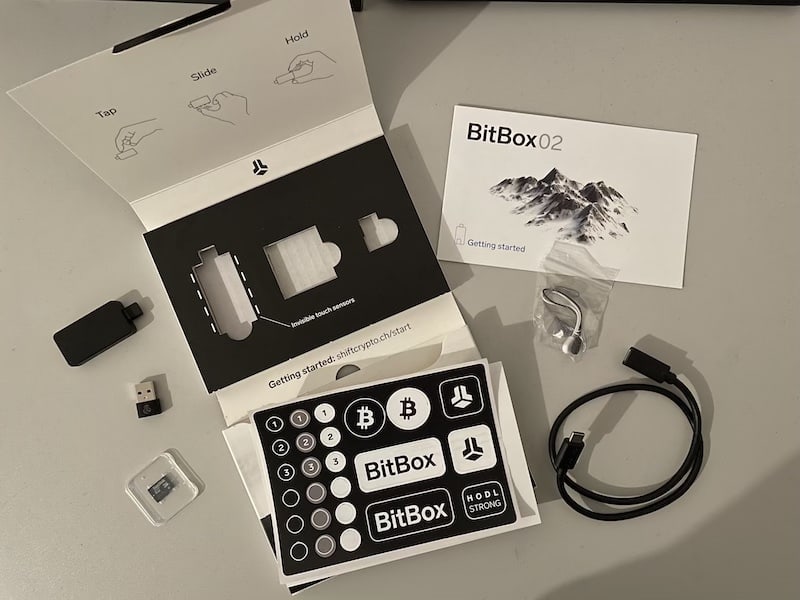 ---
3. My BitBox02 Experience
I wasn't sure how my experience with the BitBox02 would go, especially being my first hardware wallet without mechanical buttons. However, I was very pleased to see that the wallet's USB-C connector was built-in, rather than requiring a cable for connection.
Setting up the BitBox02
There are a few stages you'll need to go through when setting up your BitBox02. 
Step 1 – Download the BitBox App
The BitBox02 isn't as simple as plug-and-play. Before you get started, you'll need to download the BitBox App from their official website, for your computer or android mobile phone. 
This will allow you to interact with the wallet while it's plugged into your device.
Step 2 – Plug in and set up
Now it's time to plug in and set up the BitBox02. Plug the wallet into your device, then follow the instructions within the app. This will include installing the firmware and naming the wallet, all in a few clicks.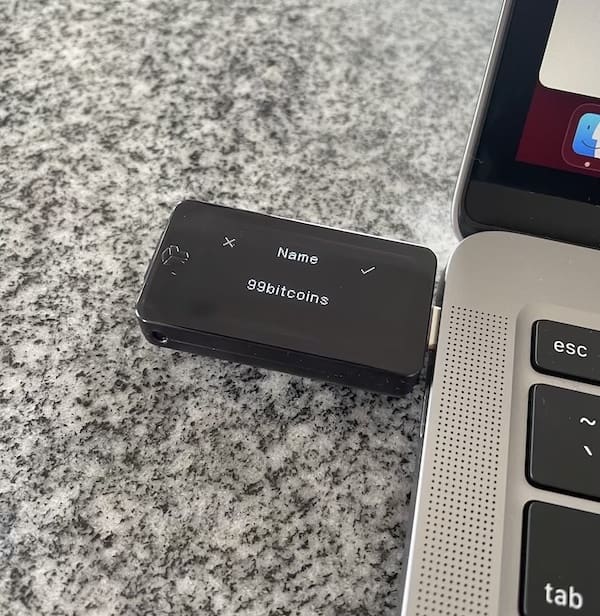 You will also need to set a password, using the touch sensors on the side of the device. This will be required to access the device whenever you plug it in.
At first this felt tricky to do, but it became intuitive quite quickly. The touch buttons were responsive and made it easy to keep the device still while it was plugged in.
Step 3 – Create a backup
Once the initial setup is complete, the app will prompt you to insert the Micro SD card provided. This will be used as a passwordless backup, in a form that is very small and easy-to-hide. 
I'm used to being forced to write down a seed phrase by most wallet providers, so I was surprised to discover that this replaces the typical seed-phrase step. On the other hand, it is convenient to not have to write down a lengthy list of seed words as your backup.
Step 4 – Ready to go!
From here, you can navigate smoothly through the app to make a deposit of Bitcoin, Litecoin, Ether, or any ERC-20 token.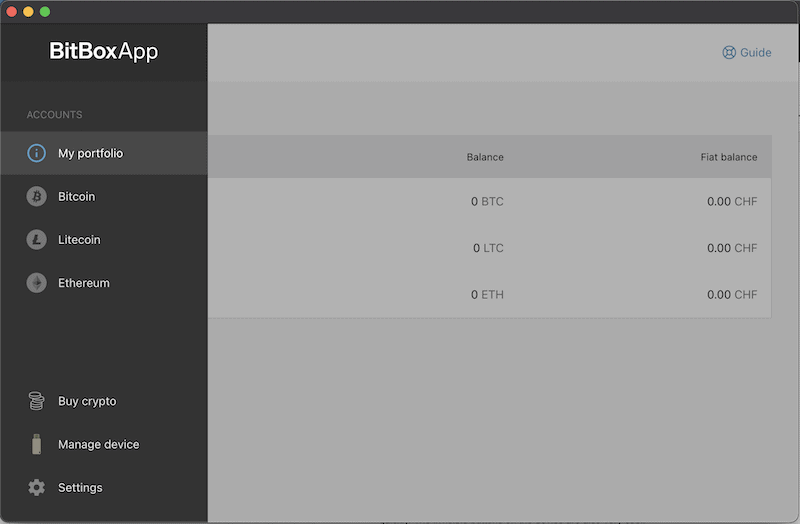 A feature I was really happy to see was the ability to set a custom transaction fee – a very necessary feature for getting transactions through in times of high traffic on the blockchain. Users can also buy cryptocurrency within the app via Moonpay.
Step 5 – Writing down your seed phrase (optional) 
For users who prefer the traditional seed phrase backup method to the Micro SD option, you can still choose to do this within the app.
Shift Crypto was nice enough to include a handy seed phrase back-up card pack, so I thought I'd perform this step as an extra backup precaution anyway.
After you've written down your seed words, the BitBox02 will ask you to confirm the order of the words directly on the device, to ensure that you have written them down correctly. Once again, this is nice and easy to do using the touch sensors on the wallet.
Very nifty hardware wallet
After setting up the BitBox02, I fell in love with the product. The setup process was super streamlined and the touch sensor buttons were much better than I expected them to be. I also enjoyed the fact that I didn't need to use a cable to plug the wallet into my laptop (even though one is provided). 
It is also worth mentioning the fact that the BitBox02 also features multisig wallets, unified Bitcoin accounts that automatically include all supported script types, Tor support, and Anti-klepto protection.
---
4. BitBox02 supported coins
The BitBox02 has limited support when it comes to the number of blockchains it covers, which is restricted to the following three:
The good news is that the wallet does provide support for ERC-20 tokens on Ethereum. The tokens supported directly by the wallet and app are:
Tether (USDT)

USD Coin (USDC)

Chainlink (LINK)

Basic Attention Token (BAT)

Maker (MKR)

0x (ZRX)

Single Collateral DAI (SAI)

Dai (DAI)

PAX Gold (PAXG)

Wrapped Bitcoin (WBTC)
Additional Ethereum tokens may also be held and used indirectly, in conjunction with MyEtherWallet.
It is also worth noting that Shift Crypto also offers a Bitcoin-only BitBox02 model, which supports Bitcoin only.
You can view a complete list of supported assets here.
---
5. How Much Does The BitBox02 Cost?
The BitBox02 costs €119.00 (or roughly $140 USD) for the "Multi" and "Bitcoin-only" editions. This makes it very competitive with other popular hardware wallets such as the TREZOR Model T or the Ledger Nano X, which are either more expensive or a similar price.
In my opinion, it's a great alternative with comparable features – and perhaps even a superior setup process for those who value convenience.
The only major downside for me was the limited support of blockchains and tokens. For a multi-chain wallet, support for only three blockchains is definitely on the lower side. On the plus side, a handful of Ethereum-based tokens are built into the app, while any others can be easily accessed in conjunction with MyEtherWallet.
---
6. Conclusion – Is the BitBox02 Worth it?
The BitBox02 really gives other popular hardware wallets a run for their money in terms of user-experience, product quality and price. 
Having such a streamlined setup process with a Micro SD card backup is an excellent choice, while keeping the option of writing down your seed phrase if you desire.
The build quality felt good, and I especially enjoyed being able to plug the wallet directly into my computer without a cable. The touch sensor buttons were also impressively responsive and easy to use, much to my surprise. The security features are also plentiful, with too many to list here.
Multisig and custom transaction fees are great, but I would still like to see wider support for additional blockchains and tokens on BitBox wallets – this was the only major issue I had with the wallet. Also, no available iOS app is another drawback for Apple users out there.
That's it! Have you tried the BitBox02? If yes, let me know what you think about it in the comments section below.