Coinmama Review and Comparison Guide
By: Ofir Beigel | Last updated: 1/15/23
Coinmama is a leading cryptocurrency brokerage company that allows you to buy several types of cryptocurrencies with your credit card, by wire transfer (SWIFT, SEPA, Fedwire and FasterPayments) as well as through Apple Pay. In this review I'll cover the company, its services and also compare it to other leading brokers.
Don't Like to Read? Watch Our 2 Minute Coinmama Review
---
Coinmama Review Summary
Coinmama's brokerage service allows you to buy Bitcoin and other cryptocurrencies easily with your credit card, SWIFT or SEPA transfer and was also the first company to partner up with Apple Pay to buy Bitcoin. The company focuses on customer experience and customer service so that transactions are super quick (user verification takes around 30 minutes).
For beginners, this is an excellent option for buying your first Bitcoin. More advanced users can use alternative trading platforms to save on transaction fees.
For a detailed review about Coinmama keep reading this post. Here's what I'll cover:
---
1. Who Is Coinmama?
Coinmama was established in 2013 in Israel and has since grown to serve over 3.1 million customers in 188 countries with over 35 employees. 
Today the company is headquartered in Dublin, Ireland and operated by Cmama Ltd. – a subsidiary of New Bit Ventures Ltd. Coinmama is also officially registered and regulated as a Money Service Business with FinCEN.
---
2. Coinmama Services
Coinmama supplies a brokerage service for Bitcoin and other cryptocurrencies. This means that the company sells you the coins directly, as opposed to a trading platform where you buy the coins from other people.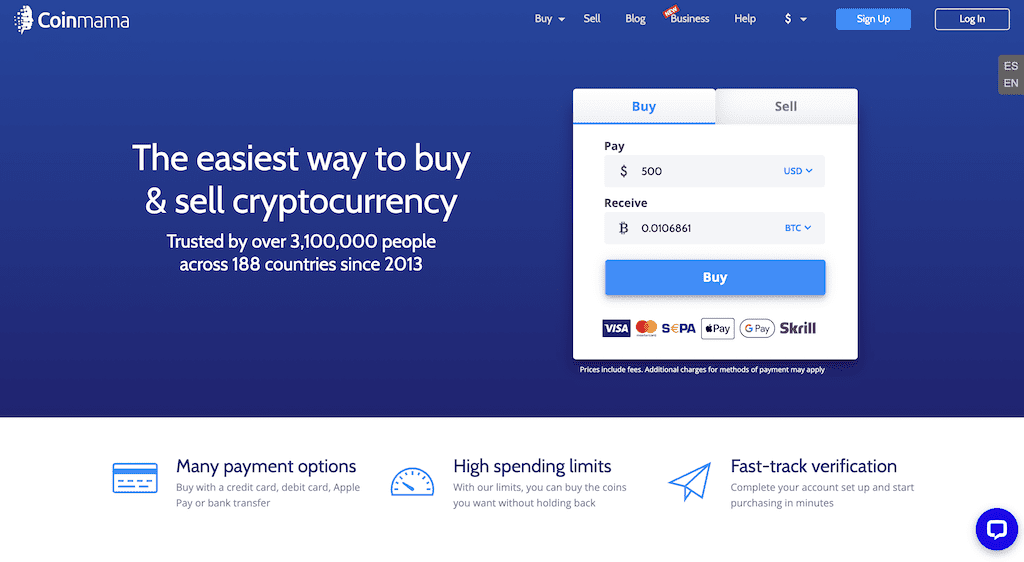 The pros of a brokerage service are mainly that the process is simple and fast, since you don't need to look for a buyer on your own. On the other hand, brokerage services are usually more expensive. In Coinmama's case, the company has made ongoing efforts to reduce their fees as much as possible. At the end of this post you can see how Coinmama compares to other exchanges.
---
3. Currencies and Payment Methods
At the moment Coinmama supports buying only of the following coins:
Bitcoin (BTC)

Bitcoin Cash (BCH)

Ethereum (ETH)

Dogecoin (DOGE)

Cardano (ADA)

Litecoin (LTC)

Ripple (XRP)

Tezos (XTZ)

Chainlink (LINK)

Uniswap (UNI)
Coinmama accepts credit or debit cards that are issued by Visa or Mastercard. The company now also accepts payments by bank transfer (SEPA and SWIFT) with 0% processing fees (SWIFT, SEPA, Fedwire and FasterPayments) as well as Apple Pay. Prices are denominated in EUR, USD, GBP, AUD, CAD or JPY.
---
4. Fees
The prices you see on Coinmama's website already include the company's brokerage service fee of up to 5.9% for buying crypto and 2.9% for selling. The base price is calculated from TradeBlock's XBX index.
On top of the stated price, you will also need to add a 5% credit card processing fee. This means that Coinmama's price can be as much as a total of 10.9% above the market rate.
---
5. Buying Limits
The minimum amount of Bitcoins you can buy is 50 USD or the equivalent in EUR/GBP/AUD/CAD/JPY.  The maximum buying limits depend on your account's verification level. 
In order to make any type of purchase you'll need to complete some form of identity verification. There are 3 levels of verification, with increases in account spending limits for each.
For the most basic level of verification (Level 1), orders are capped at a maximum of 5,000 USD per bank card purchase and 15,000 USD per wire transfer. Total cumulative crypto purchases at Level 1 verification are also capped, at 15,000 USD.
Level 1 – Requires 1 valid government issued ID, a selfie of yourself holding that ID and a note with "Coinmama" and today's date written on it.
Level 2 – You need to submit a secondary ID. Apart from two of the above IDs, you will also need to upload a utility bill and complete a KYC questionnaire.
Level 3 – The same as Level 2, and you must be nearing your 50,000 USD account limit.
---
6. Supported Countries
Coinmama offers its services worldwide with the exception of sanctioned countries and several US states. Certain countries are also served by a third party, rather than directly by Coinmama themselves.
Countries supported:
Afghanistan, Aland Islands, Albania, Algeria, Andorra, Angola, Anguilla, Antigua and Barbuda, Argentina, Armenia, Aruba, Australia, Austria, Azerbaijan, The Bahamas, Bahrain, Barbados, Belarus, Belgium, Belize, Benin, Bermuda, Bhutan, Bonaire, Sint Eustatius and Saba, Bosnia and Herzegovina, Botswana, Brazil, Brunei Darussalam, Bulgaria, Burkina Faso, Burundi, Cambodia, Cameroon, Canada, Cape Verde, Cayman Islands, Central African Republic, Chad, Chile, Colombia, Comoros, Congo, the Democratic Republic of the Congo, Cook Islands, Costa Rica, Cote D'Ivoire, Croatia, Curacao, Cyprus, Czech Republic, Denmark, Djibouti, Dominica, Dominican Republic, Egypt, El Salvador, Equatorial Guinea, Eritrea, Estonia, Ethiopia, Falkland Islands (Malvinas), Faroe Islands, Fiji, Finland, France, French Guiana, French Polynesia, Gabon, Gambia, Georgia, Germany, Ghana, Gibraltar, Greece, Greenland, Grenada, Guadeloupe, Guatemala, Guernsey, Guinea, Guinea-Bissau, Guyana, Haiti, Holy See (Vatican City State), Honduras, Hong Kong, Hungary, Iceland, India, Indonesia, Iraq, Ireland, Isle of Man, Israel, Italy, Jamaica, Japan, Jersey, Jordan, Kazakhstan, Kenya, Kiribati, Korea, Republic of, Kuwait, Lao People's Democratic Republic, Latvia, Lesotho, Liberia, Libyan Arab Jamahiriya, Liechtenstein, Lithuania, Luxembourg, Macao, the Former Yugoslav Republic of Macedonia, Madagascar, Malawi, Malaysia, Maldives, Mali, Malta, Marshall Islands, Martinique, Mauritania, Mauritius, Mexico, Micronesia, Federated States of, Moldova, Republic of, Monaco, Mongolia, Montenegro, Montserrat, Morocco, Mozambique, Myanmar, Namibia, Nauru, Nepal, Netherlands, Netherlands Antilles, New Caledonia, New Zealand, Nicaragua, Niger, Nigeria, Niue, Norfolk Island, Norway, Oman, Pakistan, Palau, Panama, Papua New Guinea, Paraguay, Peru, Philippines, Pitcairn, Poland, Portugal, Qatar, Reunion, Romania, Russian Federation, Rwanda, Saint Barthelemy, Saint Helena, Saint Kitts and Nevis, Saint Lucia, Saint Martin, Saint Pierre and Miquelon, Saint Vincent and the Grenadines, Samoa, San Marino, Sao Tome and Principe, Saudi Arabia, Senegal, Serbia, Seychelles, Sierra Leone, Singapore, Sint Maarten, Slovakia, Slovenia, Solomon Islands, South Africa, Spain, Sri Lanka, Suriname, Svalbard and Jan Mayen, Swaziland, Sweden, Switzerland, Taiwan, Province of China, Tajikistan, Tanzania, United Republic of, Thailand, Togo, Tokelau, Tonga, Trinidad and Tobago, Tunisia, Turkey, Turkmenistan, Turks and Caicos Islands, Tuvalu, Uganda, Ukraine, United Arab Emirates, United Kingdom, United States*, Uruguay, Uzbekistan, Vanatu, Venezuela, Viet Nam, Virgin Islands, British, Wallis and Futuna, Western Sahara, Yemen, Zambia, Zimbabwe.
What States Does Coinmama operate in?
Coinmama works in the following states:
Alabama, Alaska, Arizona, Arkansas, California, Colorado, Connecticut, Delaware, Florida, Georgia, Illinois, Indiana, Iowa, Kansas, Kentucky, Louisiana, Maine, Maryland, Massachusetts, Michigan, Minnesota, Mississippi, Missouri, Montana, Nevada, Nevada, New Hampshire, New Jersey, New Mexico, North Carolina, North Dakota, Ohio, Oklahoma, Oregon, Pennsylvania, Rhode Island, South Carolina, South Dakota, Tennessee, Texas, Virginia, Vermont, Washington, West Virginia, Wisconsin, Wyoming.
---
7. Customer Support and User Reviews
Coinmama has a complete help center and also a dedicated support channel via email. Support requests are usually answered within 24 hours.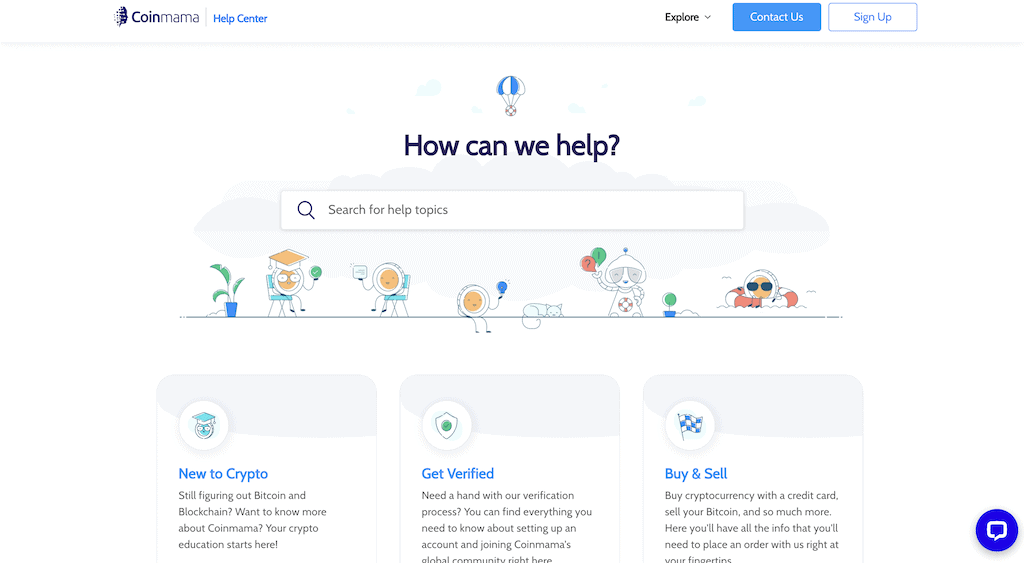 I also took a look at various customer reviews users posted online. Having reviewed over 20 exchanges by now, I know that when people leave reviews online it's almost always negative reviews because they are pissed off about something. That's why I make it a habit to actually read through the reviews and see what people are complaining about.
The majority of Coinmama's negative reviews complained about one thing – the identity verification process. Users claim that Coinmama requests a ton of information and in some cases rejects applications without giving proper explanation why.
From my own experience I can say that verification with Coinmama was relatively easy, and yes, they require a lot of information. However these are just standard Know Your Customer (KYC) and Anti Money Laundering (AML) policies that most legit exchanges must adhere to.
On the bright side, Coinmama receives a score of "Great" from TrustPilot. Most positive reviews praise the customer support of the site. In the past, Coinmama support representatives used to reply to angry commenters in the comments section of this page. It saddens me to see they have recently stopped doing so. Let's hope they'll be back soon…
---
8. Coinmama vs. Other Exchanges
Here's a short comparison of Coinmama's brokerage service compared to other popular services around.
IMPORTANT – The fees stated in this table are for credit card purchase only. These fees include the broker fee only. Most credit transactions will also have a credit clearing fee of between 3%-5%.
Coinmama vs. Coinbase
Coinbase charges a variable fee for credit card purchases, which is estimated to be around 4%. This is lower than the 5.9% Coinmama charges. Unlike Coinmama, Coinbase supports a limited number of countries around the world and is known to have horrible support.
Coinmama vs. Changelly
Changelly used to be known to be one of the most expensive services you could use to buy Bitcoin with a credit card. However, it seems that lately they have optimized their service to offer a more competitive service. Changelly takes 5% on top of the existing 5% payment processor fee. The total is 0.9% cheaper than Coinmama's total fee (10.9%). Also, it seems that the exchange rates Changelly uses are cheaper than Coinmama's, so overall you can save up to around 3% by using their service.
Coinmama vs. Bitstamp
Bitstamp's brokerage service is almost identical to Coinmama's, with about a 0.5% fee difference between the services. Both have a good reputation. Bitstamp is one of the oldest and most respected exchanges out there, so it's a solid alternative for Coinmama. Also, just like Coinmama, the exchange supports a wide variety of countries worldwide.
Coinmama vs. Binance
Binance allows purchases of crypto with a credit card, both through themselves and third-party providers such as Simplex. The exchange rate provided by Binance is similar to Coinmama's. Some would argue that Binance has an easier KYC process, but I've actually experienced it the other way around.
---
9. Frequently Asked Questions
How long does it take to get verified on Coinmama?
Coinmama states that verifications should take from 30 minutes to up to one hour.
Does Coinmama accept bank cards?
Coinmama accepts only Visa and Mastercard. Please note that American Express, Discover and PayPal are not accepted.
Does Coinmama require ID?
Yes. In order to verify your account you will need to submit some form of identification. This can be anything from a driver's license to a passport. For a complete guide on which form of ID is required in each country, read this post.
How Do I Buy Bitcoins on Coinmama?
The process of buying coins from Coinmama goes as follows:
Sign up to the site

Submit identity verification documents

Click on "Buy" and choose the cryptocurrency you want to buy

Decide on the amount you want to purchase and click "buy now"

Submit payment information

Get your coins instantly
As soon as your payment clears, Coinmama sends you your coins. This is an important feature to consider, since sometimes a day or two can mean large price fluctuations. To protect both parties from this, Coinmama "locks" the Bitcoin price for you as soon as you submit your order.
---
10. Conclusion – Is Coinmama Legit and Safe?
The short answer is yes. Coinmama is a reputable company and their support is pretty good. Their only downside, in my opinion, is the high fees. Unfortunately, this can't be avoided when using a credit card, but considering the prompt service it's sometimes worth the cost.
If you have the option to use a bank transfer (SEPA, SWIFT, Fedwire, FasterPayments, etc.) rather than a credit card, that's even better since you'll save 5% in total fees.
All in all, the service is solid. If you've had your own experience with Coinmama, I'd love to hear about it in the comment section below.