Coinmama Review and Comparison Guide
By: Ofir Beigel | Last updated: 11/16/23
Coinmama is a leading cryptocurrency brokerage company that allows you to buy several types of cryptocurrencies with your credit card, debit card, or wire transfer (SEPA, Skrill, and Neteller). Users can also use Apple Pay and Google Pay. In this review, I'll cover the company and its services and also compare it to other leading brokers.
Don't Like to Read? Watch Our 2-Minute Coinmama Review
---
Coinmama Review Summary
Coinmama's brokerage service allows you to buy Bitcoin and other cryptocurrencies easily with your credit card, debit card, SEPA, Skrill, and Neteller and was also the first company to partner up with Apple Pay to buy Bitcoin. The company focuses on customer experience and customer service so that transactions are super quick (user verification takes around 30 minutes).
For beginners, this is an excellent option for buying your first Bitcoin. More advanced users can use alternative trading platforms to save on transaction fees.
For a detailed review of Coinmama, keep reading this post. Here's what I'll cover:
---
1. Who is Coinmama?
Coinmama was established in 2013 in Israel and has since grown to serve over 3 million customers in 188 countries with over 35 employees. Today, the company is headquartered in Vancouver, Canada, and is operated by Wellfield Technologies.
---
2. Coinmama's Services
Coinmama supplies a brokerage service for Bitcoin and other cryptocurrencies. This means that the company sells you the coins directly, as opposed to a trading platform where you buy the coins from other people.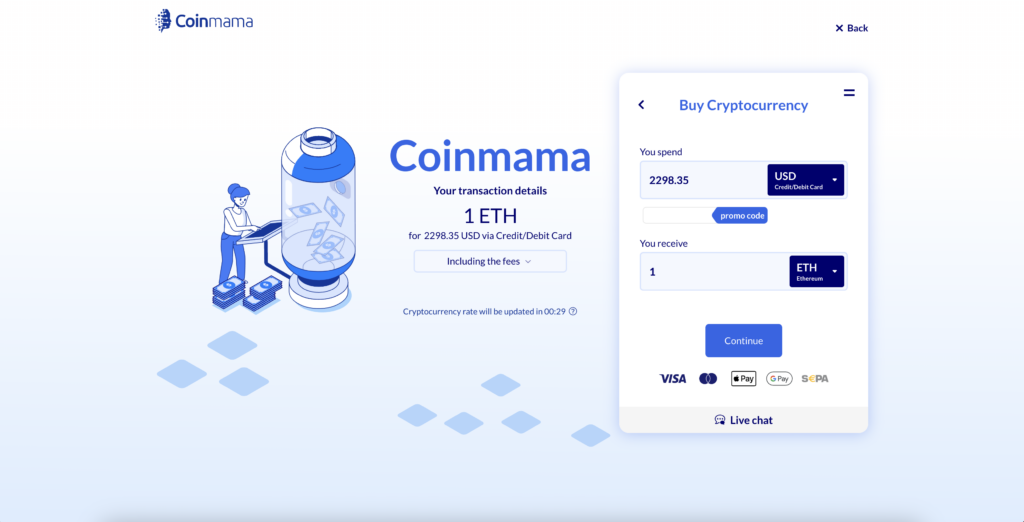 The pros of a brokerage service are that the process is simple and fast since you don't need to look for a buyer on your own. On the other hand, brokerage services are usually more expensive. In Coinmama's case, the company has made ongoing efforts to reduce its fees as much as possible. At the end of this post, you can see how Coinmama compares to other exchanges.
---
3. Currencies and Payment Methods
At the moment, Coinmama supports the buying of about 35 different cryptocurrencies. Users can also sell cryptocurrency to Coinmama, but the selection is smaller. Here are some of Coinmama's popular cryptocurrencies:
Bitcoin (BTC)*
Ethereum (ETH)*
USDT Tether (ERC20)*
Binance Coin (BEP20)
Ripple (XRP)
Cardano (ADA)*
Dogecoin (DOGE)*
Polygon (MATIC)*
Solana (SOL)*
Polkadot (DOT)
Litecoin (LTC)*
Shiba Inu (SHIB)
Tron (TRX)
Chainlink (LINK)
Uniswap (UNI)
Stellar (XLM)
Bitcoin Cash (BCH)
*Can be sold to Coinmama
Coinmama accepts credit or debit cards that are issued by Visa or Mastercard. The company now also accepts payments by bank transfer with 0% processing fees for SEPA and FasterPayments, while SWIFT is 0% on orders above 1,000 USD and 20 GBP on orders under 1000 USD, as well as Apple Pay and Google Pay.
---
4. Fees
Coinmana's fees will depend on the payment method you choose for your transaction. There is no concrete information on their site about the exact fees. This Coinmama support article is the only published document. However, by testing some sample orders myself, I was able to gather some data.
First of all, the fees seem to change depending on which cryptocurrency you are purchasing. USDT (ERC20) seems to have lower fees than what I describe below. The below fees are from me testing various purchases of Ethereum.
There seems to be a 10% credit or debit card fee when purchasing. Skrill and Neteller are about 11%. SEPA bank transfer and Giropay are about 8%. Keep in mind this was me testing ETH purchases. Purchasing Tether (USDT) looked to have fees a bit lower than these.
On top of the stated price, there is a small network fee of a couple of dollars.
---
5. Buying Limits
Coinmama has removed its verification level system. However, there are still buying limits in place for users. This Coinmama support article provides up-to-date information on their buying limits.
The minimum amount of Bitcoin you can buy is 5 USD, while ETH, ERC-20, and DOT tokens have a 10 USD minimum.
For credit and debit cards, the maximum amount per transaction is 20,000 USD. This has no daily or monthly limits. Skrill and Neteller have a 200,000 USD transaction limit and the same daily limit. Bank transfer has a 10,000 USD transaction limit and a 1,000,000 USD monthly limit.
---
6. Restricted Countries
Coinmama offers its services worldwide, with the exception of sanctioned countries and three US states. Certain countries are also served by a third party rather than directly by Coinmama themselves.
Countries and US states NOT supported:
Abkhazia, Afghanistan, Belarus, Crimea, Cuba, Iran, Iraq, Myanmar, North Korea, Northern Cyprus, Palestine, Russia, Sahrawi Arab Democratic Republic, Somalia, South Ossetia, South Sudan, Sudan, Syria, Luhansk and Donetsk (regions in Ukraine), Yemen.
New York (US State), Hawaii (US State), Louisiana (US State).
For the most up-to-date list of Coinmama's restricted countries and states, visit their support article.
---
7. Coinmama Support and User Reviews
Coinmama has a complete help center and a dedicated support channel via email, as well as live chat. Support requests are usually answered within 24 hours.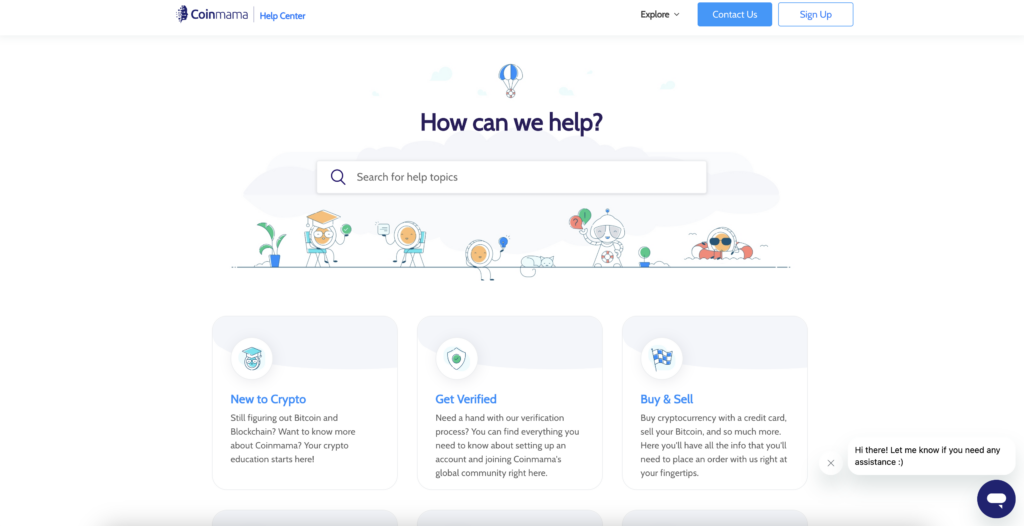 I also took a look at various customer reviews users posted online. Having reviewed dozens of exchanges by now, I know that when people leave reviews online, it's almost always negative reviews because they are pissed off about something. That's why I make it a habit to actually read through the reviews and see what people are complaining about.
The majority of Coinmama's negative reviews complained about one thing – the identity verification process. Users claim that Coinmama requests a ton of information and, in some cases, rejects applications without giving a proper explanation why.
From my own experience, I can say that verification with Coinmama was relatively easy, and yes, they require a lot of information. However, these are just standard Know Your Customer (KYC) and Anti Money Laundering (AML) policies that most legit exchanges must adhere to.
On the bright side, Coinmama receives a score of "Excellent" from Trustpilot. Most positive reviews praise the customer support of the site. Coinmama support representatives are active in the comments on Trustpilot, responding to various user comments and complaints.
---
8. Coinmama vs. Other Exchanges
Here's a short comparison of Coinmama's brokerage service compared to other popular services around.
Coinmama vs. Coinbase
Coinbase charges a variable fee for credit card purchases and does not disclose their fees ahead of time. Unlike Coinmama, Coinbase supports a limited number of countries around the world and is known to have horrible support.
Coinmama vs. Changelly
Changelly used to be known as one of the most expensive services you could use to buy Bitcoin with a credit card. However, it seems that lately, they have optimized their service to offer a more competitive rate. Changelly's fees for credit card purchases will depend on which payment processor you choose to complete your order. Play around with different payment processors in the order screen, and also swap different cryptos. Some seem to have slightly cheaper fees.
Coinmama vs. Bitstamp
Bitstamp's brokerage service is almost identical to Coinmama's. Both have a good reputation. Bitstamp is one of the oldest and most respected exchanges out there, so it's a solid alternative for Coinmama. Also, just like Coinmama, the exchange supports a wide variety of countries worldwide.
Coinmama vs. Binance
Binance allows purchases of crypto with a credit card, both through themselves and third-party providers such as Simplex. The exchange rate provided by Binance is similar to Coinmama's. Some would argue that Binance has an easier KYC process, but I've actually experienced it the other way around.
---
9. Frequently Asked Questions
How long does it take to get verified on Coinmama?
Coinmama states that its verification team members work 24/7, and the process should take around 30 minutes.
Does Coinmama accept bank cards?
Coinmama accepts only Visa and Mastercard. Please note that American Express, Discover, and PayPal are not accepted.
Does Coinmama require ID?
Yes. In order to verify your account, you will need to submit some form of identification. This can be anything from a driver's license to a passport. For a complete guide on which form of ID is required in each country, read this Coinmama support article.
How do I buy Bitcoin on Coinmama?
The process of buying coins from Coinmama goes as follows:
Visit Coinmama and click "Sign Up" on the top right

Submit identity verification documents

Click on "Buy" and choose "BTC" from "You receive"

Select how you would like to pay from "You spend" 

Decide on the amount you want to purchase and click "Continue"

Submit payment information

Get your coins instantly
As soon as your payment clears, Coinmama sends you your coins. This is an important feature to consider since sometimes a day or two can mean large price fluctuations. To protect both parties from this, Coinmama "locks" the Bitcoin price for you as soon as you submit your order.
---
10. Conclusion – Is Coinmama Legit and Safe?
The short answer is yes. Coinmama is a reputable company, and their support is pretty good. Their only downside, in my opinion, is the high fees. Unfortunately, this can't be avoided when using a credit card, but considering the prompt service, it's sometimes worth the cost.
If you have the option to use alternate payment methods like ACH, bank transfer, SEPA, Neteller, or Skrill rather than a credit card, that's better since you'll save on fees. All in all, the service is solid.
If you've had your own experience with Coinmama, I'd love to hear about it in the comment section below.