Paxful Review and Comparison Guide
By: Ofir Beigel | Last updated: 4/10/23
Paxful is an online marketplace which allows buyers and sellers to meet online and trade Bitcoins. Similar to LocalBitcoins, Paxful allows a wide range of payment methods and buying options which can't be found on traditional exchanges.
In this post I'll review the company and its services. I will also compare the service to LocalBitcoins, its popular competitor.
Paxful Review Summary
Paxful brings users the ability to buy Bitcoins with almost any conceivable payment method. The user experience is extremely intuitive.
While everything seems pretty neat there are still some things you'll need to look out for like how to avoid scams and get a decent exchange rate (see details on both below).
April 2023 update: 
Due to key staff departures and regulatory issues, Paxful is suspending its operations, possibly indefinitely. Paxful's CEO, Ray Youssef, has committed to enabling users to withdraw their remaining funds from the platform.
If you want a more detailed review of Paxful keep on reading, here's what I'll cover:
---
1. Company Overview
Founded in 2015 with offices in multiple cities around the world (HQ is in the US) and over 200 employees, Paxful aims to be the "Uber" of the Bitcoin community. Paxful enables individuals to become merchants and sell Bitcoin online, similar to how eBay allows people to sell merchandise.
Paxful also offers a great alternative for buyers, since sometimes traditional exchanges just don't cut it.
While most exchanges suffer from geographic restrictions or limited payment methods, Paxful is free of both, giving the power for trading Bitcoins back to the people and allowing for a more decentralized trading market.
Paxful also offers a payment processing service for websites, which enables merchants to more easily accept a wide variety of payment methods.
---
2. Paxful Services
Paxful offers their marketplace service in two forms:
On their website via an easy to use form
Via a "virtual kiosk link" that any person or website owner can use.
The virtual kiosk is basically Paxful's affiliate program, allowing people to spread the word about Paxful while generating a 2% revenue from any amount bought.
Paxful also offers "Pay with Paxful", a payment processing feature which can be added to websites. This allows merchants to accept any one of Paxful's 300+ payment options via a Paxful widget on their website.
How to Buy Bitcoins on Paxful
Choose the amount of Bitcoins you want to buy
Choose the currency you want the exchange rate to be in
Select a payment method (there are dozens)
Choose a seller and click "Trade"
Follow instructions for payment and click "Mark as paid"
Wait for the seller to release the Bitcoins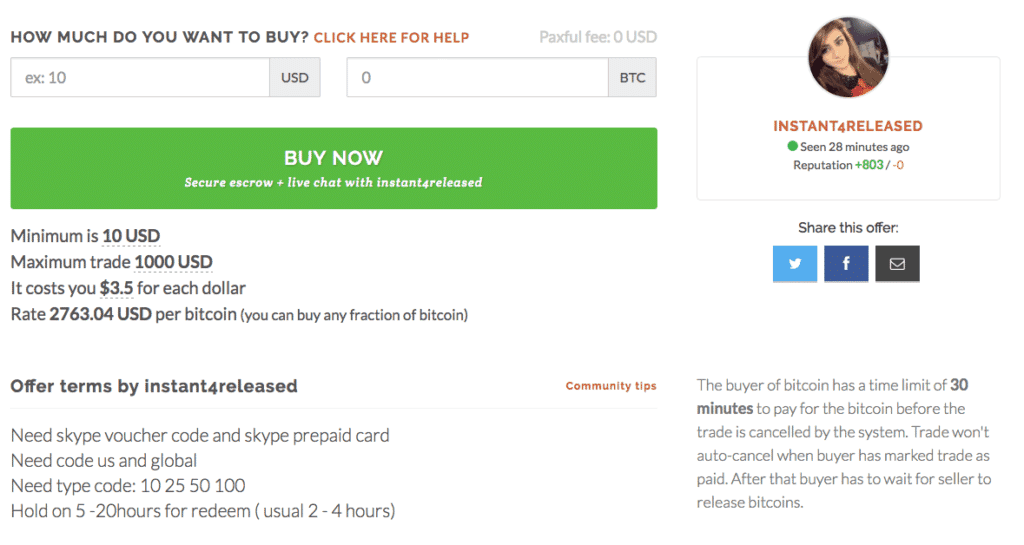 It's worth mentioning that some trades can be concluded instantly while others might take longer, depending  on the payment method and whether the seller is online or not.
Paypal and gift cards, for example, are instant. Bank deposits, Western Union and Moneygram can take some time, as you must leave your home to their branch to deposit cash.
Escrow
Paxful also provides an escrow service for all Bitcoin transactions. Once a buyer finds a seller and the offer is accepted by the seller, the Bitcoin are automatically moved from the vendor's wallet to escrow.
At this point, the seller can't cancel the trade. However, the buyer has a limited time frame to deliver the money to the seller and mark the payment as 'complete. If the buyer fails to do that in the given time frame, the deal will be auto-cancelled and the Bitcoin will be returned to the seller's wallet.
When both the buyer and the seller have verified that the transaction has been confirmed and all the terms have been met, the money will be released to the buyer's wallet and the deal will be concluded.
If at any point there will be a disagreement between the two parties, the process will move along to dispute.
Paxful moderators will then investigate all the info, consider all the available details and finally make a decision to whom the bitcoins will be awarded.
Having said that, in most cases transactions go through smoothly thanks to Paxful's intense moderation that clamps down on potential scammers.
---
3. Currencies and Payment Methods
Paxful deals with the buying and selling of Bitcoin only. Since the money is sent directly to the sellers, the site itself doesn't hold fiat currencies for users.
Sellers on Paxful accept over 300 payment methods, with the most popular ones being credit cards, PayPal, Amazon gift cards, wire transfers and Western Union.
Keep in mind that different payment methods will result in different exchange rates. For example, non refundable payment methods (bank transfers, cash) will usually have lower exchange rates while payment methods that allow for chargebacks (i.e. credit cards, PayPal) will cost more.
---
4. Paxful Fees
If you're buying Bitcoins on Paxful, you won't have to pay any fee to the site itself. Different sellers, however, may charge fees or a premium, depending on your payment method as I've stated before.
Sellers on Paxful pay a 1% fee to the company.
Additionally, there are normal Bitcoin network fees which are paid by the sender, in order to transfer money through the network. These fees do not go to Paxful but to Bitcoin miners.
---
5. Buying Limits
Paxful has 4 verification levels, each one with different limits:
Level 1 – Email and phone verification. Limit is $1,000.
Level 2 – Level 1 requirements + ID verification. Limit is $10,000.
Level 3 – Level 2 requirements + address verification. Limit is $50,000.
Level 4 – Level 3 requirements + enhanced due diligence. No limit for this level.
Users from the US are required to complete levels 1, 2 and 3 to trade on Paxful at all, while users from the EU and Canada must complete at least levels 1 and 2, as well as 3 if they wish to withdraw any funds.
---
6. Supported countries
Paxful is available worldwide except for the following countries:
Burundi, Central African Republic Sanctions, Cuba, Crimea region, Iran, Iraq, Lebanon, Libya, North Korea, Republic of Congo, Somalia, South Sudan-related Sanctions, Sudan and Darfur, Syria, Yemen
---
7. Customer Support and User Reviews
Paxful has a relatively extensive FAQ, although I found it to be somewhat outdated. Some pages were just missing when I clicked their link and there was even a high Bitcoin mining fee warning that wasn't updated since March 2017.
On the other hand, there's a very easy to use chat box for all relevant support requests. Support representatives either answer immediately or reply later via email.
Most negative reviews about Paxful on Trustpilot are to do with unverfied users from the US and the EU having their funds "stuck" on Paxful, due to not knowing they had to provide full identification to withdraw.
Other negative reviews are about specific sellers which have scammed buyers and not about the platform itself. Avoiding scam on Paxful is indeed an issue that needs to be taken into account (more on that later in this post).
Both of the above problems can often be avoided with a little caution and common sense.
Aside from those two common issues, the Paxful experience appears to be very smooth and enjoyable for most users.
---
8. Paxful vs. LocalBitcoins
Paxful's main competitor is undoubtedly LocalBitcoins, a similar marketplace that has been around since 2012.
Paxful appears to have caught up to LocalBitcoins in global trading volume over the last year, despite LocalBitcoins previously having a much larger market share. While LocalBitcoins has been around longer, Paxful seems to be crushing it when it comes to customer satisfaction.
---
9. How to Use Paxful Safely
From reading online reviews about Paxful, it's obvious that some people mistake the platform's integrity for the seller's integrity. Meaning, if a seller scammed them or was not trustworthy, they assume the platform isn't legit as well.
That's why I wanted to point out some resources that may help you solve any issues when buying Bitcoins through Paxful:
It's better to use Paxful's recommended sellers as they have better reputation and therefore are usually not scammers.
Never conduct communications outside of Paxful and make sure everything is documented within the system, so moderators will be able to help you in case of a dispute.
Make sure that the user you are trading with is online, as un-answered orders auto cancel in a short period of time and if the seller isn't online that may be annoying.
Release the payment from escrow only when you have full control over the payment you receive i.e. it's confirmed and in your account. Do not release the Bitcoin from escrow for "Pending", or any other similar status.
No matter what website, what system, what user, what country, what ANYTHING, If you cannot afford to lose money, DO NOT SEND IT.
---
10. Frequently Asked Questions
Is Paxful Legit?
There are many debates online whether Paxful is legit or not. In my personal opinion Paxful is legit, however there may be users on Paxful trying to scam you. This is true for every other P2P marketplace out there like eBay, LocalBitcoins and OpenBazar.
Where is Paxful Located?
Paxful has multiple offices in New York City USA, Hong Kong, Tallinn Estonia and Manila Philippines. Their mailing address is 3422 Old Capitol Trail PMB# 989 Wilmington DE 19808, USA.
---
11. Conclusion – Is Paxful Legit?
Paxful brings users the ability to buy Bitcoins with almost any conceivable payment method. The user experience is extremely intuitive and while everything seems pretty neat there are still some things you'll need to look out for.
First, make sure you're getting a decent exchange rate. Depending on your payment method, the exchange rate can sometimes reach 2x of the "official" price of Bitcoin that can be found on traditional exchanges.
Second, make sure your seller has enough reputation and has conducted enough trades in his past to avoid getting scammed. As long as you are aware of these two points, the platform offers a solid solution for purchasing (and selling) Bitcoins.
Have you used Paxful? I'd love to hear about your experience in the comment section below.