OKX Exchange Review and Comparison
By: Shennon Hewa | Last updated: 8/10/22
OKX is a crypto exchange and brokerage that allows users to buy, sell and trade crypto. The trading platform provides users with features such as margin-trading and other advanced trading options for experienced crypto traders. In this article I will review OKX, its services and its pros & cons.
OKX Review Summary
OKX is a crypto exchange that also offers a variety of other services, making it a complete digital currency ecosystem available in over 100 countries. Their trading platform lets you trade a wide variety of cryptocurrencies, across both spot and derivative markets. OKX also has a brokerage service, where you can buy crypto directly using fiat currency. Aside from trading, OKX offers many other services such as crypto lending and borrowing, as well as its own crypto mining pools and staking services.
With a wide variety of accepted currencies and competitive fees, OKX is a solid option for users who wish to simply purchase crypto, as well as traders who are looking for ways to make money by trading it.
That's OKX in a nutshell. For a detailed review, keep on reading – here's what I'll cover:
---
1. OKX Overview
OKX was founded in 2017 and is currently headquartered in the Seychelles, with offices all over the world. The company was originally based in Beijing, but relocated following a ban by Chinese regulators. It is one of the top crypto exchanges when ranked by trading volume, and they claim to have over 20 million users in more than 100 countries. The exchange has ample liquidity across most trading pairs and handles over $1 billion in trade volume daily.
OKX also offers a wide array of other services, such as an NFT marketplace, DeFi management/applications as well as crypto mining pools and crypto collateralized loans, which should satisfy the needs of all users from beginners to advanced traders.
---
2. OKX Services
OKX offers a variety of services, covering multiple markets that cater to both beginners and advanced users.
Crypto Buying and Selling
OKX offers a buying and selling service that lets users easily buy cryptocurrency using a bank card, Apple and Google pay or bank transfer. There are also some third party payment options supported, like MoonPay, Banxa, Simplex and more.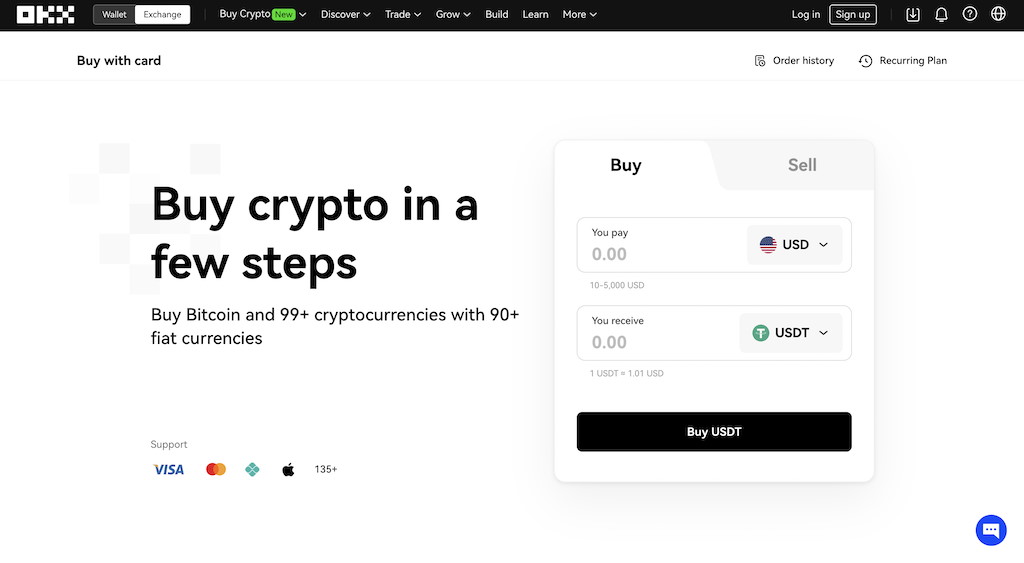 You can buy over 90 different cryptocurrencies using over 90 different fiat currencies. You can also sell your crypto to OKX and get fiat currency in return, with the same cryptos and fiat currencies being supported.
Crypto Trading
With OKX, traders can choose from several trading options, ranging from basic spot markets to various advanced features including futures, perpetual swaps, and options. When using the advanced trading modes, you can trade with up 100x leverage – although this is only recommended for the most experienced traders.
Spot Trading
OKX offers spot trading, or crypto-to-crypto trading, for 300+ different cryptos, across over 630 different trading pairs. OKX trading pairs are formed with BTC, ETH, OKX's own token, OKB, as well as US Dollar stablecoins such as USDT, USDC and a few others. In other words, those are the coins you'll usually exchange for the other 300+ coins and tokens supported by OKX. Spot trading has a really easy to use interface and is perfect for beginners.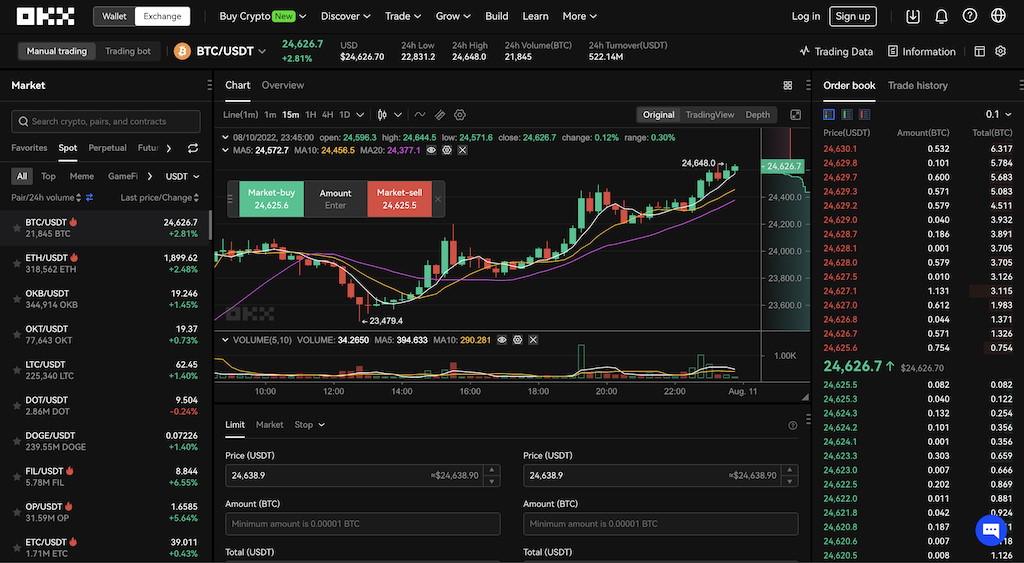 Margin Trading
OKX also offers margin trading on spot markets, where you can use leverage to multiply your returns when trading. Margin trading uses a loan agreement to multiply your effective funds. For example, if you deposit $100 and use 2x leverage, you will gain double the profits if price moves your way. Conversely, if price falls you will suffer twice the losses.
OKX offers up to 10x leverage for margin trading on spot markets.
Futures Contracts
For more advanced traders, OKX offers a variety of futures contracts, collateralized with Tether or popular cryptos like Bitcoin, Ethereum, Ripple, and Litecoin. Futures are essentially an agreement to buy or sell a cryptocurrency at a predetermined price, at a specified time in the future. Read this for a detailed explanation of how futures contracts work.
OKX also offers Perpetual Swap Contracts, which are similar to traditional futures contracts, except with no expiry or settlement date.
Up to 100x leverage is permitted on OKX for futures trading – a level of risk suitable only for pro traders.
Options Trading
Options trading is one the most complex trading modes out there; It requires deep understanding and math skills to use properly. In a nutshell, options are tradeable contracts which give the owner the right, but not the obligation, to buy or sell an asset at a certain price on a certain future date.
Options can be used to create highly sophisticated trading strategies based not only on price, but other factors like volatility. They allow limited risk with theoretically unlimited profit, but are recommended for advanced users only.
Trading Bot
OKX has a variety of trading bot strategies that you can set up to automatically trade for you. The strategies include basic spot grid trading where the bot will buy low at chosen price points, as well as automatically sell at a chosen profit level.
There are also more complex bot strategies such as arbitrage orders, however these are only recommended for advanced traders.
Savings and Staking
OKX offers a savings service where you can earn hourly interest on your crypto. This is flexible as you can deposit and withdraw your assets at any time. Assets deposited for savings are used to fund OKX margin loans.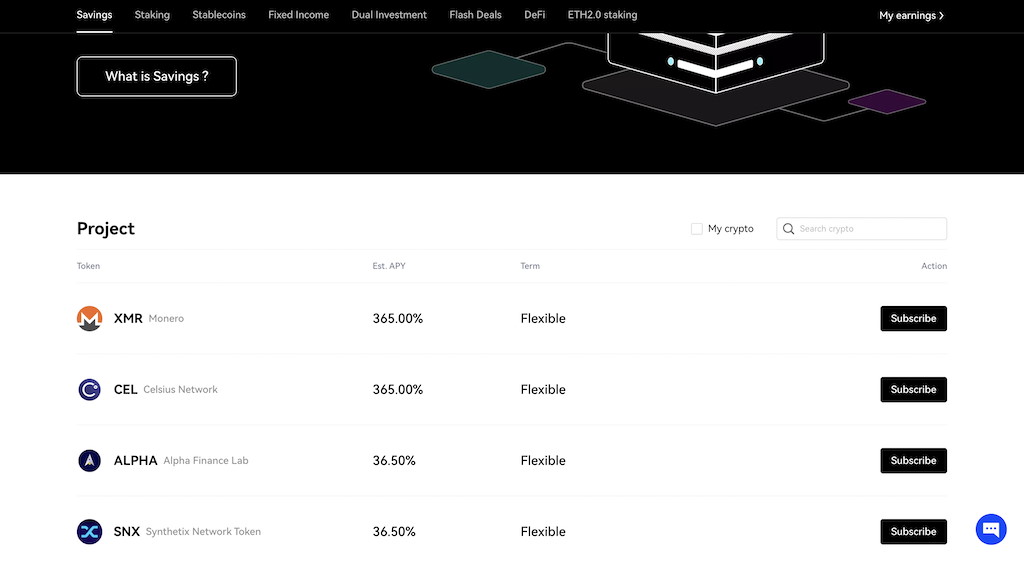 You can also stake your proof-of-stake cryptocurrencies by locking them up for a predefined period. Staking helps run the network and you will earn rewards based on your contribution to the staking pool.
Loans
OKX offers loans to customers, letting you take out a loan using your existing crypto as collateral. There are both fixed and flexible loans available.
Fixed loans let you borrow USDT, BTC, ETH and OKB by staking your existing crypto. You select a borrow term, after which you pay back the loan with a low interest rate. Flexible loans have no fixed term or preset interest rate, so you can borrow for as long as your collateral will cover you.
P2P Trading
OKX also has a peer-to-peer (P2P) trading service that connects buyers and sellers of crypto currency directly. This facilitates fiat payments along with a wide variety of payment options that depend on the user's preference.
---
3. Currencies and Payment Methods
OKX supports over 300 different cryptocurrencies including all the main tokens:
BTC
ETH
LTC
XRP
BCH
EOS
LINK
USDT
USDC
New tokens are constantly being added, so if there is a coin you're looking for, it's likely that OKX will already have it. It's also worth noting that you may not be able to directly buy or sell some of the smaller altcoins directly using fiat currency. You may need to buy USDT, BTC, ETH or OKB, and then exchange it for your desired coin using available trading pairs.
When it comes to fiat currency deposits, OKX supports over 90 fiat currencies for buying crypto. On the other hand, when it comes to selling your crypto OKX only supports 13 currencies. These include but are not limited to:
USD
GBP
EUR
AUD
CNY
INR
TRY
As for fiat payment methods, you can buy crypto using your debit/credit card, Apple and Google Pay, or SEPA/SWIFT transfer facilitated by a third party vendor. There are several third party vendors that you can use to buy crypto on OKX, including MoonPay, Banxa, Simplex and many more. The payment options available will vary depending on your region and the fiat currency you wish to use.
---
4. OKX Fees & Limits
Trading Fees
OKX's fees are very competitive when compared to its competitors. The exchange uses a maker-taker model. This means that if you place an order into the order book, you are classed as a "maker" and pay a lower fee. Alternatively, if you take someone else's order, you're a "taker" and pay a higher fee. This model rewards patience and planning.
In addition to the maker-taker model, OKX also has different pricing tiers with lower fees for higher 30-day trading volumes or value of assets. Fees for regular users start at 0.08% for makers and 0.10% for takers, but these can go as low as 0.06% and 0.08% if your trading volume is over $10m (or if you hold over $100k in assets). VIP users with a 30-day trade volume of over $10bn get a 0.005% rebate as makers and only pay 0.02% as takers.
You may also reduce the fees you pay on OKX by holding OKB, OKX's proprietary exchange token. If you hold over 2000 OKB then you will be placed in the level 5 price tier, the lowest fees available to regular users.
Withdrawal Limits
OKX has a limit for the amount of crypto you can withdraw within a 24 hour period. For regular users the withdrawal limit is equivalent to 500 BTC, regardless of what price tier you are in. It is worth noting that if you do need to exceed your limit on a particular day, you can contact customer support and they may increase your daily limit temporarily, however this is not guaranteed.
For VIP users, the withdrawal limit starts at 600 BTC for the lowest VIP tier, and can go as high as 2000 BTC for the highest-tier VIP users.
---
5. Supported Countries
OKX is available around the world and the platform can be used in over 10 different languages, including English, Spanish, French and Russian.
It is also worth noting that there are a few countries that OKX does not accept users from. This includes but is not limited to:
United States of America (including all US territories)
Canada (limited to the regions of Quebec & Ontario)
Singapore
Malaysia
Cuba
Iran
North Korea
Crimea
Syria
Bangladesh
Bolivia
Malta
OKX has also restricted some of their services for certain regions. This means that only derivative-related services are restricted for retail users in:
---
6. Customer Support and Reviews
OKX has a comprehensive support center with a self-service function, which helps you do various things like change your account details without needing to wait for a customer support agent. There is also an extensive FAQ section that answers most questions that you may have about the many OKX services. If you still require personalized assistance, you can speak with their AI bot via live chat or to a human customer support agent over the phone.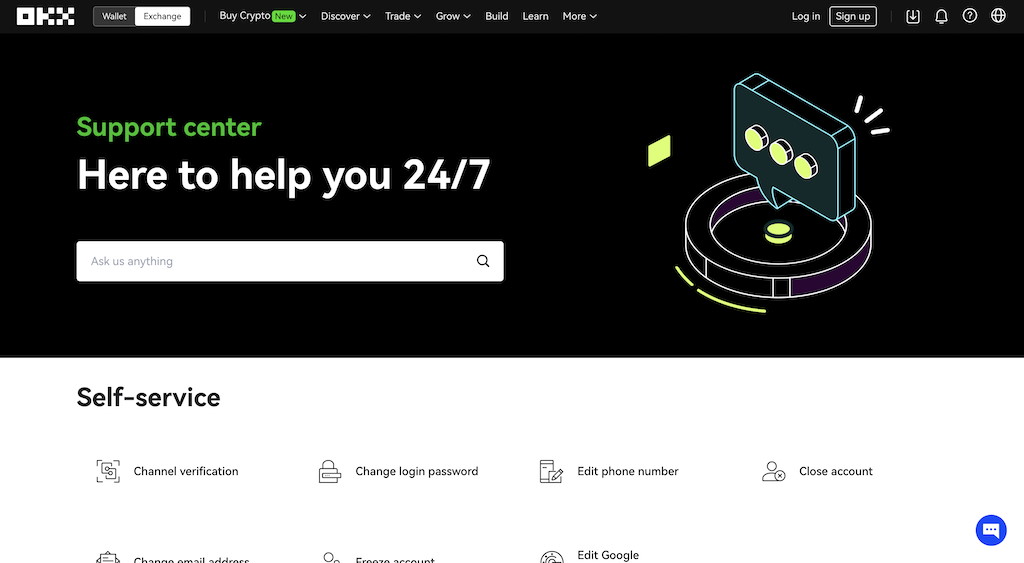 OKX also has an academy that features a variety of short guides and articles that cover the basics of crypto, as well as how to get started on the OKX platform. These short guides do a pretty good job of explaining some of the complex trading concepts, in an easy-to-understand way. It is great to see that the academy is constantly being updated with new articles and guides. This is a perfect place to start if you are new to crypto and don't know much about trading.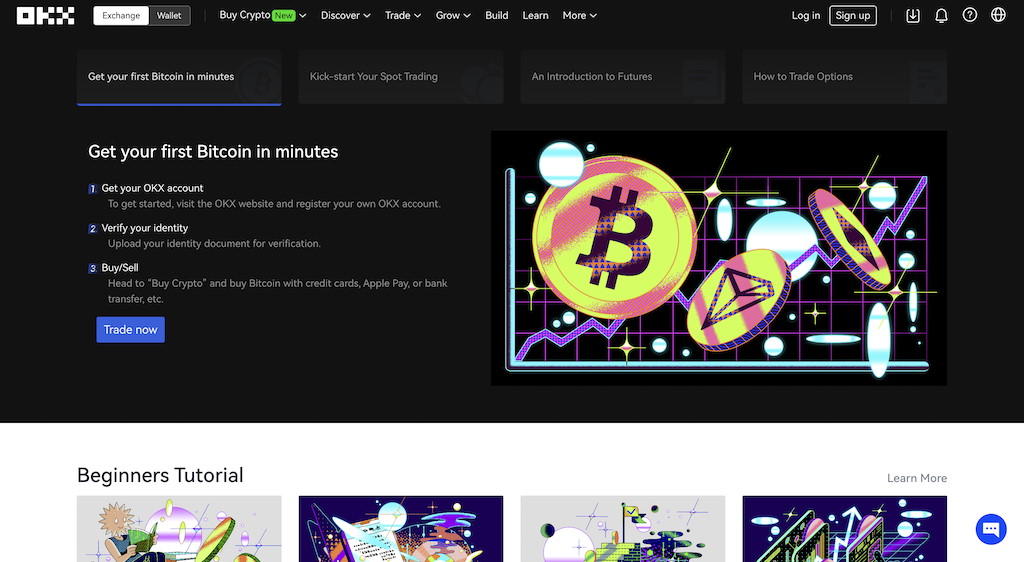 When it comes to reviews, OKX has received mixed reviews from users. On Trustpilot, OKX has a rating of 2.5 stars, however it is worth noting that this is after just 15 reviews – it's hard to get a good idea of what the exchange is like from such a small sample size. If you look at the Apple App Store or Google Play Store, OKX has a much better rating of 4.9 and 4.5 stars, respectively.
---
7. Security
OKX uses industry-standard security practices like using cold storage for customer assets, anti-phishing codes and the ability to set up an additional password for withdrawals. OKX also supports 2-factor authentication, which is strongly recommended to all customers.
---
8. Conclusion: Is OKX Legit?
In short, yes, OKX is legit. The platform has been operating smoothly since 2017 and hasn't suffered from any major controversies, nor losses of customer assets. It is a top exchange that is trusted by millions of users.
OKX is also a great exchange for beginners to quickly learn about crypto and buy their first cryptocurrencies. In the early days there were a few "hiccups", however OKX has maintained a fairly good track record compared to other crypto exchanges.
OKX has continued to evolve and adapt with the times by expanding the services they offer, OKX offering many services that are hard to find on other exchanges. This includes crypto loans, mining pools and more. The exchange also offers competitive trading fees that make it a great option for trading crypto overall.
Do you have any experience with OKX? If so, please share it in the comments section below.