Xcoins.com Review and Comparison Guide
By: Alex Miguel | Last updated: 16/6/22
Xcoins is a platform that enables users to instantly purchase crypto with a debit or credit card, pledging to deliver your coins within 15 minutes of payment approval. In this review, I'll go over the platform's features, fees and other important info that you'll want to know before signing up.
Xcoins Review Summary
Xcoins is an excellent platform for instantly buying small amounts of popular cryptocurrencies with a bank card, SEPA, Faster Payments or Interac. The fees are somewhat high, so if you're buying a larger amount of coins you'll probably want to use a major exchange.
That's Xcoins in a nutshell. For a more detailed review, continue reading below. Here's what I'll cover:
---
1. Xcoins Overview
Xcoins was founded in 2016 by Rob Frye and a handful of cryptocurrency enthusiasts. It is currently headquartered in Malta and operates under a company called CF Technologies, Ltd. The platform claims to provide an average transaction time of just 5 minutes and operates in more than 160 countries worldwide.
---
2. Xcoins Services
Instant Crypto Purchases
The core service that Xcoins provides is facilitating instant purchases of crypto, using a debit or credit card. Xcoins provides a very streamlined and simple user interface, which is very beginner friendly. It removes the need to interact with any typical complex exchange features such as candlestick charts or order books, making it an easy-to-use option for users of all levels of experience.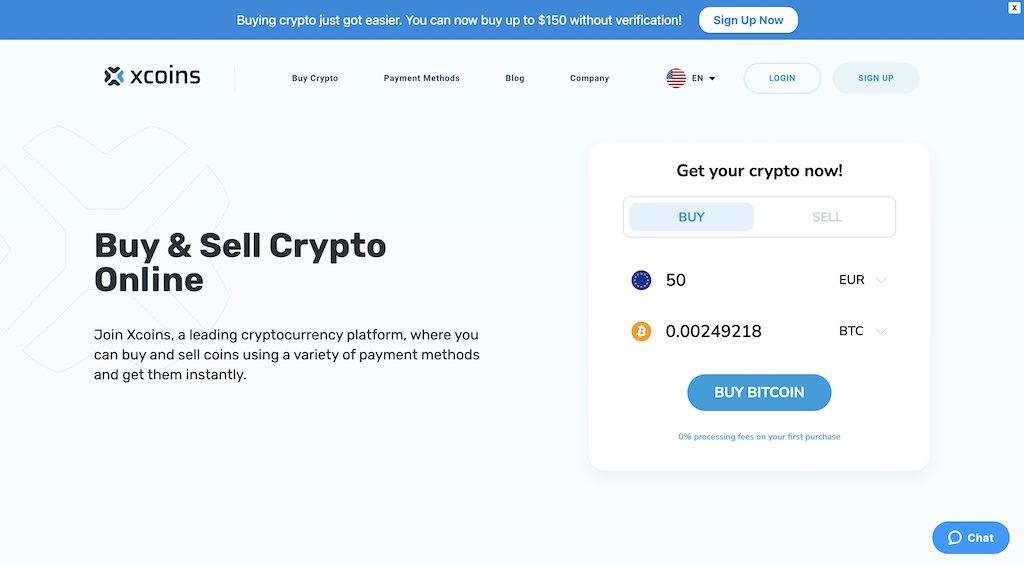 Simply enter the amount of fiat currency you want to spend (or how much crypto you want to buy), create an account and you'll have your crypto within 15 minutes of payment approval.
The service is entirely non-custodial, which means that any coins you purchase are sent directly to a wallet address of your choice – Xcoins does not hold any coins on your behalf.
---
3. Currencies and Payment Methods
Xcoins only offers a handful of the top cryptocurrencies, including:
Bitcoin (BTC)
Ether (ETH)
Ripple (XRP)
Litecoin (LTC)
Bitcoin Cash (BCH)
Dogecoin (DOGE)
Xcoins accepts debit and credit cards for payment from users all around the globe. It also accepts SEPA for European customers, Faster Payments in the UK and Interac for Canadian users.
---
4. Fees
Xcoins fees are somewhat high, however this is typically expected of services that facilitate crypto purchases with a bank card. This includes a fee of around 4-6% of the purchase total, as well as a 3.9% processing fee for purchases made with a debit or credit card.
Total fees may be lower for other payment methods, and they will be clearly displayed in the purchase window before finalizing the transaction.
Exchange rates are locked in once payment is received, to protect both the customer and Xcoins from market fluctuations.
---
5. Buying Limits
At the time of writing, Xcoins claims to allow purchases of up to $150 in crypto without identity  verification (however you'll still need to provide a name, email address and phone number). For anything higher, users will need to verify their identity with additional documentation including a form of photo ID.
This level of verification will enable you to purchase up to $10,000 worth of crypto in a day (with a maximum of 3 days), and up to $25,000 within a month.
To further increase limits, users will need to pass an "enhanced" verification, which will include proof of address and proof of income.
---
6. Supported Countries
Xcoins supports 167 different countries, however is not specific about which countries this includes. According to its FAQ section, the company undertakes risk assessments on a country-by-country basis, based on their anti-money laundering (AML) requirements and other factors.
If you would like to confirm whether or not your country is supported, you will need to contact customer support directly.
---
7. Customer Support and Reviews
Xcoins has a fantastic FAQ section, which is easy to navigate. It appears to answer almost any question you may have in immense detail, which I personally found very helpful. They also have one-on-one chat support which was extremely quick in responding to a query I had – very impressive.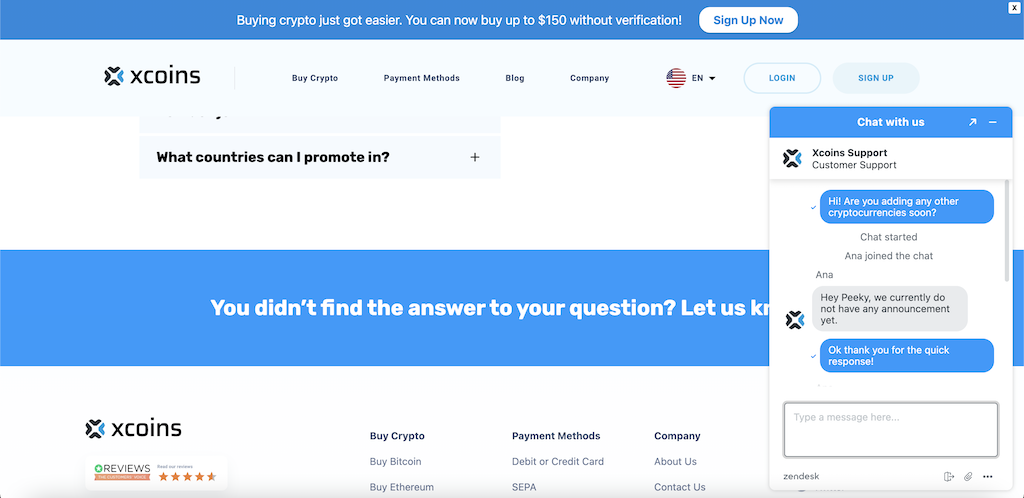 User reviews for the platform are somewhat difficult to find, perhaps due to the smaller-scale nature of the exchange vs other exchange giants. User feedback on Reviews.io appears to show that the service is reliable with good customer service, however could benefit from making some fixes to user experience.
The most common complaints involved users having to re-submit identity verification information each time they make a purchase, as well as some minor website design inconveniences.
---
8. Conclusion
Xcoins is a basic service that is designed to make it easy for customers around the world to purchase the most popular cryptocurrencies instantly using their bank card. It achieves this well, with a simple user interface and quick delivery of coins upon making a purchase.
Fees are somewhat high and the selection of assets is small, however the service is excellent for its speed and convenience. Customer support also appears to be very helpful, with a rapid online chat help service.
Xcoins is probably best-suited for users who want to make quick and small crypto purchases. Users who are buying larger amounts of coins may prefer to use a more major exchange with lower fees.