Buy Bitcoin in France
By: Eliot Prince | Last updated: 11/27/23
This guide covers all the information on Bitcoin's status in France, plus the best cryptocurrency exchanges in Europe.
How to Buy Bitcoin in France Summary
To buy Bitcoin in France, you can either visit a Bitcoin ATM or follow these steps:
Download or get your Bitcoin wallet
Go to Coinmama
Choose the amount of Bitcoin you wish to buy
Enter your payment information and Bitcoin address
Other than Coinmama, you can visit any of the exchanges below to buy Bitcoin in France:
That's how to buy Bitcoin in France in a nutshell. For a more detailed explanation, keep on reading. Here's what I'll cover:
---
1. Is Bitcoin legal in France?
Yes, Bitcoin is legal in France, but it is not considered a currency. The French government classes Bitcoin and other cryptocurrencies as digital assets.
France is leading the way in European cryptocurrency regulation. In 2019, they adopted the Pacte bill, a financial sector bill establishing the legal framework for cryptocurrency providers and ICOs. This gives the Autorité des Marchés Financiers (AMF), the French financial authority, stronger regulatory power, including company licensing.
In 2024, the European Union's Markets in Crypto Assets (MiCA) regulation is set to take effect. These new regulations will apply in 27 countries (including France) and are "meant to facilitate legal certainty for businesses and attract more investment to the region."
Additional information on the upcoming regulations can be found here.
---
2. How popular is Bitcoin in France?
The Google Trends graph below displays interest in Bitcoin in France. The linked graph is live data, updated directly from Google. Using the search term 'bitcoin,' the graph represents the search interest of users through Google. A mark of 100 indicates peak popularity, while a score of 50 means half as popular.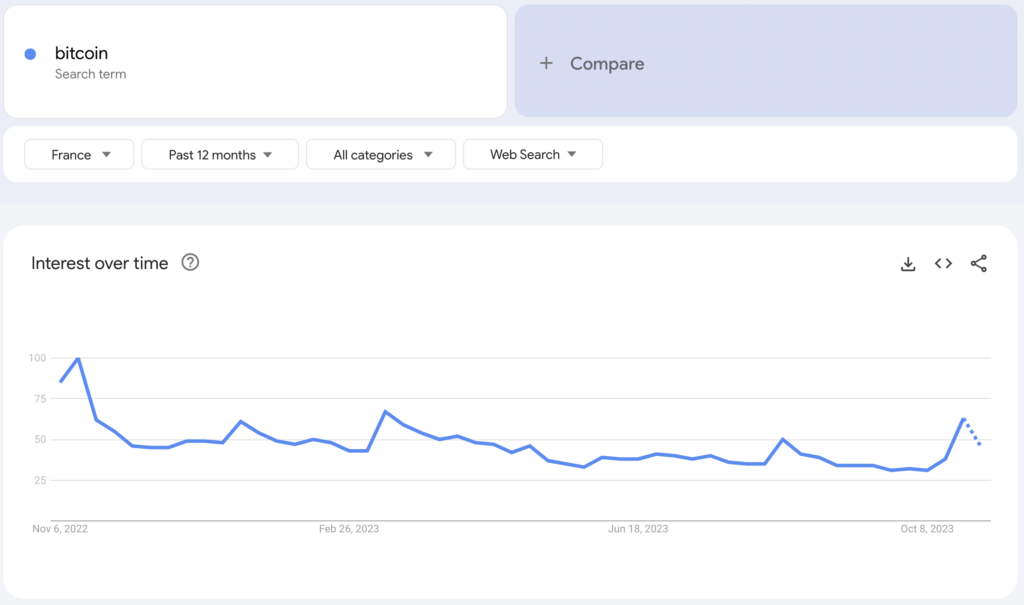 ---
3. Main France Bitcoin communities
France is a technologically forward-thinking country with a population keen to innovate and adopt new ideas. For Bitcoin, there are plenty of online communities and forums discussing everything from the best exchanges to trading strategies.
Here are some online communities to check out:
There are also many cryptocurrency and Bitcoin Meetup groups in France:
Note: These support groups are meant for informational purposes only. There exist many scams, phony "support staff," and fake tokens in most cryptocurrency-related groups. Never give anyone your seed phrase or private wallet keys.
---
4. France-based Bitcoin exchanges
French customers enjoy a strong selection of Bitcoin exchanges. Many of them are based in Paris, adhering closely to French and European regulations. Here are some of the best French Bitcoin exchanges for you to choose from:
Coinhouse
Coinhouse aims to make cryptocurrency investments easy for first-time buyers. Operating since 2014, the exchange is based in Paris and has a long history with the company Ledger – the popular hardware wallet provider behind the Ledger Nano X.
It has provided over 350,000 EU customers with easy access to BTC, ETH, LTC, XRP and BCH. The platform is a broker service, thus removing the technical complexities of buying Bitcoin. More than that, it even offers a personal investment service to its customers. You can read my full Coinhouse review here.
Paymium
Paymium states that it's "the world's first Bitcoin exchange platform still operating," having launched in 2011. The Paris-based company provides Bitcoin buy and sell services across France and Europe. It is closely regulated for French and EU payment methods, enabling Bitcoin to Euro trading pairs, plus merchant payment functions.
Users can trade via an advanced order book and a mobile app. Paymium states that they have the lowest fees in the market, with a -0.10% maker fee (10% cashback) and a taker fee of 0.50%.
Bitpanda
Bitpanda is a Vienna-based cryptocurrency exchange. The company is registered with the Autorité des marchés financiers (AMF), the Financial Markets Authority of France. Bitpanda offers one of the cheapest options to buy Bitcoin and 200+ different altcoins in Europe using SEPA transfers. Payments can be made with credit or debit cards as well.
The minimum deposit and withdrawal at Bitpanda is 10 EUR.
All fees are incorporated into the price of coins, with no additional charges applicable. You can read my full Bitpanda review here.
---
5. International exchanges available in France
International exchanges offer added options to French customers, with many supporting Euros and helpful deposit methods. Here is a top selection available to you:
Coinmama
Coinmama may be based in Israel, but it's available in a huge number of countries, including France. It was launched in 2013, and it offers convenience: you can buy Bitcoin with a debit or credit card.
The downside is that the fees are on the high side, with about a 10% fee total whether using your debit card or ACH transfer. You can read my full review of Coinmama here.
CEX.IO
CEX.IO is available in most countries around the world. Founded in 2013 with its headquarters in London, this cryptocurrency exchange allows users to buy and sell Bitcoin, as well as a selection of altcoins.
Both credit cards and SEPA bank transfers are accepted payment methods, with low fees of 0%–0.25% on trades. CEX.IO offers both a trading platform and a brokerage service, entailing different fees. You can read my full CEX.io review here.
bitFlyer
bitFlyer is a regulated Japanese cryptocurrency exchange that has a European branch offering services in France as well.
You can buy BTC, ETH, BCH, ETC, and LTC with EUR deposits, credit and debit cards, SEPA, and PayPal payments. Regular cryptocurrency buys and sells are free but subject to bitFlyer's exchange rate. You can read my full review of bitFlyer here.
Paxful
Paxful is a P2P marketplace that allows buyers and sellers to connect online and exchange Bitcoin and other cryptocurrencies for a variety of payment methods.
Sellers on Paxful accept over 300 payment methods, including SEPA bank transfers, Visa, MasterCard, and PayPal. If you're buying Bitcoin on Paxful, you won't have to pay any fee to the site itself, but the price of Bitcoin is traded at a premium because of this. You can read my full Paxful Review here.
Changelly
Changelly is an instant crypto-only exchange, which, depending on how much you intend to buy and your payment method, may require you to submit identity verification. Users can buy, sell, or exchange directly through Changelly, and the company also offers an app for iOS and Android. There are over 500 coins available on Changelly. You can read my full Changelly review here.
---
6. How many Bitcoin ATMs are in France?
As of 2023, there are 17 Bitcoin ATMs in France, according to CoinATMRadar. There are 12 Bitcoin ATMs in Paris.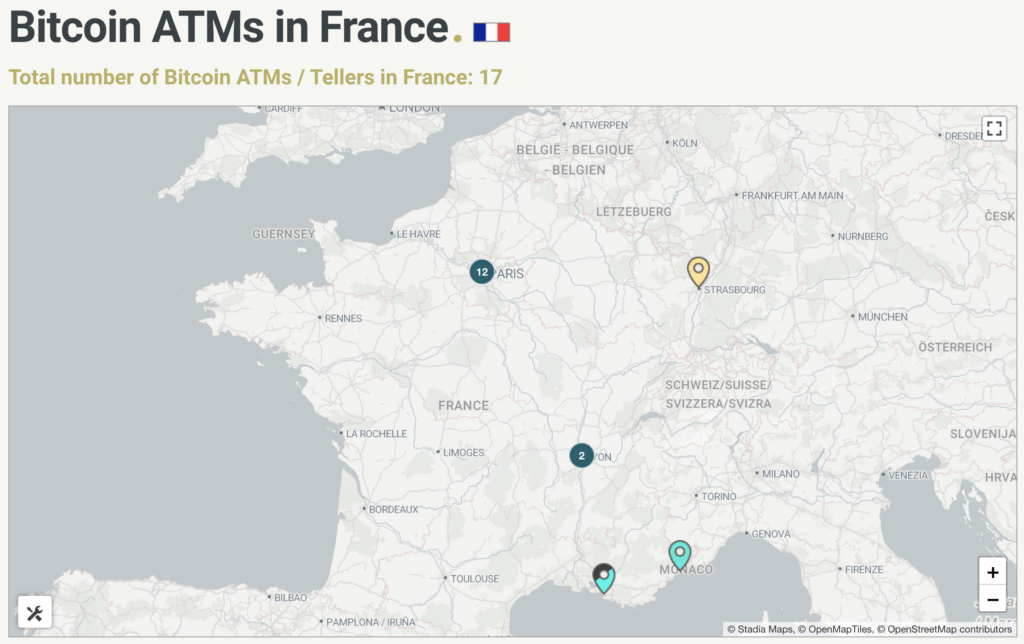 ---
7. Conclusion
France's progressive stance on cryptocurrency makes it really easy for citizens to buy and trade Bitcoin safely. New regulation ensures companies and ICOs are operating legitimately. A selection of Europe's big cryptocurrency platforms are even developed and run from Paris.
With the MiCA regulatory framework rolling out to the European Union in 2024, France appears to have a bright future in the cryptocurrency industry.
What are your thoughts on Bitcoin's legal status in France and the EU? Do you have any experience with the exchanges I've mentioned above? If yes, let me know in the comment section below.