bitFlyer EU Review
By: Alex Miguel | Last updated: 12/6/22
bitFlyer EU is the European arm of Japanese company bitFlyer Inc. It specializes in fiat-to-crypto trading, covering a small range of major cryptocurrencies. This review will cover everything you need to know about bitFlyer EU including services and fees, as well as its pros and cons.
bitFlyer EU Review summary
bitFlyer EU is a fiat-to-crypto exchange, which allows traders to buy and sell cryptocurrencies against Euros (among other fiat currencies). Traders can deposit EUR in a variety of ways, including bank transfers, credit or debit card, and more.
They also offer exchange apps on mobile, which are available on both Android and iOS.
And that's bitFlyer in a Nutshell. You can read on below for a more detailed review of bitFlyer's platform and services. Here's what I'll cover:
---
1. bitFlyer EU Overview
bitFlyer EU was launched in 2018, as a subsidiary of bitFlyer Inc. The parent company has been around for several years longer, founded in 2014 by former Goldman Sachs trader Yuzo Kano.
The EU platform is headquartered and licensed in Luxembourg.
Traders can choose between using bitFlyer's "Buy &Sell" feature for beginners, or their "Lightning" exchange for a more advanced trading experience.
The exchange offers a relatively smaller range of cryptocurrency compared to most other major exchanges, limited to just a handful of coins.
---
2. bitFlyer EU Services
Buy & Sell

bitFlyer's Buy & Sell feature is designed for beginners, or those who want to instantly buy or sell cryptocurrency at current market prices. Rather than setting a price for the order, users will simply choose how much currency they want to buy or sell at the going rate.
Lightning Exchange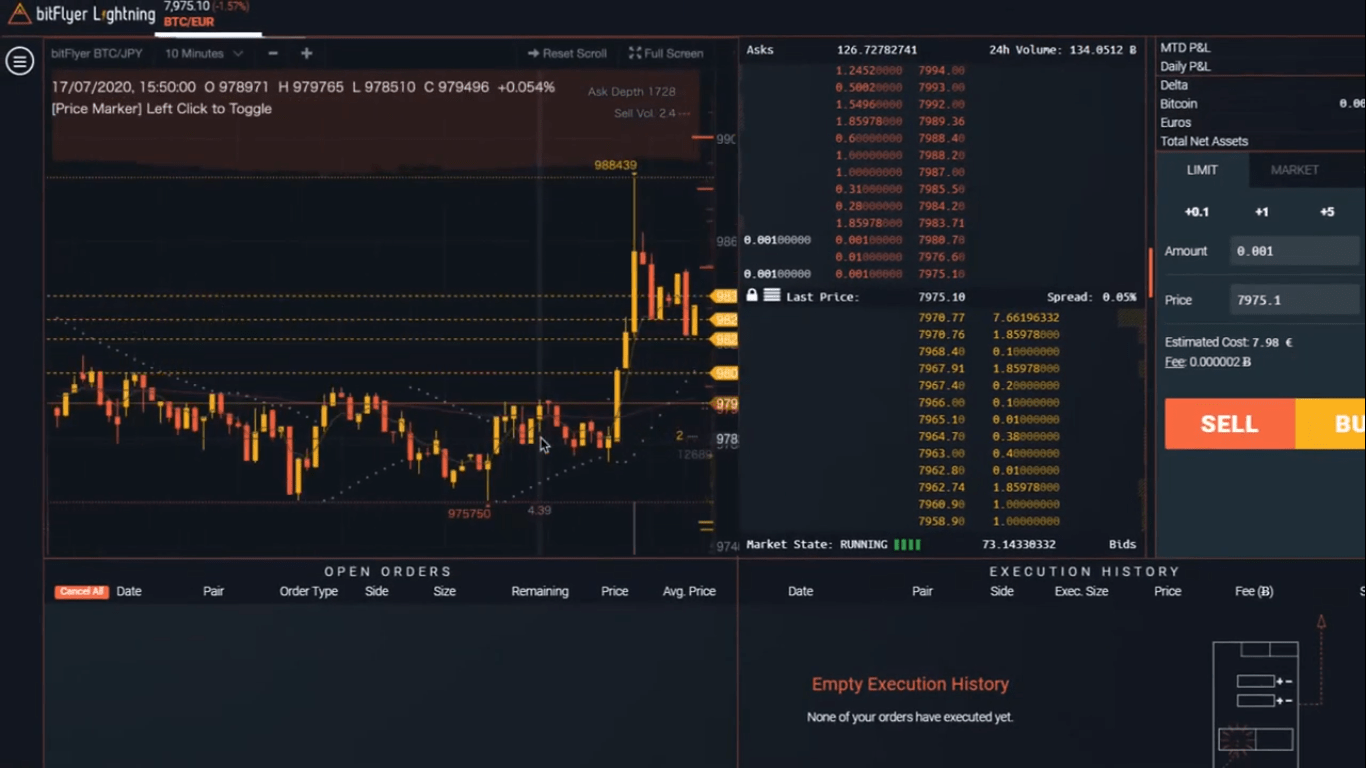 bitFlyer EU's Lightning Exchange is their advanced exchange for experienced traders. This includes a more complex user interface – complete with charts, orderbooks, and different order types.
Users can make limit orders, market orders, or "special" orders, according to their trading strategy.
Mobile Trading App
bitFlyer EU has its very own mobile trading app, which is available on both Android and iOS. It features both the Buy & Sell and Lightning Exchange features, in a responsive format for on-the-go trading.
---
3. Currencies and Payment Methods
bitFlyer EU accepts EUR as its only supported fiat currency, for deposits and withdrawals.
EUR deposits can be made via bank transfers (including SEPA transfers), credit and debit card, as well as Sofort, iDeal and GiroPay payments. bitFlyer also launched PayPal deposits on the site.
The following cryptocurrencies supported by bitFlyer EU:
Bitcoin (BTC)
Ethereum (ETH)
Bitcoin Cash (BCH)
Ethereum Classic (ETC)
Litecoin (LTC)
Monacoin (MONA)
Lisk (LSK).
All of these cryptocurrencies can be deposited, traded, and withdrawn on the bitFlyer EU platform.
---
4. Fees
Trading fees are free on their Buy & Sell feature. On bitFlyer EU's Lightning Exchange, fees begin at 0.20% and drop as low as 0.10% for large trading volumes.
SEPA deposits of EUR are free, while SEPA withdrawals are €0.30 for amounts less than €250,000. Larger withdrawals are subject to a fee of €10.00.
Other EUR deposit methods including wires are subject to their own fees, which are charged by the payment processor themselves.
---
5. Supported Countries
bitFlyer EU is available to all countries within the European Economic Area (EEA).
This includes Austria, Belgium, Bulgaria, Croatia, Cyprus, Czech Republic, Denmark, Estonia, Finland, France, Germany, Greece, Hungary, Iceland, Ireland, Italy, Latvia, Liechtenstein, Lithuania, Luxembourg, Malta, Netherlands, Norway, Poland, Portugal, Romania, Slovakia, Slovenia, Spain, Sweden, Switzerland and the United Kingdom.
---
6. Customer Support
bitFlyer EU has an extremely handy FAQ section, which answers almost every question under the sun. The questions and answers go into thorough detail, which appears to be much more helpful than many other platforms.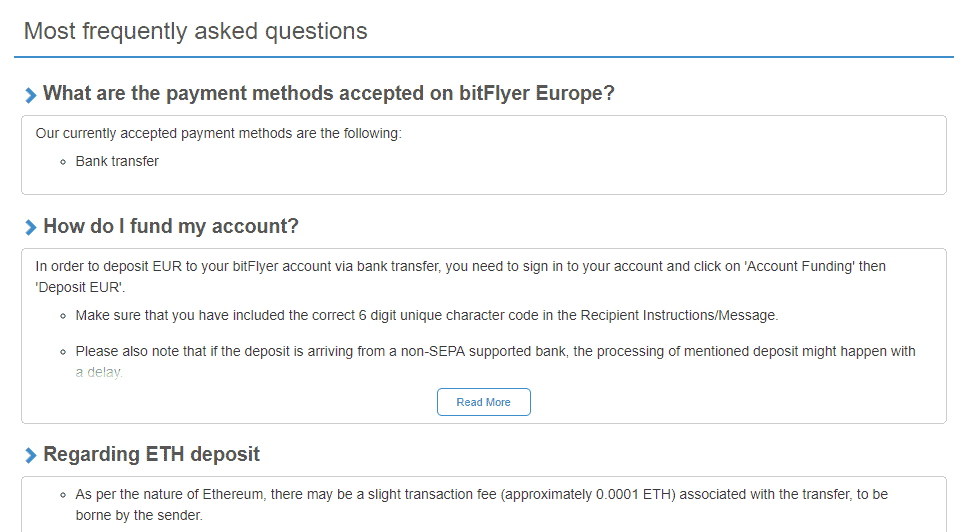 For anything not covered by the FAQ section, users can get in touch with a staff member by using the inquiry contact form on their website. Issues submitted through here will be responded to via email.
Not many reviews are available online for bitFlyer EU, but we haven't seen any complaints either, which is a good sign.
---
7. Conclusion
bitFlyer EU is a simple cryptocurrency exchange which caters to the needs of both beginners and advanced users, via their two key platform features: Buy & Sell for instant trades at market prices, and their Lightning Exchange for advanced trading experience.
They support EUR deposits through a variety of methods, as well as fiat withdrawals via SEPA transfer. Fees are reasonable and competitive for deposits, trading and withdrawals alike.
The range of cryptocurrencies available on the platform is somewhat narrow, however you can expect to find major coins like BTC, ETH and BCH, as well as a few more minor coins.
Reviews and feedback on the exchange are hard to find, however the USA and Japanese versions of the platform are well-renowned and trusted.