How to Buy Bitcoin in Malaysia
By: Eliot Prince | Last updated: 2/11/22
In this guide, we will review the status of Bitcoin in Malaysia, its popularity, and the different local and international exchanges you can use to get Bitcoins in Malaysia.
Post Summary
Malaysia is a growing crypto economy and finding and acquiring Bitcoin in the country is relatively easy. Recently, the Malaysian government began the process of granting official approval for the operation of select cryptocurrency exchanges within the country, under a clear set of regulations. To buy Bitcoins in Malaysia follow these steps:
    Download or get a Bitcoin wallet or set up an online wallet
    Go to CoinMama
    Choose the amount of Bitcoin that you want to buy
    Enter your payment information and bitcoin address
Alternatively, you can go to each of these exchanges if you want to buy Bitcoin in Malaysia:
That's how to buy Bitcoin in Malaysia in a nutshell. If you want a deeper look keep on reading, here's what I'll cover in this post:
---
1. Is Bitcoin legal in Malaysia?
The Malaysia state recently started to regulate cryptocurrency exchanges in the country, after a long period of a generally disapproving attitude towards Bitcoin and other cryptocurrencies.
Bitcoin is not recognized as legal tender in the country, and as such the central bank cannot stand behind it. In other words, Malaysians may legally use Bitcoin but do so at their own risk, and can expect little support from authorities if anything goes wrong.
From a practical viewpoint, Bitcoin is legal in Malaysia. Any individual can freely buy and sell Bitcoin with local and international exchanges. Bank transactions go through without any problems, and people are free to own and use Bitcoin and other cryptos.
---
2. How Popular is Bitcoin in Malaysia?
From looking at the Google trends chart, Malaysians want to be in the know on Bitcoin topics. The line represents the interest, or search intensity, for the term "Bitcoin" as a percentage of the country's total search queries. As can be seen, in the last 12 months interest peaked at around June, with the rest of the year keeping a steady trend.

As for trading activity, Bitcoin has seen a fair amount of activity, with the June peak in interest reflected in trading volume as well. This can be clearly seen in this localbitcoins chart:

This peak can be attributed to the news of Malaysia's SEC announcing the registration of 3 Bitcoin market operators to establish digital assets exchanges in Malaysia in June 2019.
---
3. Main Malaysian Bitcoin Communities
Malaysia has several online Bitcoin resources, such as:
Bitcoin Malaysia on facebook with over 52k members.
Malaysian sub-thread on BitcoinTalk forums
Local Events seem to be happening on a regular basis with 35 Bitcoin, blockchain, and cryptocurrency related in-person groups registered on Meetup.com.
---
4. Malaysia-based and Regulated Bitcoin exchanges
While there are no Malaysian-specific Bitcoin exchanges, the below exchanges have services targeted towards Malaysian Bitcoins users.
SINEGY Technologies
SINEGY is a trading platform and OTC desk founded in 2017 by an all-Malaysian team. As OTC trading tends to be reserved for very high value trades, we will focus on their trading aspect here. SINEGY's exchange supports deposits or withdrawals in both crypto and fiat format.
Domestic fiat deposits are free, while international deposits are under the influence of intermediary banks, which will charge for the transmittance service. The only two fiat deposit options are MYR and SGD, while crypto deposits are available via Bitcoin, Ethereum, and Ripple (XRP).
Fiat withdrawals cost 2 or 0.10 MYR, depending on the method, while crypto withdrawals are charged a fixed network fee. For now, fiat withdrawals are only possible in MYR, but the exchange claims that SGD will soon be available.
For more info, check out their official fees page.
Luno
Claiming to be "The world's most international cryptocurrency team", Luno is the leader in cryptocurrency trading in Malaysia. Luno provides its services to a variety of geographical regions aside of Malaysia including Europe, Indonesia, Nigeria, South Africa, and Zambia.
On the downside, Lunos fee structure is a bit complex so it's worth checking their official page.
For instance, fees vary depending on your country and amount of purchase when using 'instant buy' feature. Crypto deposits are naturally free (except network fees).
---
5. International Exchanges Available in Malaysia
The number of international exchanges servicing customers from Malaysia is on the rise as well. Malaysians enjoy the service of most international exchanges, such as:
Coinmama
You can easily purchase Bitcoin from Coinmama with a credit or debit card, which makes getting your first Bitcoins simple and effective. While secure and reputable, this exchange usually has a pretty steep fee of up to 5.5% per transaction.
To learn more about this exchange read our full review of Coinmama here.
CEX.IO
Founded in 2013, CEX.io is a UK-based cryptocurrency exchange that enables you to buy and sell a wide variety of cryptocurrencies, including Bitcoin.
You can use a credit / debit card or a bank transfer to deposit funds into your account for free, with fees as low as 0.2% when trading.
To learn more read our full CEX.io review.
Changelly
Changelly is an instant crypto exchange that requires you to have cryptocurrencies in your ownership to begin with. You can use it to quickly swap any of its supported cryptocurrencies into Bitcoin. There are minimal fees of 0.5% per transaction and Changelly does not require you to sign up with your government issued ID.
Through their partners, you can also buy Bitcoin with a credit / debit card. There is a minimum limit of $50 and a maximum limit of up to $10,000 on your first transaction.
To learn more, read our full Changelly review here.
---
6. How Many Bitcoin ATMs are there in Malaysia?
At the time of writing there are a total 5 Bitcoin ATMs in Malaysia, with 3 in Kuala Lampur and all of them located in the Western part of the country. You can use this link to learn more about Bitcoin ATMs in Malaysia.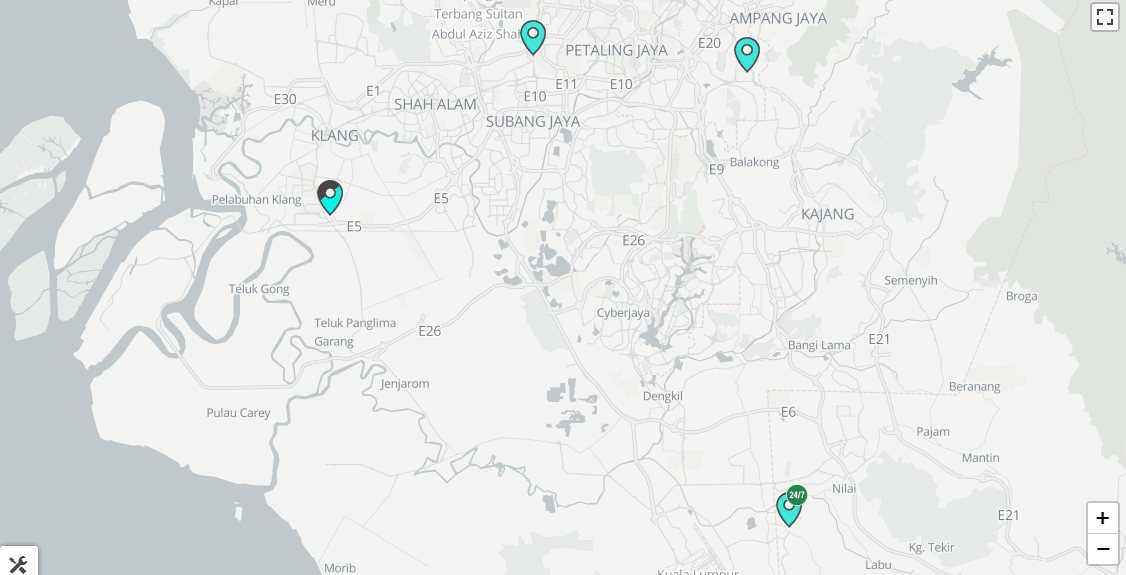 ---
6. Conclusion
While not being accepted as a legal tender, Malaysia's attitude towards Bitcoin seems to be warming up. By taking the step of regulating crypto exchanges, the government will hopefully ensure the financial safety of Malaysian crypto users.
That's it! If you have any feedback or personal experience with buying Bitcoin in Malaysia, please share them in the comments section below.