Luno Bitcoin exchange review
Last updated: 11/1/18
Luno is a Bitcoin and Ethereum exchange aimed mainly at developing countries such as Nigeria, Indonesia and Malaysia.
Luno review summary
Luno is a cryptocurrency exchange aimed mainly at emerging markets. Luno offers Bitcoin services to countries such as Malaysia, Nigeria and Indonesia which are usually not allowed on most Bitcoin exchanges.
If you want a detailed review of Luno keep on reading. Here's what I'll cover in this post:
---
1. Luno overview
Established in 2013 originally as BitX and rebranded to Luno in 2016, Luno has offices in 3 cities around the world – London, Cape Town and Singapore. The company serves over 2 million users from over 40 countries worldwide and has over 100 employees. The company is based in the UK and has raised over $13m from prominent investors such as Ventura Capital and Digital Currency Group.
---
2. Luno services
Luno offers several services for its users including a cryptocurrency trading platform, a brokerage service, a Bitcoin wallet and an API for developers. Your Luno account is controlled through a simple dashboard that gives you access to different sections such as the instant buy / sell service, account reports, settings, etc.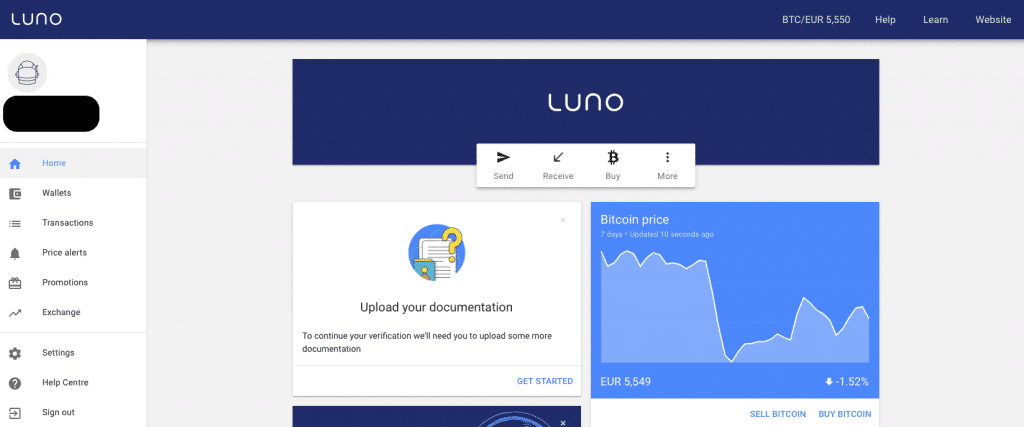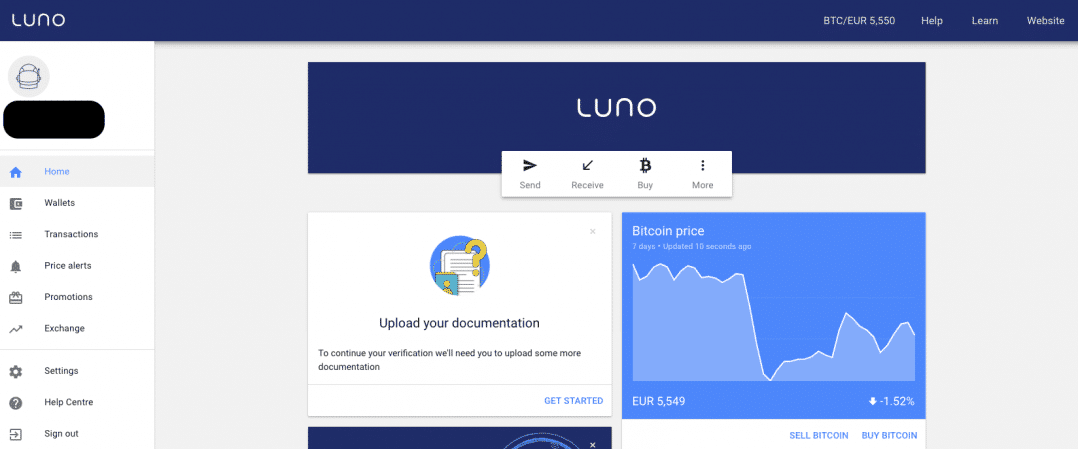 Luno's trading platform
Luno offers a Bitcoin to fiat trading platform for its users. The platform supplies users with features such as advanced charting, API access for automated trading, various indicators and in depth reporting.
Luno's trading volume at its trading platform is rather tiny, comparing to other trading platforms around. This is probably due to the fact that the site serves mainly visitors from developing markets. The fee structure for the exchange is pretty competitive mainly for market makers.
Luno's instant buy / sell (brokerage service)
Like many other exchanges out there, Luno offers a "simple" way to buy Bitcoin or Ethereum without the need to use to confusing trading platform. Luno simplifies the buying process by selling you the coins directly and charging a premium fee for their services.
How much fee? It's hard to tell. Fees vary between country and purchase amount so every transaction will end up having a different fee. That's a bit of a downside in my opinion, and if you do end up using this service, make sure to double check the fees.
Luno mobile wallet
Luno offers a Bitcoin wallet for iOS and Android that can be paired to your Luno account. This gives you greater flexibility to access your Luno account on the go, however it also means that you're not in control over your Bitcoins. The coins in your wallet are under Luno's control and you can't get access to the private key / seed of your Bitcoins if you needed to.
---
3. Luno currencies and payment methods
Luno supports the buying and selling of the following cryptocurrencies:
Bitcoin (BTC)
Ethereum (ETH)
Luno accepts the following fiat currencies:
Euro (EUR)
Indonesian Rupiah (IDR)
Malaysian Ringgit (MYR)
Nigerian Naira (NGN)
South African Rand (ZAR)
Luno accepts the following payment methods:
Debit / Credit card (EUR)
SEPA (EUR)
Bank transfer (IDR and NGN)
Interbank Giro / IBFT (MYR)
Card deposit  (NGN)
Paystack  (NGN)
GT Bank transfer (NGN)
EFT (ZAR)
Cash deposit penalty (ZAR)
Keep in mind that different payment methods have different fees incorporated within them, so make sure to double check before completing a deposit. Interestingly enough, credit and debit card deposits are free of charge with Luno, whereas at most other exchanges you can be charged up to 5%.
---
4. Luno fees
Luno has the following fees associated with its services:
Deposit fees (for certain payment methods)
Transaction fees (only for takers)
Withdrawal fees
Sending / Receiving fees from your Luno account to other Bitcoin addresses
Transactions are based on a taker maker fee schedule (you can read/watch a detailed explanation about that here). Makers don't pay anything while takers can end up paying anywhere between 0.25%-1% depending on the currencies they are trading.
It's important to note that if you use Luno's 'instant buy' feature, fees will vary depending on your country and amount of purchase. Make sure to double check before completing the transaction so you don't end up paying more than you intended.
Luno's fee structure is very confusing, it can be viewed in detail here.
---
5. Luno buying limits
Deposit limits depend on your account verification level:
Level 0 (email verification) – can't deposit / withdraw fiat at all
Level 1 (phone verification) – can deposit / withdraw up to 1000 Euros in total
Level 2 (ID verification) –  can deposit / withdraw up to 5000 Euros per month
Level 3 (proof of residence) –  can deposit / withdraw up to 100,000 Euros per month
If you're using the 'instant buy' feature you also have limits on how much Bitcoin / fiat you can buy in each order you submit. For example – you are limited to spending up to 8,000 EUR per order.
---
6. Luno supported countries
Luno is open to the following European countries:
Austria, Belgium, Bulgaria, Croatia, Cyprus, Czechia, Denmark, Estonia, Finland, France, Greece, Guernsey, Hungary, Iceland, Ireland, Isle of Man, Italy, Jersey, Latvia, Liechtenstein, Lithuania, Luxembourg, Malta, Monaco, Netherlands, Norway, Poland, Portugal, Romania, San Marino, Slovakia, Slovenia, Spain, Sweden, Switzerland, United Kingdom
It is also open for users from:
Indonesia
Malaysia
Nigeria
South Africa
---
7. Customer support and reviews
Luno has a very basic knowledge centre available on their website. There's also an option for dedicated email support if needed. At the time of writing Luno is doing relatively poor from a customer review perspective, scoring only 4.1 on TrustPilot. Most complaints are about locked accounts or funds that haven't arrived on time. Luno seems to be trying to respond to most of the critical reviews.
It's important to remember that customer support is probably the weakest link at any Bitcoin exchange. It's not uncommon to see ratings such as 2/10 or 3/10 for the most successful exchanges like Coinbase or even Bitstamp.
---
8. Conclusion – Is Luno Trustworthy?
To sum things up, it seems Luno has found their niche in the emerging markets. The company is highly focused on the main cryptocurrencies in countries that are usually overlooked by most other exchanges.
The website is solid, supplying users with all of the basics for buying or trading cryptocurrencies. Putting the limited geo availability aside (as this is more of a feature than a downside), the only thing I'd look out for is the dynamic fee schedule. Since each country and action you take on the site has different fees, it's important to make sure you don't end up overpaying because of a hidden fee.
Have you used Luno? I'd love to hear about your experience in the comment section below.
Bitcoin Video Crash Course
Dummy-proof explainer videos enjoyed by over 100,000 students. One email a day for 7 days, short and educational, guaranteed.
We hate spam as much as you do. You can unsubscribe with one click.