KuCoin Exchange Review and Comparison
By: Alex Miguel | Last updated: 12/12/22
KuCoin is a cryptocurrency exchange that offers deposits and withdrawals for over 400 different cryptocurrencies. In this review, I'll cover the services KuCoin provides, as well as some of its pros and cons.
KuCoin Review Summary
KuCoin is a crypto-only exchange which is known for providing access to all of the most popular cryptocurrencies, as well as a massive range of small or new projects.
Kucoin provides crypto-to-crypto spot trading, as well as margin and futures trading for the more popular currencies. Credit card purchases are also available for a narrow selection of major coins.
That's the basics of KuCoin. If you'd like to read about the exchange in more detail, keep reading, I'll be covering the following topics:
---
1. KuCoin Overview
KuCoin was founded by former Ant Financial technical expert Michael Gan, along with a team of 6 others. It officially launched in September 2017 and is currently operating in the Seychelles. KuCoin raised $20 million in round-A funding in late 2018, from IDG Capital and Matrix Partners.
---
2.KuCoin Services
KuCoin is built around its crypto-to-crypto exchange, which only allows users to trade between cryptocurrency assets, rather than fiat currencies. This is common in cryptocurrency exchanges, as it reduces regulatory issues.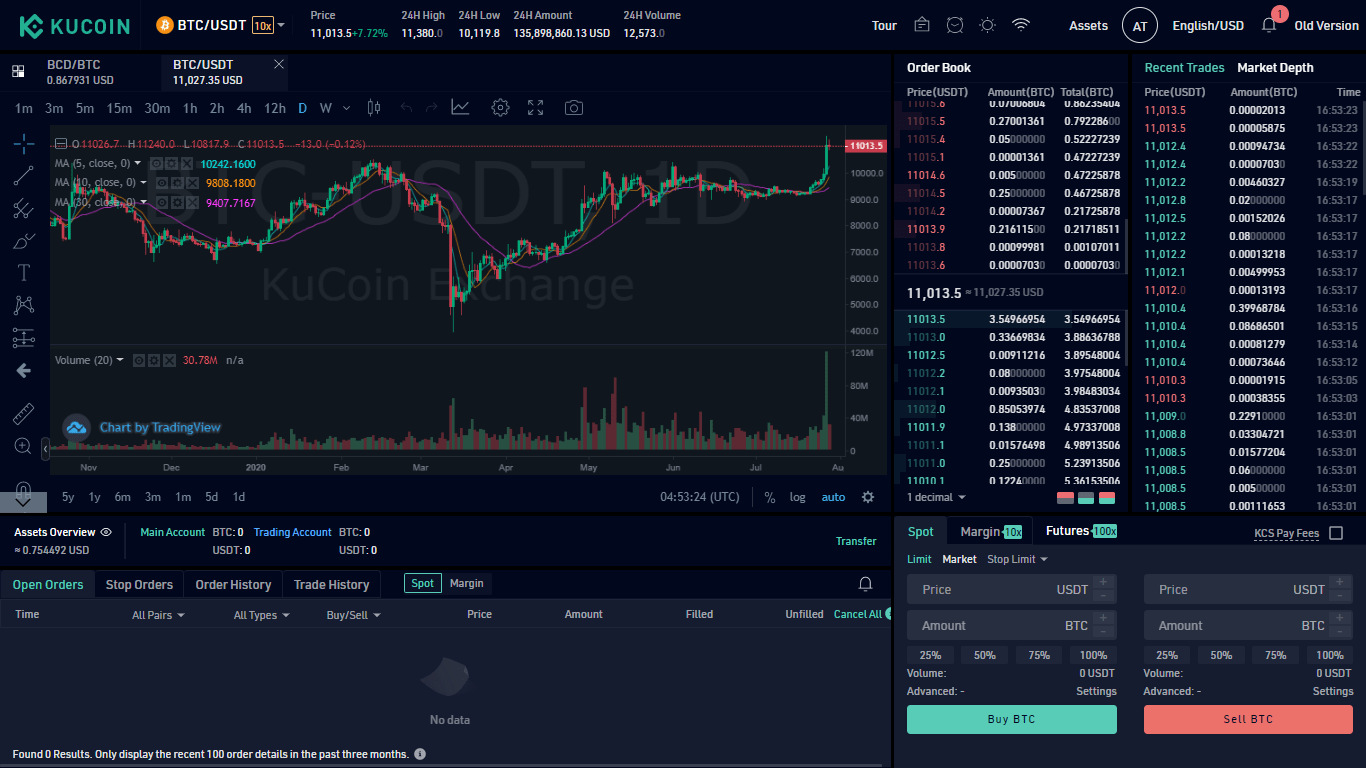 Their trading interface is very straight forward, with an advanced layout that provides all the usual bells and whistles that experienced traders use. This includes a candlestick chart, order books, a "recent trades" panel and functionality for different types of orders.
KuCoin is well known for their huge range of available assets, which spans all the way from popular top-20 cryptocurrencies to much lesser-known, small and new projects.
Cryptocurrencies on the exchange are traded against stablecoins like USDT, as well as BTC, ETH, NEO, TRX and their very own KCS (KuCoin Shares).
Kucoin also offers a brokerage service for users who wish to simply purchase crypto with a credit card. To make this possible, KuCoin has partnered with Simplex, Banxa and PayMIR to make this possible. Kucoin also offers a "Fast Buy" feature for IDR, VND and CNY.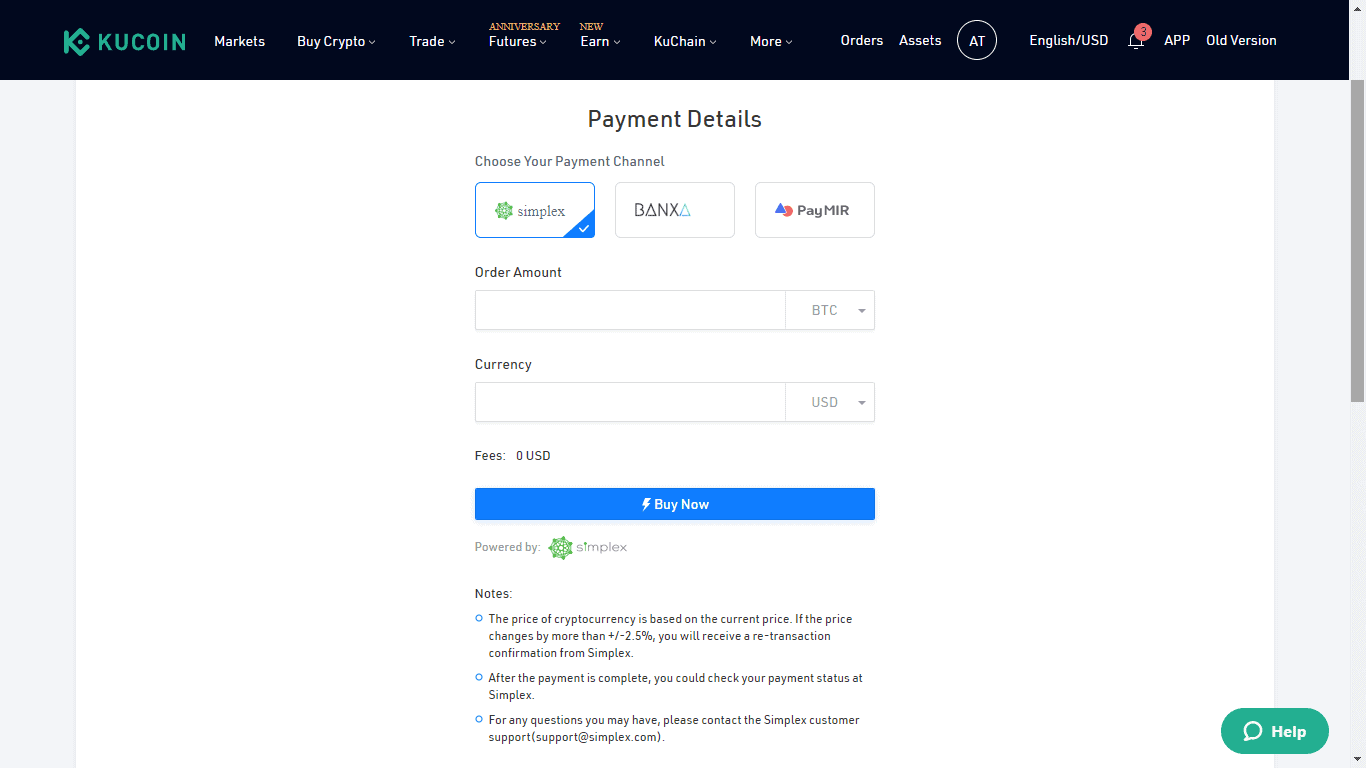 When it comes to staking, KuCoin has a section called "Earn", which allows users to earn a return on supported cryptocurrencies. This contains three categories: Flexible Terms, Staking and Promotions. Flexible Terms allows for withdrawals at any time, but offers lower yields. The other two categories offer higher returns, but it will take you a bit longer to redeem your coins. 
It's also worth noting that the Earn section will redirect you to Pool-X, a separate platform that is owned by KuCoin.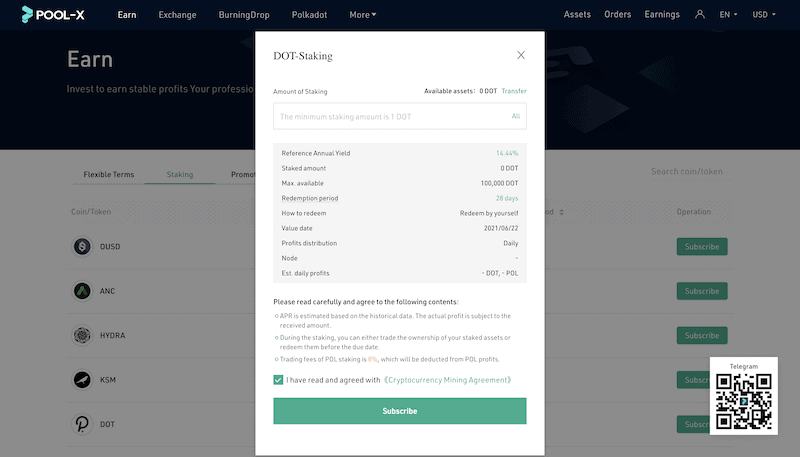 Lastly, KuCoin has a very handy trading app, which is available both on iOS and Android. The simplified user-interface is super user-friendly, with all of the exchange's features at your fingertips.
---
3.Currencies and Payment Methods
KuCoin accepts deposits solely in cryptocurrency assets. All assets available for trading on KuCoin can be deposited and withdrawn via your account wallets.
You can purchase several different cryptocurrencies on KuCoin using a credit card, including but not limited to:
BTC
ETH
USDT
LTC
XRP
BCHABC
TRX
ATOM
DASH
NANO
NEO
LUNA
COTI
EOS
In total, KuCoin supports a total of more than 400 different cryptocurrencies – an absolutely mammoth selection.
---
4.KuCoin Fees
KuCoin provides very competitive trading fees, with a maximum rate of 0.1% on any trade made on their spot markets. This fee is further reduced for those who pay using KuCoin Shares (KCS) and/or trade monthly volumes larger than 50 BTC.
Users can also reduce their fees by holding a certain number of KCS tokens in their accounts.
There are no deposit fees charged by the exchange and withdrawal fees are reasonable – mostly designed to cover the cost of blockchain transaction fees.
---
5.KuCoin Limits
KuCoin has 24-hour withdrawal limits of 2 BTC for regular unverified users, with limits of up to 500 BTC daily for fully-verified users.
Unverified individuals are also limited to 1400 USDT of fiat-to-crypto purchases daily.
Complete verification requires filling out a basic Know Your Customer (KYC) form, as well as providing a type of identification such as a driver's license or passport.
---
6.Supported Countries
KuCoin allows users from all countries to trade using their lowest verification level, which has a strict limit on withdrawal amounts.
However, some countries are prohibited from obtaining full verification, which would allow larger daily withdrawals. Specifically, KuCoin currently does not permit full verification for traders from the United States, limiting them to unverified withdrawal and purchase limits.
To see if your country is supported for full verification, sign up to KuCoin and visit the KYC page.
---
7.Customer Support and Reviews
KuCoin is generally loved for its fast-paced nature, constantly listing new and exciting projects before more prominent exchanges like Binance and Coinbase.
This is a double-edged sword, however, as lesser-known coin listings come with their fair share of extra risk for traders. De-listings, lower liquidity, volatility and other characteristics of small projects often get the better of novice traders.
Although this is not a problem with the exchange itself, it has led to some bad reviews from users who did not understand the risks they were undertaking.
KuCoin customer support features an online help center with FAQ section, a chatbox with automated help, and active assistance on social media channels.
The easiest way to get in touch with the platform for help with issues is via their support email, while users also report that their Telegram channel has a rapid response rate. KuCoin support is also active on their subreddit.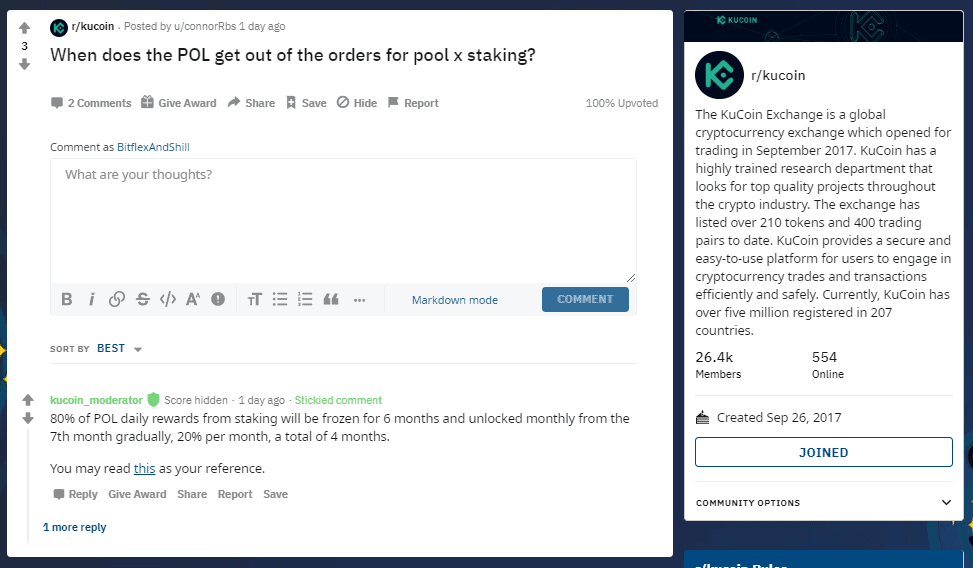 Many users have claimed to have issues with the chat box service, which mostly provides automated replies and excessive waiting times for receiving actual human assistance.
---
8.Conclusion – Is KuCoin safe to use?
KuCoin is an all-round solid exchange that offers low fees and services. The exchange caters to all types of crypto traders, from beginners to advanced traders.
The exchange has one of the largest selections of tradable assets that I've seen for any platform. This makes KuCoin a very popular choice among those who are looking for new small-cap altcoins before they are listed on larger exchanges.
KuCoin doesn't have fiat deposits or trading pairs, which can be a bit of a pain, but their debit and credit card purchase system somewhat alleviates the issue.
All in all, KuCoin does a great job at filling the gap between major and small exchanges. It provides a top-notch trading experience, but still allows traders to capture big-time opportunities in new and budding cryptocurrencies.
Have you had any experience with KuCoin? Let me know how you found it in the comments section, below!