CEX.io Review and Comparison Guide
By: Ofir Beigel | Last updated: 1/15/23
CEX.IO is one of the oldest Bitcoin exchanges around. The company supplies both a trading platform and brokerage services for Bitcoin, Ethereum and a range of other cryptocurrencies. In this post, I'll review the company, its services and compare it to other exchanges around.
Don't Like to Read? Watch Our 2 Minute CEX.io Review
---
CEX.IO Review Summary
CEX.IO is one of the more popular options for buying and selling Bitcoin and several other cryptocurrencies. The site offers a brokerage service, as well as a trading platform that supports 105 cryptocurrencies and 225 trading pairs.
If you're a beginner it's recommended to use the brokerage option rather than the site's trading platform.
That's CEX.IO in a nutshell. For a detailed review keep on reading, here's what I'll cover:
---
1. CEX.IO Overview
CEX.IO started out in 2013 in London as a Bitcoin exchange and cloud mining provider. At some point its mining pool, known as Ghash.io, was so big it held 42% of the total network mining power.
In January 2015 the cloud mining operations were shut down and today CEX.IO operates solely as a cryptocurrency exchange.
Over time, CEX.IO has matured into a group of companies with licences in multiple jurisdictions. CEX.IO LTD has been registered as a Money Services Business (MSB) with the Financial Crimes Enforcement Network (FinCEN), a bureau of the U.S. Department of the Treasury. CEX IO EU Limited provides card processing services to customers from the European Economic Area (EEA).
In 2019, CEX.IO also expanded its services in the U.S. with MTL licences that can serve 48 states.
---
2. CEX.IO Services
CEX.IO allows you to buy cryptocurrency using your credit card, a wire transfer, a SEPA transfer (if you live in the EU) or an ACH transfer (for US residents). The site supplies two ways for purchasing crypto – a trading platform and a brokerage service.
CEX.IO Brokerage Service
CEX.IO's brokerage service is a way for new users to buy cryptocurrencies through an easy (though somewhat more expensive) process. This means CEX.io will trade cryptocurrencies for you at a premium.
CEX.IO brokerage transactions are based on Fill-or-Kill orders (also known as FOK). FOK means are orders that are executed immediately and in full. This is different than placing your own order on the trading platform since different type of orders (i.e. market, limit, stop loss) will give you different type of results.
Bottom line – The brokerage service is a simplified way for beginners to get started with buying Bitcoin or any other crypto without needing to go through a complete course on trading.
The downside is that for this to work CEX.IO has to charge customers a premium so that they will always be able to fulfill their orders, hence the higher exchange rate.
The difference between the brokerage service exchange rate and a normal trading platform exchange rate can reach up to a 7% difference. CEX.IO has a very clear explanation on their site about how this service works, here's a summary of it:
When you enter a trade, CEX.IO calculates the price and freezes it for 120 seconds.  You input the amount of money you wish to spend and you see the amount of coins you can receive. After you press the Buy/Sell Button, the system checks to see that you have enough funds available.
If the situation on the market allows the execution of your order on conditions not worse than you agreed on, the order will be filled (The order can also be filled on more favourable conditions).
If there is a sudden spike in the exchange rate, preventing the execution of the order on the agreed conditions, you will be notified. After you confirm the trade, your order is matched to other orders on the exchange, and your balance is adjusted. Sometimes the amount can be even greater than agreed on, but is never smaller.
CEX.IO Trading Platform
More advanced users can use CEX.IO's trading platform. The upside for using the platform is that fees are extremely lower. Just for comparison, while fees on a brokerage trade can reach up to 7%, fees on the trading platform reach 0.25% at max.
The trading platform is pretty advanced and supplies all of the features you'd expect such as market and limit orders. The trading platform has decent liquidity, allows cross platform trading (via a mobile app and several APIs) and also supplies you with advanced reporting.
Bottom line – if you're an experienced trader CEX.IO's trading platform is where you should conduct your transactions (as opposed to the brokerage service).
CEX.IO Margin Trading
In the past, CEX.IO allowed users to conduct margin trading, straight from its trading platform. However, since 2019 CEX.IO opened a dedicated margin trading service called CEX.IO Broker.
CEX.IO Broker is a platform for cryptocurrency trading via CFDs featuring a variety of orders types, technical analysis instruments and advanced trading tools. It allows users to leverage their position and increase their profit possibilities (while also increasing the risk they are exposed to).
Margin trading is only recommended to experienced traders, when trading CFDs you aren't buying actual coins, you're just speculating on a coin's price. This means you won't be able to withdraw profits in the actual cryptocurrency you're trading, only in fiat or Bitcoin.
At the moment margin trading on CEX.IO is available for Bitcoin and Ethereum and Litecoin only.
---
3. Currencies and payment methods
Supported cryptocurrencies for buying via the brokerage service:
Bitcoin (BTC)
Ethereum (ETH)
Ripple (XRP)
Bitcoin Cash (BCH)
Bitcoin Gold (BTG)
Dash (DASH)
Stellar (XLM)

Litecoin (LTC)

Tron (TRX)

BitTorrent (BTT)

MetaHash (MHC)

Ontology (ONT)

Ontology Gas (ONG)

Cardano (ADA)

Neo (NEO)

Gas (GAS)

Cosmos (ATOM)

Basic Attention Token (BAT)

Tezos (XTZ)

Matic Network (MATIC)
All currencies can be purchased with USD. Some currencies can also be purchased with EUR, GBP and RUB.
Supported cryptocurrencies for trading:
Bitcoin (BTC)
Ethereum (ETH)
Ripple (XRP)
Bitcoin Cash (BCH)
The mentioned cryptocurrencies can also be traded between themselves (e.g. BTC/XRP, ETH, BCH, etc.)
Supported cryptocurrencies for deposits:
Bitcoin (BTC)
Ethereum (ETH)
Ripple (XRP)
Bitcoin Cash (BCH)

Litecoin (LTC)

Tether (USDT)

Tezos (XTZ)

Matic Network (MATIC)

Basic Attention Token (BAT)
Supported fiat deposit currencies:
Supported payment methods:
Credit / debit card
Wire transfers (including SEPA)
Domestic bank transfer (ACH)
Skrill (for EUR and GBP)
---
4. Fees
One of the biggest complaints users have about CEX.IO is the amount of fees and hidden charges the company has. For example, CEX.IO can take up to a 7% fee from the amount of fiat currency you pay for a service.
For example, if you buy $1000 worth of Bitcoins you may get as little as $930 worth. This means that the high exchange rate you see on CEX.IO already includes the service fee within it, but no other fees will apply.
However, the fee stated above is only relevant to the instant-buy service. Different fees apply to the trading platform. In order to trade you'll need to fund your CEX.IO account with either a bank wire, SEPA transfer  (both have no commission on CEX.IO's part) or a credit card (2.99% fee).
Withdrawal fees can reach up to 3% plus commissions of up to $25, depending on your currency and payment method (credit cards are the most expensive option).
Transaction fees work on a maker-taker model. This means that the person who created the order (the maker) usually pays a lower fee than the person who fulfilled the order (the taker).
Depending on your side in the transaction you'll pay anywhere between 0.00%-0.25% at the most. A complete table of CEX.IO's trading fees can be found here.
Margin trading on CEX.IO Broker is currently commission-free.
---
5. Buying Limits
There are four different account verification tiers on CEX.IO:
Identity
Address
Enhanced
Corporate.
Identity verified accounts can buy up to $1,000 worth of crypto per day. These users can only use a credit card to fund their purchases.
Address verified accounts can buy up to $10,000 worth of crypto per day and withdraw $50,000 per day. Enhanced Corporate verified accounts have no limitations on the amount of crypto that can be bought.
In order to become verified, you'll need to supply a government issued id and personal information about yourself. For a complete list of accounts and limits visit this page.
---
6. Supported countries
CEX.IO has strong worldwide support for most countries and states except for the following exceptions:
Countries not supported for credit card purchases:
Afghanistan, Algeria, Bosnia and Herzegovina, Bahrain, Bangladesh, Bolivia, Burundi, Cambodia, Democratic Republic of the Congo, Central African Republic, Cuba, Algeria, Ecuador, Ethiopia, Iraq, Iran, Iceland, Kuwait, Laos, Lebanon, Libya, Morocco, Nepal, Nigeria, North Korea, Oman, Pakistan, Palestine, Qatar, Saudi Arabia, Somalia, South Sudan, Sudan, Syria, Uganda, Vietnam, Vanuatu, Yemen, Zimbabwe.
Also MasterCard withdrawals for users from India are disabled.
Countries not supported for wire transfers:
Afghanistan, Bosnia and Herzegovina, Burundi, Democratic Republic of the Congo, Central African Republicc, Côte d'Ivoire, Cuba, Eritrea, Ethiopia, Guinea, Guinea-Bissau, Haiti, Iran, Iraq, Kenya, North Korea, Laos, Lebanon, Liberia, Libya, Nigeria, São Tomé and Príncipe, Somalia, South Sudan, Sudan, Syria, Tanzania, Tunisia, Uganda, Vietnam, Vanuatu, Yemen, Zimbabwe.
---
7. Customer support and user reviews
TrustPilot gives CEX.io a rating of "Average". Reddit also has its share of CEX.IO reviews but I couldn't find anything particularly good or bad Redditors had to say about the exchange.
For the TrustPilot reviews, it seems that the majority of dissatisfied user reviews are either complaining about the hidden fees (i.e. high exchange rate), the identity verification process or the site's customer support.
The first two issues are usually related to people not understanding the fine print, and CEX.IO has made relatively clear how much will you pay for your coins. As can be seen below: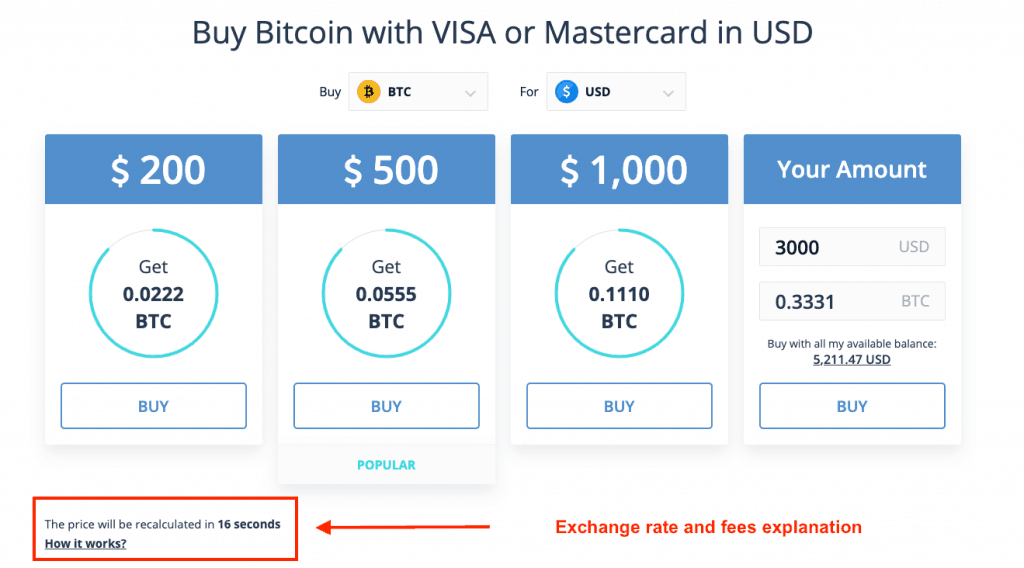 Regarding support, the main thing I can say is that CEX.IO is definitely making an effort to improve on this aspect. I say this mainly because of two things:
I see their representatives continuously replying to angry commenters on 99Bitcoins and also on TrustPilot (you can take a look at the comment section below).
While not too encouraging, the company's TrustPilot rating used to be 3.9 and now it's 6.1 – that's a 56% increase which is not something to take lightly.
While I can't say the exchange is free from support issues, I can testify as an exchange user that whenever I had an issue in the past I always received a relevant answer in a timely manner.
---
8. CEX.IO compared to other exchanges
Here's a short comparison of CEX.IO's brokerage service compared to other popular services around.
IMPORTANT – The fees for credit card purchases can be pretty confusing. First, you have the exchange fee, and then you have the credit card clearing fee. In CEX.IO's case, the credit card fee is 3% and the exchange fee is 7%. so it's a 10% fee in total.
CEX.IO VS Coinmama
Coinmama charges a 5.9% fee on credit card purchases which is cheaper than CEX.io's 7%. However, their credit card clearing fee is an additional 5%. Comparing the final price of the two exchanges you'll get more or less the same result. Read my Coinmama review here.
CEX.IO VS Coinbase
Coinbase charges a 3.99% fee for credit card purchase which is higher than the 2.99% CEX.IO charges. However, Coinbase's exchange fee is much lower than CEX.IO.
When comparing the actual cost of buying 1 Bitcoin through both companies it turns out that Coinbase is 4% cheaper than CEX.IO and is probably the cheapest option than all of the compared exchanges in this post. You can read my complete Coinbase review here.
CEX.IO VS Bitstamp
Bitstamp is a respected Bitcoin exchange that supplies both a trading platform and a brokerage service for buying Bitcoins. Buying through Bitstamp's service will actually be cheaper by 2.5% than through CEX.IO's brokerage service. Using your credit card you can purchase up to $1500 a day or $15,000 monthly.
You can read my complete Bitstamp review here.
CEX.IO VS Binance
Binance has partnered with Simplex to allow credit card purchases of cryptocurrencies on their site. Compared to CEX.IO they offer an exchange rate that is 3% lower. However this does not take into account Simplex's fees (i.e. credit card clearing) which I believe bring the final price to be more or less the same.
You can read my complete Binance review here.
---
9. Frequently Asked Questions
Is CEX.IO a Wallet?
No. CEX.IO is a cryptocurrency exchange. While you can hold your funds on the exchange's web wallet, it's highly recommended to move them to your own wallet.
Does CEX.IO require ID?
Yes. All verification levels on CEX.IO require An international passport/national ID card/driver's license. This document should be valid and internationally recognized. Check that it's issued with Latin characters or with Latin transliteration of the main fields.
How do I Buy Bitcoins on CEX.IO?
Go to CEX.IO
Click on "buy/sell"
Choose the cryptocurrency you want to buy and your payment currency
Choose an amount to buy
Click on "buy"
Complete the sign up process and verify your identity
Enter your payment information
Withdraw the coins to your wallet
---
10. Conclusion – Is CEX.IO Trustworthy?
Until today I have used CEX.IO several times and haven't had any issues. I think it's a solid exchange, with the only downside being the high fees they charge for their brokerage service. If you're a more advanced user, you can cut dramatically on fees by using the trading platform and not the brokerage service.
In the past year or so the exchange has leapfrogged forward and has become one of the leading exchanges around. The user interface is very intuitive and even complete newbies will manage to buy cryptocurrencies with it.
Bottom line – you're good to go, as long as you are aware of the fees and the verification process needed to buy more substantial amounts of Bitcoin.