How to Buy Bitcoin in Singapore
By: Steven Hay | Last updated: 2/11/22
In this guide, I will review Bitcoin's status in Singapore, how popular it is and the different exchanges you can use to put your hands on bitcoins in Singapore.
How to Buy Bitcoin in Singapore Summary
Bitcoin is completely legal and regulated in Singapore. Cryptocurrency exchanges are expected to collect information regarding the identity of their users, report suspicious transactions and to actively enforce KYC and CFT (Countering the Financing of Terrorism) requirements.
To buy Bitcoins in Singapore, follow these 4 simple steps:
Get a Bitcoin wallet
Visit Coinmama
Choose how many Bitcoin you wish to buy
Enter your payment information and bitcoin address
If Coinmama isn't a good fit for you here are some additional exchanges for buying Bitcoin in Singapore:
That's how to buy Bitcoin in Singapore in a nutshell. For a more detailed review read on, here's what I'll cover:
---
1. Is Bitcoin Legal in Singapore?
Singapore was the second country in the world to regulate cryptocurrencies, right after the United States of America. The national bank of Singapore has devised a plan to incorporate cryptocurrency exchanges and regulate their operations.
As part of the law, exchanges in Singapore are required to collect identity information from their users and to actively work to prevent money laundering and terrorist financing.
Individuals in Singapore can safely buy, sell, and own cryptocurrencies. However, they are still subject to taxation, except in very specific scenarios. According to Singaporean law, there is no taxation on capital gains.
This means that any individual or business which takes up a long term position in any cryptocurrency is free to enjoy any resulting profits completely tax-free. However, trading activity is not similarly exempted from taxation.
Businesses in Singapore that choose to accept digital currencies are expected to pay the normal tax rates on all crypto-generated income. The value is calculated depending on the market value of the crypto at the time of the received transaction.
---
2. How Popular is Bitcoin in Singapore?
Singapore is one of the main financial hubs in Asia. As such, it is very close to anything that has to do with money, and that certainly includes Bitcoin. Google Trends charts showcase an interesting scenario about how connected Singapore is with Bitcoin.
In the past 12 months, the popularity of the keyword "Bitcoin" held strong, with some response to market movements:

Overall, LocalBitcoins volume is relatively low for Singapore. This could be explained by the fact that unlike other countries with a more complicated crypto market, the positive legal status of Bitcoin in Singapore makes face-to-face trades less attractive.

---
3. Main Singaporean Bitcoin Communities
Singapore is a very socially-connected country, so it makes a lot of sense that the majority of Bitcoin communities would be meeting personally, as opposed to maintaining a strictly online presence. The local Meetup groups are a promising place to start if you're interested in meeting other Bitcoin enthusiasts.
You may also find people to discuss Bitcoin on these online resources:
---
4. Singapore-based Bitcoin Exchanges
Huobi Global (HBG)
HBG, originally a Chinese cryptocurrency exchange, was forced to expand elsewhere once China adopted a regulatory-hostile stance towards cryptocurrency businesses.
Huobi is an established global company by this point, and their headquarters have been recreated in Singapore. From there, they manage all their crypto business across the world, as well as offering their services to local crypto users.
Huobi's base transaction fee is 0.2%, with better rates for more active traders. You can read their fee structure here.
CoinHub
CoinHub is another well-known cryptocurrency exchange based in Singapore. This is a newer exchange, which was created in 2017. CoinHub collaborates with blockchain development and cybersecurity experts to provide a safe and reliable experience for their users.
Coinhub uses a maker-taker model, with makers' transaction fee being 0.2%, and takers' being 0.25%.
---
5. International Exchanges Available in Singapore
Singapore is extremely pro-crypto. As such, the international cryptocurrency exchange scene is competing for the increasing demand in Singapore. Binance opened up a special branch in Singapore.
Here are a few of the many international exchanges which you can use safely:
Coinmama
Coinmama, established 2013,  has proven itself to be a real guardian of cryptocurrency and especially Bitcoin, fostering a significant amount of interest in that technology. Coinmama is able to satisfy the needs of crypto buyers and sellers around the globe.
You can easily purchase Bitcoin with a credit or debit card or an international bank transfer, which makes getting your first Bitcoins simple and effective.
While secure and reputable, this exchange does have a steep transaction fee of up to 5.5% per transaction.
To learn more about this exchange read my full review of Coinmama here.
CEX.IO
CEX.io, founded in 2013, is a UK-based cryptocurrency exchange that enables you to buy and sell a wide variety of cryptocurrencies, including Bitcoin.
You can use a debit card or a bank transfer to deposit funds into your account for free, with fees as low as 0.2% when trading.
To learn more read my full CEX.io review.
Changelly
Changelly is an instant crypto-to-crypto exchange requires you to have cryptocurrencies in your possession to begin with. You can use it to quickly and simply buy Bitcoin if you have any of the other supported cryptocurrencies.
There are minimal fees of 0.5% per transaction and Changelly does not require you to sign up with your government-issued ID.
Through their partners, you can also buy Bitcoin with a debit card for a minimum of $50 and up to $10.000 on the first transaction.
To learn more read my full Changelly review here.
---
6. How many Bitcoin ATMs are there in Singapore?
There are a total of 7 Bitcoin ATMs in Singapore, most of them featuring both buy and sell functions for users. The latest one to be established in the country belongs to CoinRepublic, as described in this article.
All of the ATMs can be found in the center of Singapore, located within a 3km radius around the City Hall near the Downtown Core: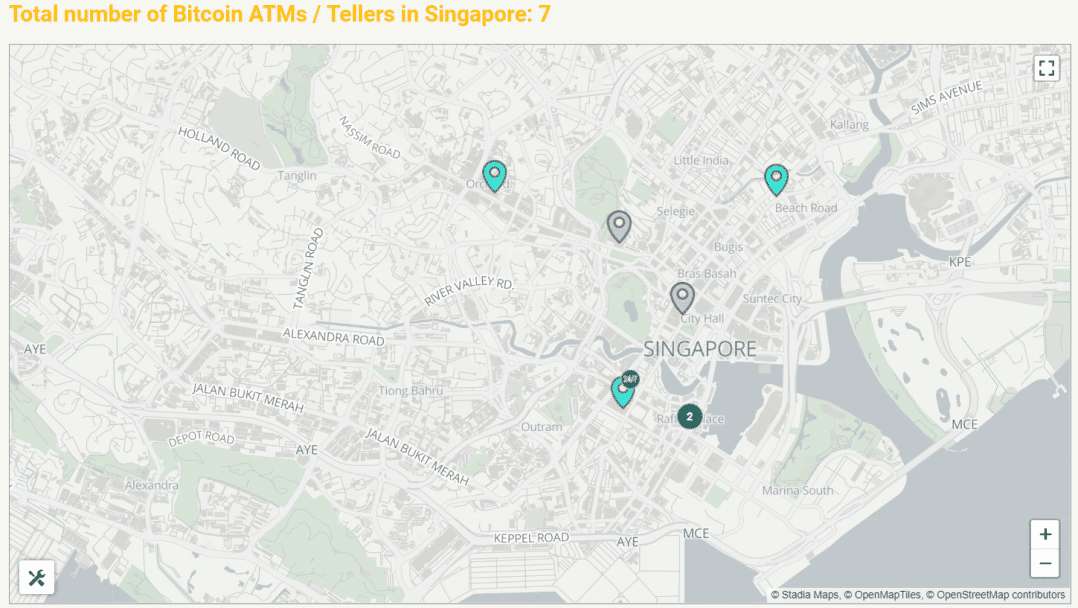 ---
7. Conclusion
By regulating Bitcoin and cryptocurrency, Singapore is raising millions in taxes and have attracted many big crypto businesses and start-ups. There are many options to buy and sell Bitcoin in Singapore, and the climate is most favorable towards Bitcoin users.
That's it! If you have any questions or had any experience with buying Bitcoin in Singapore let me know in the comment section below.