Buy Bitcoin in Spain
By: Eliot Prince | Last updated: 2/11/22
Looking to buy Bitcoin in Spain? Read this guide for all the information on Bitcoin's status in Spain and the best Bitcoin exchanges.
How to buy Bitcoin in Spain Summary
Buying Bitcoin in Spain is made easy thanks to access to large European platforms and a high number of Bitcoin ATMs. To Buy Bitcoin in Spain follow the instructions below:
Download or get your Bitcoin wallet
Go to Coinmama
Choose the amount of Bitcoin you wish to buy
Enter your payment information and Bitcoin address
You can also use of these exchanges for buying Bitcoin in Spain:
Continue reading if you want an in-depth review of buying Bitcoin in Spain. In this article I will cover:
---
1. Is Bitcoin legal in Spain?
Although it is not considered legal tender or money in any way, Bitcoin is legal to buy, sell and exchange as a method of value in Spain. The Spanish government is very cautious about cryptocurrency in general, using existing legislation until a more specific European framework is developed.
The Bank of Spain is quick to point out perils to investors, making it clear that Bitcoin is a danger as it is not safeguarded, backed or guaranteed by any existing regulation. Due to that, cryptocurrencies are generally considered commodities falling under the contract of barter legislation.
In accordance with the European Union's stance on Bitcoin, profits made from Bitcoin should be levied by income tax while transactions for goods and services are exempt from Value Added Tax (VAT).
---
2. How popular is Bitcoin in Spain?
The chart below shows Bitcoin's weekly trading volume in Europe for LocalBitcoins. European volumes follow the global market movements for Bitcoin. It drops off sharply after the price volatility of 2018, sitting regularly at €2 million before slowly moving upwards to €4 million as Bitcoin returned to over €10,000 per coin in June 2018.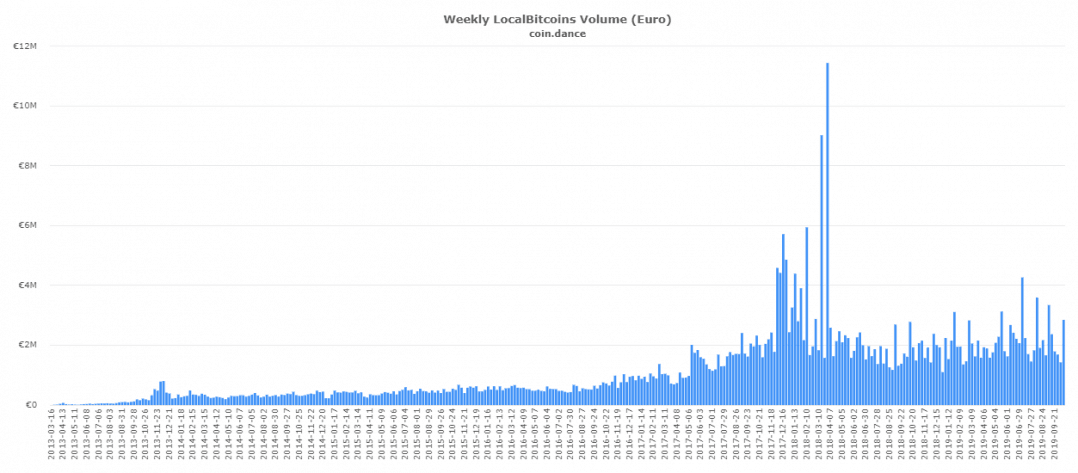 Google Trends, below, with the search term Bitcoin in Spain, reveals the popularity and interest. It correlates to the trading volumes and market valuations for Bitcoin over 2019. Early in the year, it depresses below 50 before growing and spiking to 100 in June, during the same uptrend discussed above.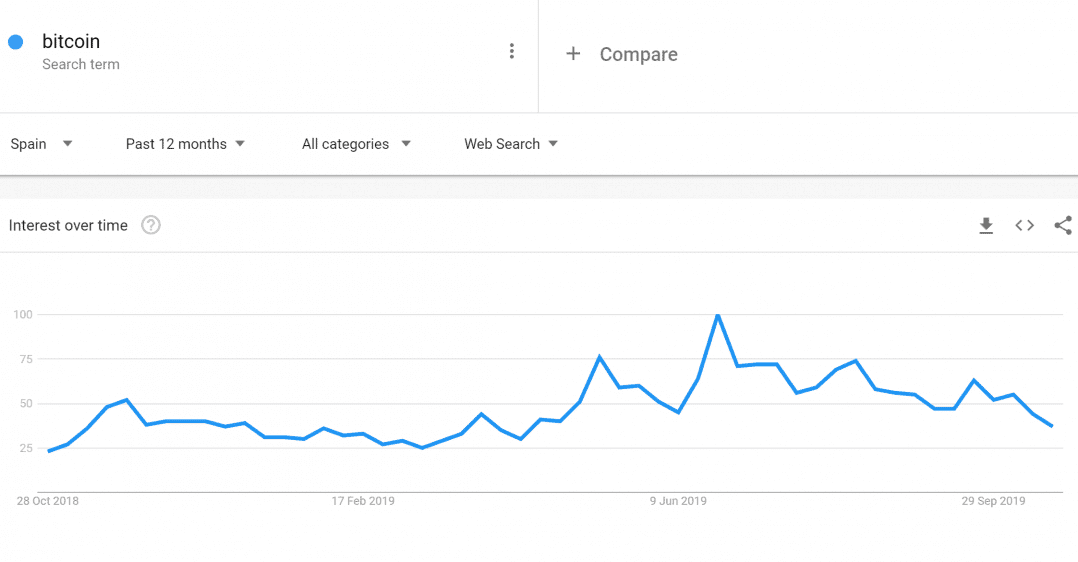 ---
3. Main Spain Bitcoin communities
Spain has a selection of Bitcoin communities to meet and chat with like-minded people. Here is a selection for you to check out:
---
4. Spain-based Bitcoin exchanges
After a thorough look for Spain based Bitcoin exchanges, it was hard to find anything legitimate to recommend. The options below are EU based, allowing Euro and SEPA Bitcoin buys:
CEX.IO
CEX.IO is available in most countries around the world. Founded in 2013 with its headquarters in London, this cryptocurrency exchange allows users to buy and sell Bitcoin as well as a selection of altcoins.
Both credit cards and SEPA bank transfers are accepted payment methods, with low fees of 0%–0.2% on trades. CEX.IO offers both a trading platform and a brokerage service, both entail different fees. You can read our full CEX.io review here.
Coinhouse
Coinhouse aims to make cryptocurrency investments easy for first-time buyers. Operating since 2014, the business is based in Paris and affiliated to Ledger; a popular hardware wallet provider. Coinhouse offers customers an online platform and a bricks and mortar location. It has served over 200,000 EU customers with easy access to Bitcoin, Ethereum, Litecoin, XRP and Bitcoin Cash.
The platform is a broker service removing the technical complexities of buying Bitcoin, it even provides a personal investment service to its customers. You can read our full Coinhouse review here.
bitFlyer
bitFlyer is an international cryptocurrency exchange based in Tokyo that has a regulated EU branch offering services to Spanish users as well. The exchanges allows users to buy and sell Bitcoin and a small range of altcoins, like Ethereum and Litecoin.
Buying and selling crypto is free of charge but subject to bitFlyer's exchange rate, withdrawals are charged based on the withdrawal method. Trading on the Lightning exchange cost 0.01% to 0.20%. Beyond credit and debit cards, SEPA payment option, bitFyler recently introduced PayPal payments as well. You can read my full review of bitFlyer here.
---
5. International exchanges available in Spain
International exchanges provide extra options to Spanish customers with many supporting Euros and helpful deposit methods. Here is a top selection available to you:
Coinmama
Coinmama may be based in Israel, but it's available in a huge number of countries, including Spain. It was launched in 2013, and it offers convenience: you can buy Bitcoin with a debit or credit card.
The downside is that the fees are on the high side at 5.5% per transaction and 5% per credit or debit card transaction. You can read our full review of Coinmama here.
Paxful
Paxful is a P2P marketplace, which allows buyers and sellers to meet online and trade Bitcoin directly with each other. Founded in 2015,  by now they have offices in multiple cities around the world.
Sellers on Paxful accept over 300 payment methods, including SEPA bank transfers, Visa, MasterCard, and PayPal. If you're buying Bitcoins on Paxful, you won't have to pay any fee to the site itself, but the price of Bitcoin is traded at a premium because of this. You can read our full Paxful Review here.
Coinbase
Coinbase has been in operation since 2012 and is often considered as the place to go for first time Bitcoin buyers. As a worldwide operation, European customers have extensive functionality for dealing with Euro and SEPA purchases.
Users can deposit funds via bank transfer, debit and credit card, plus PayPal withdrawals are also available. Fees are generally fair at just over 2%, although cheaper options do exist. The platform is user-friendly for the 'non-techy' amongst us.
The only criticism is its lax customer support, which has trouble dealing with the requests of a huge customer base. You can read our full Coinbase review here.
Changelly
Changelly is a crypto-only exchange, founded in 2015. Signing up for an account doesn't require any personal information, and you'll then have a quick and easy way of exchanging cryptocurrency from one wallet to another.
There's a fixed fee of 0.5%, which is slightly higher than many other Bitcoin exchanges. You can read our full Changelly review here.
---
6. How many Bitcoin ATMs are there in Spain?
As of 2019ֿ, there are 84 Bitcoin ATMs in Spain, according to CoinATMRadar. Madrid and Barcelona are particular hotspots while Valencia and Malaga also offer decent coverage.
---
7. Conclusion
Bitcoin is completely legal to use in Spain, although the government and central bank remain guarded about its future. No specific regulation exists currently with Bitcoin being fitted into existing legislation.
It is unclear what the future plans are in Spain, so individuals and companies should keep an eye on the changing landscape. At the time of writing, I couldn't find any local Spanish Bitcoin exchange platforms. However, being a European nation, buying Bitcoin in Spain is easy thanks to a huge selection of EU and International exchanges accepting Euros for Bitcoin.
Know of any change in Bitcoin's legal status in Spain? Do you have experience with the exchanges I've mentioned above? If yes, let me know in the comment section below.