eToro Review – A Complete Beginner's Guide
By: Ofir Beigel | Last updated: 11/11/21
eToro is a digital global trading platform for currencies, cryptocurrencies, commodities, indexes and stocks. It currently has over 7 million users worldwide. With an angle on cryptocurrencies in this review, I'll take a hands-on look at the eToro platform and its pros and cons.
Note: This content is not intended for US residents and not authored by eToro USA LLC, eToro USA Securities, or a US affiliate. Also, this review will focus on eToro's trading platform. For a complete review of eToro's cryptocurrency exchange, eToroX, read this post.
Don't Like to Read? Watch Our 2 Minute eToro Review
---
eToro Review Summary
eToro is a pioneering trading company that puts an emphasis on cryptocurrency. It supplies users with an easy to use trading platform for investing in cryptocurrencies and a mobile wallet for trading and sending funds (but not for receiving them).
The company does a great job allowing people to invest easily in Bitcoin and a variety of other leading cryptocurrencies, with a variety of payment methods. Having said that, eToro is recommended mainly for speculation, as the option to withdraw your crypto assets to your private wallet is still not as straightforward as with other trading platforms.
That's eToro in a nutshell. If you want a more detailed review about eToro keep on reading, here's what I'll cover:
---
1. eToro Overview
In operation since 2007, eToro's service enables users to trade almost anything in one platform. Branded as a social investment network, it combines a modern trading system with the ability to interact with other users.
CEO Yoni Assia wants the platform to disrupt the outdated banking system and help usher in a new digital financial age. If you're investing in cryptocurrencies, then there are probably some ideals to be matched in this respect. eToro enables the trading of a select number of cryptocurrencies.
The company went through many different cycles, the most recent one being the introduction of eToroX – a fully regulated cryptocurrency exchange.
---
2. eToro services
eToro's platform allows users to invest in a variety of assets including commodities, stock, currencies, indices and of course cryptocurrencies. The main "twist" eToro added to its platform is the ability to follow and copy other traders, making eToro a social trading platform.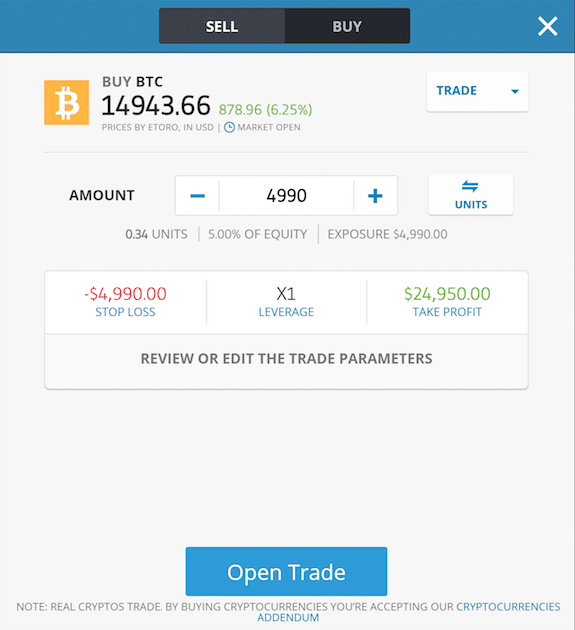 Copying traders and CopyPortfolios
Aside from deciding on your own what to invest in, eToro gives you two other options: Copy other traders or invest in a CopyPortfolio.
CopyPortfolio is a portfolio management product. It's somewhat similar to investing in a specific index where someone chooses a mix of assets to invest in for you. Investing in it will automatically copy multiple markets or traders based on a predetermined investment strategy.
You can invest in two types of CopyPortfolios:
Partner Portfolios – An investment vehicle Created by eToro partners.
Market Portfolios – Top performing assets from a specific market.
CopyPortfolios aim to help investors minimise long-term risk by creating diversified investments. Once you invest in a CopyPortfolio, your capital is professionally managed by eToro's investment committee. Each CopyPortfolio's performance is analysed in depth and rebalanced automatically to maximise its gain potential.
eToro's CryptoPortfolio
eToro also has a very special product called a CryptoPortfolio. It basically allows you to invest in the most popular cryptocurrencies like Bitcoin, Ethereum, Dash, Litcoin, Ripple and Ethereum Classic. The minimum investment for the CryptoPortfolio is $5,000.
Investing in this portfolio will expose you to more currencies simultaneously and diversify some of the risks involved with investing in only a single cryptocurrency. There are several requirements that a cryptocurrency has to meet in order to be included in the CryptoPortfolio:
Minimum market cap of $1 billion
Minimum average monthly trading volume of $20 million.
Each currency will have a weight in the portfolio that is equal to the size of its market cap (the minimum is 5%). If for some reason a currency drops below the minimum requirements, it is automatically removed from the portfolio.
The CryptoPortfolio is analyzed and rebalanced on the first trading day of each month.
eToro's Cryptocurrency Wallet
eToro have also launched their own wallet for iOS and Android, allowing users to trade and transfer cryptocurrencies through their mobile phone. However, the wallet doesn't seem to be a true cryptocurrency wallet but rather a better interface to eToro's existing platform.
eToro's wallet doesn't give you full control over your funds by supplying you with a unique seed phrase or private key, which is what you get with a true wallet. Instead, it allows you  to log into your eToro account and trade or send specific currencies through it.
In the end, it's eToro that stores your funds, and not the wallet itself. Having said that, you do have the option of sending funds outside of the wallet to a self hosted wallet.
While eToro's wallet may be a good solution for beginners, it is not a good way to store large amounts of money if you're serious about cryptocurrency. At the moment, the wallet supports Bitcoin, Litecoin, Ethereum and Bitcoin Cash.
eToroX
On April 26, 2019 eToro announced the launch of eToroX – A fully regulated cryptocurrency exchange. Unlike the investment service I've mentioned before, eToroX gives you actual access to crypto assets (i.e. you can withdraw them from the exchange).
---
3. Currencies and Payment Methods
Cryptocurrencies supported
Investments in eToro are mostly done in the form of CFD, meaning you only speculate on the price (you don't get to own the actual coins). Read this article from eToro to understand which types of investments are available to you per your preferences and location.
There's 25+ coins listed on eToro, including but not limited to:
Bitcoin (BTC)
Ethereum (ETH)
Ripple (XRP)
Solana (SOL)
Litecoin (LTC)
Bitcoin Cash (BCH)
Dash (DASH)
Ethereum Classic (ETC)
Cardano (ADA)
IOTA (MIOTA)
Stellar (XLM)
EOS (EOS)
NEO (NEO)
Zcash (ZEC)
Binance Coin (BNB)
Deposit methods
eToro supplies a wide range of options for depositing money to its platform including:
Credit / debit card
Wire transfer
PayPal
Skrill
Neteller
Webmoney
Giropay
China Union Pay
Yandex
Local Online Banking
Minimum first time deposit is $50 for US users, see the full deposit limits VS location here. eToro accounts are denominated in USD so whatever currency you deposit will automatically be converted to USD.
---
4. eToro Fees
Due to the complex amount of trading options on eToro, the fee structure varies from asset to asset. Looking directly at the cryptocurrency trade fees will be quite a shock for serious investors.
Bitcoin costs a hefty 0.75% fee when exiting a position, higher than most other exchanges. Other altcoins trade at a 2%–4% fee which is pretty extreme. Check out the full list of fees here.
For non-US users there's also a withdrawal fee applicable when you decide it's time to cash out. You can only cash fiat money out of eToro, and you'll be charged $5 for each withdrawal ($0 for US users).
Another sting in the tail exists for some unfortunate users. eToro charges an inactivity fee to users who have not logged in for 12 months.
If you're a long-term holder, don't get caught out by this; your account balance will be debited $10 per month once it's deemed inactive. Remember to log in and check up on your investments every quarter.
---
5. Supported countries
Due to recent changes in regulations, eToro is NOT available in the following countries:
Afghanistan, Aland Islands, Albania, Anguilla, Antarctica, Antigua and Barbuda, Armenia, Aruba, Bahamas, Barbados, Belarus, Belize, Benin, Bermuda, Bhutan, Bonaire, Bosnia and Herzegovina, Botswana, Bouvet Island, Brunei, Burkina Faso, Burundi, Cambodia, Cameroon, Canada, Cape Verde, Central African Republic, Chad, Chagos Islands, China, Christmas Island, Cocos Islands, Comoros, Congo Republic, Cook Islands, Cote d'Ivoire, Crimea Region, Cuba, Curacao, Democratic Republic of the Congo, Djibouti, Dominica, El Salvador, Equatorial Guinea, Ethiopia, Faeroe Islands, Falkland Islands, Fiji, Gabon, Gambia, Ghana, Greenland, Grenada, Guatemala, Guinea, Guinea-Bissau, Guyana, Haiti, Heard Island and McDonald Islands, Honduras, Hong Kong, India, Indonesia, Iran, Iraq, Jamaica, Japan, Kiribati, Kosovo, Kyrgyzstan, Laos, Lebanon, Lesotho, Liberia, Libya, Macau, Madagascar, Malawi, Maldives, Mali, Marshall Islands, Mauritania, Mauritius, Micronesia, Moldova, Mongolia, Montenegro, Montserrat, Morocco, Mozambique, Myanmar, Namibia, Nauru, Nepal, Netherlands Antilles, Nicaragua, Niger, Nigeria, Niue, Norfolk Island, North Korea, North Macedonia, Northern Cyprus, Pakistan, Palau, Palestinian Territories, Panama, Papua New Guinea, Paraguay, Pitcairn Islands, Russia, Rwanda, Saint Helena, Saint Kitts and Nevis, Saint Lucia, Saint Pierre, Saint Vincent and the Grenadines, Samoa, San Marino , Sao Tome, Saudi Arabia, Serbia, Sierra Leone, Sint Maarten (Dutch Part), Solomon Islands, Somalia, South Africa, South Georgia and the South Sandwich Islands, South Sudan, Sri Lanka, Sudan, Suriname, Svalbard and Jan Mayen, Swaziland, Syria, Tajikistan, Tanzania, Timor-Leste, Togo, Tokelau, Tonga, Trinidad and Tobago, Tunisia, Turkey, Turkmenistan, Turks and Caicos Islands, Tuvalu, Uganda, Uzbekistan, Vanuatu, Vatican City, Venezuela, Virgin Islands (British), Yemen, Zambia, Zimbabwe
Up until recently eToro was closed for US investors but now is available for people within the following US states, except of:
Delaware, Hawaii, Illinois, Minnesota, Nebraska, Nevada, New Hampshire, New York and Tennessee
---
6. Customer support and online reviews
While personally I haven't encountered any issue with eToro, there's a barrage of negative reviews that can be found online. Having said that, no exchange is free from this type of reviews.
Keep in mind, happy users rarely leave a review while angry users are usually motivated to share their experience. I suggest reading the reviews and judging for yourself if you feel this is a "red flag" in your book.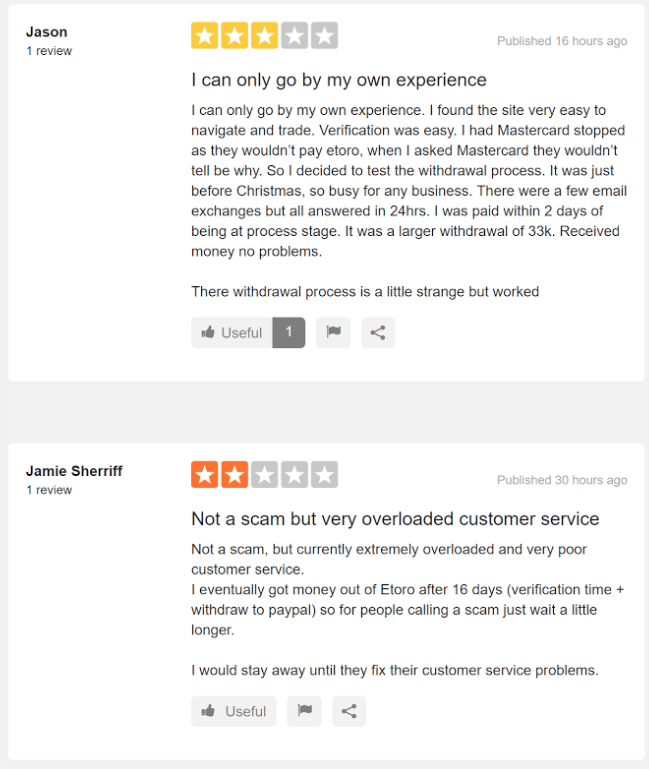 Customer support is available in 9 different languages and can be reached via an online helpdesk. There is no option for a live chat of phone support.
---
7. My personal experience with eToro
The usability of eToro is astonishingly fluid. It's painless and straightforward to get started. Signing up takes less than five minutes, and there's no need for slow verification methods or confirmations. Simply hit the Sign Up button and add your personal details.
Next, you'll be greeted with a questionnaire to assess your trading personality—quite a nifty feature on the face of it, but it rang more alarm bells than I would have liked.
Revealing my income levels, my employer and my other investment levels felt like a bit too much. Still, this is part of a standard KYC (Know Your Customer) process eToro is compelled to perform as part of it being a regulated company.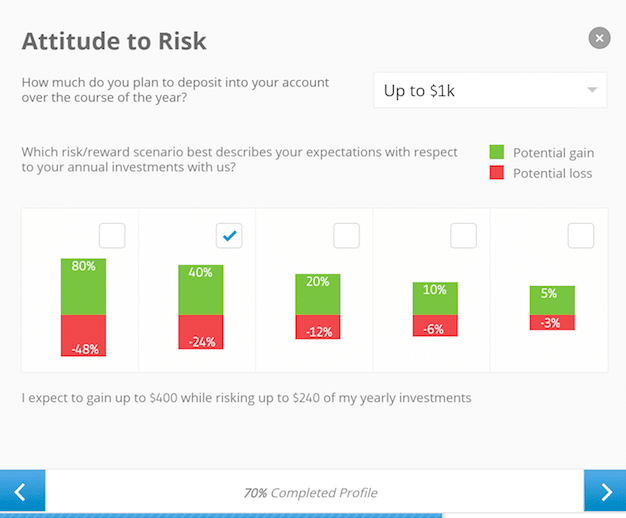 The system as a whole is smooth, with no lag or connection problems. After you sign up, deposits are made swiftly via credit, debit, or PayPal at no fee.
Portfolio trackers, watch lists, featured markets and the ability to follow successful traders are all sitting in this slick, modern trading interface. In under ten minutes, you can be ready to go and open positions on Bitcoin and Facebook simultaneously.
---
8. Frequently Asked Questions
Is eToro Regulated?
Yes, eToro is fully regulted.
eToro (Europe) Ltd., a Financial Services Company authorised and regulated by the Cyprus Securities Exchange Commission (CySEC) under the license # 109/10.
eToro AUS Capital Pty Ltd. is authorised by the Australian Securities and Investments Commission (ASIC) to provide financial services under Australian Financial Services Licensce 491139.
eToro (UK) Ltd, a Financial Services Company Authorised and regulated by the Financial Conduct Authority (FCA) under the license FRN 583263.
Can you Withdraw Money from eToro?
Yes, you can withdraw fiat currencies from eToro. The supported currencies for withdrawal are:
USD
EUR
GBP
CAD
AUD
JPY
RMB
RUB
How Much does eToro Charge to Withdraw?
The withdrawal fees is $5 for global and $0 for US users + conversion fees if you withdraw a currency the is not USD (between 50-250 pips).
---
9. Conclusion – Is eToro Reliable?
eToro's platform as a whole is a joy to use. Its interface is responsive, intuitive, and packed with handy features. Add a decent selection of cryptocurrencies to this, and you can really get a lot out of the exchange e.g. trading and opening positions in Bitcoin, Ethereum, Ripple, Litecoin, and more.
That being said, there are clearly some drawbacks. The main drawback being that withdrawing cryptocurrencies to your own wallet is cumbersome and requires some extra steps.
First you need to withdraw the cryptocurrency to your eToro wallet, a process that takes up to 3 business days. Only after that can you complete the withdrawal to any non personal wallet. If you need to hold the actual cryptocurrency you're looking to buy, perhaps check out eToroX instead.
Additionally, the fees for cryptocurrencies are also overpriced, and for me, that's a big turnoff.
To sum it up, if you're a speculator – eToro might be suited for your needs. If you're a hardcore Bitcoiner – stay away from it.
Have you tried eToro yourself? I'd love to hear what you think about it in the comment section below.
---
Disclaimer:
eToro is a multi-asset platform which offers both investing in stocks and cryptoassets, as well as trading CFDs.
Please note that CFDs are complex instruments and come with a high risk of losing money rapidly due to leverage. 75% of retail investor accounts lose money when trading CFDs with this provider. You should consider whether you understand how CFDs work, and whether you can afford to take the high risk of losing your money.
Past performance is not an indication of future results.
Cryptoassets are volatile instruments which can fluctuate widely in a very short timeframe and therefore are not appropriate for all investors. Other than via CFDs, trading cryptoassets is unregulated and therefore is not supervised by any EU regulatory framework.
eToro USA LLC does not offer CFDs and makes no representation and assumes no liability as to the accuracy or completeness of the content of this publication, which has been prepared by our partner utilizing publicly available non-entity specific information about eToro.
eToro
Pros
Intuative user interface
Wide variety of popular cryptocurrencies
Accepts multiple payments as deposits
Offers additional investment products
Cons
Cashing out your crypto is complicated
Limited availability in the US
Relatively high trading fees