Bitpanda review and comparison
By: Ofir Beigel | Last updated: 1/15/23
Bitpanda is one of the biggest names that come up when looking for reputable exchanges to buy cryptocurrencies. This post reviews the company's services and compares it to other exchanges out there.
Don't Like to Read? Watch Our Video Review Instead
---
Bitpanda Review Summary
Bitpanda is a cryptocurrency broker that specializes in buying and selling Bitcoins within the Eurozone. The company was founded in late 2014 and has since grown to become one of the more popular options to purchase Bitcoins around Europe. If you leave inside the EU it's one of the cheapest ways to buy Bitcoin with a credit card or SEPA transfer.
That's Bitpanda in a nutshell. If you want a more detailed keep on reading, here's what I'll cover:
---
Bitpanda Overview
Bitpanda GmbH (formerly known as Coinimal) is a fintech company based in Vienna, Austria specialises in selling and buying Bitcoin and other cryptocurrencies. It has quickly grown to become Europe's leading retail broker for Bitcoin, Ethereum, Ripple and more.
With over 900K users the company has recently expanded its services to allow users to invest in precious metals (gold, silver) as well.
---
Bitpanda Services
Bitpanda offers a brokerage service which enables its customers to buy and sell cryptocurrencies. Basically, this means Bitpanda supplies you with the coins directly, unlike a trading platform where you interact with other traders. The company charges a premium above market price for their services.
Bitpanda To Go offers the ability to buy cryptocurrency with cash through their "service". This service allows you to purchase cash-equivalent coupon codes in post offices around Austria, and later redeem those codes on Bitpanda for purchasing cryptocurrencies.
Bitpanda Savings allows you to commit a certain amount each month and create a savings plan by buying Bitcoin or other cryptocurrencies.
Bitpanda Metals allows you to diversify your portfolio with physically backed and 100% insured precious metals. You can also swap gold and silver with any other digital asset on Bitpanda.
Bitpanda Swap allows you to instantly swap one cryptocurrency for another. There are no limits on the transaction size of swaps.
Bitpanda Plus allows high net worth individuals to buy large amounts of Bitcoin or other cryptos with better terms than the regular platform.
Bitpanda Pay allows you to connect your account to the traditional fiat world including paying your rent or sending money to friends.
Bitpanda Pro offers a full order book style trading exchange for advanced cryptocurrency users to trade and connect APIs.
Bitpanda Stocks allows users to invest in traditional financial instruments including fractional shares and exchange-traded funds (ETFs). Users can invest as little as €1 into some of the most popular companies and funds in the world – 24 hours, 7 days a week.
Bitpanda Token (BEST) is a Bitpanda ecosystem token providing customers with better rates on trading and functionality across its platform, similar to Binance Coin.
Finally, the Bitpanda team has launched an ICO backed project called Pantos (PAN) which aims to be  an open-source, open-innovation driven scientific research project. However, this project is outside the scope of this review (more information can be found here).
---
My Personal Bitpanda
Experience
I've been a Bitpanda customer for around 2 years. Since I don't live inside the EU I couldn't verify my account but I have used it several times to deposit cryptocurrency, trade it and send it to other wallets.
I find Bitpanda's user interface appealing and pretty easy to use. The service itself is ultra fast and transactions are processed instantly. When I withdraw money it usually arrives in the following block of confirmations.
I dealt only a little with Bitpanda's customer support and always got a quick response. The main reason I didn't interact with them that much is because I didn't need to, everything worked as expected. Overall I'd say I had a good experience with Bitpanda so far.
---
Bitpanda Currencies and Payment Methods
Bitpanda supports the buying and selling of the following cryptocurrencies:
Bitcoin (BTC)
Ethereum (ETH)
Ethereum Classic (ETC)
Ripple (XRP)
Bitcoin Cash (BCH)
Litecoin (LTC)
IOTA (MIOTA)
EOS (EOS)
Dash (DASH)
Stellar (XLM)
Zcash (ZEC)
NEM (XEM)
Augur (REP)
0x (ZRX)
Tezos (XTZ)
OmiseGO (OMG)
Komodo (KMD)
Pantos (PAN)
Cardano (ADA)
Neo (NEO)
Chainlink (LINK)
Waves (WAVES)
Tether (USDT)
USD Coin (USDC)
Lisk (LSK)
Tron (TRN)
Basic Attention Token (BAT)
Bitpanda accepts the following fiat currencies:
US dollar (USD)
Euro (EUR)
British Pound (GBP)
Swiss franc CHF
Bitpanda accepts the following payment methods:
Credit card
Debit card
SEPA
Bank transfer
EPS
GiroPay
Sofort
Neteller
Skrill
Cash (Bitpanda on the go)
iDEAL
Zimpler
Keep in mind that different payment methods have different fees incorporated within them, so make sure to double-check before completing a deposit. Usually, the chargeback methods such as credit cards and Skrill will have higher fees than non-chargeback methods such as a wire transfer.
---
Bitpanda Fees
Transaction Fees
Bitpanda fees for buying and selling cryptocurrencies are 1.49%. However, fees are already incorporated into the price in real time so they are somewhat invisible to the user.
This is good since you know exactly how much you'll pay. On the other hand, it sometimes distorts the real price of the cryptocurrency.
Cryptocurrency Deposit Fees
If you deposit money in a currency that is not in the supported currencies you will be charged a conversion fee by the processing bank (this changes depending on the currency). All fees for all currencies are detailed here.
Fiat Deposit Fees
These fees were shared with us by Bitpand's support, however this cannot be found anywhere online: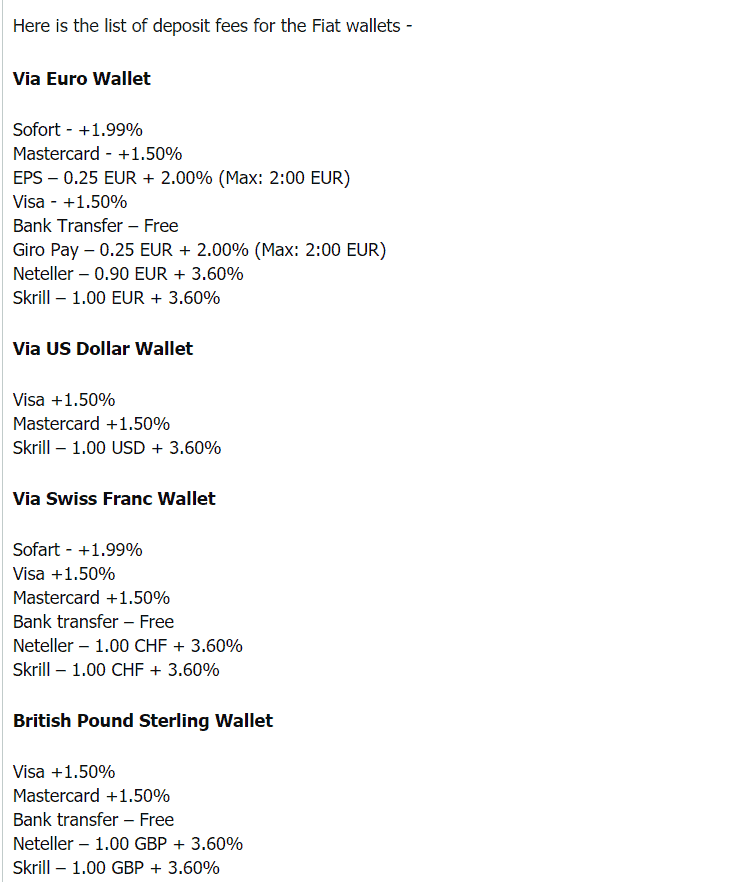 ---
Bitpanda Buying Limits
Bitpanda offers very low limits for unverified users as it complies with standard AML policies. However, verified users have extremely high limits depending on their payment method. For example, verified users can withdraw over €5 million a day via a SEPA transfer.
Obviously, limits differ between deposit and withdrawal. Fiat deposits can't be made at all for unverified users. Cryptocurrencies aren't limited in deposit / withdrawal.
All limits for different payment methods can be found here.
---
Bitpanda supported countries
Bitpanda is open to all users worldwide however some operations are limited.
Buying cryptocurrencies is currently only available for EU residents that are within the SEPA. This means most of the EU members plus Iceland, Liechtenstein, Norway, Switzerland and Monaco.
Users outside the EU can use their accounts to store and send crypto. They can also sell cryptocurrency or receive payouts via Neteller. Additionally, Bitpanda Pro is now available worldwide to trade cryptocurrencies except for the USA or China.
---
Customer Support and Reviews
Bitpanda offers an online knowledge base for most common questions and dedicated email support for specific issues.
What's really interesting to see is that in a space where most cryptocurrency exchanges get an average customer rating at best, Bitpanda is killing it with a 4 star average score on TrustPilot, and that's not something to take lightly.
The main complaints about the company revolve around long waiting time for support to respond, the verification process and missing funds. However, it seems that Bitpanda's support is making it a habit to respond to each reviewer personally so that's a good sign.
Finally, it seems that the company has won a startup award in late 2016, however, I can't really tell what this award was all about.
---
Bitpanda vs. Other Exchanges
In the following section I'll compare Bitpanda to some of the more popular cryptocurrency exchanges out there.
Bitpanda vs. Coinbase
When it comes to fees Bitpanda and Coinbase are nearly identical – both charging 1.49% as a transaction fee. However, they take their base price from different sources. Coinbase's price is derived from Coinbase pro + 0.5% while Bitpanda doesn't state where their base price is taken from.
After comparing the two options in real time I got an almost identical price (Bitpanda was cheaper by $2). It seems that there isn't much of a difference between the two.
To sum it up, the main decision point should be which of these exchanges support your country (since the supported countries don't overlap that much between them).
Bitpanda vs. Kraken
Comparing Bitpanda to Kraken is a bit like comparing apples to oranges. Bitpanda is a brokerage service that aims to simplify the buying process by selling cryptocurrency directly to the user. Kraken, on the other hand, is a trading platform aimed at more experienced traders.
That's also the reason why the price on Kraken will be substantially low than Bitpanda since they don't charge the premium for the brokerage service. Kraken's fees schedule shows a 0.26% fee at max while Bitpanda is 1.49%. Although, the introduction of Bitpanda Pro means you can now trade for a cheaper rate of between 0.10% and 0.15%.
To sum it up, if you're an experienced trader you can get a cheaper price on Bitpanda Pro. If you're just starting out I personally believe the simplicity of the broker service on Bitpanda is worth the extra money.
Bitpanda vs. Coinmama
Coinmama is a service very similar to Bitpanda. Coinmama's advantage is that it caters to most countries worldwide unlike Bitpanda that is restricted to the EU. However, Coinmama's services are more expensive than Bitpanda's.
How much more expensive? A lot. Their processing fee is 5.9% which is almost 4 times Bitpanda's fee. So if you have the option, it's better to use Bitpanda.
Bitpanda vs. Bitstamp
While Bitstamp is also a trading platform (like Kraken), they also offer a brokerage service. If you compare Bitstamp's brokerage service to Bitpanda's you'll find that Bitstamp charges 5% – more than 3 times of what Bitpanda charges.
On the up side, Bitstamp is available almost all around the world. So if your country is supported by Bitpanda, I believe you will get a much better deal on Bitpanda than on Bitstamp.
---
Conclusion – Is Bitpanda Safe?
Bitpanda is a good mix of a reputable company, fast service and a cheap alternative to other cryptocurrency exchanges out there.
The team seems to have built a good reputation within the community since the company was founded in 2014 and it's very refreshing to find an exchange with such positive customer feedback.
Bitpanda is a very safe option for newbies and experienced bitcoiners alike. The main downside being the fact that they don't support enough countries.
If you've had your own experience (good or bad) with Bitpanda, I'd love to hear about it in the comment section below.