Uphold Review
By: Robert McCracken | Last updated: 7/26/23
Uphold is a multi-asset platform that enables users to swap between cryptocurrencies, commodities, equities and fiat currencies. In this review, I'll cover the main points you need to know about Uphold before signing up.
Uphold Review Summary
Uphold is an easy way to invest in multiple asset classes from one platform. This includes commodities, stocks, cryptocurrencies, as well as traditional fiat currencies on the foreign exchange market. If you're only interested in cryptocurrency, you may find Uphold doesn't have all the alt coins and trading features you want. It doesn't provide anything like staking, NFT marketplaces, or peer-to-peer payment options, and their fees are relatively expensive.
That's Uphold in a nutshell. If you want a more detailed review of Uphold, continue reading below. Here is a list of what I will cover:
---
1. Uphold Overview
Uphold is a digital money platform offering financial services to a global market for multiple assets. Uphold's "anything-to-anything" trading experience enables customers to trade directly between different asset classes within the platform. It supports 59 cryptocurrencies.
Uphold is based in New York and was previously run under the name Bitreserve. It was founded by Halsey Minor in 2013.
The company has raised almost $75 million since 2014, across four different funding rounds. Lead investors included Venovate (now owned by Coinbase) and Hard Yaka, a Nevada-based venture capital firm.
According to Uphold, it serves "184+ countries, across 80+ currencies (fiat and crypto) and commodities, with frictionless foreign exchange and cross-border remittance for members around the world." Since its relaunch, Uphold has powered more than $4+ billion USD in transactions. Uphold holds proprietary rights to the e-money applications, which puts them in a strong position for the future.
---
2. Uphold Services
Uphold offers an impressive array of services for its users. Its user interface is simple and clean – good for beginners. The app is impressively multifunctional, which manages not to be too complicated for its users.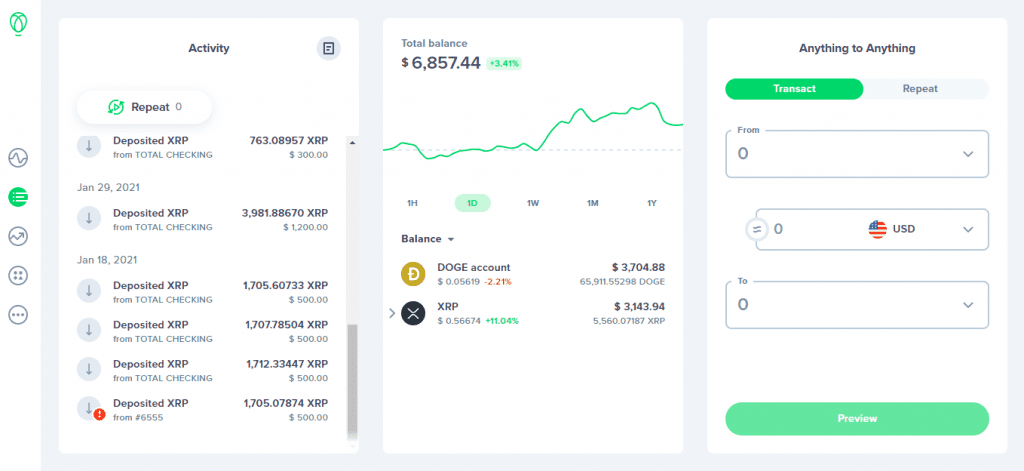 Here are some of the stand-out features on the platform:
Buy Crypto (and Other Assets) with Fiat Currency
Uphold allows you to instantly purchase crypto, commodities, stocks and more by linking a supported payment method. These payment methods can include bank accounts, credit cards and even crypto wallets.
The function does not require the user to navigate typical exchange features such as candlestick charts or order books, instead providing instant orders that execute at market prices.
It's worth noting that users will need to go through extensive identity verification processes, which includes providing ID documents and employment details – more than many other crypto platforms require.
Automated trading
Uphold lets you schedule regular transactions using Uphold's "AutoPilot" feature, including recurring buy or sell orders and reduce the impact of price volatility. Useful if you like to buy a certain amount of Bitcoin or Ethereum every month for example.
Uphold Debit Card
The Uphold debit card is partnered with Mastercard. It allows you to pay for everyday goods and services with crypto or any other assets you hold in your Uphold account. All crypto transactions are rewarded with a 2% cashback (or, cryptoback) reward; "spend bitcoin to earn bitcoin" is the way they describe it.
Everything can be seen and controlled on the app. Within the app, you simply select the cryptocurrency so that it is linked to your card at the time you want to spend it. It requires no foreign exchange fees, and it's instant. Pretty neat!
Multiple Asset Classes
Cryptocurrencies, precious metals, US stocks, and national currencies can all be bought and traded. Euros, bitcoin, silver, and Tesla stock are popular examples of some of the assets available. This kind of one-step trading capability will be welcomed by many who want convenience.
Global and Flexible Payments
Sending money worldwide can be done cheaply. Uphold does this kind of overseas payments instantly, and in anything from Bitcoin to USD.
Users in the US can set up their account to be paid by their employer in any currency that is available on Uphold, or even a combination of fiat and cryptocurrencies. So, for example, you could opt to get paid 40% in USD, 10% Ethereum, and 50% Bitcoin. This will be a useful feature for some people.
Withdrawals to Traditional Fiat Currencies
Uphold allows you to withdraw funds to bank accounts in 36 countries, or to private wallets on seven crypto networks.
---
3. Currency and Payment Methods
Funding Your Account
There are several ways that you can deposit funds into your Uphold account. This includes linking a bank account for bank transfers, instantly crediting your account with a debit or credit card, Google pay, or loading your account with cryptocurrencies from an external crypto wallet.
For US users using Google Pay, the daily deposit limits are as follows:
Minimum deposit: $10
Maximum deposit per single transaction: $2,500
Maximum daily deposit (resetting at midnight): $2,500
Maximum weekly deposit (resetting on Mondays at midnight): $15,000
Maximum monthly deposit (resetting on the first day of each month at midnight): $50,000
Withdrawals and Spending
When it comes to getting money back out of the Uphold platform, the most common way is to simply withdraw funds to your bank account. This can be done without even manually selling your assets – if you know the asset you want to cash out, Uphold can automatically convert it to fiat during the withdrawal process. You can also withdraw certain cryptocurrencies directly, into an external crypto wallet.
Aside from withdrawals, Uphold also enables you to "spend" your assets via their debit card – which is one of the most flexible debit cards I have seen. You can choose to pay with crypto, metals, or regular fiat currencies, like dollars or euros.
You can get a physical chip-and-PIN card and a virtual card to make online purchases. The Mastercard network means it's accepted at 37+ million merchants and ATMs across the globe.
---
4. Fees
Although Uphold charges 0% trading commissions that does come with some small print. You will be charged standard cryptocurrency network fees on a non-profit basis. This means although Uphold doesn't charge you could still pay high network fees, including, for example, Ethereum network's costly gas fees.
Uphold charges a spread every time you trade. In the US and Europe, the spread is typically 0.8% to 1.2% on crypto, such as BTC and ETH. In other parts of the world, the spread on the most popular cryptos is typically around 1.8%. As you will see in our comparisons to other exchanges, these are not the most competitive prices! Spreads can be significantly higher for low-liquidity cryptocurrencies – as with all platforms the less popular tokens cost more to trade. Always check the rates via the preview before you trade. All spreads are likely to increase during times of acute market activity.
Cost to Withdraw Funds
To move funds off-platform via crypto the fee is $2.99. To move funds off-platform via a bank transfer the fee is $3.99. Third party costs will be added to this though, such as bank wire costs in some geographies or blockchain network fees.
Debit Card Fees
For users wanting to use the Uphold debit card, there is a one-off issuance fee of $9.95. Regular transactions are free of charge, however if you're withdrawing cash there is a fee of $2.50 per transaction locally and $3.50 for international withdrawals.
---
5. Supported Cryptocurrencies
All in all, the number of tokens available to trade, deposit and withdraw on the exchange is 59, including:
Bitcoin (BTC)
Aave (AAVE)
Ripple (XRP)
Ethereum (ETH)
Basic Attention Token (BAT)
Cardano (ADA)
Cosmos (ATOM)
Bitcoin Cash (BCH)
Bitcoin Gold (BTG)
Dogecoin (DOGE)
Polkadot (DOT)
Filecoin (FIL)
Chainlink (LINK)
Litecoin (LTC)
Terra (LUNA)
Polygon (MATIC)
Solana (SOL)
Tron (TRX)
VeChain (VET)
Stellar Lumens (XLM)
---
6. Trust & Security
Uphold is regulated in the US. Its European headquarters is based in England, which it should be noted is now outside the European Union (EU) and euro-zone. In some ways, Uphold is setting a new standard of consumer assurance and financial accountability.
On their website they say they hold 100% reserves in their custody. That means, unlike most financial institutions, they don't loan out your money when you give it to them. This is a big difference from most competitors. Uphold even displays the value in their custody and in their various funds.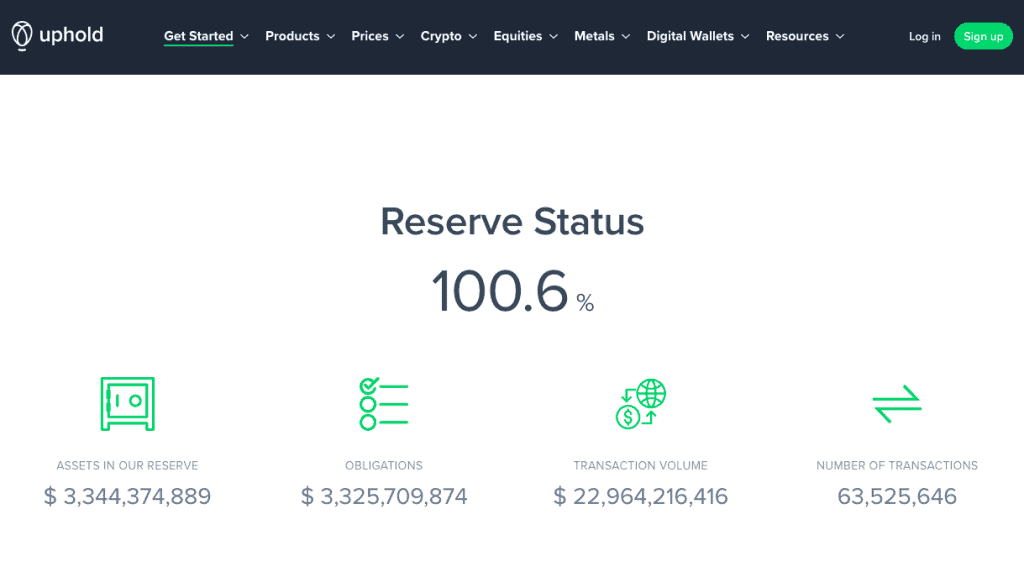 Cybersecurity is always a top priority for financial services today and Uphold promises high level security, constantly maintained. Hackers who find a security vulnerability in Uphold are encouraged to report bugs in return for a "bug bounty" – the reward for finding a bug in the software. This gives users the confidence that this is an organisation that takes the security of its clients' assets seriously and keeps its cybersecurity updated.
---
7. Supported Countries
Uphold allows the withdrawal of funds to bank accounts in only the following nations:
Austria, Belgium, Bulgaria, Croatia, Cyprus, Czech  Republic, Denmark, Estonia, Finland, France, Greece, Hungary, Iceland, Ireland, Italy, Latvia, Lichtenstein, Lithuania, Luxembourg, Malta, Monaco, Netherlands, Norway, Poland, Portugal, Romania, San Marino, Slovenia, Slovakia, Spain, Sweden, Switzerland, United Kingdom, United States
Uphold is NOT available in the following countries:
Anguilla, Antarctica, Armenia, Azerbaijan, Barbados, Belarus, Bouvet Island, Cambodia, Central African Republic, Chad, Cuba, Eritrea, Fiji, French Southern Territories, Guinea, Heard and McDonald Islands, Iran, Lebanon, Liberia, Mali, Mauritius, Montenegro, North Korea, Palau, Samoa, Sudan, Syria, S. Minor Outlying Islands, Vanuatu
Uphold say they are temporarily restricted in the following countries:
American Samoa, Bangladesh, Burundi, China, Congo (Democratic Republic), Congo (Republic), Crimea, Equatorial Guinea, Germany, Guinea-Bisseau, Haiti, Hawaii, Indonesia, Iraq, Kenya, Libya, Myanmar, North Korea, Somalia, Turkmenistan, Vietnam, Yemen
---
8. Customer Support and Reviews
Most of the customer issues across the internet are not about Uphold's customer support, but about the exchange going down during periods of high traffic. This is not really trying to be a trading site, but rather a medium to long-term investment platform. Due to this, it is not optimised to be used every time the crypto market gets hot.
The majority of the bad reviews do not suggest that customer support ignored users' problems, but that certain problems were ongoing and had not been resolved. Customer support is via email and Uphold doesn't offer a chat service or telephone contact. My personal experience was a swift and helpful reply to some basic inquiries.
Out of over 4,300 reviews on the Apple App Store, Uphold has a rating of 3.6 stars. There are sometimes mentions of issues with being able to access accounts. On Google Play, the Uphold app has a rating of 4.2 stars with 15,260 reviews.
---
9. Conclusion
Uphold is, on one hand, an impressive platform and service. To bring so many assets together on one platform is very handy indeed, and it seems like multi-asset apps will be the future of investing. On the other hand, this convenience and multi-functionality comes at the cost of competitive prices and actual depth in terms or cryptocurrency offerings.
Uphold is not optimized specifically for crypto trading and investment, so it's missing some key crypto features e.g. NFTs. Another thing to look out for is Uphold's spreads and its instability at peak trading times, which mean it is not ideal for users who wish to trade everyday.
Nevertheless, the transparency of Uphold is refreshing to see. That openness and their policy of holding 100% reserves in place is surprising in a good way. Regarding regulatory compliance worldwide, Uphold seems to be ticking all the right boxes. The platform has also proven to be a secure custodian of crypto up to this point.
Overall, this gives people a powerful and flexible tool for investment and payment. For many people this could be the only investment app they need and most of the most popular cryptocurrencies are supported.
That's it! If you have a comment or want to share your personal experience with Uphold, please do it in the comments section below.