It's been a while since I reviewed Bitcoin wallets. The reason for this is that most Bitcoin wallets are basically the same so rarely do you stumble upon a wallet that is innovative.
Until today…
A few days ago I got an email from one of my subscribers telling me he didn't take my advice for the best Bitcoin wallet and used the Exodus wallet instead. He then went on to glorify the wallet's interface and ease of use. I wasn't aware of such a wallet so I looked it up online and apparently Exodus is indeed a new Bitcoin wallet.
Exodus wallet review
Exodus seemed to have been launched a month ago (July 2016) and still hasn't gained enough reputation in the Bitcoin community. Actually Exodus is not just a Bitcoin wallet, it's a "Blockchain assets wallet". This means you can store Bitcoins, Litecoins, Dash, Ether and Dogecoins on Exodus all together.
But this is not all that makes Exodus so unique, here are the main things that I found so appealing:
Beautiful and intuitive design
Probably the strongest suite Exodus has is its user interface. Even if I didn't know nothing at all about Bitcoin or cryptocurrencies I would still be able to use this wallet. It reminds me of Circle in the simplicity. Exodus is the kind of product you "fall in love with" the first time you use it, and that's quite rare in the cryptocurrency world.
Here's how an overview of your blockchain assets looks like: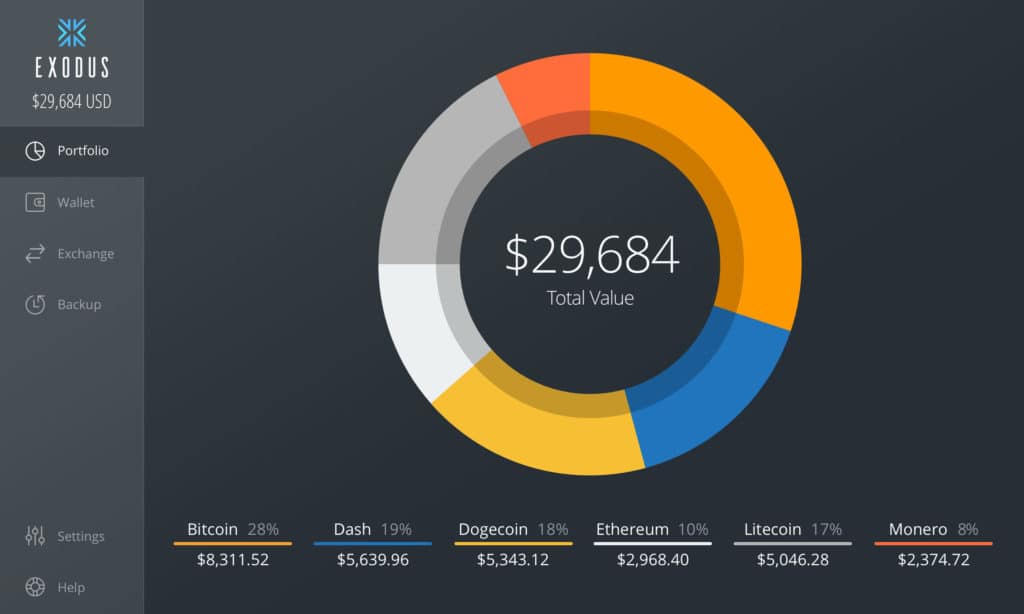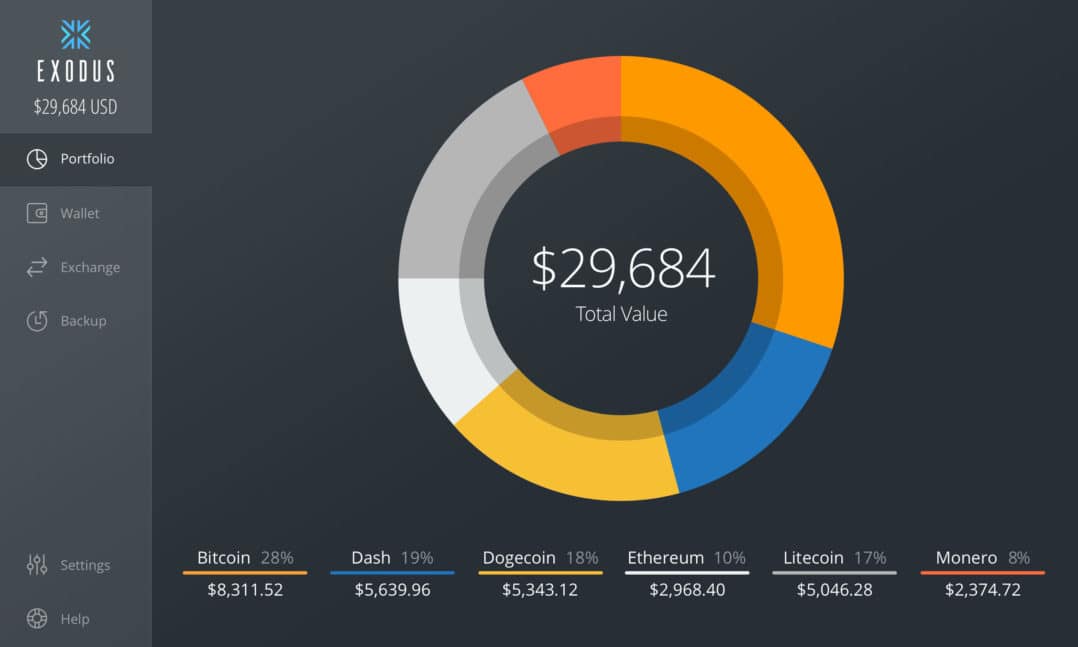 Nice huh? 🙂
Information is stored on your computer
Since Exodus is a desktop wallet navigation is fast and the private keys to your cryptocurrencies are stored on your machine. Exodus is a litewallet so you don't need to download the whole Blockchain to your computer like you do with Bitcoin Core. Exodus is currently compatible with Mac, Windows and Linux. If you need to back up your wallet there's a VERY simple step by step wizard built in inside the wallet that will help you do so.
You will also receive a backup link via email if you want to install Exodus on a another machine (say your computer gets destroyed). It's all very secure through the use of a password and a mnemonic phrase (in case you forget your password).
You can trade cryptocurrencies from inside the wallet
One of the best features of Exodus in my opinion is the ability to trade your altcoins for Bitcoin and vice versa. Exodus has a built in exchange (powered by Shapeshift) that allows you to trade cryptocurrencies in seconds. You can't buy coins with fiat, but since the whole idea of Exodus is to move away from any verification processes and dealing with banks I think that fits in perfectly.
The founders seem genuinely interested in their users' opinion
It's OK to make a crappy product, it's not OK to leave it that way. I think what got my attention the most is the genuine interest Exodus' founders had in their users opinion. Of course they are only about a month into running this project but something tells me JP and Daniel (the founders) are here to stay. You can see it in the simple to understand support videos they've uploaded, the multiple communication channels they've supplied on their site and the direct messaging platform to the founders via Slack.
Is the Exodus Wallet here to stay?
To sum things up, Exodus looks like a complete hit. The only downside I can see at the moment is the fact that the company and wallet haven't gained enough reputation yet. Combine that with the fact that the Exodus code isn't open source and you will always arouse some suspicion from the crypto community. Also, in order to become a true killer app the developer will have to continue and expand to mobile as well in my opinion.
But I believe that as time goes by and more early adopters come on board Exodus will quickly gain its loyal user base.
Click here to check out Exodus for yourself
If you've had any experience with the Exodus wallet I'd love to hear about it in the comment section below.