7 Ways to Buy Bitcoin with a Debit Card
By: Ofir Beigel | Last updated: 11/29/23
Buying Bitcoin with a debit card has become relatively easy in the past few years with the introduction of anti-fraud systems for Bitcoin exchanges. However, these systems are quite expensive to operate, and therefore, exchanges will usually charge a premium for buying Bitcoin with a debit card.
Buying Bitcoin with a Debit Card Summary
The fastest way to buy Bitcoin with a debit card would be through CEX.IO. Here are the steps:
Visit CEX.IO
Decide on a deposit amount
Complete the ID verification process
Enter your Bitcoin address
Complete the payment with your debit card
If you're looking for additional options, here's a complete list of exchanges that allow Bitcoin purchases with a debit card.
If you want a summarized review of each exchange with its pros and cons, keep on reading. Here's what I'll cover:
---
1. Where Can I Buy Bitcoin with a Debit Card?
Using your debit card to purchase Bitcoin hasn't always been as easy as it sounds. Some exchanges are afraid of fraud and, therefore, don't accept debit cards. However, many exchanges have started implementing services to detect fraud and are more open to credit and debit card purchases these days.
As a rule of thumb, an exchange that accepts credit cards will also accept a debit card. If you're not sure about a specific exchange, you can just Google its name + "payment methods," and you'll usually land on a review covering what payment method this exchange accepts.
---
2. Coinmama
Pros: Good support, fast turnaround, respectable company
Cons: Certain US states not supported (New York, Hawaii, Louisiana)
Coinmama supplies an easy way to buy Bitcoin with a debit card while charging a premium. The company has been around since 2013 and supplies a wide variety of cryptocurrencies aside from Bitcoin. Recently, the company has improved its customer support substantially and has one of the fastest turnarounds for buying Bitcoin in the industry.
Visit Coinmama
Read review
Buying Bitcoin with a debit card through Coinmama
Visit Coinmama and choose the amount of Bitcoin you want to buy
Sign up on the site and verify your identity
Get a Bitcoin wallet and an address (Coinmama does not hold Bitcoin for you)
Supply Coinmama with your Bitcoin address
Complete debit card information
Coins will be sent instantly
---
3. Bitstamp
Pros: One of the oldest and most reputable exchanges around; good support
Cons: Not very user-friendly; verification process can take a while
Bitstamp is a fully licensed Bitcoin exchange that has been around since 2011. The website provides mainly trading services. However, they also have a brokerage option for buying Bitcoin directly with your debit card.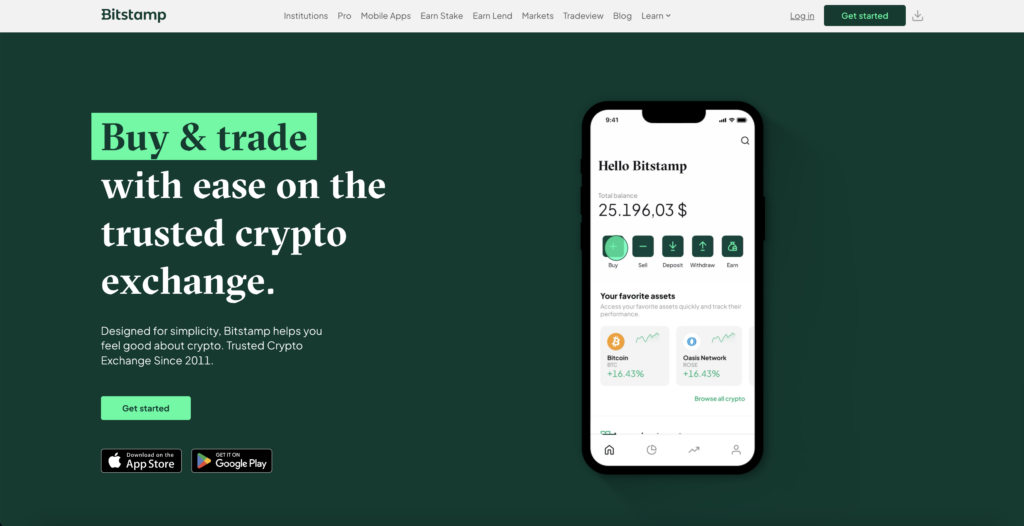 To finish your order, you have to use 3D Secure. The exchange is open mostly to the US, EU, and Asia, with a total of around 80 countries currently supported.
Visit Bitstamp
Read review
Buying Bitcoin with a debit card through Bitstamp
Go to the Bitstamp deposit page and select "card purchase" from the side menu

Pick which cryptocurrency you want to buy

Choose a currency to pay with

Enter how much cryptocurrency you want to purchase

Enter your card details

Confirm the purchase
---
4. CEX.IO
Pros: Reputable company, high buying limits
Cons: Support sometimes slow, relatively high exchange rate
CEX.IO supplies trading services and brokerage services (i.e., buying Bitcoin for you). If you're just starting out, you may want to use the brokerage service and pay a higher fee. However, if you know your way around exchanges, you can always just deposit money through your debit card and then buy Bitcoin on the company's trading platform with a much lower fee.
Visit CEX.IO 
Read review
Buying Bitcoin with a debit card through CEX.IO
Visit CEX.IO and sign up
Go to "Finance" -> "Deposit" (make sure to select your own currency)
Use your debit card to fund your account
If you want to use the easy but expensive brokerage service, go to "buy/sell"
If you want to use the complex but cheap service, go to "trade" and choose BTC/USD (or any other currency)
---
5. Coinbase
Pros: User-friendly interface, relatively low fees, established reputation
Cons: Support is slow to respond
Note: credit card purchases are not available for US customers.
Coinbase no longer has a clear fee structure for debit card purchases, but you can double-check what you're being charged during the final steps of a conversion. Keep in mind you will need to upload a government-issued ID in order to prove your identity before being able to buy the coins.
Buying Bitcoin with a debit card through Coinbase
Create a Coinbase account
Go to "settings" – "payment methods" and click "add payment method"
Add your debit card
Confirm your debit card
Go to "buy/sell" and select the amount of Bitcoin you want to buy
---
6. Bitpanda
Pros: Low fees, intuitive interface, multiple payment options
Cons: Better suited for EU customers
Bitpanda was founded in October 2014, and it allows residents of the EU (and a handful of other countries) to buy Bitcoin, other cryptocurrencies, stocks, and precious metals through a variety of payment methods (Neteller, Skrill, SEPA, etc.). The daily limit for verified accounts is €2,500 (€300,000 monthly, or €5,000,000 total) for debit card purchases.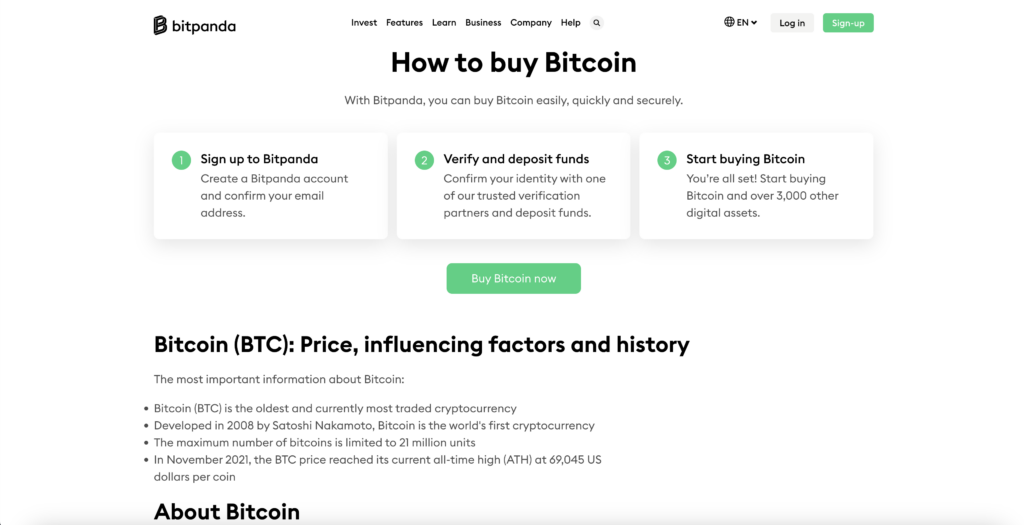 You can deposit nine major fiat currencies at Bitpanda: the Euro, US dollar, Swiss franc, British pound, Swedish krona, Hungarian forint, Czech koruna, Polish zloty, and Danish krone.
There are no fees for depositing Swedish krona (SEK) via Visa or Mastercard.
The minimum deposit and withdrawal amount is 10 EUR.
Visit Bitpanda 
Read review
Buying Bitcoin with a debit card through Bitpanda
Visit Bitpanda and sign up

Verify your identity

Choose a cryptocurrency (e.g., Bitcoin) and click "Buy"

Choose the "Visa/Mastercard" payment method

Enter the amount you wish to buy

Click on "Next step"

Confirm your order
---
7. eToro
**Content does not apply to US users
Pros: Suitable for beginners, great support
Cons: Limited countries available, long process to withdraw your coins
If you're into Bitcoin (or any other cryptocurrency) just for price speculation, then the easiest and cheapest option to buy Bitcoin may be through eToro. eToro supplies a variety of crypto services, such as a trading platform, a cryptocurrency mobile wallet, an exchange, and CFD products.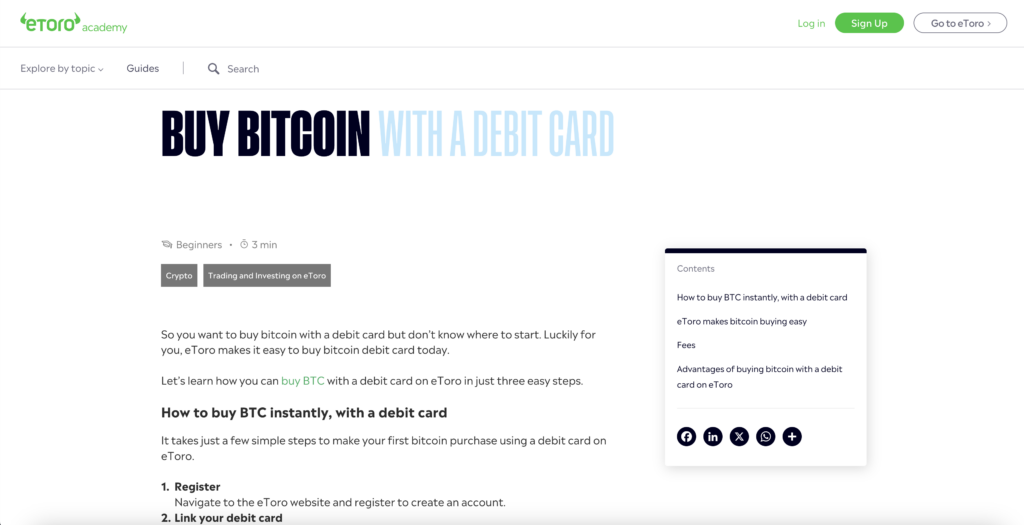 When you buy Bitcoin through eToro, you'll need to wait and go through several steps to withdraw them to your own wallet. So, if you're looking to actually hold Bitcoin in your wallet for payment or just for a long-term investment, this method may not be suited for you.
Visit eToro
Read review
Important!

eToro disclaimer: This ad promotes virtual cryptocurrency investing within the EU (by eToro Europe Ltd. and eToro UK Ltd.) & USA (by eToro USA LLC); which is highly volatile, unregulated in most EU countries, no EU protections & not supervised by the EU regulatory framework. Investments are subject to market risk, including the loss of principal.
76% of retail investor accounts lose money when trading CFDs with this provider. You should consider whether you can afford to take the high risk of losing your money.
CFDs are not available to US customers.
Don't invest unless you're prepared to lose all the money you invest. This is a high-risk investment and you should not expect to be protected if something goes wrong.
Take 2 mins to learn more
Crypto assets are highly volatile, unregulated investment products. No EU investor protection.
---
8. CoinGate
Pros: Non-custodial, friendly UI
Cons: Intensive KYC, relatively high fees, many countries not supported
CoinGate is a Lithuania-based crypto exchange and payments processor that allows users to buy Bitcoin and other cryptocurrencies with their debit card or other payment options.


CoinGate offers a non-custodial service, which means that when making a purchase, users will receive the coins directly in their wallet. Card purchases incur an 8% fee. Most crypto purchases on CoinGate are fulfilled by Simplex or Paybis – two very well-known crypto payments processors.
Visit Coingate
Read review
Buying Bitcoin with a debit card through CoinGate
Visit CoinGate

Enter the amount of BTC you wish to buy + your BTC address

Enter your card details

Verify your identity

Submit payment
---
9. Conclusion – Is it Safe to Buy Bitcoin with a Debit Card?
As long as you're using a trusted exchange, using your debit card to buy Bitcoin is perfectly safe. The main thing I would advise is not to keep the Bitcoin on the exchange after you buy it but to move it to your own Bitcoin wallet.
Keep in mind that using your debit card may be convenient, but it's also more expensive. If you're buying a relatively large amount of coins and you have the option, I suggest always using a bank transfer. However, if the amount isn't that big, sometimes paying the extra 3%-5% is worth the time saved.
If you have any questions or comments about the process, feel free to leave them in the comment section below.