INX.co Review and Comparison Guide
By: Alex Miguel | Last updated: 9/12/23
INX is a US-focused crypto exchange that has a focus on securities tokens, including both issuing them and trading them. In this review, we'll go over INX.co's services, fees, structure and availability.
INX.co Review Summary
INX is a crypto exchange that offers both regular crypto trading, as well as the ability to issue and trade security tokens. Its regular crypto offering is somewhat limited, however it has a ton of features relating to security tokens.
It's a highly-compliant platform which gives an air of security and safety, but is definitely better for security token activity than regular crypto trading.
That's INX.co in a nutshell. For a more detailed review, continue reading below. Here's what I'll cover:
---
1. INX.co Overview
INX was founded in 2017 by Shy Datika. The company is set up in Canada, with different arms in Gibraltar and the US. It has Money Transmitter licenses to operate in a majority of US States, as well as Dealer and Alternative Trading System licenses granted by the US Securities and Exchange Commission (SEC) and the Financial Industry Regulatory Authority (FINRA).
The platform takes pride in its INX exchange token being the world's very first SEC-Registered Digital Security IPO issued on a Blockchain.
INX has raised a total of $96.5 million through four different funding rounds.
---
2. INX.co Services
Cryptocurrency Trading
INX.co allows users to trade a narrow variety of popular cryptocurrencies, on a well-regulated platform.
The exchange is responsive for both desktop and mobile devices, featuring all the usual features you'd expect to see: Candlestick charts powered by TradingView, order books, and depth charts.
Users can post limit orders, market orders, stop-limit and stop-market orders.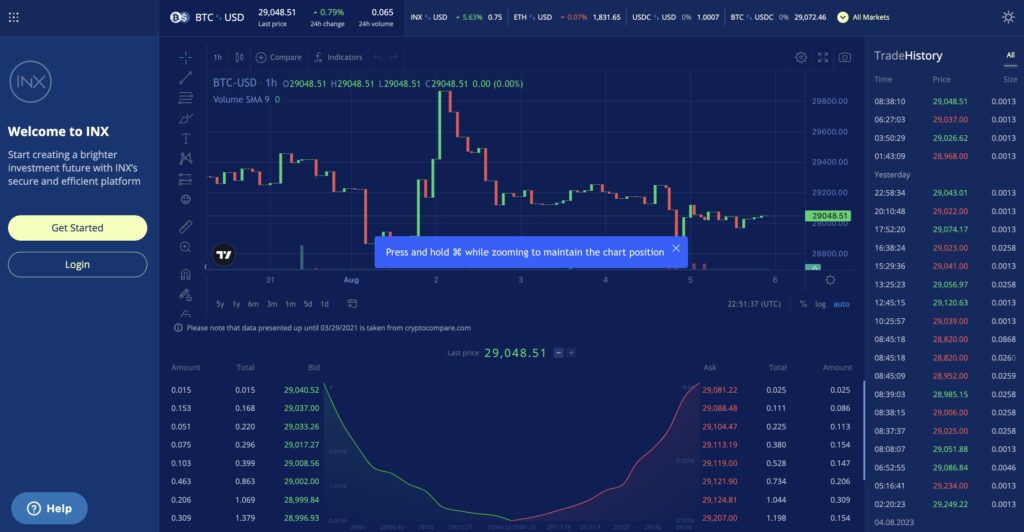 Trading volumes and liquidity were definitely lacking compared to popular exchanges, however this is somewhat expected for a highly-regulated exchange with a narrow geographical focus.
Users can track all of their assets (crypto and security tokens) in the same place on the INX.one platform. They can also receive reports on transactions and automated trading confirmations.
Security Token Trading
INX's most interesting and unique feature is the ability to trade security tokens, as well as issue them.
Security tokens are SEC-registered tokens that are similar to traditional securities, but can be verified and exchanged directly on the blockchain, without a middle man.
Users can trade SEC-registered security tokens on the exchange's INX.one platform 24 hours a day, every day of the year, just like typical cryptocurrency markets.
The platform also offers users access to security token offerings directly from the issuing company, for early investment before public trading goes live.
Security Token Issuing
On the business side of things, INX also enables companies to raise capital by issuing their own security tokens. This enables businesses to get funding in a way that is non-dilutive to shareholders, available to investors via both crypto and fiat, while being able to customize token holder rights and be traded 24/7. Security tokens are also still compliant with important KYC and AML standards.
INX offers to guide issuers through the entire process with an end-to-end solution, including pre-issuance steps, SEC registration, token creation, the primary offering and even establishing a secondary market on the platform.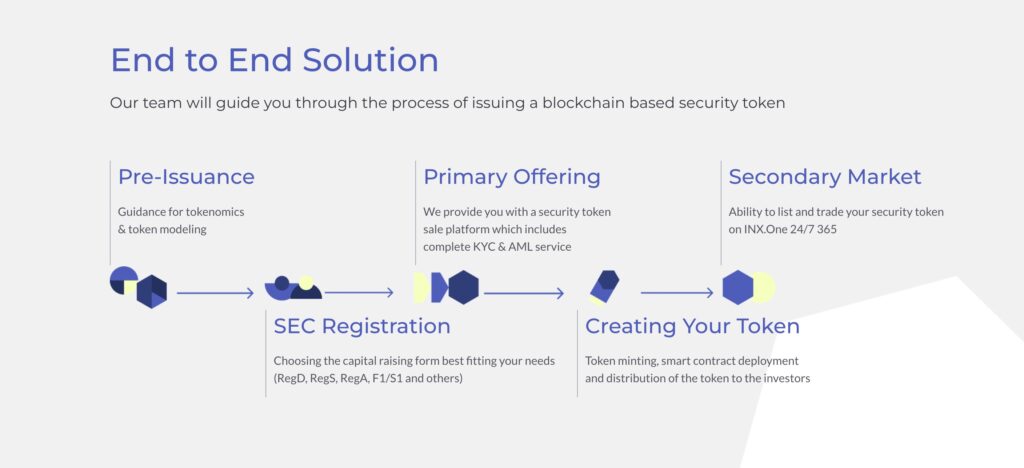 INX Token
INX has its own SEC-registered security token, known simply as the INX Token.
The INX token provides holders with up to 40% discounts off trading fees, with a minimum of discount of 10%. The degree of the discount depends on the total INX holdings of the user.
More interestingly, INX holders also receive an annual pro-rata redistribution of 40% of the company's cumulative adjusted net operating cash flow.
---
3. Currencies and Payment Methods
Fiat deposits and withdrawals
For fiat currency deposits in USD, users can use the following payment options:
Bank wire
Credit/debit card (US customers only). Visa and Mastercard only.
Ether (ETH) or USD Coin (USDC). These cryptocurrencies can be converted into a USD balance for a fee.
Withdrawals can be executed via bank wire or conversion to ETH or USDC, however withdrawals to a credit or debit card are not permitted.
Crypto deposits and withdrawals
Users can deposit and withdraw the following cryptocurrencies:
Bitcoin (BTC)
Ethereum (ETH)
Litecoin (LTC)
Zcash (ZEC)
USD Coin (USDC)
Avalanche (AVAXC)
Fantom (FTM)
Uniswap (UNI)
CURVE (CRV)
AAVE (AAVE)
---
4. Fees
Fiat Deposits
Bank wire deposits, both US and international, will be charged a $15 fee per deposit. Users who credit their exchange balance using a credit card will incur a fee of 3.75% of the total deposit amount.
Users crediting their USD balance using Ether (ETH) or USD Coin (USDC) will incur a fee of 1.2% of the total deposit amount.
Fiat withdrawals
Bank wire withdrawals, both US and international, will be charged the greater number of $25 or 0.25% of the total withdrawal amount.
Withdrawals made from USD into Ether (ETH) or USD Coin (USDC) will be charged a fee of 1.2% of the total amount, with a minimum fee of $30.
Crypto deposits and withdrawals
Depositing crypto is free, while crypto withdrawals are subject to a reasonable withdrawal fee, which appears to be designed only to cover blockchain network fees. This withdrawal fee depends on the asset's native blockchain.
Trading fees
Trading fees are 0.3% of the notional amount for maker orders, while taker orders are charged 0.4% of the notional amount.
For a full breakdown of INX's platform fees, visit their official fee schedule here.
---
5. Limits
Only bank card deposits appear to have limits on INX. These limits are made according to their tiered system. "Basic" users can deposit up to $1,000 daily, "Pro" users can deposit up to $10,000 daily, and "VIP" users are permitted to deposit up to $20,000 a day.
It is also worth noting that there is a withdrawal hold of 5 business days on any deposits made via bank card or crypto. This amount also cannot be transferred to securities USD during the hold period.
6. Supported Countries
Although INX is highly-focused on the US market, several other countries are also permitted to use the platform. You should also note that some US states are not supported.
INX does not have a readily-available list of supported countries and states, however you can easily check your region's availability for security tokens or crypto trading using the following links:
---
7. Customer Support and Reviews
As with most exchanges, INX has a handy FAQ section that will answer most general queries regarding the platform: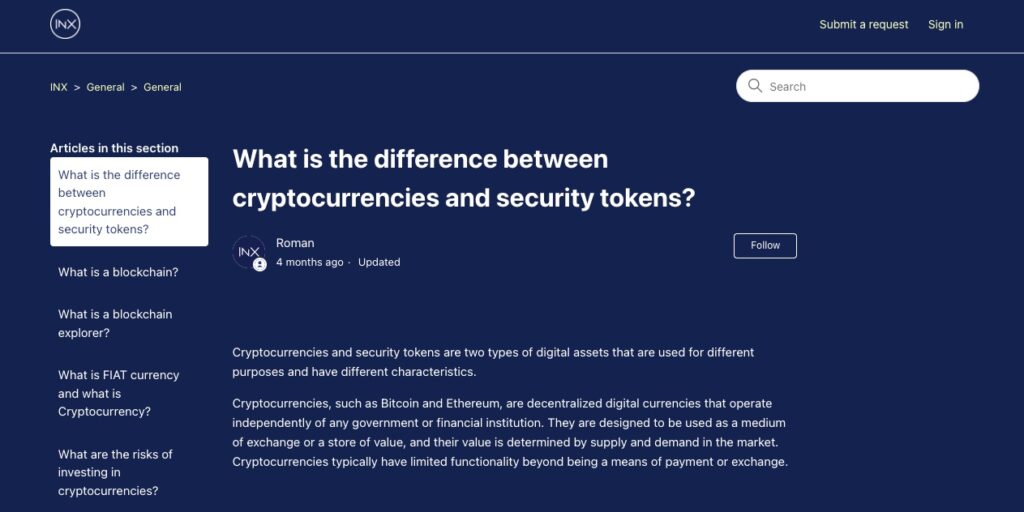 There is also a video help section – but there were only a handful of videos available when I looked, mostly focusing on security tokens.
If neither of these resources do the trick, users can fill out the contact form for one-on-one email assistance. The website promises a response within 24 hours, but took around 36 hours when I submitted a support ticket of my own.
INX also has an overall rating of "Great" on Trustpilot, with a majority of reviews being 5-stars.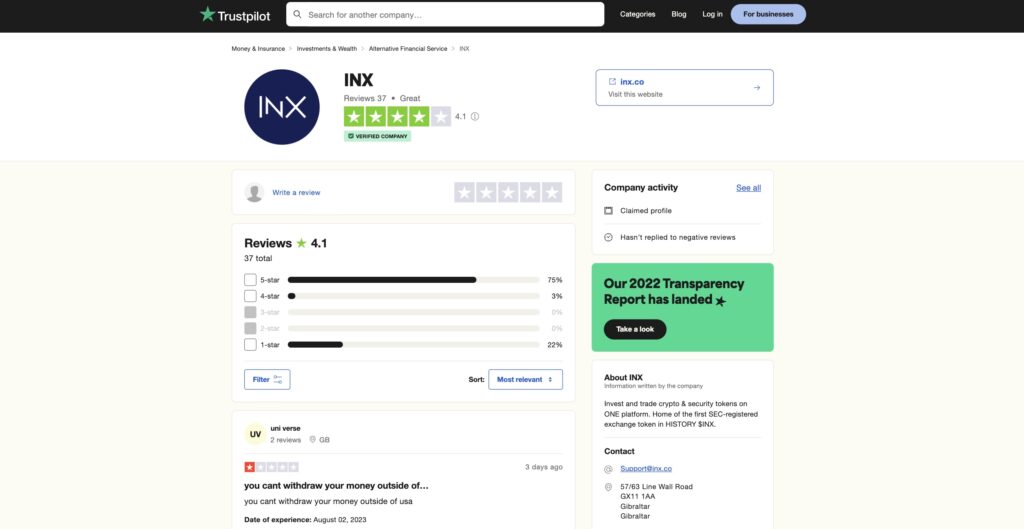 There are some 1-star reviews from disgruntled customers, who mostly complained about KYC taking too long, and support taking too long.
Others also complained about high fees, however these are easy to evaluate before signing up.
---
8. Conclusion
INX is an innovative platform that seeks to bring new securities into the future of finance on the blockchain. By ensuring that it is safe and highly-compliant with US laws and regulations, INX offers a safe place for forward-thinking businesses, investors and traders to experiment with the budding asset class of security tokens.
INX offers a regulated and safe platform if you want to trade BTC or ETH, while at the time of writing trading volume and liquidity is somewhat lacking. However, if you're looking to participate in some of the very first securities token offerings – or even issuing your own security token – INX does it all.
That's it! If you had any personal experience with INX.co or have any comments, please share them in the comments section below.