How to Buy Bitcoins in Canada
By: Ofir Beigel | Last updated: 1/17/23
In this guide, I'll show you the best options for buying Bitcoin in Canada. I will also explore the legality and popularity of Bitcoin in Canada.
Don't like to read? Watch Our Video Guide Instead
---
How to Buy Bitcoins in Canada Summary
Along with Bitcoin ATMs, there are several methods you can put your hands on Bitcoins in Canada. Just follow these steps:
Get a Bitcoin wallet
Open an account at Coinsmart
Choose how many Bitcoin you want to buy
Enter your Bitcoin address
Select your payment option
If Coinsmart doesn't work out for you here are some additional options for buying Bitcoins in Canada:
That's how to buy Bitcoins in Canada in a nutshell. If you want a more detailed explanation keep on reading, here's what I'll cover:
---
1. Is Bitcoin legal in Canada?
While digital currencies aren't officially recognized as money, Bitcoin is legal in Canada. According to the Government of Canada website, tax rules do apply to digital currency transactions, and cryptocurrencies such as Bitcoin are subject to the Income Tax Act.
Canadian residents are therefore free to buy, sell, and trade Bitcoin, which is regulated under anti–money laundering and counter–terrorist financing laws.
---
2. How popular is Bitcoin in Canada?
In mid-2018, a study by the Currency Department of the Bank of Canada revealed that 58% of Canadians hold Bitcoin for investment purposes. According to the same study, 85% of Canadians are aware of Bitcoin.
Weekly LocalBitcoins volumes for the Canadian dollar shows that interest in Bitcoin has leveled off since the high prices of late 2017 and early 2018. Volumes were fairly low since mid-2018 and into early 2019, with weekly volumes staying around the $500 – $600 thousand dollar level.


Google Trends data for the term "Bitcoin" searched within Canada shows declining interest from January of 2018. Perhaps this is due to the bull market Bitcoin has been experiencing during 2018. Interest begins to ramp up again mid 2019 as Bitcoin's price rises.


---
3. What are the main Canadian Bitcoin communities?
As so many Canadians are involved in Bitcoin, there are plenty of Canadian Bitcoin communities to be found. The main community can be found on Reddit. There's also a large Meetup group based in Toronto.
---
4. Are there any local Bitcoin exchanges based in Canada?
There are many Bitcoin exchanges based in Canada. Among the most popular are Coinsquare, Coinsmart and BitBuy:
Coinsmart
Coinsmart is a Canadian cryptocurrency trading platform based in Toronto, which launched in mid-2018.
You can buy Bitcoin on Coinsmart with CAD directly using a credit or debit card, for a 6% processing fee .
As for using the trading platform, the costs for funding are 0% for wire transfers, or up to 6% for credit card deposits. E-transfer deposits of $2000 or more are free of charges. Smaller deposits cost 1.5%.
Once your account is funded, buying BTC with CAD costs a trading fee of 0.2%, and withdrawing the BTC from the exchange costs an additional 0.0005 BTC fee.
Coinsmart recently introduced an exclusive deposit bonus for 99Bitcoins readers. Get $20 in free BTC when you make your first CAD deposit of $100+.
Coinsquare
Coinsquare, Founded in 2015, is a Canadian Bitcoin exchange based in Toronto. At the time of writing, it had the highest Bitcoin trading volume. Apart from Bitcoin, it features a handful of other cryptocurrencies available for trading, including Ethereum, XRP, and Litecoin.
You can buy Bitcoin with CAD, and the fees of 0.2% are competitive. The Interac, Flexepin, money order, and bank draft deposit fees are reasonable at 2.5%. Wire transfer deposits have a fee of only 0.5% and credit cards incur a 10% fee.
Withdrawals options are limited to direct bank deposit, charged at 2% with a $100 minimum, or wire transfer, charged at 1 – 2% with a $10,000 minimum.
CoinSquare has a special offer now that if you join, you get $10 CAD for free after you make your first deposit.
BitBuy
Bitbuy's overall mission is to simplify the trade of digital assets for all Canadians. It is a convenient Canadian cryptocurrency exchange offering over the counter (OTC), brokerage and advanced trading options.
Fees are extremely reasonable compared to the competition and customer support seems to be doing a very good job. Overall a solid choice if you live in Canada. You can read my complete Bitbuy review here.
Coinberry
Coinberry, founded in 2017, is a FINTRAC registered platform for buying and selling Bitcoins in Canada. There are no deposit or withdrawal fees on Coinberry and funding can be made through credit cards, wire transfers and Interac eTransfers.
There's a 0.5% trading fee and credit card deposits are limited to $500. In order to prevent fraud on the platform first-time users will have withdrawals locked for 72-hours from their first deposit.
As a side note, Coinberry's partnership with the Town of Innisfil resulted in the first payment of property taxes with Bitcoin in Canadian History.
Shakepay
Shakepay is a Montreal based company that allows you to buy and sell Bitcoins free of any fee (deposit, withdrawal and trading). Shakepay accepts Interac eTransfers and wire transfers only (no credit / debit cards).
The company also offers neat features such as turning your spare change into Bitcoins by rounding up purchases to the nearest dollar.
Newton
Newton is a "no-fee" cryptocurrency exchange based in Toronto.  It allows users to use Interac e-Transfers, wire transfers, or connect their bank accounts to deposit and withdraw funds, and claims to have the best crypto prices in Canada. The platform is beginner-friendly, streamlining the buying and selling process by offering market orders only.
Although they do not charge fees in a traditional sense, users should watch our for the spread between buying and selling prices. Withdrawal fees were also previously free, however due to surging network fees Newton now only partially subsidizes them for up to $5.
The platform has support for users on iOS, Android and web. Newton also offers third-party custody for secure asset storage and is a registered money service business with FINTRAC in Canada and FinCEN in the US.
---
5. Are there any international exchanges available in Canada?
While there are some great Canadian Bitcoin exchanges Canada, there are also plenty of international exchanges which cater to Canadian citizens:
Coinbase
Coinbase allows you to purchase bitcoins with a credit card and receive them instantly. This US exchange is one of the most user-friendly places to buy Bitcoin, making it great for beginners. There's very high liquidity, along with high buying limits, but one issue is that your transactions are tracked, which is a privacy concern.
You can read my complete Coinbase review here.
CEX.IO
CEX.IO is a London-based exchange on which you can buy Bitcoin via credit card or bank transfer. Canada is one of many countries this Bitcoin exchange supports. CEX.IO is an easy exchange to use and is known to be reliable, but bear in mind that it has higher fees.
You can read my complete CEX.io review here.
Coinmama
Coinmama operates in over 200 countries worldwide, including Canada. One of the main advantages of this Bitcoin exchange is that you can purchase with a credit or debit card. It's also an easy platform to use for beginners. However, there's a 5.5% fee on each purchase, which is high compared to many Bitcoin exchanges.
You can read my complete Coinmama review here.
Kraken
Kraken was launched in 2011 and caters to Canada, as well as the US, EU, and Japan. Although volume for it's CAD-based Bitcoin trading is relatively light compared to these other markets, Kraken allows Canadians to purchase about 20 altcoins in addition to Bitcoin.
Kraken has very low fees of 0.16% to 0.26%, depending on whether one places or takes an order. Only bank transfers are available for funding, with a minimum deposit of $125, although no fees are charged on this. There's a $10 fee and $50 minimum for withdrawals, which are conducted via EFT.
You can read my complete Kraken review here.
---
6. How many Bitcoin ATMs are there in Canada?
Only the United States has more Bitcoin ATMs than Canada. As of early 2018, there were 707 Bitcoin ATMs in Canada according to CoinATMRadar. The majority of these ATMs are located in three major cities: Vancouver has 79, Montreal has 106, and Toronto has 222.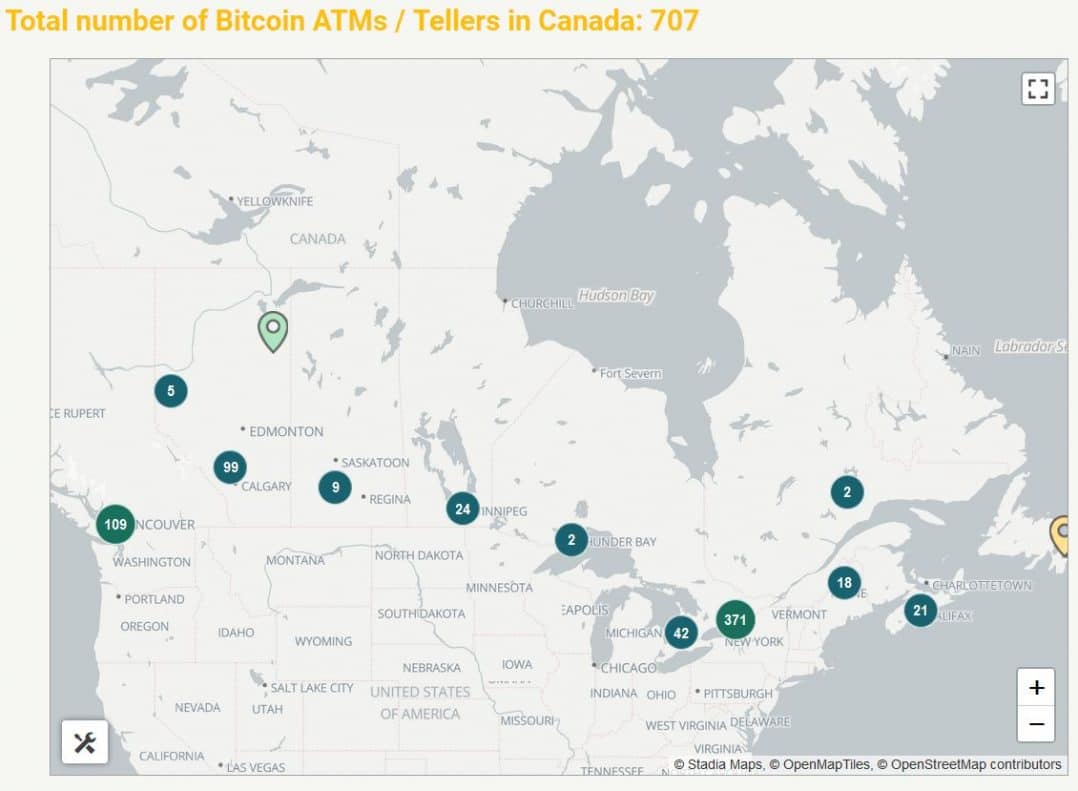 There are a dozen different operators with varied buy and sell fees. Many of these Bitcoin ATMs allow for the purchase of other cryptocurrencies, such as Ethereum and Litecoin.
Another option would be to visit an Over The Counter (OTC) location and purchase Bitcoins physically from a teller.
---
7. Conclusion
Despite the bear market, the Canadian Bitcoin community remains healthy and active. Awareness and involvement is very high in the country, as evidenced by the Bank of Canada's study, community activity both on and offline, and the high number of Bitcoin ATMs scattered around the country.