Bitbuy Review – A Beginner's Guide
Last updated 6/27/21
Bitbuy is one of the more popular services for buying Bitcoin in Canada. This post covers everything you need to know about it before using the service.
Bitbuy Review Summary
Bitbuy's overall mission is to simplify the trade of digital assets for all Canadians. It is a convenient Canadian cryptocurrency exchange offering over the counter (OTC), brokerage and advanced trading options.
Fees are extremely reasonable compared to the competition and customer support seems to be doing a very good job. Overall a solid choice if you live in Canada.
That's Bitbuy in a nutshell. For a more detailed review keep on reading, here's what I'll cover:
---
1. Company Overview
Bitbuy originally launched in Toronto as Instabit providing a simple way to buy bitcoin, way back in 2013. Since then it has rebranded to Bitbuy, widening the operation, acquiring venture capital funding and adding to the cryptocurrency selection.
A subsidiary of First Ledger Corporation, Bitbuy is a transparent company that does not appear to conceal information from customers. The release of a new pro-trade product was recently preceded by a proof of reserve and security audit.
"Bitbuy was extremely forthcoming in the information they provided, and this information was provided in a timely and complete matter. This commitment to transparency is something that should be both a consumer expectation and self-regulatory best practice.
A new dawn of higher expectations and accountability is something that will be great for both the Canadian space and blockchain industry in general." Explains Rich Sanders, from cybersecurity experts CipherBlade, a company dealing with security and regulatory audits.
---
2. Bitbuy Services
Bitbuy's cryptocurrency exchange operates both as a web-based platform and mobile app.
CAD Trading
The user interface is clean, fast and simple to navigate with three main features.
Express trade enables customers to buy and sell cryptocurrency with Canadian dollars. The feature is the easiest way for users to deposits funds and buy cryptocurrency, for competitive fees %0.2.
Pro trade was added in 2019 to offer traders a live trading view and advanced orders. This feature runs a traditional order book style trading platform similar to Binance or Coinbase Pro.
Pro trade uses Tradingview software providing in-depth charting for technical analysis. Low-latency is joined by pop-out widgets allowing you to design your own trading screen.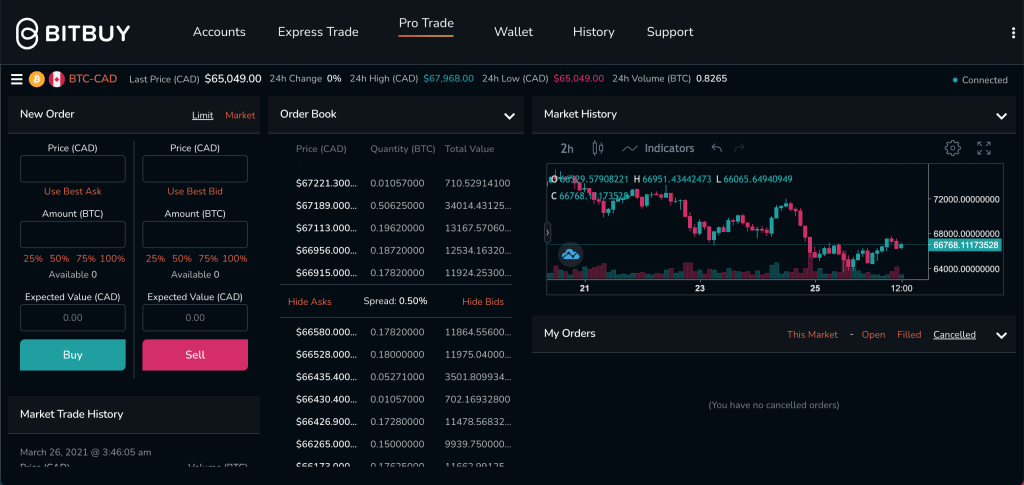 Wallets and Security
Bitbuy Wallets show you all current holdings across all currencies. The company claims to hold 95% of users funds in cold-storage (i.e. offline) to optimize security. Users are required to use 2 Factor Authentication to secure their account, this is compulsory during sign-up.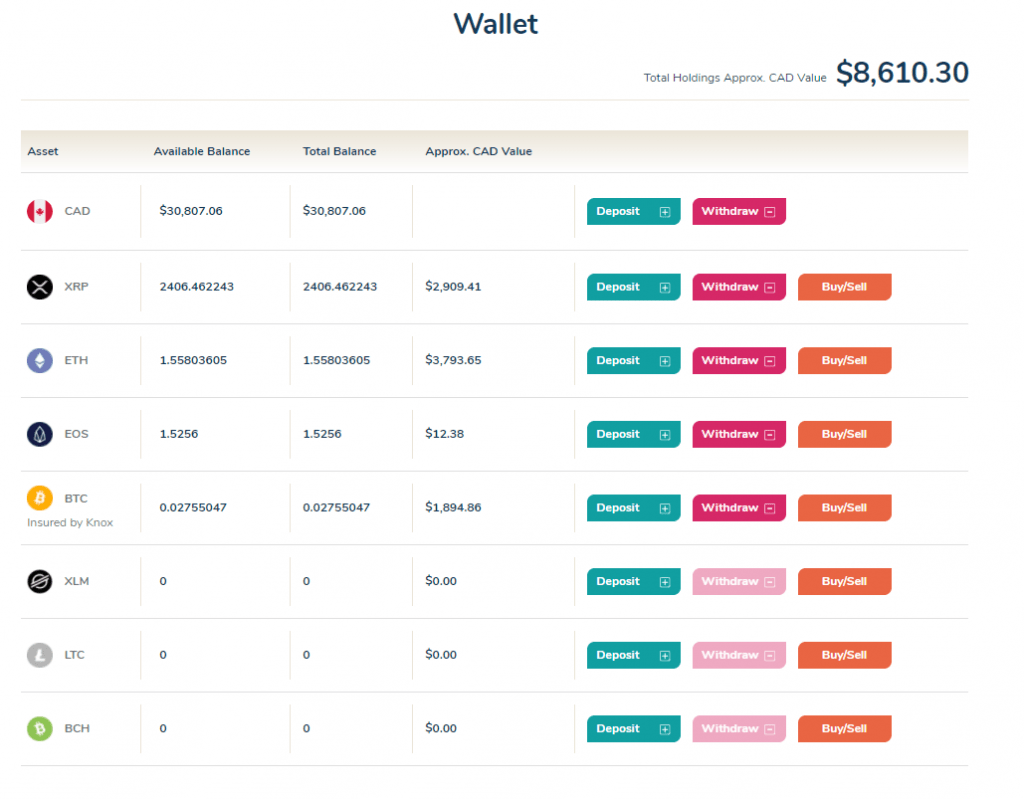 Another neat feature is that Bitbuy offers 1:1 insurance on all of its cold-storage holdings, at no added cost to the user. This is facilitated in partnership with Knox, a crypto custody firm also based in Canada.
Mobile App
Bitbuy is now also available on-the-go with their mobile app, which is available for both iOS and Android devices. The app allows users to access all of the features they use on the desktop web version, including buying, selling and transferring CAD and crypto.
It also harnesses the biometric capabilities of your device, for added security when using the app.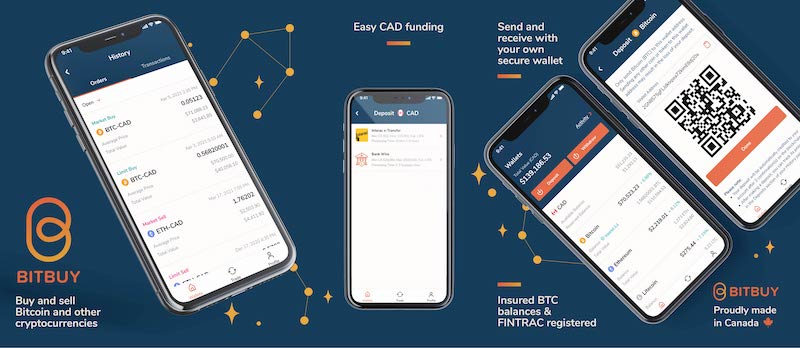 ---
3. Currencies and Payment Methods
Bitbuy keeps its currency selection simple. The only fiat functionality is Canadian dollars (CAD).
Bitcoin, Ethereum, XRP, Bitcoin Cash, Litecoin XLM and EOS make up the cryptocurrencies available to trade at the time of writing, with plans to add AAVE and LINK to the portfolio.
Deposits can be made in all of the above fiat and cryptocurrencies. To make purchases, users must first make a deposit into their account. CAD deposits have Wire Transfer, Interac e-Transfer and Express Interac e-Transfer.
No credit or debit card buys are available on Bitbuy.
---
4. Bitbuy Fees
Fees can quickly build on Bitbuy if you are not careful. Let's break them down to show just how much you could be paying.
Express trade – Buy: 0.20% | Sell: 0.20%
Pro trade – Maker 0.10% | Taker: 0.20%
Deposits & Withdrawals  – Wire transfer (minimum $10,000): 1.00% | e-Transfer: 1.50%
For the average user looking to use e-Transfer combined with express trade, it works out as a total fee 1.70% for a deposit and purchase.
Withdrawal fees also apply, which are 0.00025BTC for any amount of Bitcoin or 0.005 ETH for Ether. You can see the complete fee structure here.
---
5. Buying Limits
The maximum express trade purchase is $25,000. Although if you would like to make a larger transaction the Bitbuy OTC desk is happy to help you personally. Or you can use the Pro trade feature.
Deposit maximums also exist. e-Transfers have a maximum of $10,000 per day, for anything higher it is wise to use a wire transfer with a cheaper fee and $500,000 maximum. Withdrawals also have these same limits.
---
6. Supported Countries
Technically speaking the web-based platform will work anywhere in the world, but it is only of use to Canadians. To sign-up, you require a North American telephone number plus the only fiat currency support is the Canadian dollar.
---
7. Customer Support and Online Reviews
Bitbuy's customer service is one of the best in the cryptocurrency industry. The first notable element is a customer support phone line which is usually a scarcity. Adding to this, email support is quick and responsive, replying to queries in under 12 hours, even on a weekend.
The online reputation is strong across all boards, some regard it as the number one Canadian cryptocurrency exchange. Reddit and other forums are filled with happy customers. It makes for happy reading, these places are usually breeding grounds for disgruntled users.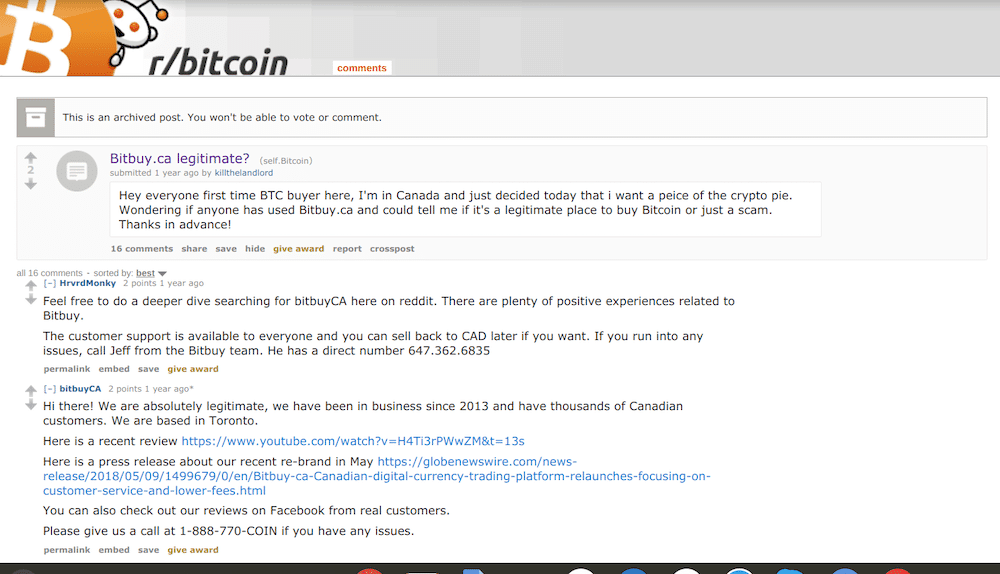 Social media account present plenty of activity, helpful information, quick replies and complete company information. All indicators of a reliable, legitimate operation.
---
8. Conclusion
Bitbuy offers a convenient streamlined service, it concentrates on fulfilling its mission rather than trying to deliver too many services. It makes buying and selling cryptocurrency simple for Canadians, with free insurance as well.
Awesome customer support, top cryptocurrencies and moderate fees backup a user-friendly platform. Its expertise and popularity have been built over years working in the Bitcoin industry. Now, Bitbuy enjoys a growing userbase providing decent 24-hour trading volumes and liquidity against Canadian dollars.
Have you had any experience with Bitbuy? Let me know what you think in the comment section below.