How to Buy Bitcoin in India
By: Ofir Beigel | Last updated: 11/4/23
Looking to buy Bitcoin in India? In this guide, I will review the status of Bitcoin in India, its popularity, and the different exchanges you can use to get Bitcoin in India.
Buying Bitcoin in India Summary
While Bitcoin is not yet accepted as a legal currency in India, it is possible to own and trade it on exchanges. To buy Bitcoin in India, follow these steps:
Get a Bitcoin wallet
Go to Coinmama
Choose the amount of Bitcoin you wish to buy
Enter your payment information and Bitcoin address
That's how to buy Bitcoin in India in a nutshell. If you want a more detailed review, keep on reading. Here's what I will go over in this post:
---
1. Is Bitcoin legal in India?
On the whole, Bitcoin's legal status in India is relatively positive compared to other countries. Cryptocurrency is not banned in India, and the country is slowly starting to develop laws and regulations around digital assets. In March 2023, India's finance ministry announced that crypto assets will now fall under the country's Prevention of Money Laundering Act (PMLA).
Crypto exchanges are now required to perform KYC on users and report any suspicious activity to India's Financial Intelligence Unit.
---
2. How popular is Bitcoin in India?
The Google Trends graph below displays interest in Bitcoin in India. The linked graph is live data, updated directly from Google. Using the search term 'bitcoin,' the graph represents the search interest of users through Google. A mark of 100 indicates peak popularity, while a score of 50 means half as popular.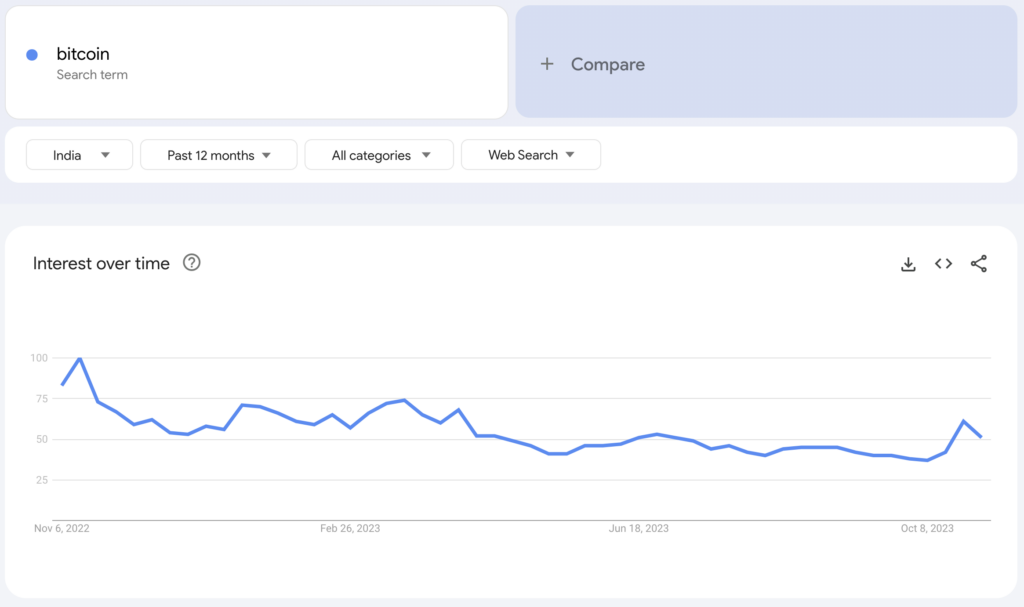 ---
3. Main Indian Bitcoin communities
There are a number of Indian Bitcoin communities online. These are particularly useful for staying up to date with the latest news, as well as for getting advice on the best Indian Bitcoin exchanges and the like. In particular, it's worth checking out the following forums, pages, and Meetup groups:
---
4. India-based Bitcoin exchanges
There are a number of Indian Bitcoin exchanges, with the more popular ones being regulated and requiring ID verification.
Giottus
Giottus is an Indian exchange founded by two alumni of the Indian Institute of Management Calcutta (IIM-C).
The exchange facilitates INR deposits and withdrawals to buy Bitcoin, as well as more than 70 other different cryptocurrencies.
Giottus charges no deposit or withdrawal fees for INR and features a trading fee structure ranging from 0.03% to 0.40%, depending on a user's previous 30-day volume. Users have to verify their mobile number for compulsory 2-factor authentication, as well as a form of ID.
Giottus' user interface isn't the prettiest compared to some other exchanges, but it's more than enough to get the job done.
CoinDCX
CoinDCX is an Indian cryptocurrency exchange that was founded in 2018. It has backing from some very notable names in the industry, including Coinbase, BainCapital, and BitMEX.
The exchange enables users to buy more than 200 cryptocurrencies instantly with INR by linking their bank account. It has a popular mobile app available in the Google Play Store and Apple Store.
CoinDCX's trading fee structure ranges from 0.04% to 0.50%, depending on a user's previous 30-day volume.
Unocoin
Unocoin was established in 2013 and allows users to buy Bitcoin with an Indian bank account.
Unocoin is a regulated company in India and offers a fee of 0.5% to buy or sell Bitcoin. It's an easy Bitcoin exchange to use, but it does require ID verification.
---
5. International exchanges available in India
You're not just limited to Indian cryptocurrency exchanges when buying and selling Bitcoin in India. Below are a few other options available to you:
Coinmama
Coinmama may be based in Israel, but it's available in a huge number of countries, including India. It was launched in 2013, and it offers convenience: you can buy Bitcoin with a debit or credit card.
The downside is that the fees are on the high side at 4.5% for USD, EUR, GBP, and JPY and up to 6.5% for other currencies. You can read my full review of Coinmama here.
CEX.IO
CEX.IO is available in most countries around the world. Founded in 2013 with its headquarters in London, this cryptocurrency exchange allows users to buy and sell Bitcoin as well as a selection of altcoins.
Both credit cards and bank transfers are accepted payment methods with low fees of 0%–0.25% on trades. CEX.IO offers a trading platform and a brokerage service, both entailing different fees. You can read my full CEX.io review here.
Paxful
Paxful is a P2P marketplace that allows buyers and sellers to meet online and trade Bitcoin and other cryptocurrencies with each other.
Sellers on Paxful accept over 300 payment methods, including major Indian payment methods like PayTM, Bhim, and PhonePe. If you're buying Bitcoin on Paxful, you won't have to pay any fee to the site itself, but the price of Bitcoin is traded at a premium because of this.
You can read my full Paxful Review here.
Changelly
Changelly is an exchange that was founded in 2015. It allows instant crypto-to-crypto swaps, as well as purchases and sales involving fiat via their payment partners. Signing up for an account doesn't require any personal information, and you'll then have a quick and easy way of exchanging cryptocurrency from one wallet to another.
Crypto-to-crypto trades have a low 0.25% fee. However, buying or selling with fiat may come with some hefty additional charges depending on which third-party processor handles the transaction. You can read my full Changelly review here.
---
6. How many Bitcoin ATMs are there in India?
As of 2023, there are two Bitcoin ATMs in India, according to CoinATMRadar.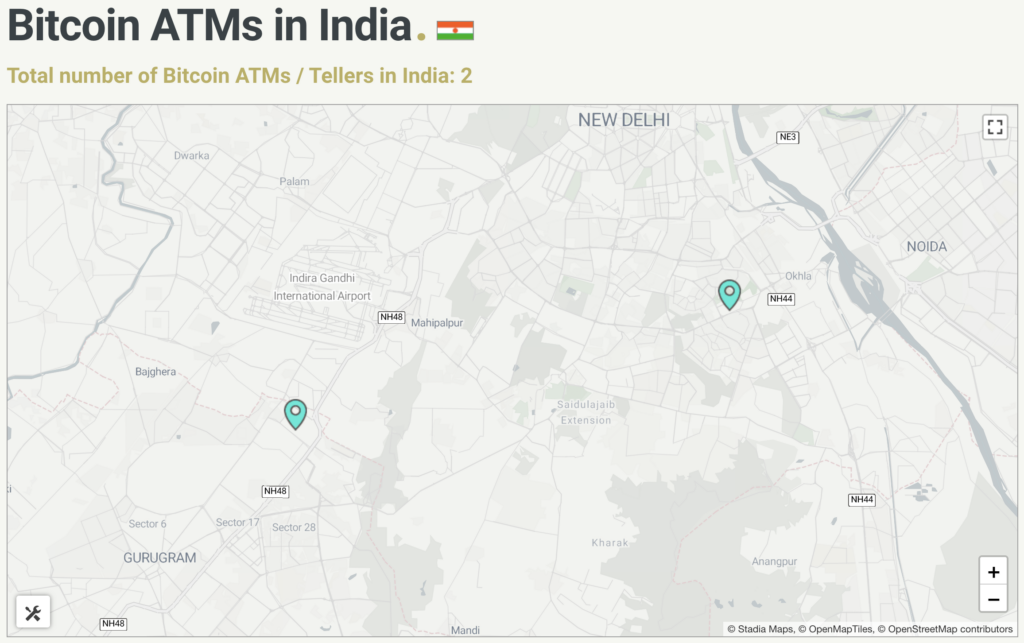 ---
7. Frequently Asked Questions
Is Unocoin Legal in India?
Yes, Unocoin is legal to use in India.
What are the most popular Indian-based exchanges by trade volume?
The biggest and most popular Indian crypto exchanges are WazirX and CoinDCX, both based in Mumbai.
Is Bitcoin Banned in India?
Bitcoin is not banned in India, and as of 2023, the country is slowly making progress toward regulating the digital asset.
---
8. Conclusion
As can be seen, Bitcoin's status in India is trending in a positive direction. This is evidenced by the Indian Ministry of Finance adding digital assets to the Prevention of Money Laundering Act (PMLA) in 2023 and the number of Indian-based crypto exchanges, as well as international exchanges accepting Indian users.
Know of additional ways to buy Bitcoin in India? Have you had experience with the ones I've mentioned above? Let me know in the comment section below.