Buying Bitcoins in Hawaii
By: Ofir Beigel | Last updated: 3/20/22
Nowadays, Bitcoin can be bought almost anywhere. This guide aims to help those buying Bitcoin in Hawaii by providing all of the essential information in one place.
Buy Bitcoins in Hawaii Summary
Bitcoin is legal in Hawaii but there are some local laws which complicate its use and purchase from certain exchanges. To quickly purchase Bitcoin in Hawaii without any issues, follow these steps:
Download a Bitcoin wallet
Go to Uphold
Choose the amount of Bitcoin you wish to buy
Enter your payment information and Bitcoin address
If Coinmama doesn't work for you here are a few additional exchanges for buying Bitcoin in Hawaii:
That's how to buy Bitcoins in Hawaii in a nutshell. If you want a more detailed explanation of the process keep on reading, here's what I'll cover:
---
1. Is Bitcoin legal in Hawaii?
Although there is some disagreement between agencies on Bitcoin's precise classification, Bitcoin is legal in the US and in Hawaii too, by extension. Therefore, the sale, exchange, or purchase of goods with Bitcoin is allowed by law.
Is Coinbase available in Hawaii?
There have been some unique complications for Bitcoin in Hawaii. In particular, Coinbase announced that it was suspending its business in Hawaii, due to the state imposing certain reserve requirements on cryptocurrency exchange.
As Coinbase is a popular choice for Americans looking to buy Bitcoin, this can lead some Hawaiians to doubt Bitcoin's legal status. Rest assured, it's perfectly legal for you to buy Bitcoin.
---
2. How popular is Bitcoin in Hawaii?
An increasing number of businesses in Hawaii are accepting Bitcoin. The weekly US dollar volume on LocalBitcoins shows declining volume since December of 2017.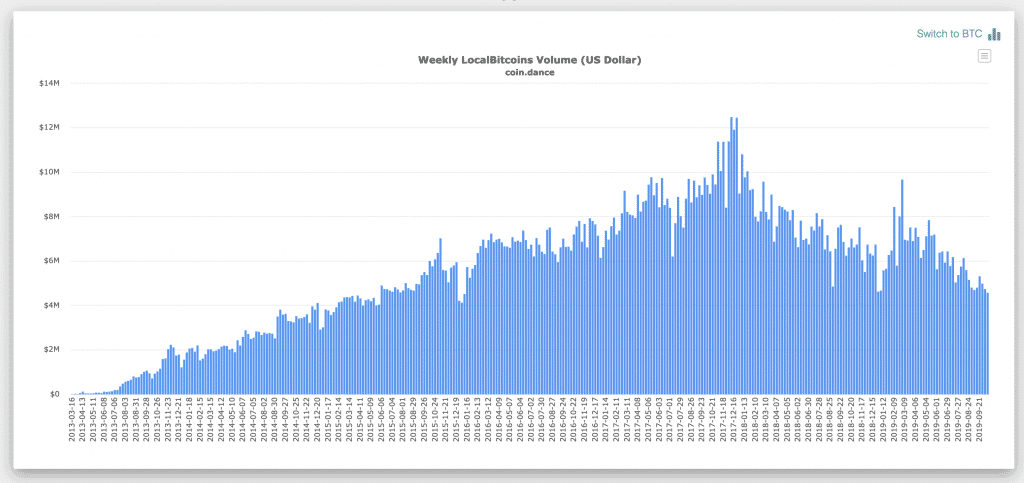 According to Google Trends, search interest in Hawaii for Bitcoin has been largely flat for most of 2018 and into early 2019.

---
3. Hawaiian Bitcoin Communities
At the time of writing, Hawaii's Bitcoin online activity is pretty thin in social media platforms. However, there is a Honolulu Bitcoin Group on Meetup with over 800 members. Also available is the Bitcoin Hawaii Facebook group, but it doesn't seem to be too active.
---
4. Bitcoin exchanges based in Hawaii
While there are no Bitcoin exchanges based in Hawaii, there are some US-based Bitcoin exchanges that you can access:
Kraken
Kraken, operating since 2011, is one of the oldest cryptocurrency exchanges. It operates in the USA and Canada, as well as Europe and Japan. With Kraken, you're able to buy Bitcoin, plus get a selection of about 20 other cryptocurrencies.
The fees are relatively low at 0.16% to 0.26%, although their trading platform isn't the most beginner-friendly. You can read my complete Kraken review here.
Uphold
Uphold is a digital-money platform, rather than a cryptocurrency exchange. Uphold has been recommended by many residents in Hawaii. It's easy to deposit via bank transfer, credit or debit card. You can then purchase Bitcoin with USD.
Keep in mind that deposits and withdrawals are on the slow side, and can take days. Uphold has a 1.05% trading fee plus a 0.0003 BTC withdrawal fee.
---
5. International exchanges available in Hawaii
In addition to Bitcoin exchanges in the USA, you have the option of a few international exchanges:
CEX.io
CEX is a London based Bitcoin exchange that caters to customers from around the world. The exchange allows you to buy Bitcoin through its brokerage service with a credit or debit card at a premium. Alternatively, more experienced traders can use the trading platform and save on fees (especially if depositing money through a wire transfer).
You can read my complete CEX.io review here.
Bitstamp
Bitstamp, based in Luxembourg, was founded back in 2011. Users of Bitstamp can purchase Bitcoin and a number of cryptocurrencies with USD. It offers users the option of buying Bitcoin with a credit card or debit card. However, there is a 5% fee attached to it. For the average user, the most likely transaction fee is 0.25%.
You can read my complete Bitstamp review here.
LocalBitcoins
LocalBitcoins is a peer-to-peer marketplace based in Finland. It directly connects buyers and sellers, and is available in many countries around the world, including the USA. There are a wide range of possible payment methods in Hawaii, including cash, PayPal, and Western Union.
Keep in mind that Bitcoin prices are typically higher in Hawaii. A 1% fee is charged by the platform on top of the seller's exchange rate. You can read my complete LocalBitcoins review here.
---
6. How many Bitcoin ATMs are there in Hawaii?
According to CoinATMRadar, there are seven Bitcoin ATMs in Hawaii (as of October 2019). They are concentrated in Honolulu, the state capital, although there's one in Kapolei and another in Kapaa.
Average fees for these BTMs are between 15% to 19%, which is on the steeper side.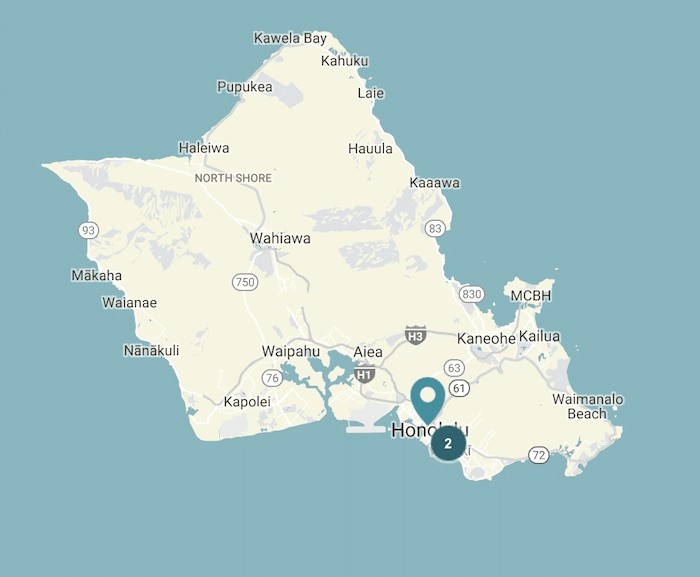 ---
7. Conclusion
Hawaii's reserve requirements for US exchanges aren't a big obstacle, given the ease with which Bitcoin may be purchased from international exchanges or directly from peers via LocalBitcoins, Paxful, and similar services.
It seems that Honolulu is host to a surprising amount of Bitcoin activity, so if you reside elsewhere in Hawaii it might be worth the trip to the capital to network with other island Bitcoiners.
Have you bought Bitcoin in Hawaii? I'd love to hear about your experience in the comment section below.