Today, even with the increasing mainstream knowledge and acceptance of Bitcoin, to buy or to convert the digital currency into USD can be a rather challenging process for a beginner; and I dare to say that for some of the intermediate users it can sometimes turn into a real slow and time wasting process if you don't make the right choices.
Speaking of choices, there is a whole set of variables that you might consider while searching for the exchange that suits you the most, like: fees, trading pairs, popularity, payment options, and minimum and maximum payout structure. But for now we will stick to PayPal and the VirWox exchange.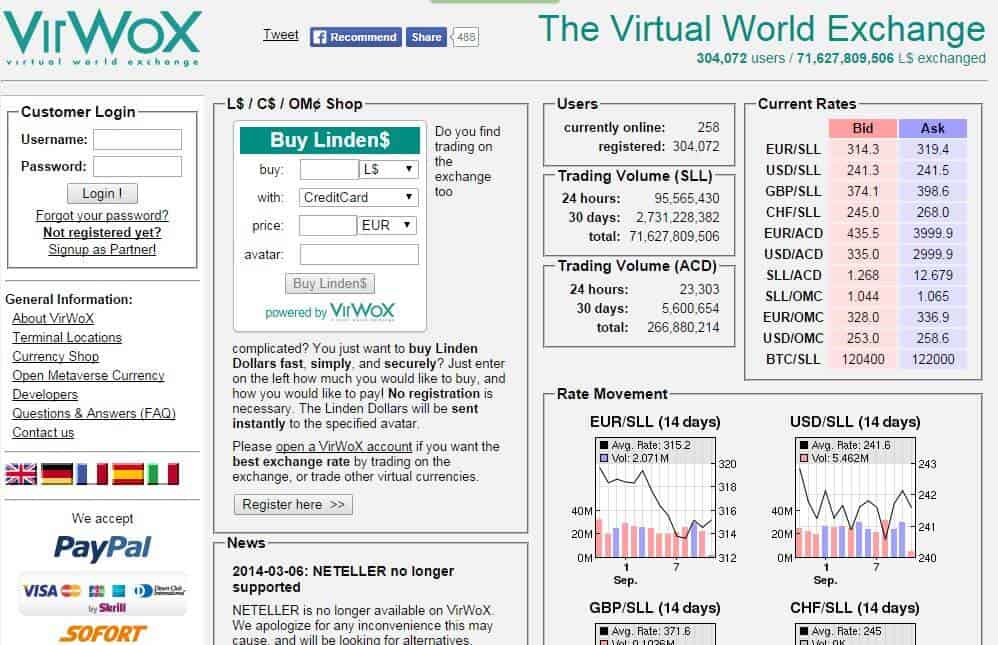 PayPal is the easiest and fastest process of internet banking that you can use today to securely complete your purchases throughout the internet while letting you send and receive money from your bank account.
Even today, most of the community still believes that using PayPal to buy/convert bitcoin is nearly impossible, but we will show you a simple process that will give you access to bitcoin and vice-versa simply using your PayPal account. So let's start the guide!
1. Sign Up For a VirWox Account
VirWox is currently the only exchange that works directly with PayPal, so it will absolutely necessary for you to create an account if you don't have one. VirWox was one of, if not the first, "virtual currency" exchanges in the world. Named after the initials VirWox – Virtual World Exchange is an Austrian company specializing in exchanging the Second Life digital currency, Linden Dollars (SLLs). The Linden Dollar (SLL) is considered a game currency much like WoW gold.
2. Personal Details and Account Activation
You will need to fill out your personal data in order to successfully activate the VirWox account. After you've registered, information for activating your account will be sent to your email address. You might need to also check your spam folder because automatically generated emails may sometimes be flagged as spam. In this email you will be given the password; this password will only be valid for a period of 24 hours. It is recommended for you to change your password or your account will be deactivated after this period. Please, place special attention to security issues (always use strong passwords) and activate the Multi-Factor Authentication MFA.
3. Create a VirWox Bitcoin address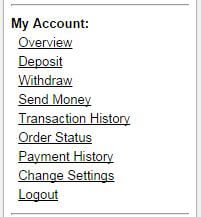 You will need to create a bitcoin address inside the VirWox exchange in order to safely deposit your bitcoin to the exchange. On the VirWox site interface you will find a menu on the left side; click the Deposit option. Scroll down to the "Bitcoin" section and obtain your VirWox bitcoin address. After you have created this address you can begin the process.
4. Move Your Bitcoin
You will now want to move your bitcoin into your VirWox account so you can convert them later on to USD. This can be done by going to your bitcoin wallet and sending some bitcoin to your VirWox bitcoin address. After 6 confirmations you will have the bitcoin in your VirWox account.
5. Trade Your Bitcoin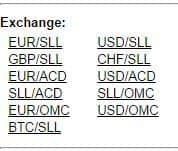 Unfortunately, VirWox exchange still doesn't have a USDBTC pair for trading so you will need to exchange your coins for Linden Dollars (SLL) and then later on you can change them for USD.
This is a simple process: Again, in the menu to the left you will have a section with all the exchange trading pairs; choose the BTCSLL pair and trade your coins for Linden Dollars (SLLs), after you executed this trade, go to the USDSLL pair and trade your SLLs for USD.
6. Send USD to Your PayPal Account
At last, after you have completed that process you will surely have some USD in your VirWox account and the final step will be sending them to your PayPal account.
At the menu to the left you will have the option Withdraw. Click on it and you will be taken to the section where you will see how much USD you have and where you will be able to select the withdraw method, in this case PayPal; enter your PayPal email and it's done!
If you don't have a PayPal account you can sign up for one right now. This guide is mostly directed to people who have already their PayPal account attached to their bank accounts and already skipped through the activation and proof of identity process.
7. Open Your PayPal Account (optional)
After you have completed this process you can go to your PayPal account and confirm if your USD has already arrived!
Additional Information: You can use the exact same process for other crypto currencies, but for that you will need to use OKpay services. If you dont have an OKpay account you can open one right now and explore all their options!
(Attention: this process may hold a few more transaction costs than the usual solutions; still I find it a very useful option for those who really want to use their PayPal account)