How to buy Litecoin with PayPal or credit card
Note: If you're looking to buy Litecoin with Paypal or a credit card for trading purposes only check out AvaTrade or Plus500's Litecoin CFD Trading. 
Important update!
Since December 2013 VirWox is delaying new user transactions for up to 48 hours. This means that it can take you 2 days to complete this process. This is still way faster than using a wire transfer but keep in mind that this will probably not be instant (although in some cases it is relatively faster). If you find yourself getting stuck at any point don't hesitate to contact me through the contact form on the site.
If you're reading this post then you probably already heard about Bitcoin. But what is Litecoin ? Well, Litecoin is kind of like Bitcoin's younger brother. I won't get into technical terms, but to put it simply – if Bitcoin is the Internet's gold, then Litecoin is it's sliver.
Sure enough once Bitocin started taking off Litecoin followed shortly after. This got a lot people wanting to buy Litecoin as soon as possible. But there is a catch with Litecoin. There is currently no marketplace that allows you to buy Litecoin with USD/EUR/Whatever (traditional currency called "fiat"). This means that in order to buy Litecoin with Paypal or a credit card you will need to first buy Bitcoin with Paypal or a credit card and then buy Litecoin with that same Bitcoin.
A few things to keep in mind before we begin. The first is that it's really hard to buy Bitcoin with Paypal or a credit card online because of the risk it poses to the seller. It's still possible but now we come to the second point. Since we can't buy Bitcoin with Paypal directly, we will buy it using a workaround. This workaround causes the transaction fees to be higher. I find this process still worth the cost because of the extreme volatility of Bitcoin.
Open an account in VirWox
The first thing you'll need to do is to go to VirWox (Virtual World Exchange) and open a new account – look for the "Not registered yet" link as shown in the image below: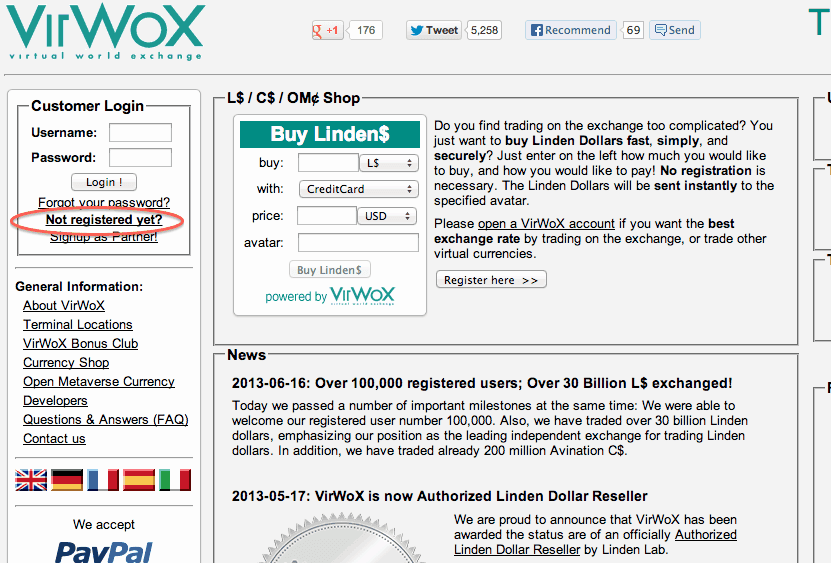 Now just fill in your personal details. Where it asks you about your avatar name just leave it at "no avatar" and click "Register. Once this step is done you'll be sent an email with your password.
IMPORTANT – Don't forget to change your password
In the email from VirWox you will receive a password. Log into VirWox with that password. I strongly recommend you change it once inside since you will be transferring money through this account. You can do this under "change settings" as shown here: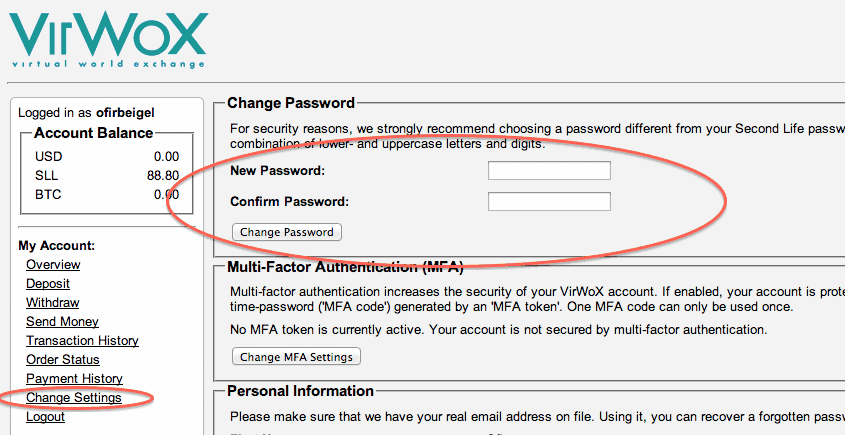 Fund your account through Paypal or a credit card
Now go to "Deposit" and choose the "Paypal express" method (even if you want to pay with a credit card). Enter the amount of USD/EUR you want to deposit and click the Paypal checkout button. Note that if your account is new you will have a max limit on how much you can deposit. In time this limit will be removed and you will be able to deposit more and more.
Once the account is funded it's time to buy some SLL (Second Life Lindens) and exchange them into Bitcoins. Start off by buying SLL in the SLL/USD exchange  as shown here: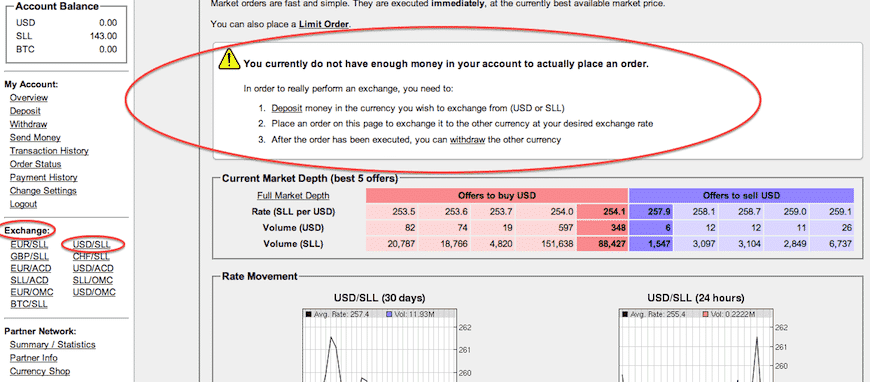 After you see the SLL in your account (top left) you will now need to exchange them to Bitcoins. Go to the SLL/BTC exchange and exchange you Lindens to Bitcoins: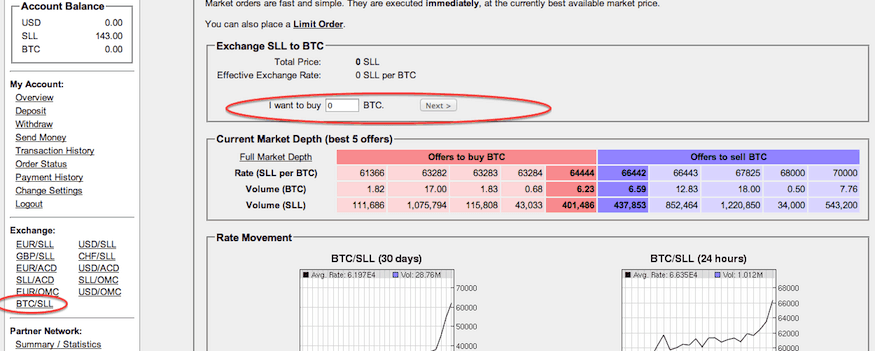 Withdraw you Bitcoin into BTC-E
Now that you have bought Bitcoins with Paypal (or a credit card) it's time to use them to buy some Litecoins. There are several exchanges that allow you to buy Litecoin, I use the most popular one BTC-E.
Open an account in BTC-E

Once done create a Bitcoin address to deposit your funds: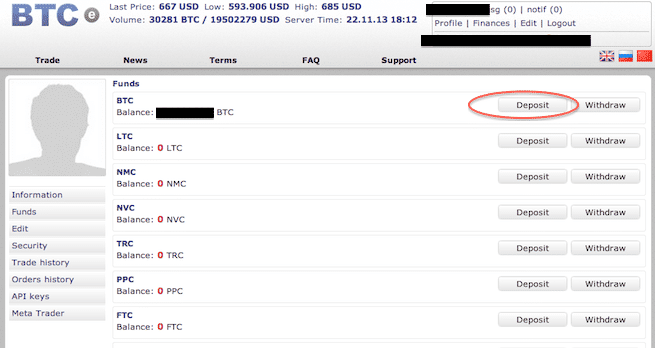 At the bottom of the page you will see your Bitcoin deposit address (you can create a different address each time you do this process):

Now go back to VirWox and transfer your funds into this Bitcoin address:

Almost there, just one final step…
After the Bitcoins arrive at BTC-E (this can take several hours), use them to buy Litecoins.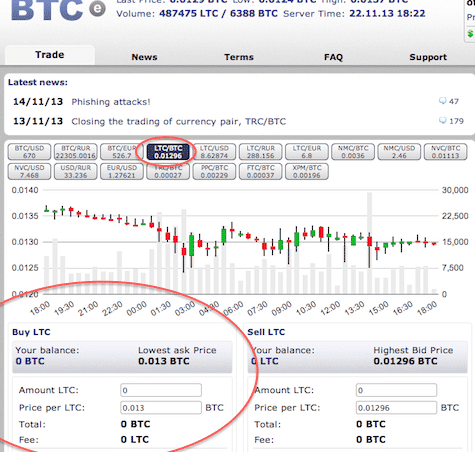 After you bought the Litecoins it's time to store them in your Litecoin wallet. I use Litecoin-QT but you can go with whichever wallet you prefer.
Find the best exchange to buy Bitcoins

Blogger and owner of 99Bitcoins. I've been dealing with Bitcoin since the beginning of 2013 and it taught me a lesson in finance that I couldn't get anywhere else on the planet. I'm not a techie, I don't understand "Hashes" and "Protocols", I designed this website with people like myself in mind. My expertise is online marketing and I've dedicated a large portion of 99Bitcoins to Bitcoin marketing.

Latest posts by Ofir Beigel (see all)