Edge Wallet Review and Comparison
By: Ofir Beigel | Last updated: 1/22/23
Edge is one of the more popular cryptocurrency software wallets around today. In this review I'll cover the wallet's features and give my personal impression of it.
Edge Wallet Review Summary
Edge is a mobile multi-currency wallet for iOS and Android that displays some advanced security features. The wallet is very intuitive to use, and has a variety of options within such as buying cryptocurrency, exchanging it and even spending it.
That's the Edge wallet in a nutshell. If you want a more detailed review keep on reading, here's what I'll cover:
---
Don't Like to Read? Watch This Video Review Instead:
---
1. Company Overview
Edge, headquartered in San Diego California, was founded in 2014 under the name "AirBitz". Initially, the company provided a Bitcoin-only wallet and a website directory listing businesses that accept Bitcoin.
Since then, the company has added to its services a security platform that allows developers to build secure apps that secure users' data at "The Edge" (i.e. the client side). Due to that, the company has rebranded to "Edge".
---
2. The Edge Wallet
Edge is a mobile cryptocurrency wallet available for Android and iOS. The wallet supplies a variety of features such as in-app buy and sell, in-app exchange between cryptocurrencies and advanced security.
Security features
Edge uses a unique security model. Instead of giving users the usual seed phrase (12-24 words which need to be memorized in a certain order), users choose a username and password.
This is much more intuitive if you're just getting started with cryptocurrencies. Additionally, if you want to view your actual seed phrase (i.e. your private key), you can do so for each currency that you've enabled inside the app.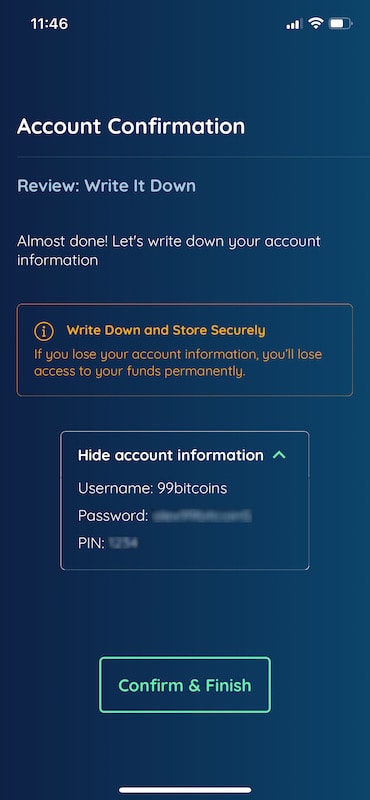 It's important to note that Edge has no knowledge of the user's username or password. This information is encrypted on the client side (meaning the device itself) before being transferred to Edge's servers.
Since wallets are accessed via a username and password, anyone that obtains this combination can log into your account. That's why it's crucial to enable 2-factor authentication if you're using Edge.
Once enabled, only your device will be able to log into the account (unless you actively authorize additional devices).
Spending limits can also be put in place, so in case a large amount is being sent from the wallet, it will require a full password verification again. Finally, auto logout is another important feature to allow maximum security.
In-app features
Buy cryptocurrencies – You can buy cryptocurrencies straight from within the app via a credit card or a wire transfer.
Exchange cryptocurrencies – You can exchange between different cryptos from within the app via services, such as ShapeShift, Changelly and ChangeNow.
Spend cryptocurrencies – Edge allows you to buy gift cards for popular online websites, such as Amazon, Steam, etc. through Bitrefill.
Claim forks – Edge supports the claiming of certain Bitcoin forks, such as Bitcoin Cash and Bitcoin SV. You can automatically claim BCH from eligible coins.
Earn Interest on Cryptocurrencies – Edge allows users to earn interest on their crypto assets through a partnership with Cred, a crypto-backed lending and borrowing platform.
Privacy
The Edge wallet is completely private with no user data or personal information being transferred to the company's servers. Users are completely anonymous and you don't even need an email address to sign up to the wallet.
Fee Handling
Edge also gives you full control over how much you'd like to pay in Bitcoin transaction fees. The app's recommended fee is dynamic, based on the network's recommended fee, and factoring the amount of bitcoin the user wants to send.
The standard fee aims to get a transaction confirmed within 2-5 blocks (large amounts will aim for 2 blocks, while small amounts will aim for 5). Users can change the fee to Higher or Lower than this.
---
3. Supported Coins
Edge supports a variety of cryptocurrencies:
Bitcoin Cash

Ethereum Classic

Binance Coin

Bitcoin SV

EOS

RSK

Stellar

Dash

Tezos

DigiByte

Vertcoin

Ravencoin

Qtum

FeatherCoin

Bitcoin Gold

Smartcash

Groestlcoin

FIRO
UFO

Telos

Fantom
Bitcoin Testnet

Dogecoin

eBoost

FIO

Hedera
---
4. Customer Support and Reviews
Edge offers its users several support options. You can either search the knowledge base on the company site, open a ticket from within the app (or on the site) and even call support directly via a number shown within the app.
The wallet received a 4 star rating for both the iOS and Android version with many customers praising the exceptional customer service. Indeed it seems that the company makes it a habit to reply to each review (good or bad) on Google Play.
Overall it seems that if you have an issue with the wallet, Edge will make sure to solve it for you. From my experience, you don't get such dedicated support in many cryptocurrency companies around these days.
---
5. Frequently Asked Questions
What happens if I lose my username or password?
Edge servers can't read your password or username, however there are several ways you can reset a password if you've lost it:
Reset your password using the 4 digit security pin. This only works if Edge was not uninstalled or deleted from your device.
You can set up recovery questions from within the app. If you did so before losing your password, you'll be able to use a recovery token to reset your password.
If Edge goes out of business what happens to my wallet?
The short answer – nothing happens, everything is fine.
The long answer – There's no connection between the company and your funds. You can at any time access your private keys on the Edge wallet and move your funds to any other wallet you'd like. So even if the company suddenly ceases to exist, you still have access to your coins.
Is Edge Open Source?
Yes. Edge is completely open source and has been vetted by leading security experts including the Open Bitcoin Privacy Project. You can view the source code here.
---
6. Conclusion
Edge is a great user friendly wallet with some cool security features that you don't normally see in other wallets. Whether you're a complete beginner or an experienced Bitcoiner, Edge seems to be a solid mobile wallet.
Have you had any experience with Edge? I'd love to hear about it in the comment section below.