Buying Bitcoin with ACH – A Beginner's Guide
By: Ofir Beigel | Last updated: 1/19/23
ACH is one of the fastest and cheapest ways to transfer money inside the US. In this post I'll cover the different Bitcoin exchanges that accept ACH transfers in order to buy Bitcoin.
Buy Bitcoin with ACH Summary
ACH allows for faster and cheaper transfers than a traditional wire transfer. There are 3 popular options for buying Bitcoins with ACH – eToro, Coinbase and Gemini. The fastest and cheapest option would be eToro, however you will not be able to directly withdraw your coins (only sell them back to USD).
If you want to buy actual Bitcoins with ACH use Coinbase:
Go to Coinbase and sign up
Verify your account
Click on "Buy/Sell"
Choose the amount to buy
Choose ACH transfer
That's how to buy Bitcoin with ACH in a nutshell. If you want a detailed review about the benefits of ACH and exchanges that accept it keep on reading, here's what I'll cover:
---
1. Why use ACH?
ACH (Automated Clearing House) is an electronic funds-transfer system that is used for payments inside the U.S. The ACH is run by the National Automated Clearing House Association (NACHA).
Recent rule changes are enabling most credit and debit transactions made through the ACH to clear on the same business day.
When you use a wire transfer it can take several days for it to show up on an exchange. Alternatively if you use an instant payment method like a credit card you usually end up paying a hefty amount in fees.
ACH allows for speedy transactions at the cost of a wire transfer.
---
2. Options for Buying Bitcoin with ACH
eToro
eToro is a trading platform that allows users to easily start buying and selling Bitcoin. eToro is available in almost every US state and accepts ACH transfers in all the states in which it operates. The only restricted states are Minnesota, Nevada, New York, Tennessee and a few other territories. 
With eToro, withdrawing your Bitcoin requires sending them to eToro's proprietary wallet first, which may take up to 3 days for approval. Due to this, eToro is more suited towards people looking to invest in Bitcoin for profit only, so you can cash it out later in fiat (e.g. USD).
There are no deposit fees for ACH transfers with eToro. You can read my eToro review for a complete overview of what eToro offers (including which countries it supports).
Coinbase
Coinbase, established in 2012, is one of the oldest exchanges around. Coinbase has a brokerage service which is more suitable for beginners, but it also has an advanced trading platform called Advanced Trade for more experienced traders.
With Coinbase, ACH transfers are completely free of deposit fees (unlike wire transfers). The transfer typically takes 3-5 business days (which may be as many as 7-10 calendar days, depending on the timing of weekends and other bank holidays) to complete after initiating a purchase.
You may see the funds immediately debited from your bank account when you initiate the transfer, but the funds will not be transferred into your wallet until your payment has finished moving between the banks and has cleared in Coinbase's bank account.
The main bottleneck is how long it takes your bank account to approve the transaction, as can be seen below: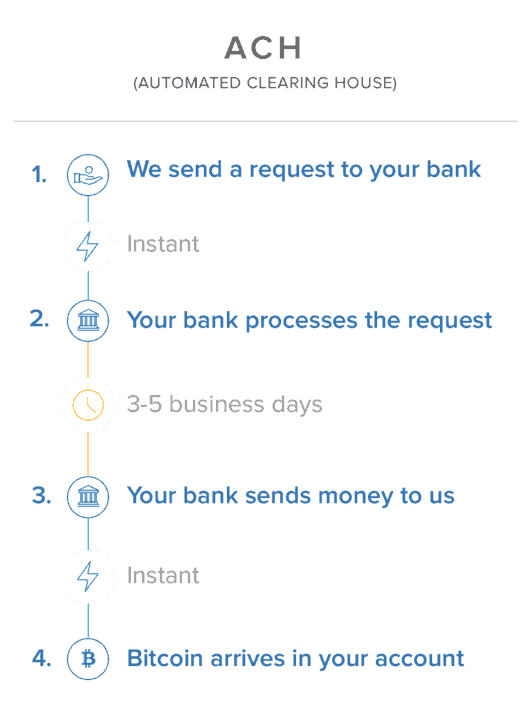 If you want a detailed review about each service you can read my Coinbase review which includes information about both the brokerage service and trading platform.
Gemini
Gemini, founded in 2014 by Tyler and Cameron Winklevoss, is one of the leading exchanges for buying Bitcoins in the US.
ACH transfers are completely free of deposit fees on Gemini.  Although your bank balance may show your funds have left sooner, it typically takes at least 4-5 business days for a bank to communicate this to Gemini.
If you want a detailed review about Gemini's trading platform you can read my Gemini review.
---
3. Conclusion
While at the moment the range of options for buying Bitcoin with ACH is a bit limited, I'm sure that as more exchanges expand into the US they will also support ACH transfers.
For now, the exchanges listed above should give you a good enough solution as all of them are reputable and well established exchanges.
If you know about additional exchanges that accept ACH transfers or have had some personal experience with ACH transfers yourself I'd love to hear about it in the comment section below.