Buying Bitcoins in Pakistan
By: Ofir Beigel | Last updated: 1/15/21
Due to legislation, it is no longer legal to buy Bitcoin in Pakistan. In this post I will review the legal status of Bitcoin in Pakistan and its implications on Bitcoin owners.
Buying Bitcoin in Pakistan Summary
Bitcoin and other cryptocurrencies are illegal in Pakistan as of April 7, 2018. It may still be possible for Pakistanis to acquire bitcoins through decentralized exchanges or by purchasing bitcoins from foreign exchanges, however, that would be illegal.
---
1. Is Bitcoin Legal in Pakistan?
The State Bank of Pakistan (SBP) banned all cryptocurrency, including Bitcoin, altcoins, and ICO tokens, in April of 2018. The SBP ordered all financial and monetary service providers, including banks and payment processors, to cease any all transactions relating to cryptocurrency.
The SBP further warned that any transactions relating to cryptocurrency will be considered as suspicious and reported to the country's Financial Monitoring Unit.
It is unknown whether this strict ban applies to individual use of cryptocurrency as well. If you own cryptocurrency or wish to send or receive it in your individual capacity, it would be best to seek the advice of a lawyer familiar with such matters.
It must be noted that Bitcoin trading continues in Pakistan, albeit in a peer-to-peer fashion via decentralized exchanges (DEX). As individuals would be risking the closure of their bank accounts if caught trading Bitcoin, presumably the majority of such trading is conducted via cash exchanges.
---
2. How Popular is Bitcoin in Pakistan?
Bitcoin was increasing in popularity in Pakistan prior to the ban. When this article was originally published in December 2017, Urdubit was the only Bitcoin exchange in Pakistan. However, Urdubit has since shut down as it can no longer legally operate within Pakistan.
LocalBitcoins weekly volume for Pakistan shows that trading activity has slowed since the Bitcoin price peak in late 2017 to early 2018, however it remains moderately high despite the ban.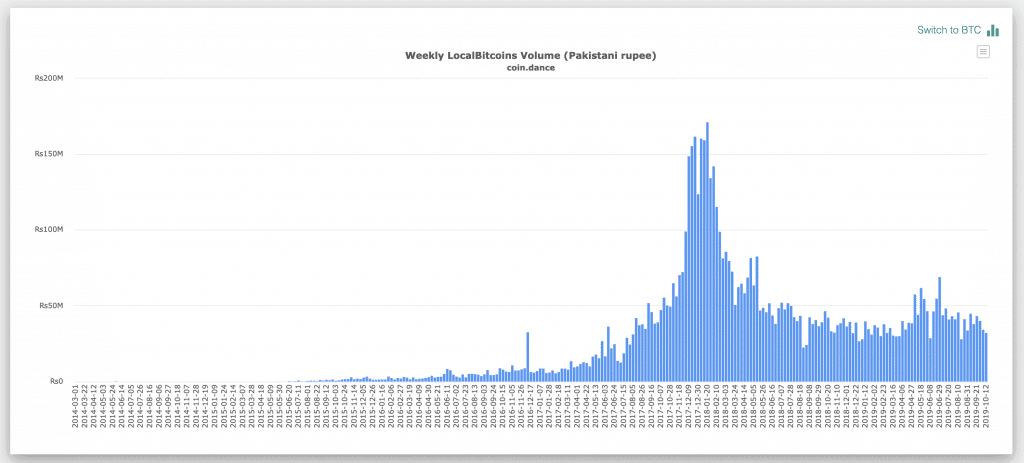 Consider Google Trends data and the same trend is apparent; the term 'Bitcoin' achieved peak popularity in December 2017 but interest has since faded over the course of 2018. However, people are clearly still searching for the term, indicating ongoing interest.

---
3. Main Pakistan Bitcoin Communities
While interest in Bitcoin continues to grow, there aren't many Bitcoin communities in Pakistan as yet. Although there aren't many forums to be found, there is a lengthy 80+ page thread on BitcoinTalk as well as several Facebook groups.
---
4. Conclusion
Bitcoin is no longer legal in Pakistan. The main local Bitcoin exchange available to Pakistan was Urdubit, but it is no longer active due to the legal status. Still, there seems to be some Bitcoin trading activity going, judging by Localbitcoins' data.
Have you tried buying or trading Bitcoin in Pakistan? Let me know about your experience in the comment section below.