March 2018 HitBTC review update
I initially reviewed HitBTC in 2014 when it was just starting out. Overall the exchange made a very good first impression. I haven't actively used it for trading until the recent Bitcoin  Cash and Bitcoin Gold forks. Whenever I would claim a new Bitcoin clone from one of these forks, I would immediately sell it on HitBTC.
All seemed to be going well, and as my site relies mainly on affiliate commissions I decided to also recommend it to my readers and support my blogging efforts. However that's when things took an ugly turn.
In the past few years I never tried to withdraw my affiliate Bitcoin balance from HitBTC. I decide to take a look at my account and saw that I have 0.25BTC waiting for withdrawl + another $600. So overall I had almost $3000 waiting for me to just cash out.
I followed the normal procedures which include transferring your balance to your main account but then a funny thing happened. My money just "disappeared". It did not appear on my recent transactions and the current balance dropped to zero.
I immediately contacted HitBTC and got the following reply:

As you can see from the email this was on November 16th 2017. This update is being written on November 26th (ten days later). Since then I tried contacting HitBTC several times but only received a very vague response claiming:
The issue you reported requires additional investigation.

We have escalated the issue to our second-level support experts and flagged it as high priority.

We will keep you posted on the progress.
It seems a bit odd to me that a company knows there is a technical issue on their side and instead of immediately reimbursing my balance they just keep me waiting with no access to my funds.
A quick online search showed a mob of angry customers posing similar reviews about the company.
All other communications I have sent have gone unanswered. I suggest avoiding using HitBTC for now. I will update as this situation unfold.
March 5th – I finally got a response, however it was the same unhelpful response as usual, see the email below: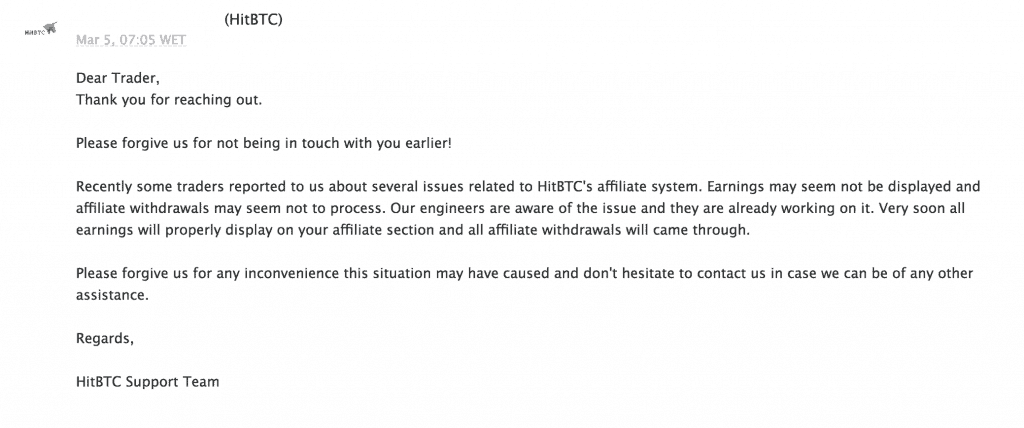 April 16 – I have been contacted by a HitBTC representative and the issue has been solved. Needless to say it took them over 6 months and for me to write this review to get someone to notice.
At the moment I still recommend avoiding HitBTC. Some users have even started a petition against the low-level service HitBTC is supplying.
---
My initial HitBTC review from 2014
I was approached earlier this month by the guys at TeddMarketing whose client is HitBTC in order to review their website. At first I was pretty reluctant to review yet another Bitcoin exchange since it seems that each day another one is established or wiped out. After some back and forth and a bit of web digging I came to the conclusion that HitBTC is worth some futher investigation, so here's what I found…
The first thing you'd notice is the sleek UI
Indeed HitBTC made a great job at designing an easy and intuitive user interface. Sign-up is easy and the navigation throughout the site is simple. There are no confusing tab names or 2007 website designs. So the first impression is that this is indeed a solid exchange platform.
Finally an exchange platform for newbies!
Perhaps one of the most daunting challenges an Bitocin newbie has is to understand how trading works. Bid, Ask, Volume and Spread are just some of words in this very confusing vocabulary. HitBTC does one thing exceptionally well that isn't provided on any other trading platform today  – it supplies you with a demo mode.

With a click of a button you can enable the demo mode (did I mention they have a great UI ?). In the demo mode you can experiment as much as you like while trading under live market conditions. This is especially important if you're a newbie and want to acquire some experience before putting your money on the line. The only other place I've seen an actual demo mode is in Forex companies like Plus500 or AvaTrade and they trade only with Bitcoin CFDs. Keep in mind that when trading CFDs your captial is at risk. If there is one feature that differentiates HitBTC from other platforms it's this demo mode.
HitBTC is focused on major markets
Another thing I really liked about HitBTC is that it's focused only on the major markets – meaning Bitcoin & Litecoin exchanged to USD & EUR. For newbies the amount of altcoins can sometimes be overwhelming. By removing "noise" from the exchange and focusing only on the main currencies, HitBTC comes to be much more newbie friendly (again).
Emphasis is put on security
Each critical action (login/withdraw) in HitBTC can be protected by 2FA (2 Factor Authentication). You can also see a list of IPs that accessed your account so you'll be able to monitor any suspicious activity. Finally, HitBTC tells you what is your security level (i.e. weak, strong etc.) which prompts you to safeguard your account better.
Simple, efficient and smooth
If I were to end my review here I would probably give HitBTC an A+. I didn't go over all of the details such as transaction fees but they can easily be found here.
The only thing that is left as a concern…
So by now I've established to myself that HitBTC is a pretty solid platform. The only thing left was to see what other people where saying online. The main source of information for unbiased reviews I could find was on Bitcointalk where HitBTC announced their formal launch on January 2014. It seems that BitcoinTalk users all admire the mechanics behind HitBTC but are suspicious of the fact that there is no physical address or real live identity associated with the website. The domain registration is private, and the HitBTC about us page only gives a general description without specific names or contact info.

To conclude, in the "after Gox area" you need to be more transparent
HitBTC did a great job in building their website, truly magnificent. But after so many people lost their money because of one inadequate individual you need to be more transparent. I honestly believe that if HitBTC associates a real name and address with their business it will boost their credibility. I mean if they are as legitimate as they seem to be and say they are – why does it feel like they're hiding ? For now, it seems like they are on to a good start, but in order to be truly remarkable they will need to step into the light.