Whether you want to work inside the Bitcoin industry or just do some gigs for Bitcoins more and more options are available. Following our post about how to earn free Bitcoins I've been getting a lot of emails asking about this so today I will review what Bitcoin jobs are actually our there.
Find work inside the Bitcoin industry
One of the hottest trends that the Bitcoin phenomenon has brought with it is the search for Bitcoin jobs. The phrase "Bitcoin Jobs" is searched roughly 2,000 times each month and is clearly on the rise (according to Google's Keword Planner):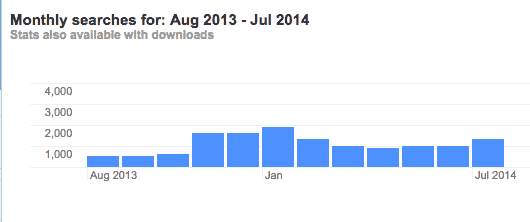 If you are looking for actual full time work in the Bitcoin industry here are some places to keep an eye on.
Coinality is a website that lists various Bitcoin jobs for developers, writers, brokers, marketers and more. You can also follow it's twitter profile in order to get live job updates.
Another great way to find Bitcoin jobs is through freelancer websites such as Upwork, Freelancer and Elance. Although Coinality usually consolidates those as well, you may still use different filters on these website so find the best fit for you. Another way to go would be to search Indeed for Bitcoin jobs. Indeed is one of the leading job boards around the world.
Lately I've also been informed the Cointelegraph is working on a new HR service for Bitcoin related jobs. I've checked it out but I guess it's still in early stages.
Work for Bitcoins Online
If you're just interested in making some Bitcoins you have several options. A sub Reddit called Jobs2Bitcoins displays a Bitcoin job board where you can exchange your skills for Bitcoins. BitGigs is website that is similar to Fiverr where people post what they are willing to do for a small amount of Bitocins. You can try to become a seller on BitGigs but I don't think the site has that much traffic.
XBTFreelancer is a 100% Bitcoin only freelancing site, you can post jobs paid solely in bitcoin and freelancers on the other end get paid in Bitcoin only.
Exchange your time for Bitcoins
The last type of method to earn Bitcoin is through wasting your time on the Internet.  I call it "wasting your time" since these types of jobs usually have you going around clicking on links or watching pointless ads. Still, if this is something you'd like to pursue, here are your options (for the record I would stay away from any of these):
BitVisitor | VisitBit – Pays you Bitcoins for visiting other websites.
CoinWorker – Complete short analytical tasks online, earn points and convert them to Bitcoins.
CoinAd |  BtcClicks – Get paid for watching ads.
Earn Bitcoins by helping people on forums
Probably the most interesting way I've encountered to earn Bitcoins is through what is known as a signature campaign inside the BitcoinTalk forum. The basic idea is that if you're an active BitcoinTalk forum member you can place a link in your signature promoting a company and get paid by them. The payment usually corresponds to your BitcoinTalk member level, so if you're a Newbie you will earn less than a Hero Member. Here's a complete list of all signature campaigns available on the forum.
Have other ways of earning Bitcoins that aren't listed in this post ? Leave a comment sharing your experience.