Genesis Mining Review – Is it Legit?
By: Ofir Beigel | Last updated: 2/4/21
Genesis Mining is probably the oldest surviving cloud mining company around. In this post, I'll review the company and its services, and find out if it's actually worth investing with it.
Genesis Mining Review Summary
Genesis Mining allows users to participate in cryptocurrency mining without the hassle of buying mining equipment and maintaining it. However, when you do the math, it turns out that investing with Genesis Mining will most likely lose you money in the long run.
That's Genesis Mining in a nutshell. If you want a more detailed review about the company and profit calculations keep on reading. Here's what I'll cover:
---
1. What is Cloud Mining in a Nutshell
In short, cloud mining is a term describing companies that rent out mining hardware and mine for you. You split the profits with them (on top of paying them a fee) and avoid the need to buy and maintain expensive mining equipment.
I've talked a lot about cloud mining in the past. One of the things I always tell people who ask me about cloud mining is that I think 99.99% of the companies who offer cloud mining services are probably scams.
Meaning, they don't actually mine Bitcoins with the money you give them, they only use it to pay out other users until the owners run out of money and vanish.
However, 0.01% of companies actually run mining hardware and mine Bitcoins for you. Genesis Mining is one of them.
Today I want to dig in deeper into the cloud mining business model and try to answer the question – is it profitable to cloud mine Bitcoins?
Before I begin, I just want to mention that I did a previous write up on this matter over 4 years ago. Unfortunately, not a lot has changed.
---
2. Genesis Mining Overview
Genesis mining was founded in 2013, making it one of the oldest Bitcoin companies around. It's definitely one of the most well-known companies when it comes to cloud mining.
According to its website, the company serves over 2 million customers from over 100 countries worldwide. The company's mining farms are located in remote, cool locations such as Iceland and Sweden.
Genesis has a publicly known mining farm set up in Iceland, as shown in this video:
The miners on the farm are able to mine Bitcoin, Ethereum, Dash, Monero, Litecoin, and Zcash.
---
3. Is It Profitable to Mine with Genesis Mining?
The idea of cloud mining is very simple: Instead of spending thousands of dollars on mining hardware and all the necessary gear to support it, you can lease everything from someone else and keep the profits to yourself.
The company that rents out the miners takes care of the maintenance and all of the hassle of setting them up. In order to answer the question of profitability, all you need to do is run a few calculations.
I'm going to run my calculations on the "Platinum" plan from Genesis, which is also labeled as the "best buy".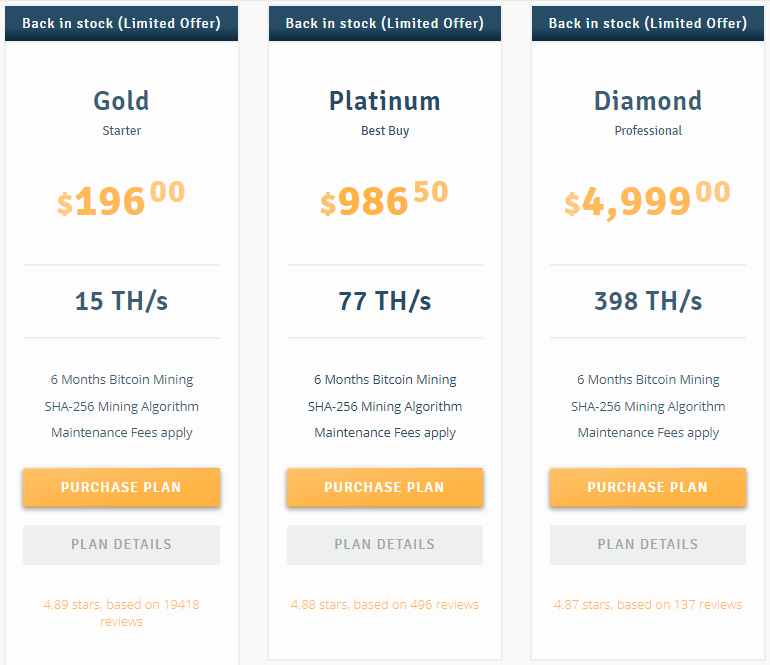 This contract will cost $986.50 and will give me 77 TH/s of mining power which sounds pretty cool. The contract lasts for 6 months and has a maintenance fee of 3 cents/ TH, per day.
In other words, I will pay $0.03*77*6*30 = $415.80 in fees for the lifetime of the contract.
Now let's see how much money I'll be able to generate from it. To answer this I'll use our Bitcoin mining calculator.
Using today's difficulty and exchange rate I will plug in 77 TH/s as my hashrate and get the following results: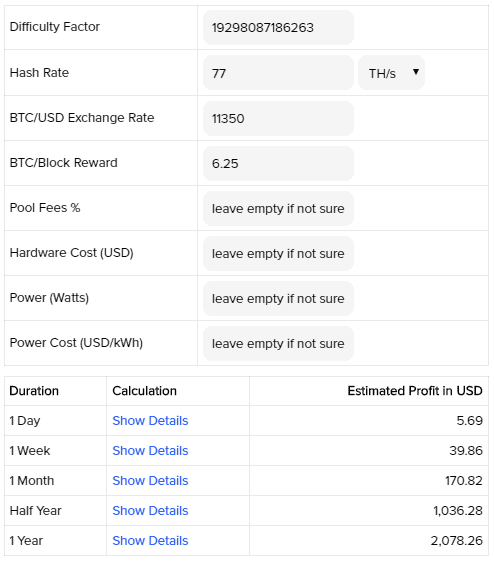 So after 6 months, I'll make around $1,036.28. This is, of course, true if the price and mining difficulty remains constant – which is hardly ever the case.
Now let's subtract the expenses to calculate my profit:
1,036.28 (total revenue) – 415.80 (maintenance fees) – 986.50 (contract cost) = $ -366.02
To sum it up, I'd be investing $986.50 only to lose $366.02 after 6 months.
What will happen if Bitcoin's price goes up?
In case Bitcoin's price goes up dramatically, you can expect the USD amount of your earnings to rise as each BTC is worth more.
However, as BTC price rises, more miners come onboard, which in turn makes it more difficult to mine. This would actually lower your daily earnings in BTC. Overall in the long term, your profit or loss will probably even out with the increase in difficulty.
However, since the difficulty is adjusted every two weeks, if you're already mining when the price starts to skyrocket you could get a "head start" and mine with a higher price at a lower difficulty.
What will happen if Bitcoin's price goes down?
In the opposite scenario of price going down, the USD amount of your earnings will decrease, however, difficulty will probably also lower since miners will drop off.
This case is actually not very favorable since even though you'll even out in the long term, in the short term you'll be making less money.
---
4. Genesis Mining vs. Direct Mining
Let's consider the alternative – mining at home.
It's really hard to give a direct estimation here since each person will have different electricity costs, shipping costs (for the miner) and cooling conditions (miners need to be kept cool).
However, just to get a ballpark estimation, let's use a standard $0.1/KW electricity rate (which isn't cheap), a mining pool fee of 2% (pretty standard) and a hardware cost of $2900.
I'm assuming you'll buy the most efficient miner today, the Antminer S17 Pro, which can generate up to 62 TH/s with a power consumption of 2790 Watts.
Here's what I get when I plug everything into the calculator: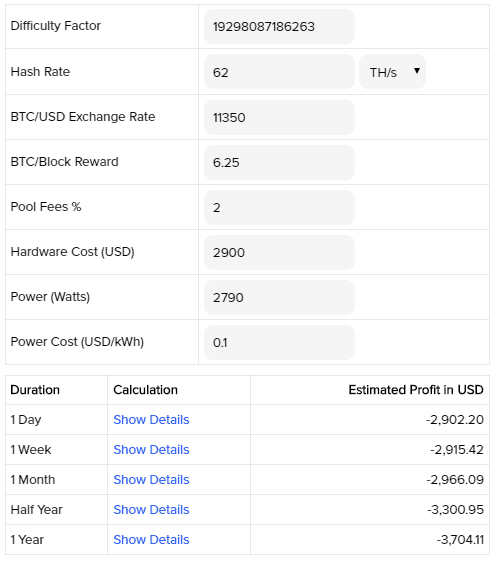 As you can see, if everything remains constant, after 6 months I'll be losing money, with a loss of $3,300.95.
Having said that, I haven't taken into account the following:
Shipping costs for the miner
Customs charges (if any)
Maintenance costs (storage, cooling, etc.)
Delivery time
Mining at home is a pretty big hassle. It's not a simple "plug-n-play" operation. So in total, I'm not sure it's worth the effort.
---
5. Genesis Mining vs. Buying Bitcoin
Another option would be to just invest your capital in Hodling (i.e. buying Bitcoin and holding it).
In the last 6 years, Bitcoin has generated massive returns just through price appreciation.
Here's an investment simulator for you:
In fact, according to our own HodlCalc, this strategy has proven to be profitable over 99% of the time since Bitcoin was created.
Moreover, in the case that Bitcoin crashes, you're still left with your Bitcoins. With Genesis Mining, if Bitcoin crashes you stop generating revenue and have nothing left once the 6 months of your contract are over.
Personally, I think this strategy is the best overall. However, it's your money and you should invest responsibly and do your own research. This is not investment advice.
---
6. Genesis Mining Reviews
There are several BitcoinTalk posts about the company. It seems that most people claim that you can't make a profit with their contracts, however few supply evidence of actually trying.
BitTrust shows some mixed reviews, with half of the people saying it's a scam and some saying they're satisfied (some include a promo code, so take that with a grain of salt).
Perhaps the most alarming reviews come from TrustPilot which mark the company as "Bad". For some reason, even the 4 and 5 star reviews talked about getting scammed.
You can also read the comment section in this post for additional reviews about the company.
However, please remember the following – people complain when they're mad, not when they're happy. So it's quite common to find more negative than positive reviews online.
What I recommend is to read reviews thoroughly and decide for yourself if the company is to blame, or perhaps the person just didn't understand what they were getting into.
---
7. Frequently Asked Questions
Where is Genesis Mining Located?
Genesis Mining farms are located in Iceland and Sweden. The company headquarters is somewhere within the APAC region (although not clear exactly where).
Which Cloud Mining Site is Best?
Personally, I advise against cloud mining, but if you're looking for the most reputable ones (as much as reputation goes in this industry) here are the 2 leading cloud mining sites:
---
8. Conclusion – Is Genesis Mining Legit?
In my opinion, Genesis Mining is legit but I doubt if it's a good investment. Seems like I would be much better off just using my money to buy Bitcoins instead of using it for cloud mining contracts.
If Bitcoin's price goes up – I would be making more money, and if it went down, I would be losing less.
On a final note, this review is about Genesis Mining but I think you can probably copy and paste its characteristics to most legit cloud mining companies out there.
The not-so-legit mining companies will probably show greater profits because they usually stop paying at some point and leave you empty handed.
Have you had any experience with Genesis Mining? I'd love to hear about it in the comment section below.